From The European XFEL(DE): "New spectrometer for extreme UV and soft X-ray light enables novel research"
1.18.23
Science contact:
Michael Meyer
Tel: +49-40-8998-5614
E-mail: michael.meyer@xfel.eu
Press contact:
Bernd Ebeling
Tel: +49-40-8998-6921
E-mail: pr@xfel.eu 

Researchers from European XFEL and Uppsala University standing behind the new 1D-imaging XUV spectrometer at SQS. Left to right: T. Baumann (EuXFEL), J.-E. Rubensson (U. Uppsala), M. Meyer (EuXFEL), and M. Agåkar (U. Uppsala).
A new spectrometer at the European XFEL's small quantum systems (SQS) instrument will measure soft x-ray radiation and extreme ultraviolet (XUV) light generated by gaseous samples after interaction with intense XFEL pulses. This enables fresh avenues of research for the instrument. The spectrometer was built by a collaboration involving scientists from European XFEL and Uppsala University in Sweden, and will allow scientists at SQS to probe new and exciting processes on the atomic scale.
"The spectrometer will give us the ability to look at XUV light emitted from atoms and molecules. Its unique capability to image along the interaction zone enables us to study the effect of European XFEL's intense X-ray radiation as it travels through dense gases," says Michael Meyer, leading scientist of the SQS instrument. "It will offer new possibilities to study fundamental processes in the interaction of x-ray radiation with matter."
Radiation with wavelengths in the extreme ultraviolet (XUV) range is emitted upon excitation or ionization of a sample by the European XFEL pulses. Spectroscopy of these emitted XUV photons is an ideal tool for studying the quantum mechanical properties of the sample in its interaction with the intense X-ray pulses. This is particularly useful in comparison with other techniques based on electron or ion spectroscopy as the photons are not severely impacted by the charged particles created during the interaction.
"At SQS we study fundamental properties of atomic and molecular systems, predominantly looking at electrons and ions. The new spectrometer complements these techniques and helps us to better understand physics on the very small scale," says Thomas Baumann, scientist at SQS.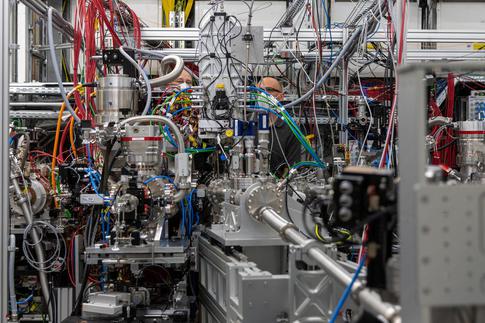 The new XUV spectrometer at the SQS instrument station.
Find out more about the SQS instrument at: https://www.xfel.eu/facility/instruments/sqs/index_eng.html 
See the full article here .
Comments are invited and will be appreciated, especially if the reader finds any errors which I can correct. Use "Reply".
five-ways-keep-your-child-safe-school-shootings
Please help promote STEM in your local schools.
The European XFEL(DE) is an X-ray research laser facility commissioned during 2017. The first laser pulses were produced in May 2017 and the facility started user operation in September 2017. The international project with twelve participating countries; nine shareholders at the time of commissioning (Denmark, France, Germany, Hungary, Poland, Russia, Slovakia, Sweden and Switzerland), later joined by three other partners (Italy, Spain and the United Kingdom), is located in the German federal states of Hamburg and Schleswig-Holstein. A free-electron laser generates high-intensity electromagnetic radiation by accelerating electrons to relativistic speeds and directing them through special magnetic structures. The European XFEL is constructed such that the electrons produce X-ray light in synchronization, resulting in high-intensity X-ray pulses with the properties of laser light and at intensities much brighter than those produced by conventional synchrotron light sources.
The Hamburg area will soon boast a research facility of superlatives: The
European XFEL (DE)
) will generate ultrashort X-ray flashes—27 000 times per second and with a brilliance that is a billion times higher than that of the best conventional X-ray radiation sources.
The outstanding characteristics of the facility are unique worldwide. Started in 2017, it will open up completely new research opportunities for scientists and industrial users.