From Woods Hole Oceanographic Institution
April 27, 2021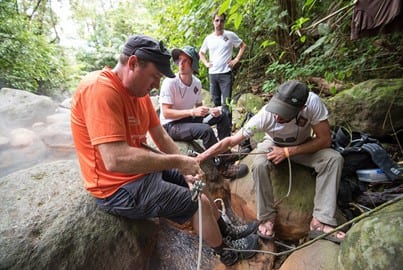 Scientists, including WHOI's Peter Barry (front left) set up gas sampling apparatus. Credit: Tom Owens.
Violent continental collisions and volcanic eruptions are not things normally associated with comfortable conditions for life. However, a new study [Nature Geoscience], coauthored by Peter Barry, assistant scientist at the Woods Hole Oceanographic Institution, along with University of Tennessee (US), Knoxville, Associate Professor of Microbiology Karen Lloyd, unveils a large microbial ecosystem living deep within the earth that is fueled by chemicals produced during these tectonic cataclysms.
When oceanic and continental plates collide one plate is pushed down or subducted into the mantle and the other plate is pushed up and studded with volcanoes.
This is the main process by which chemical elements are moved between Earth's surface and interior and eventually recycled back to the surface.
"Subduction zones are fascinating environments—they produce volcanic mountains and serve as portals for carbon moving between the interior and exterior of Earth," said Maarten de Moor, associate professor at the National University of Costa Rica [Universidad Nacional de Costa Rica] (CR) and another coauthor of the study.
Normally this process is thought to occur outside the reach of life because of the extremely high pressures and temperatures involved. Although life almost certainly does not exist at the extreme conditions where Earth's mantle mixes with the crust to form lava, in recent decades scientists have learned that microbes extend far deeper into Earth's crust than previously thought.
This opens the possibility for discovering previously unknown types of biological interactions occurring with deep plate tectonic processes.
An interdisciplinary and international team of scientists has shown that a vast microbial ecosystem primarily eats the carbon; sulfur; and iron chemicals produced during the subduction of the oceanic plate beneath Costa Rica. The team obtained these results by sampling the deep subsurface microbial communities that are brought to the surface in natural hot springs, in work funded by the Deep Carbon Observatory and the Alfred P. Sloan Foundation.
The team found that this microbial ecosystem sequesters a large amount of carbon produced during subduction that would otherwise escape to the atmosphere. The process results in an estimated decrease of up to 22 percent in the amount of carbon being transported to the mantle.
"This work shows that carbon may be siphoned off to feed a large ecosystem that exists largely without input from the sun's energy. This means that biology might affect carbon fluxes in and out of the earth's mantle, which forces scientists to change how they think about the deep carbon cycle over geologic time scales," said WHOI's Barry.
The team found that these microbes—called chemolithoautotrophs—sequester so much carbon because of their unique diet, which allows them to make energy without sunlight.
"Chemolithoautotrophs are microbes that use chemical energy to build their bodies. So, they're like trees, but instead of using sunlight they use chemicals," said Lloyd, a co-corresponding author of the study. "These microbes use chemicals from the subduction zone to form the base of an ecosystem that is large and filled with diverse primary and secondary producers. It's like a vast forest, but underground."
This new study suggests that the known qualitative relationship between geology and biology may have significant quantitative implications for our understanding of how carbon has changed through deep time. "We already know of many ways in which biology has influenced the habitability of our planet, leading to the rise in atmospheric oxygen, for example," said Donato Giovannelli, a professor at the University of Naples Federico II [Università degli Studi di Napoli Federico II] (IT) and co-corresponding author of the study. "Now our ongoing work is revealing another exciting way in which life and our planet coevolved."
See the full article here .
five-ways-keep-your-child-safe-school-shootings
Please help promote STEM in your local schools.
Vision & Mission
The ocean is a defining feature of our planet and crucial to life on Earth, yet it remains one of the planet's last unexplored frontiers. For this reason, WHOI scientists and engineers are committed to understanding all facets of the ocean as well as its complex connections with Earth's atmosphere, land, ice, seafloor, and life—including humanity. This is essential not only to advance knowledge about our planet, but also to ensure society's long-term welfare and to help guide human stewardship of the environment. WHOI researchers are also dedicated to training future generations of ocean science leaders, to providing unbiased information that informs public policy and decision-making, and to expanding public awareness about the importance of the global ocean and its resources.
Mission Statement
The Woods Hole Oceanographic Institution is dedicated to advancing knowledge of the ocean and its connection with the Earth system through a sustained commitment to excellence in science, engineering, and education, and to the application of this knowledge to problems facing society.
The Institution is organized into six departments, the Cooperative Institute for Climate and Ocean Research, and a marine policy center. Its shore-based facilities are located in the village of Woods Hole, Massachusetts(US) and a mile and a half away on the Quissett Campus. The bulk of the Institution's funding comes from grants and contracts from the National Science Foundation(US) and other government agencies, augmented by foundations and private donations.
WHOI scientists, engineers, and students collaborate to develop theories, test ideas, build seagoing instruments, and collect data in diverse marine environments. Ships operated by WHOI carry research scientists throughout the world's oceans. The WHOI fleet includes two large research vessels (R/V Atlantis and R/V Neil Armstrong); the coastal craft Tioga; small research craft such as the dive-operation work boat Echo; the deep-diving human-occupied submersible Alvin; the tethered, remotely operated vehicle Jason/Medea; and autonomous underwater vehicles such as the REMUS and SeaBED.
WHOI offers graduate and post-doctoral studies in marine science. There are several fellowship and training programs, and graduate degrees are awarded through a joint program with the Massachusetts Institute of Technology(US). WHOI is accredited by the New England Association of Schools and Colleges. WHOI also offers public outreach programs and informal education through its Exhibit Center and summer tours. The Institution has a volunteer program and a membership program, WHOI Associate.
On October 1, 2020, Peter B. de Menocal became the institution's eleventh president and director.
History
In 1927, a National Academy of Sciences(US) committee concluded that it was time to "consider the share of the United States of America in a worldwide program of oceanographic research." The committee's recommendation for establishing a permanent independent research laboratory on the East Coast to "prosecute oceanography in all its branches" led to the founding in 1930 of the Woods Hole Oceanographic Institution(US).
A $2.5 million grant from the Rockefeller Foundation supported the summer work of a dozen scientists, construction of a laboratory building and commissioning of a research vessel, the 142-foot (43 m) ketch R/V Atlantis, whose profile still forms the Institution's logo.
WHOI grew substantially to support significant defense-related research during World War II, and later began a steady growth in staff, research fleet, and scientific stature. From 1950 to 1956, the director was Dr. Edward "Iceberg" Smith, an Arctic explorer, oceanographer and retired Coast Guard rear admiral.
In 1977 the institution appointed the influential oceanographer John Steele as director, and he served until his retirement in 1989.
On 1 September 1985, a joint French-American expedition led by Jean-Louis Michel of IFREMER and Robert Ballard of the Woods Hole Oceanographic Institution identified the location of the wreck of the RMS Titanic which sank off the coast of Newfoundland 15 April 1912.
On 3 April 2011, within a week of resuming of the search operation for Air France Flight 447, a team led by WHOI, operating full ocean depth autonomous underwater vehicles (AUVs) owned by the Waitt Institute discovered, by means of sidescan sonar, a large portion of debris field from flight AF447.
In March 2017 the institution effected an open-access policy to make its research publicly accessible online.
The Institution has maintained a long and controversial business collaboration with the treasure hunter company Odyssey Marine. Likewise, WHOI has participated in the location of the San José galleon in Colombia for the commercial exploitation of the shipwreck by the Government of President Santos and a private company.
In 2019, iDefense reported that China's hackers had launched cyberattacks on dozens of academic institutions in an attempt to gain information on technology being developed for the United States Navy. Some of the targets included the Woods Hole Oceanographic Institution. The attacks have been underway since at least April 2017.