From Woods Hole Oceanographic Institution (US)
July 26, 2021
Media Relations Office
media@whoi.edu
(508) 289-3340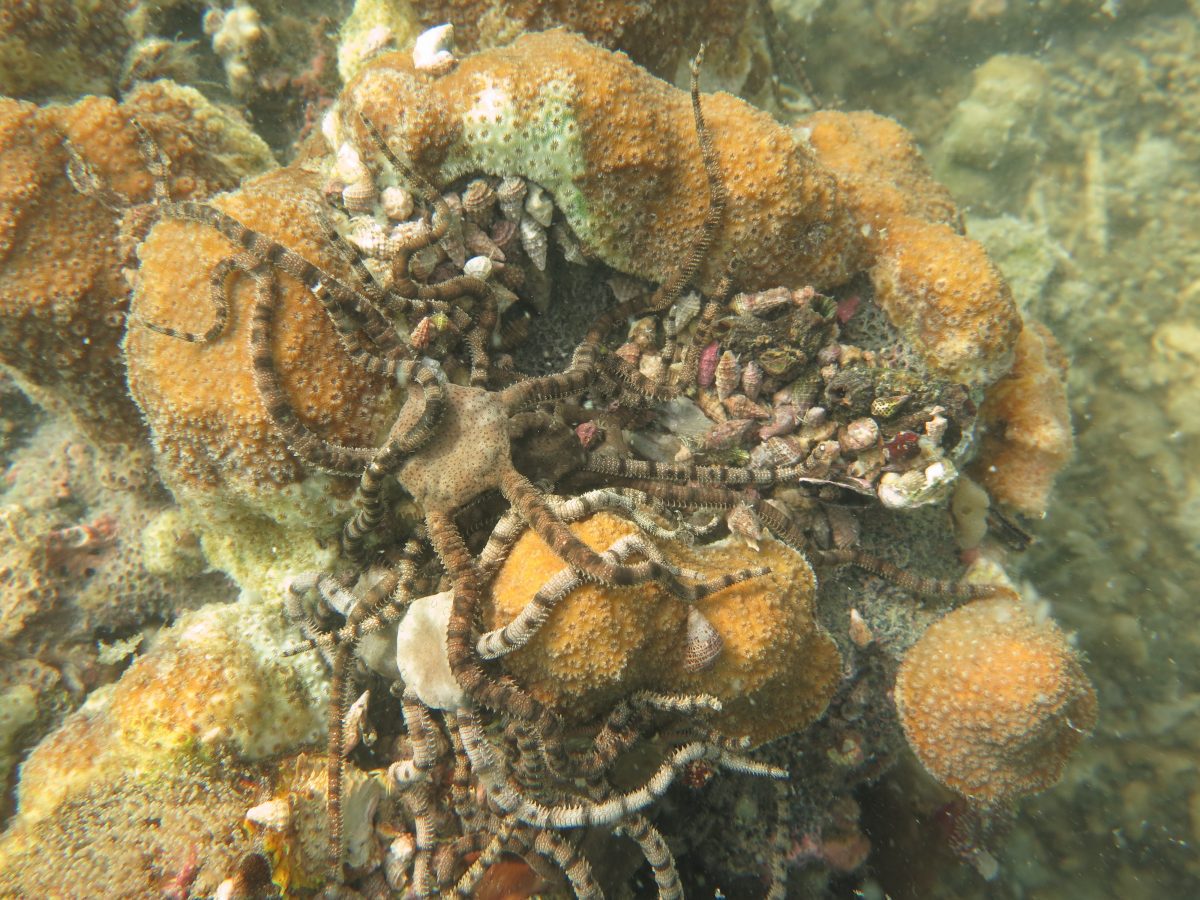 Brittle sea stars, which usually are in hiding, perch on top of coral to attempt to escape from hypoxic ocean waters, which have little to no oxygen in that area. Sadly, those that cannot escape essentially suffocate. Image Credit: Maggie Johnson © Woods Hole Oceanographic Institution.
In September of 2017, Woods Hole Oceanographic Institution postdoctoral scholar Maggie Johnson was conducting an experiment with a colleague in Bocas del Toro off the Caribbean coast of Panama. After sitting on a quiet, warm open ocean, they snorkeled down to find a peculiar layer of murky, foul-smelling water about 10 feet below the surface, with brittle stars and sea urchins, which are usually in hiding, perching on the tops of coral.
This unique observation prompted a collaborative study explained in a new paper published today in Nature Communications analyzing what this foggy water layer is caused by, and the impact it has on life at the bottom of the seafloor.
"What we're seeing are hypoxic ocean waters, meaning there is little to no oxygen in that area. All of the macro-organisms are trying to get away from this deoxygenated water and those that cannot escape essentially suffocate. I have never seen anything like that on a coral reef," said Johnson.
"There is a combination of stagnant water from low wind activity, warm water temperatures, and nutrient pollution from nearby plantations, which contributes to a stratification of the water column. From this, we see these hypoxic conditions form that start to expand and infringe on nearby shallow habitats," explained Johnson.
Investigators suggest that loss of oxygen in the global ocean is accelerating due to climate change and excess nutrients, but how sudden deoxygenation events affect tropical marine ecosystems is poorly understood. Past research shows that rising temperatures can lead to physical alterations in coral, such as bleaching, which occurs when corals are stressed and expel algae that live within their tissues. If conditions don't improve, the bleached corals then die. However, the real-time changes caused by decreasing oxygen levels in the tropics have seldom been observed.
At a local scale, hypoxic events may pose a more severe threat to coral reefs than the warming events that cause mass bleaching. These sudden events impact all oxygen-requiring marine life and can kill reef ecosystems quickly.
Investigators reported coral bleaching and mass mortality due to this occurrence, causing a 50% loss of live coral, which did not show signs of recovery until a year after the event, and a drastic shift in the seafloor community. The shallowest measurement with hypoxic waters was about 9 feet deep and about 30 feet from the Bocas del Toro shore.
What about the 50% of coral that survived? Johnson and her fellow investigators found that the coral community they observed in Bocas del Toro is dynamic, and some corals have the potential to withstand these conditions. This discovery sets the stage for future research to identify which coral genotypes or species have adapted to rapidly changing environments and the characteristics that help them thrive.
Investigators also observed that the microorganisms living in the reefs restored to a normal state within a month, as opposed to the macro-organisms, like the brittle stars, who perished in these conditions. By collecting sea water samples and analyzing microbial DNA, they were able to conclude that these microbes did not necessarily adjust to their environment, but rather were "waiting" for their time to shine in these low-oxygen conditions.
"The take home message here is that you have a community of microbes; it has a particular composition and plugs along, then suddenly, all of the oxygen is removed and you get a replacement of community members. They flourish for a while, and eventually hypoxia goes away, oxygen comes back, and that community rapidly shifts back to what it was before due to the change in resources. This is very much in contrast to what you see with macro-organisms," said Jarrod Scott, paper co-author and postdoctoral fellow at the Smithsonian Tropical Research Institute in the Republic of Panama.
Scott and Johnson agree that human activity can contribute to the nutrient pollution and warming waters which then lead to hypoxic ocean conditions. Activities such as coastal land development and farming can be better managed and improved, which will reduce the likelihood of deoxygenation events occurring.
The study provides insight to the fate of microbe communities on a coral reef during an acute deoxygenation event. Reef microbes respond rapidly to changes in physicochemical conditions, providing reliable indications of both physical and biological processes in nature.
The shift the team detected from the hypoxic microbial community to a normal condition community after the event subsided suggests that the recovery route of reef microbes is independent and decoupled from the benthic macro-organisms. This may facilitate the restart of key microbial processes that influence the recovery of other aspects of the reef community.
Matthieu Leray: Smithsonian Tropical Research Institute [Instituto Smithsonian de Investigaciones Tropicales(US) (PA).
Noelle Lucey Smithsonian Tropical Research Institute, Republic of Panama.
Lucia M. Rodriguez Bravo: Smithsonian Tropical Research Institute, Republic of Panama & Facultad de Ciencias Marinas, Autonomous University of Baja California [Universidad Autónoma de Baja California] (MX).
William L. Wied: Smithsonian Tropical Research Institute, Republic of Panama & Department of Biological Sciences, Center for Coastal Oceans Research, Florida International University (US).
Andrew H. Altieri: Smithsonian Tropical Research Institute, Republic of Panama & Department of Environmental Engineering Sciences, University of Florida (US).
See the full article here .
five-ways-keep-your-child-safe-school-shootings
Please help promote STEM in your local schools.
Mission Statement
The Woods Hole Oceanographic Institution (US) is dedicated to advancing knowledge of the ocean and its connection with the Earth system through a sustained commitment to excellence in science, engineering, and education, and to the application of this knowledge to problems facing society.
Vision & Mission
The ocean is a defining feature of our planet and crucial to life on Earth, yet it remains one of the planet's last unexplored frontiers. For this reason, WHOI scientists and engineers are committed to understanding all facets of the ocean as well as its complex connections with Earth's atmosphere, land, ice, seafloor, and life—including humanity. This is essential not only to advance knowledge about our planet, but also to ensure society's long-term welfare and to help guide human stewardship of the environment. WHOI researchers are also dedicated to training future generations of ocean science leaders, to providing unbiased information that informs public policy and decision-making, and to expanding public awareness about the importance of the global ocean and its resources.
The Institution is organized into six departments, the Cooperative Institute for Climate and Ocean Research, and a marine policy center. Its shore-based facilities are located in the village of Woods Hole, Massachusetts(US) and a mile and a half away on the Quissett Campus. The bulk of the Institution's funding comes from grants and contracts from the National Science Foundation(US) and other government agencies, augmented by foundations and private donations.
WHOI scientists, engineers, and students collaborate to develop theories, test ideas, build seagoing instruments, and collect data in diverse marine environments. Ships operated by WHOI carry research scientists throughout the world's oceans. The WHOI fleet includes two large research vessels (R/V Atlantis and R/V Neil Armstrong); the coastal craft Tioga; small research craft such as the dive-operation work boat Echo; the deep-diving human-occupied submersible Alvin; the tethered, remotely operated vehicle Jason/Medea; and autonomous underwater vehicles such as the REMUS and SeaBED.
WHOI offers graduate and post-doctoral studies in marine science. There are several fellowship and training programs, and graduate degrees are awarded through a joint program with the Massachusetts Institute of Technology(US). WHOI is accredited by the New England Association of Schools and Colleges (US). WHOI also offers public outreach programs and informal education through its Exhibit Center and summer tours. The Institution has a volunteer program and a membership program, WHOI Associate.
On October 1, 2020, Peter B. de Menocal became the institution's eleventh president and director.
History
In 1927, a National Academy of Sciences(US) committee concluded that it was time to "consider the share of the United States of America in a worldwide program of oceanographic research." The committee's recommendation for establishing a permanent independent research laboratory on the East Coast to "prosecute oceanography in all its branches" led to the founding in 1930 of the Woods Hole Oceanographic Institution(US).
A $2.5 million grant from the Rockefeller Foundation supported the summer work of a dozen scientists, construction of a laboratory building and commissioning of a research vessel, the 142-foot (43 m) ketch R/V Atlantis, whose profile still forms the Institution's logo.
WHOI grew substantially to support significant defense-related research during World War II, and later began a steady growth in staff, research fleet, and scientific stature. From 1950 to 1956, the director was Dr. Edward "Iceberg" Smith, an Arctic explorer, oceanographer and retired Coast Guard rear admiral.
In 1977 the institution appointed the influential oceanographer John Steele as director, and he served until his retirement in 1989.
On 1 September 1985, a joint French-American expedition led by Jean-Louis Michel of IFREMER and Robert Ballard of the Woods Hole Oceanographic Institution identified the location of the wreck of the RMS Titanic which sank off the coast of Newfoundland 15 April 1912.
On 3 April 2011, within a week of resuming of the search operation for Air France Flight 447, a team led by WHOI, operating full ocean depth autonomous underwater vehicles (AUVs) owned by the Waitt Institute discovered, by means of sidescan sonar, a large portion of debris field from flight AF447.
In March 2017 the institution effected an open-access policy to make its research publicly accessible online.
The Institution has maintained a long and controversial business collaboration with the treasure hunter company Odyssey Marine. Likewise, WHOI has participated in the location of the San José galleon in Colombia for the commercial exploitation of the shipwreck by the Government of President Santos and a private company.
In 2019, iDefense reported that China's hackers had launched cyberattacks on dozens of academic institutions in an attempt to gain information on technology being developed for the United States Navy. Some of the targets included the Woods Hole Oceanographic Institution. The attacks have been underway since at least April 2017.