From JHU HUB and University of Maryland (US) : "What's in a name? MARCC becomes ARCH turbocharging Hopkins high-performance computing"
and
8.2.21
Lisa Ercolano
The computing center gets a new name and expanded mission that will enhance resource sharing to drive data-intensive computational discoveries.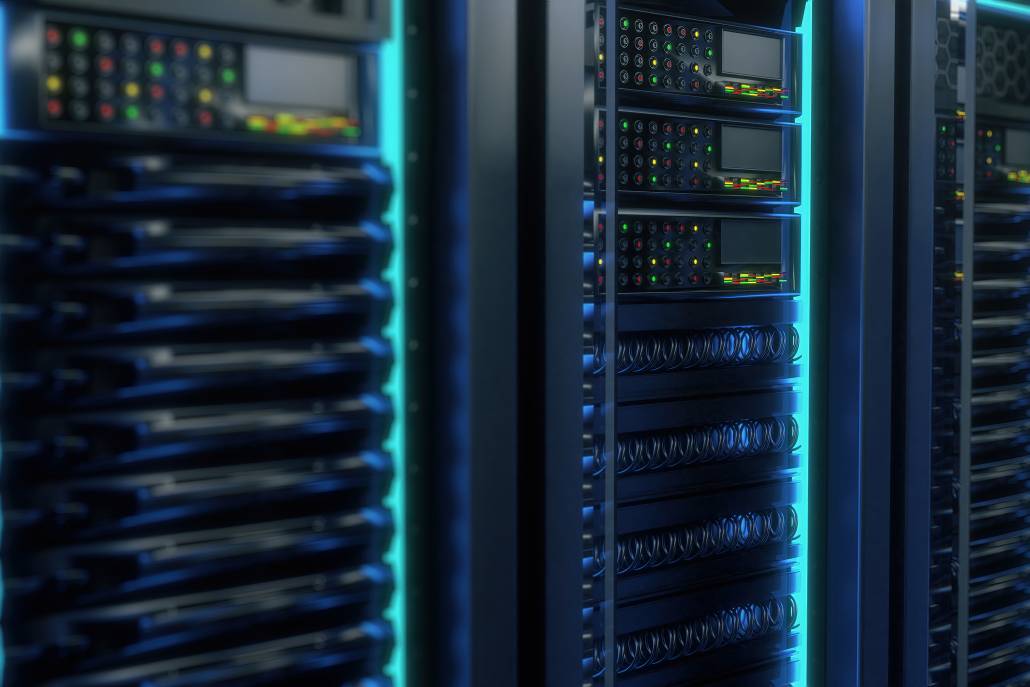 Rockfish computing cluster. Credit: Getty Images.
When Johns Hopkins and the University of Maryland (US) launched the Maryland Advanced Research Computing Center or MARCC, in 2015, it was hailed as one of the nation's largest academic high-performance computing centers. Located on the Johns Hopkins Bayview Medical Center campus in East Baltimore and supported by $30 million in state funding, MARCC's swift fiber-optic cable connection lets investigators conduct research on everything from deadly diseases to distant galaxies without having to leave their laboratories or offices. In addition, all participants shared the costs of networking and running a single entity, rather than spending time, money, and space to create their own high-performance computing centers.
"MARCC set Maryland on the map for high-performance computing," said Jaime Combariza, a Johns Hopkins computational chemist and MARCC's director. "In fact, its success sparked a renaissance of interest in high-performance computing at Hopkins."
This remarkable progress has led to a new name and expanded mission for the center. MARCC has become ARCH, short for Advanced Research Computing at Hopkins. The reimagined and expanded facility is designed to sustain advanced and data-intensive computing growth with a goal of enabling innovative, dynamic, and life-improving.
"ARCH's basic philosophy is to create and sustain a welcoming place for high-performance computing that will provide resources to foster a collaborative community of researchers in computational science and engineering. Rather than being a siloed collection of clusters for individual PIs, the genius of ARCH is that we pool our resources," says Paulette Clancy, head of the Department of Chemical and Biomolecular Engineering and chair of the Hopkins Research Computing Committee, the faculty oversight group for ARCH.
An innovative feature of the expanded and reimagined facility is this "fair-share" approach which Clancy says allows ARCH to balance the load and need for computing resources at any given time.
"This rather egalitarian philosophy allows you to use my computing cluster when I don't need it, and vice versa, maximizing job throughput," Clancy says, pointing out that this method offers improved economies of scale. "Cooling, power, and system administration are all co-located into one resource."
ARCH's business model is configured so that the funds necessary to provide ongoing hardware support for facility will be provided in perpetuity by participating schools and researchers, ensuring that the facility can offer reliable high-quality service and maintains a "future-ready" stance. In fact, the hardware that forms the computing heart of the facility will need to change roughly every five years.
ARCH's current computing cluster, named "Rockfish," was the result of a large National Science Foundation Major Research Instrumentation (MRI) (US) program grant that was used to refresh MARCC's computational hardware, ramping up its capabilities. That award also let MARCC (the nascent ARCH) become a member of NSF's Extreme Science and Engineering Discovery Experiment network, through which scientists across the nation interactively share expertise, data, and computing resources.
Like MARCC, ARCH is structured on a model called "condo computing," in which users buy their own nodes and have them installed in a central cluster. Researchers then not only have priority access to the resources they purchased, but also to those of other researchers in the cluster, if those are not being used.
"Envision Rockfish as a leasing office connected to any number of smaller nearby buildings—condos—that all interact together," explains Combariza, director of ARCH. "Any PI can purchase hardware compatible with Rockfish which will be integrated into the overall ARCH 'resort.'"
Those condos, like their real-life real estate counterparts, rely on the infrastructure provided by MARCC and ARCH, but the PIs do not "own" them. They are available for high priority use by the researcher who purchased them. All condos become part of the shared pool of resources, providing better efficiency of use for all the ARCH user community, organizers say.
The result is something unique, according to Clancy.
"It is a community where the hardware and software that we share allows us to be greater than the sum of our PI parts," she says.
ARCH management has plans to partner closely with Hopkins Institute for Data Intensive Engineering and Science, or IDIES, to facilitate a seamless process of data-sharing in a shared and shareable resource. For example, they envision that data, methods, and insights created in individual labs connected to ARCH to someday be shared with physicians in clinics and medical centers to improve patient care.
"We see ARCH becoming a critical resource to initiatives here at Hopkins that are developing and applying AI and machine learning to improve the lives of people on our fragile planet," Clancy says.
The advent of ARCH also brings with it the first annual High Performance Computing symposium, to be held in the late fall. Details will be forthcoming once the semester begins, but organizers envision that this will grow into an annual, high-profile event attracting top talent in high-performance computing.
"We envision the HPC symposium becoming a visible and acclaimed annual event that allows students, staff, faculty, visitors, industry representatives, non-profits, etc., to see what's new and exciting in the world of HPC," Clancy says.
See the full article here.

five-ways-keep-your-child-safe-school-shootings
Please help promote STEM in your local schools.
Driven by the pursuit of excellence, the University of Maryland (US) has enjoyed a remarkable rise in accomplishment and reputation over the past two decades. By any measure, Maryland is now one of the nation's preeminent public research universities and on a path to become one of the world's best. To fulfill this promise, we must capitalize on our momentum, fully exploit our competitive advantages, and pursue ambitious goals with great discipline and entrepreneurial spirit. This promise is within reach. This strategic plan is our working agenda.
The plan is comprehensive, bold, and action oriented. It sets forth a vision of the University as an institution unmatched in its capacity to attract talent, address the most important issues of our time, and produce the leaders of tomorrow. The plan will guide the investment of our human and material resources as we strengthen our undergraduate and graduate programs and expand research, outreach and partnerships, become a truly international center, and enhance our surrounding community.
Our success will benefit Maryland in the near and long term, strengthen the State's competitive capacity in a challenging and changing environment and enrich the economic, social and cultural life of the region. We will be a catalyst for progress, the State's most valuable asset, and an indispensable contributor to the nation's well-being. Achieving the goals of Transforming Maryland requires broad-based and sustained support from our extended community. We ask our stakeholders to join with us to make the University an institution of world-class quality with world-wide reach and unparalleled impact as it serves the people and the state of Maryland.
About the Hub
We've been doing some thinking — quite a bit, actually — about all the things that go on at Johns Hopkins. Discovering the glue that holds the universe together, for example. Or unraveling the mysteries of Alzheimer's disease. Or studying butterflies in flight to fine-tune the construction of aerial surveillance robots. Heady stuff, and a lot of it.
In fact, Johns Hopkins does so much, in so many places, that it's hard to wrap your brain around it all. It's too big, too disparate, too far-flung.
We created the Hub to be the news center for all this diverse, decentralized activity, a place where you can see what's new, what's important, what Johns Hopkins is up to that's worth sharing. It's where smart people (like you) can learn about all the smart stuff going on here.
At the Hub, you might read about cutting-edge cancer research or deep-trench diving vehicles or bionic arms. About the psychology of hoarders or the delicate work of restoring ancient manuscripts or the mad motor-skills brilliance of a guy who can solve a Rubik's Cube in under eight seconds.
There's no telling what you'll find here because there's no way of knowing what Johns Hopkins will do next. But when it happens, this is where you'll find it.
The Johns Hopkins University opened in 1876, with the inauguration of its first president, Daniel Coit Gilman. "What are we aiming at?" Gilman asked in his installation address. "The encouragement of research … and the advancement of individual scholars, who by their excellence will advance the sciences they pursue, and the society where they dwell."
The mission laid out by Gilman remains the university's mission today, summed up in a simple but powerful restatement of Gilman's own words: "Knowledge for the world."
What Gilman created was a research university, dedicated to advancing both students' knowledge and the state of human knowledge through research and scholarship. Gilman believed that teaching and research are interdependent, that success in one depends on success in the other. A modern university, he believed, must do both well. The realization of Gilman's philosophy at Johns Hopkins, and at other institutions that later attracted Johns Hopkins-trained scholars, revolutionized higher education in America, leading to the research university system as it exists today.
The Johns Hopkins University (US) is a private research university in Baltimore, Maryland. Founded in 1876, the university was named for its first benefactor, the American entrepreneur and philanthropist Johns Hopkins. His $7 million bequest (approximately $147.5 million in today's currency)—of which half financed the establishment of the Johns Hopkins Hospital—was the largest philanthropic gift in the history of the United States up to that time. Daniel Coit Gilman, who was inaugurated as the institution's first president on February 22, 1876, led the university to revolutionize higher education in the U.S. by integrating teaching and research. Adopting the concept of a graduate school from Germany's historic Ruprecht Karl University of Heidelberg, [Ruprecht-Karls-Universität Heidelberg] (DE), Johns Hopkins University is considered the first research university in the United States. Over the course of several decades, the university has led all U.S. universities in annual research and development expenditures. In fiscal year 2016, Johns Hopkins spent nearly $2.5 billion on research. The university has graduate campuses in Italy, China, and Washington, D.C., in addition to its main campus in Baltimore.
Johns Hopkins is organized into 10 divisions on campuses in Maryland and Washington, D.C., with international centers in Italy and China. The two undergraduate divisions, the Zanvyl Krieger School of Arts and Sciences and the Whiting School of Engineering, are located on the Homewood campus in Baltimore's Charles Village neighborhood. The medical school, nursing school, and Bloomberg School of Public Health, and Johns Hopkins Children's Center are located on the Medical Institutions campus in East Baltimore. The university also consists of the Peabody Institute, Applied Physics Laboratory, Paul H. Nitze School of Advanced International Studies, School of Education, Carey Business School, and various other facilities.
Johns Hopkins was a founding member of the American Association of Universities (US). As of October 2019, 39 Nobel laureates and 1 Fields Medalist have been affiliated with Johns Hopkins. Founded in 1883, the Blue Jays men's lacrosse team has captured 44 national titles and plays in the Big Ten Conference as an affiliate member as of 2014.
Research
The opportunity to participate in important research is one of the distinguishing characteristics of Hopkins' undergraduate education. About 80 percent of undergraduates perform independent research, often alongside top researchers. In FY 2013, Johns Hopkins received $2.2 billion in federal research grants—more than any other U.S. university for the 35th consecutive year. Johns Hopkins has had seventy-seven members of the Institute of Medicine, forty-three Howard Hughes Medical Institute Investigators, seventeen members of the National Academy of Engineering, and sixty-two members of the National Academy of Sciences. As of October 2019, 39 Nobel Prize winners have been affiliated with the university as alumni, faculty members or researchers, with the most recent winners being Gregg Semenza and William G. Kaelin.
Between 1999 and 2009, Johns Hopkins was among the most cited institutions in the world. It attracted nearly 1,222,166 citations and produced 54,022 papers under its name, ranking No. 3 globally [after Harvard University (US) and the Max Planck Society (DE)] in the number of total citations published in Thomson Reuters-indexed journals over 22 fields in America.
In FY 2000, Johns Hopkins received $95.4 million in research grants from the National Aeronautics and Space Administration (US), making it the leading recipient of NASA research and development funding. In FY 2002, Hopkins became the first university to cross the $1 billion threshold on either list, recording $1.14 billion in total research and $1.023 billion in federally sponsored research. In FY 2008, Johns Hopkins University performed $1.68 billion in science, medical and engineering research, making it the leading U.S. academic institution in total R&D spending for the 30th year in a row, according to a National Science Foundation (US) ranking. These totals include grants and expenditures of JHU's Applied Physics Laboratory in Laurel, Maryland.
The Johns Hopkins University also offers the "Center for Talented Youth" program—a nonprofit organization dedicated to identifying and developing the talents of the most promising K-12 grade students worldwide. As part of the Johns Hopkins University, the "Center for Talented Youth" or CTY helps fulfill the university's mission of preparing students to make significant future contributions to the world. The Johns Hopkins Digital Media Center (DMC) is a multimedia lab space as well as an equipment, technology and knowledge resource for students interested in exploring creative uses of emerging media and use of technology.
In 2013, the Bloomberg Distinguished Professorships program was established by a $250 million gift from Michael Bloomberg. This program enables the university to recruit fifty researchers from around the world to joint appointments throughout the nine divisions and research centers. Each professor must be a leader in interdisciplinary research and be active in undergraduate education. Directed by Vice Provost for Research Denis Wirtz, there are currently thirty two Bloomberg Distinguished Professors at the university, including three Nobel Laureates, eight fellows of the American Association for the Advancement of Science (US), ten members of the American Academy of Arts and Sciences, and thirteen members of the National Academies.