7 February 2020
UK Space Agency
OneWeb successfully launched 34 satellites last night (Thursday 6 February) to help deliver affordable global communications from space.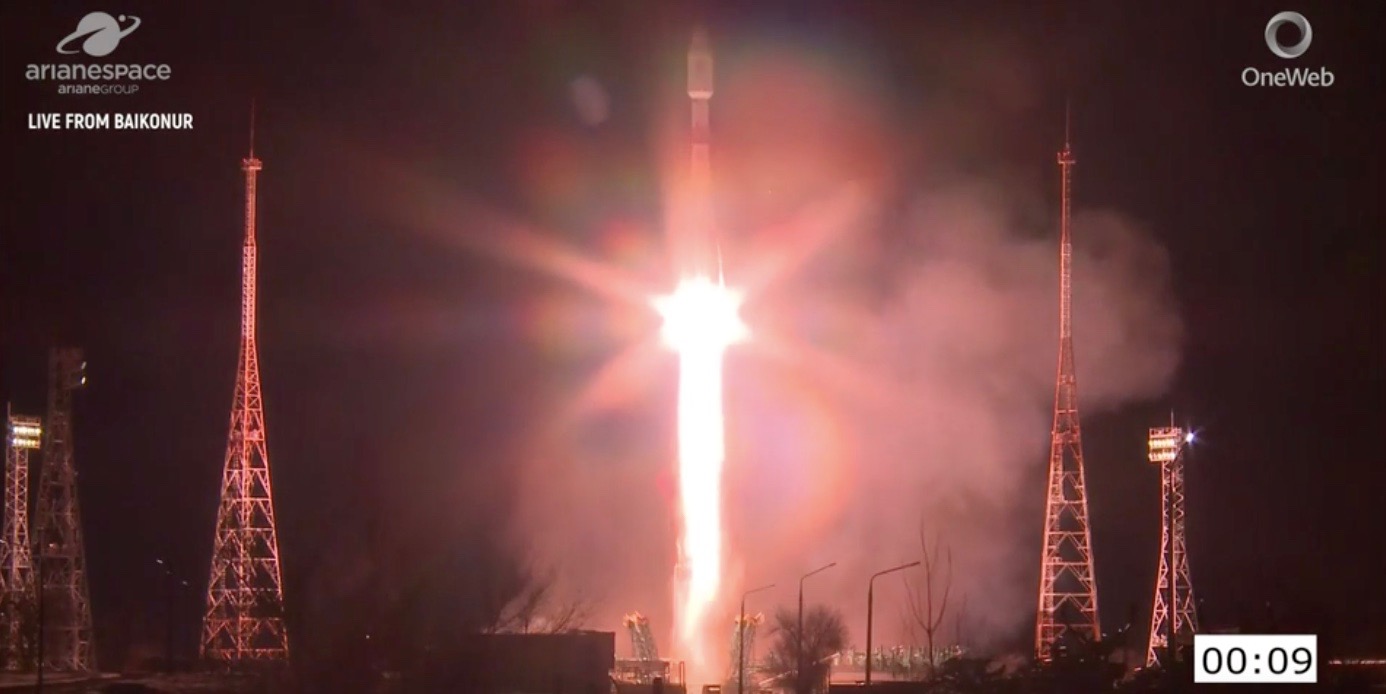 Successful Soyuz launch deploys 34 satellites for OneWeb network. https://spaceflightnow.com
The UK-based company aims to bring worldwide internet coverage and received £18 million of UK Space Agency funding through the European Space Agency (ESA) for the development of its next generation satellite constellation.
This investment also supports the development of novel automation techniques and artificial intelligence to manage the spacecraft and their interaction with terrestrial networks to deliver global 5G connectivity.
The launch, from Baikonur in Kazakhstan marks the start of one of the largest civilian launch campaigns in history, which aims to create a constellation of 648 satellites.
Catherine Mealing-Jones, Director of Growth at the UK Space Agency said:
"There is huge commercial potential for a cost-effective worldwide telecoms satellite system, and the UK space sector is playing a leading role in delivering it, building on our world-leading capabilities in satellite telecommunications, connectivity and data. Satellite telecoms are central to bringing fast responsive services to people and communities right across the UK and around the world.
Responsible growth means that we recognise the importance of protecting the space environment and are the leading investor in ESA's space safety and security programme, which includes a new mission to help remove space debris."
OneWeb, which has its Global Operations Centre in White City, London, plans to provide its first customer demonstrations by the end of 2020 and full commercial global services for sectors such as maritime, aviation, government and enterprise in 2021.
The UK Space Agency licensed the 34 satellites for launch and regulates the use of space by UK organisations and individuals through the Outer Space Act 1986. This process requires satellite operators to demonstrate they have considered any associated risks and have safeguards in place, such as the ability to manoeuvre satellites to avoid debris and other spacecraft, and to de-orbit them at the end of their lifetime.
The UK continues to be a leading member of ESA, which is independent of the EU, having committed a record investment of £374 million per year in November 2019, including £250 million for ESA's telecommunications programme and £80 million in the space safety and security programme – more than any other ESA member state.
The UK space sector employs 42,000 people and generates an income of £14.8 billion each year, with the value of exports standing at £5.5 billion.
See the full article here .
five-ways-keep-your-child-safe-school-shootings
Please help promote STEM in your local schools.
The UK Space Agency is responsible for all strategic decisions on the UK civil space programme and provides a clear, single voice for UK space ambitions.
At the heart of UK efforts to explore and benefit from space, we are responsible for ensuring that the UK retains and grows a strategic capability in space-based systems, technologies, science and applications. We lead the UK's civil space programme in order to win sustainable economic growth, secure new scientific knowledge and provide benefit to all citizens.
We work to:
co-ordinate UK civil space activity
encourage academic research
support the UK space industry
raise the profile of UK space activities at home and abroad
increase understanding of space science and its practical benefits
inspire our next generation of UK scientists and engineers
licence the launch and operation of UK spacecraft
promote co-operation and participation in the European Space programme
We're an executive agency of the Department for Business, Innovation and Skills, made up of about 70 staff based in Swindon, London and the UK Space Gateway in Oxfordshire.
We are responsible for:
leading the UK civil space policy and increasing the UK contribution to European initiatives
building a strong national space capability, including scientific and industrial centres of excellence
co-ordinating strategic investment across industry and academia
working to inspire and train a growing, skilled UK workforce of space technologists and scientists
working on national and international space projects in co-operation with industry and academia
regulating the UK civil space activities and ensuring we meet international treaty obligations