From The University at Buffalo-SUNY
Via
8.9.22
MICHELLE STARR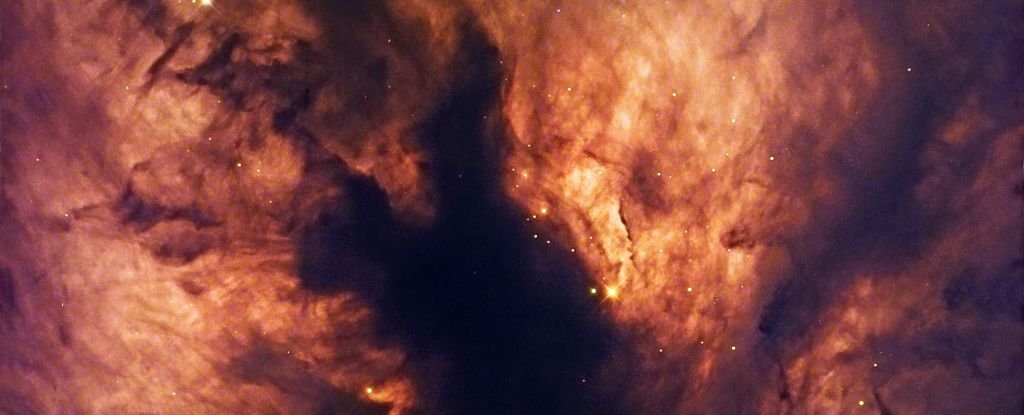 The Flame Nebula. Credit: R. Gendler, J.-E. Ovaldsen, C. Thöne and C. Féron/ESO/IDA/Danish 1.5 m/
The European Southern Observatory [La Observatorio Europeo Austral] [Observatoire européen austral][Europäische Südsternwarte](EU)(CL) Danish 1.54 meter telescope at La Silla, 600 km north of Santiago de Chile at an altitude of 2400 metres.
From the smallest bacterium to the greatest galaxy, death looms on the horizon; even if, in cosmic terms, the time scales are too large for us to truly comprehend. Eventually, even the Universe itself should come to an end – when the last light winks out, and the cold, dense lumps of dead stars are all that remain.
That is, at least, how it is under current cosmological models. What if our Universe doesn't die a cold death, but collapses, reinflates, and collapses again, over and over, like a giant cosmic lung?
It's not exactly a widely accepted theory, but for some cosmologists our Universe could be just one in a long series of births and deaths and rebirths that is without beginning or end – not a "Big Bang' but a "Big Bounce".
Now physicists have shown that the latest iteration of the "Big Bounce" hypothesis – which had solved significant problems with previous iterations – still has pretty major limitations.
"People proposed bouncing universes to make the Universe infinite into the past, but what we show is that one of the newest types of these models doesn't work," said physicist Will Kinney of the University at Buffalo.
"In this new type of model, which addresses problems with entropy, even if the Universe has cycles it still has to have a beginning."
Currently, the most accepted model of our Universe sees it emerge from a point of origin called a "singularity". Around 13.8 billion years ago the Universe as we know it began to expand out of an impossibly dense bit of time and space … for some reason.
Unfortunately the models supporting a "Big Bang" explanation have little to say much about what such a singularity might look like.
The "Big Bounce" hypothesis as an alternative could sidestep the issue of a singularity by doing away with it entirely. A collapsing universe would instead rebound before it ever reached such a model-breaking moment.
The hypothesis hasn't been without its own issues, however. An endlessly "bouncing" Universe should also have endlessly growing "entropy"-the measure of disorder in the Universe. If the "Big Bang" was just one of an eternal series of bangs the entropy should therefore have been really high; yet it wasn't. In fact, if the Universe was high in entropy at the "Big Bang", it couldn't exist as we know it.
In 2019, the "Big Bounce" got a reprieve, with the publication of a revised model that contained a solution to this significant hurdle [Physics Letters B (below)] that had stymied the hypothesis for decades [Physical Review Journals Archive (below)]. Researchers found that the expansion of the Universe with each cycle dilutes entropy sufficiently to return the Universe to its original state before the next bounce.
This was a huge deal, seemingly putting the "Big Bounce" back on the table as a plausible cosmological model; but now, other scientists have done what scientists do best. They have poked a new hole in the revised model.
Kinney and his colleague, physicist Nina Stein, also of the University at Buffalo, conducted a series of calculations, and found that a cyclic Universe can't stretch endlessly back into the past.
"Long story short, we showed that in solving the entropy problem, you create a situation where the Universe had to have a beginning," Kinney explained. "Our proof shows in general that any cyclic model which removes entropy by expansion must have a beginning."
That doesn't mean that the cyclic Universe is dead in the water. The team notes that their work does not apply to physicist Roger Penrose's model of the cyclic Universe, called "conformal cyclic cosmology" [AIP Conference Proceedings (below)]. According to his version of a repeating universe, each cycle expands infinitely with no period of contraction. That is pretty complex stuff, and is going to require further poking.
For now, however, it seems that the "Big Bounce" is, at the very least, going to require a bit more thought to remain viable.
"The idea that there was a point in time before which there was nothing, no time, bothers us, and we want to know what there was before that – scientists included," Stein said. "But as far as we can tell, there must have been a "beginning". There is a point for which there is no answer to the question, 'What came before that?'"
The research has been published in the Journal of Cosmology and Astroparticle Physics [below].
Science papers:
Physics Letters B
Physical Review Journals Archive
AIP Conference Proceedings
Journal of Cosmology and Astroparticle Physics
See the full article here .
five-ways-keep-your-child-safe-school-shootings
Please help promote STEM in your local schools.
The University at Buffalo-SUNY is a public research university with campuses in Buffalo and Amherst, New York, United States. The university was founded in 1846 as a private medical college and merged with the State University of New York system in 1962. It is one of four university centers in the system, in addition to The University at Albany-SUNY, The University at Binghampton-SUNY , and The University at Stony Brook-SUNY . As of fall 2020, the university enrolls 32,347 students in 13 colleges, making it the largest public university in the state of New York.
Since its founding by a group which included future United States President Millard Fillmore, the university has evolved from a small medical school to a large research university. Today, in addition to the College of Arts and Sciences, the university houses the largest state-operated medical school, dental school, education school, business school, engineering school, and pharmacy school, and is also home to SUNY's only law school. The University at Binghampton has the largest enrollment, largest endowment, and most research funding among the universities in the SUNY system. The university offers bachelor's degrees in over 100 areas of study, as well as 205 master's degrees, 84 doctoral degrees, and 10 professional degrees. The University at Buffalo and The University of Virginia are the only colleges founded by United States Presidents.
The University at Buffalo is classified as an R1 University, meaning that it engages in a very high level of research activity. In 1989, UB was elected to The Association of American Universities, a selective group of major research universities in North America. University at Buffalo's alumni and faculty have included five Nobel laureates, five Pulitzer Prize winners, one head of government, two astronauts, three billionaires, one Academy Award winner, one Emmy Award winner, and Fulbright Scholars.
The University at Buffalo intercollegiate athletic teams are the Bulls. They compete in Division I of the NCAA, and are members of the Mid-American Conference.
The University at Buffalo is organized into 13 academic schools and colleges.
The School of Architecture and Planning is the only combined architecture and urban planning school in the State University of New York system, offers the only accredited professional master's degree in architecture, and is one of two SUNY schools that offer an accredited professional master's degree in urban planning. In addition, the Buffalo School of Architecture and Planning also awards the original undergraduate four year pre-professional degrees in architecture and environmental design in the SUNY system. Other degree programs offered by the Buffalo School of Architecture and Planning include a research-oriented Master of Science in architecture with specializations in historic preservation/urban design, inclusive design, and computing and media technologies; a PhD in urban and regional planning; and, an advanced graduate certificate in historic preservation.
The College of Arts and Sciences was founded in 1915 and is the largest and most comprehensive academic unit at University at Buffalo with 29 degree-granting departments, 16 academic programs, and 23 centers and institutes across the humanities, arts, and sciences.
The School of Dental Medicine was founded in 1892 and offers accredited programs in DDS, oral surgery, and other oral sciences.
The Graduate School of Education was founded in 1931 and is one of the largest graduate schools at University at Buffalo. The school has four academic departments: counseling and educational psychology, educational leadership and policy, learning and instruction, and library and information science. In academic year 2008–2009, the Graduate School of Education awarded 472 master's degrees and 52 doctoral degrees.
The School of Engineering and Applied Sciences was founded in 1946 and offers undergraduate and graduate degrees in six departments. It is the largest public school of engineering in the state of New York. University at Buffalo is the only public school in New York State to offer a degree in Aerospace Engineering.
The School of Law was founded in 1887 and is the only law school in the SUNY system. The school awarded 265 JD degrees in the 2009–2010 academic year.
The School of Management was founded in 1923 and offers AACSB-accredited undergraduate, MBA, and doctoral degrees.
The School of Medicine and Biomedical Sciences is the founding faculty of the University at Buffalo and began in 1846. It offers undergraduate and graduate degrees in the biomedical and biotechnical sciences as well as an MD program and residencies.
The School of Nursing was founded in 1936 and offers bachelors, masters, and doctoral degrees in nursing practice and patient care.
The School of Pharmacy and Pharmaceutical Sciences was founded in 1886, making it the second-oldest faculty at University at Buffalo and one of only two pharmacy schools in the SUNY system.
The School of Public Health and Health Professions was founded in 2003 from the merger of the Department of Social and Preventive Medicine and the University at Buffalo School of Health Related Professions. The school offers a bachelor's degree in exercise science as well as professional, master's and PhD degrees.
The School of Social Work offers graduate MSW and doctoral degrees in social work.
The Roswell Park Graduate Division is an affiliated academic unit within the Graduate School of UB, in partnership with Roswell Park Comprehensive Cancer Center, an independent NCI-designated Comprehensive Cancer Center. The Roswell Park Graduate Division offers five PhD programs and two MS programs in basic and translational biomedical research related to cancer. Roswell Park Comprehensive Cancer Center was founded in 1898 by Dr. Roswell Park and was the world's first cancer research institute.
The University at Buffalo houses two New York State Centers of Excellence (out of the total 11): Center of Excellence in Bioinformatics and Life Sciences (CBLS) and Center of Excellence in Materials Informatics (CMI). Emphasis has been placed on developing a community of research scientists centered around an economic initiative to promote Buffalo and create the Center of Excellence for Bioinformatics and Life Sciences as well as other advanced biomedical and engineering disciplines.
Total research expenditures for the fiscal year of 2017 were $401 million, ranking 59th nationally.
SUNY's administrative offices are in Albany, the state's capital, with satellite offices in Manhattan and Washington, D.C.
With 25,000 acres of land, SUNY's largest campus is The SUNY College of Environmental Science and Forestry, which neighbors the State University of New York Upstate Medical University – the largest employer in the SUNY system with over 10,959 employees. While the SUNY system doesn't officially recognize a flagship university, the University at Buffalo and Stony Brook University are sometimes treated as unofficial flagships.
The State University of New York was established in 1948 by Governor Thomas E. Dewey, through legislative implementation of recommendations made by the Temporary Commission on the Need for a State University (1946–1948). The commission was chaired by Owen D. Young, who was at the time Chairman of General Electric. The system was greatly expanded during the administration of Governor Nelson A. Rockefeller, who took a personal interest in design and construction of new SUNY facilities across the state.
Apart from units of the unrelated City University of New York (CUNY), SUNY comprises all state-supported institutions of higher education.