From The Technical University of Munich [Technische Universität München] (DE)
And

The Technical University of Dresden [Technische Universität Dresden] (DE)
9.30.22
New insights into quantum phenomena at phase transitions
In the past, quantum phenomena could be investigated only in the realm of just a few atoms. A research team from the Technical University of Munich (TUM) and the Technical University of Dresden (TUD) has now discovered conditions for which quantum entanglement dominates on much larger scales. The results suggest new approaches to the exploration of quantum phenomena and their practical applications such as quantum computing.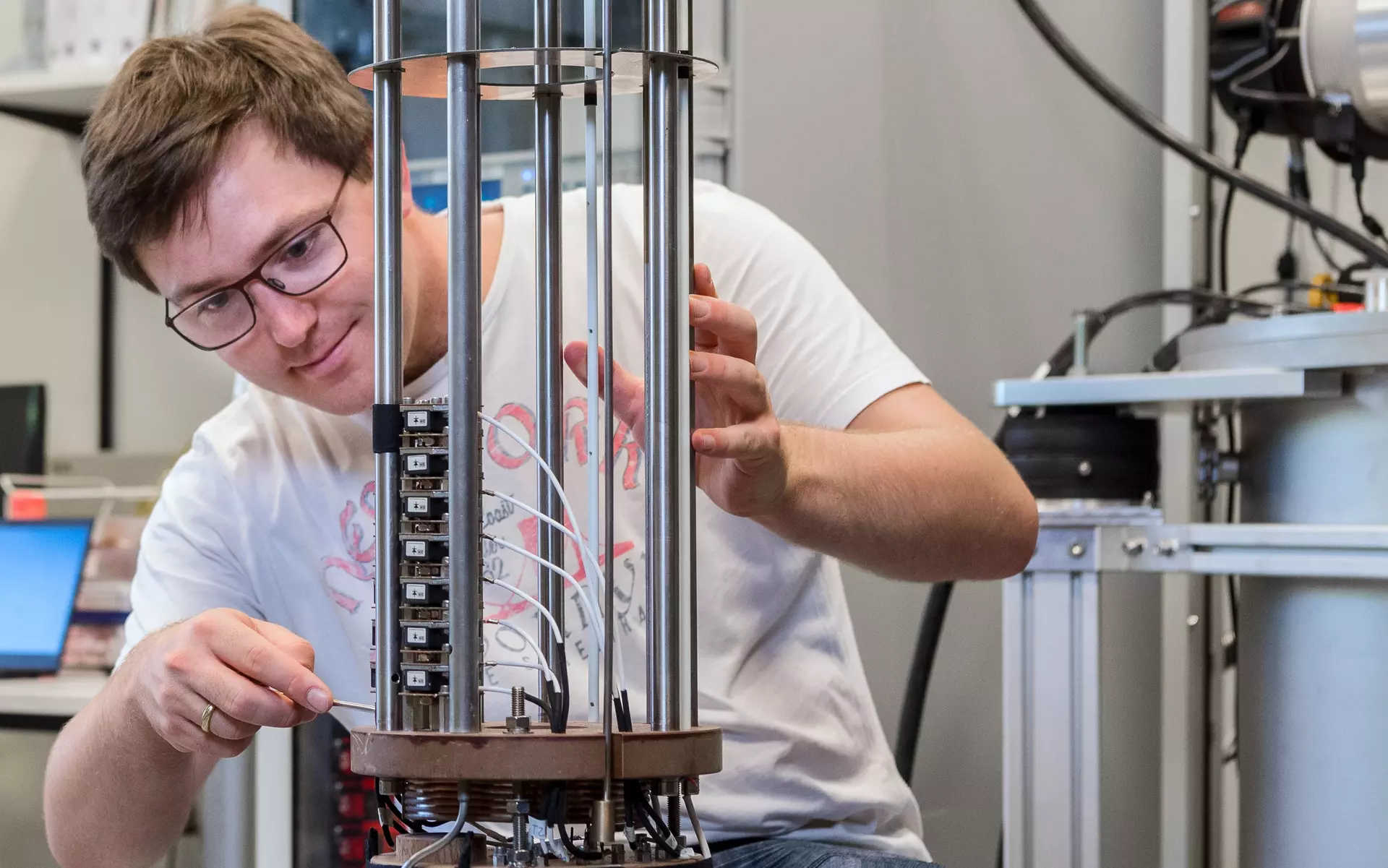 Andreas Wendl preparing a superconducting magnet system. Credit: A. Heddergott /TUM.
To observe phase transitions in familiar temperature ranges, we can look at water. At 100°C it evaporates into a gas and at 0°C it freezes into ice. In all three states, the atoms display different forms of order that change abruptly across well-defined transitions. Such ordered states are also referred to as phases, separated accordingly by phase transitions. Material properties such as magnetism, superconductivity or ferroelectricity are also ordered phases, however, of the electrons in solids.
Near absolute zero, at -273.15°C, the behavior of materials can no longer be explained by classical theories. Here quantum mechanics plays a crucial role, in particular the phenomenon of entanglement, in which particles share a quantum mechanical state. If a phase transition occurs at absolute zero, for example by means of a magnetic force, the entanglement changes and specialists speak of a quantum phase transition. As for high temperatures, quantum phase transitions result in an abrupt change of the material properties.
New type of phase transition discovered
"Despite more than 30 years of extensive research dedicated to phase transitions in quantum materials, we previously assumed that the phenomenon of entanglement plays an important role at tiny distance and time scales only," explains Matthias Vojta, Chair of Theoretical Solid State Physics at TUD. In their investigation of lithium holmium fluoride (LiHoF4), the team was able to demonstrate under which conditions quantum entanglement can be studied on much larger scales. "We discovered a new type of quantum transition in which magnetic domains play a decisive role."
Spherical samples permit precise measurements
LiHoF4 is a ferromagnet at very low temperatures. However, if a strong magnetic field is applied exactly perpendicular to the preferred magnetic direction, the ferromagnetism vanishes entirely above a quantum phase transition. This phenomenon has been known for a long time. In their studies, the researchers now changed the direction of the magnetic field. Andreas Wendl, who conducted the experiments as part of his doctoral thesis work, explains: "We used spherical samples for our precision measurements. This allowed us to investigate the behavior in response to a small tilt of the magnetic field."
In doing so, the researchers made a surprising observation. "We discovered that the quantum phase transition continues to exist, whereas it was previously believed that even the smallest tilt of the magnetic field would immediately suppress the transition," says Christian Pfleiderer, professor of Experimental Physics for the Topology of Correlated Systems at TUM. Instead of the expected gradual variation in the material's properties, the team observed an abrupt change – the defining feature of a phase transition.
The cause of these transitions according to the researchers is what is known as textures. These refer to the rough patterns in which the particles organize themselves in their microscopically ordered states. In ice these are mutually tilted crystallites and in magnets these are magnetic domains, also known as Weiss domains. Until now it was unclear whether textures can exhibit quantum phase transitions by themselves. The researchers have now discovered that this is possible and thus demonstrated that quantum entanglement also takes place at the level of textures – in other words for large numbers of atoms.
Significance for quantum technologies
On the basis of their data, the researchers have developed a new theoretical model. "For our analysis, we had to generalize existing microscopic models to take into account the tilt of the magnetic field," says Heike Eisenlohr, who performed the calculations as part of her PhD thesis. "As an entirely new aspect, we then also calculated the feedback of the ferromagnetic domains on the microscopic properties."
The discovery of the new quantum phase transitions and the underlying theoretical model promise to be important as a foundation and general frame of reference for research on quantum phenomena in materials, as well as for new applications: "Quantum entanglement could be controlled and applied in such technologies as quantum sensors and quantum computers," says Vojta. Pfleiderer adds: "Our work relates to fundamental research. However, it could soon have a direct impact on real-world applications with targeted use of the newly discovered material properties."
Science paper:
Nature
See the full article here .
five-ways-keep-your-child-safe-school-shootings
Please help promote STEM in your local schools.
The Technical University of Dresden [Technische Universität Dresden] (DE), internationally known as Dresden University of Technology) is a public research university, the largest institute of higher education in the city of Dresden, the largest university in Saxony and one of the 10 largest universities in Germany with 32,389 students as of 2018.
The name Technische Universität Dresden has only been used since 1961; the history of the university, however, goes back nearly 200 years to 1828. This makes it one of the oldest colleges of technology in Germany, and one of the country's oldest universities, which in German today refers to institutes of higher education that cover the entire curriculum. The university is a member of TU9, a consortium of the nine leading German Institutes of Technology. The university is one of eleven German universities which succeeded in the Excellence Initiative in 2012, thus getting the title of a "University of Excellence". The Technical University of Dresden succeeded in all three rounds of the German Universities Excellence Initiative (Future Concept, Graduate Schools, Clusters of Excellence).
In 1828, with emerging industrialization, the Saxon Technical School was founded to educate skilled workers in technological subjects such as mechanics, mechanical engineering and ship construction. In 1871, the year the German Empire was founded, the institute was renamed the Royal Saxon Polytechnic Institute (Königlich-Sächsisches Polytechnikum). At that time, subjects not connected with technology, such as history and languages, were introduced. By the end of the 19th century the institute had developed into a university covering all disciplines. In 1961 it was given its present name, The Technical University of Dresden [Technische Universität Dresden].
Upon German reunification in 1990, the university had already integrated the College of Forestry (Forstliche Hochschule), formerly the Royal Saxony Academy of Forestry, in the nearby small town of Tharandt. This was followed by the integration of the Dresden College of Engineering (Ingenieurshochschule Dresden), the Friedrich List College of Transport (Hochschule für Verkehrswesen) the faculty of transport science, and the "Carl-Gustav Carus" Medical Academy (Medizinische Akademie or MedAk for short), the medical faculty. Some faculties were newly founded: the faculties of Information Technology (1991), Law (1991), Education (1993) and Economics (1993).
In 2009 TU Dresden, all Dresden institutes of the Fraunhofer Society, the Gottfried Wilhelm Leibniz Scientific Community and the Max Planck Society and Forschungszentrum Dresden-Rossendorf, soon incorporated into the Helmholtz Association of German Research Centres, published a joint letter of intent with the name DRESDEN-Konzept – Dresden Research and Education Synergies for the Development of Excellence and Novelty, which points out worldwide elite aspirations, which was recognized as the first time that all four big post-gradual elite institutions declared campus co-operation with a university.
Measured by the number of DAX board members, no top manager in the German economy was a graduate of the TU Dresden in 2019.
According to the QS Engineering and Technology Ranking the university ranked 113th worldwide and 5th in Germany. According to the Times Higher Education World University Rankings the university ranked 157th worldwide and in engineering & technology the university ranked 90th worldwide. Moreover, According to Reuters, the university was ranked 79th in the list of 'Most Innovative Universities Ranking 2019'.
The Eduniversal Business Schools ranking ranks the university's Faculty of Business and Economics with 3 out of 5 palmes of excellence. According to the university ranking 2016 of the German business magazine Wirtschaftswoche the university ranked 7th in Germany in computer science and mechanical engineering and 6th in Germany in business informatics and engineering management. The university did not take first place in any of the ranked subjects: Business Administration, Business informatics, Engineering management, Natural Sciences, Computer Science, Electrical Engineering, Mechanical Engineering and Economics.
International cooperations
As one of the first universities in Germany it has opened a branch in Hanoi, Vietnam offering a Master's course in mechatronics. It also maintains close partnerships with leading universities around the world, e.g. Boston University, Georgetown University, Harvard Medical School, Tongji University [同济大学](CN) and Pohang University of Science and Technology [포항공과대학교](KR).
The Technical University of Munich [Technische Universität München] (DE) is a public research university in Munich, with additional campuses in Garching, Freising, Heilbronn, Straubing, and Singapore. A technical university that specializes in engineering, technology, medicine, and the applied and natural sciences, it is organized into 11 schools and departments, and supported by numerous research centers.
A University of Excellence under the German Universities Excellence Initiative, TUM is consistently ranked among the leading universities in the European Union and its researchers and alumni include 17 Nobel laureates and 23 Leibniz Prize winners.
Research
TUM is ranked first in Germany in the fields of engineering and computer science, and within the top three in the natural sciences.
In the QS World Rankings, TUM is ranked 25th (worldwide) in engineering and technology, 28th in the natural sciences, 35th in computer science, and 50th place overall. It is the highest ranked German university in those subject areas.
In the Times Higher Education World University Rankings, TUM stands at 38th place worldwide and 2nd place nationwide. Worldwide, it ranks 14th in computer science, 22nd in engineering and technology, and 23rd in the physical sciences. It is the highest ranked German university in those subject areas.
In the Academic Ranking of World Universities, TUM is ranked at 52nd place in the world and 2nd place in Germany. In the subject areas of computer science and engineering, electrical engineering, aerospace engineering, food science, biotechnology, and chemistry, TUM is ranked first in Germany.
In the 2020 Global University Employability Ranking of the Times Higher Education World Rankings, TUM was ranked 12th in the world and 3rd in Europe. TUM is ranked 7th overall in Reuters' 2019 European Most Innovative University ranking.
The TUM School of Management is triple accredited by the European Quality Improvement System (EQUIS), the Association to Advance Collegiate Schools of Business (AACSB) and the Association of MBAs (AMBA).
Partnerships
TUM has over 160 international partnerships, ranging from joint research activities to international study programs. Partners include:
Europe: ETH Zurich, EPFL, ENSEA, École Centrale Paris, TU Eindhoven, Technical University of Denmark, Technical University of Vienna.
United States: The Massachusetts Institute of Technology, Stanford University, Northwestern University, University of Illinois, Cornell University, University of Texas-Austin, The Georgia Institute of Technology .
Asia: National University of Singapore, Multimedia University, Hong Kong University of Science and Technology, Huazhong University of Science and Technology, Tsinghua University, University of Tokyo, Indian Institute of Technology Delhi, Amrita University, Sirindhorn International Institute of Technology.
Australia: Australian National University, University of Melbourne, RMIT University.
Through the Erasmus+ program and its international student exchange program TUMexchange, TUM students are provided by opportunities to study abroad.