From The Paul Scherrer Institute [Paul Scherrer Institut](CH)
12.8.22
Written by Bernd Müller
Contact
Prof. Dr. Milan Radovic
Synchrotron Light Source SLS
Paul Scherrer Institute, Forschungsstrasse 111, 5232 Villigen PSI, Switzerland
+41 56 310 55 65
milan.radovic@psi.ch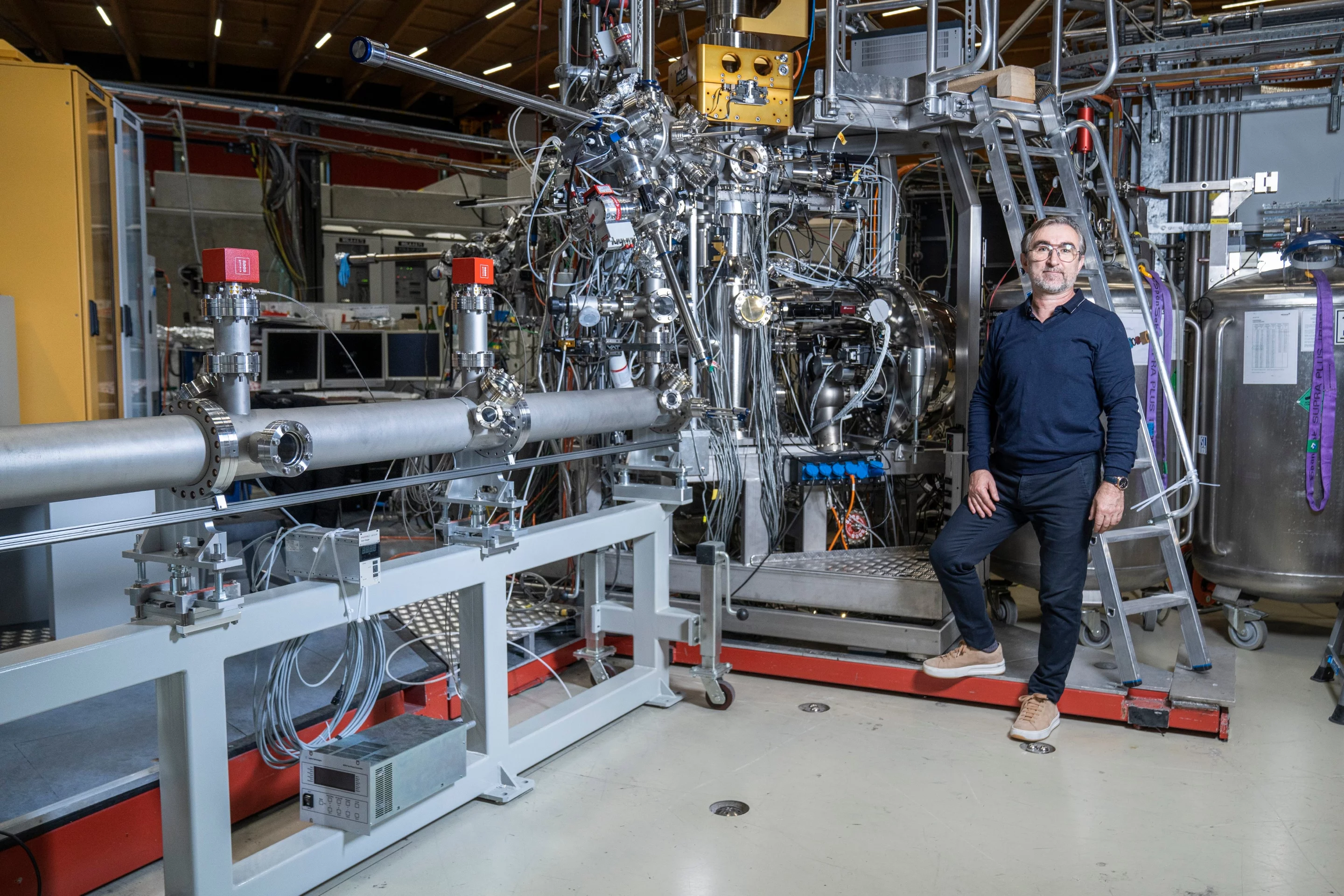 Milan Radovic is a staff scientist at the Spectroscopy of Interfaces and Surfaces (SIS) Beam Line, Swiss Light Source. He studied Applied Physics at the University of Belgrade, Serbia, where he also started his research career at the Department of Atomic Physics. In 2009 he obtained his PhD from the University of Naples, Italy. In 2003 he was invited to take up a dual appointment with EPFL Lausanne and PSI, where he has been a staff scientist since 2013. (Photo: Paul Scherrer Institute/Mahir Dzambegovic)

Milan Radovic and Eduardo Bonini Guedes from the Spectroscopy of Quantum Materials Group at the SIS beamline of the Swiss Light Source. (Photo: Paul Scherrer Institute/Mahir Dzambegovic)

Surface and bulk electronic structure of La-doped BaSnO3. a Valence band dispersion parallel to Γ-X, acquired with incoming photon energies of 80, 122, and 132 eV, corresponding to different perpendicular momentum kz values as indicated by the white curves in (b). The measured band structure is overlaid with the LQSGW band structure calculated for bulk BaSnO3. The measured and calculated bands show good agreement, with a clear dispersion along kz. b Intensity map at the Fermi energy in the plane perpendicular to the sample surface (kx–kz), measured with incoming photon energies ranging from 20 to 145 eV. No clear periodicity is evident along kz. The black squares indicate the Brillouin zone boundaries as inferred by the periodicity of the valence bands shown in panel (a), using the LQSGW calculations as a reference. The red circumferences mark the expected bulk Fermi surface centered at the Γ points (c) Sketch illustrating the difference between the measured and calculated Fermi surfaces. The calculated 3D sphere-like Fermi surface with Fermi momentum kF based on the nominal doping of the film is shown in red, while the measured 2D cylinder-like Fermi surface with kF based on the measurements results is shown in green. ARPES intensity follows the attached color scale bar. Credit: Communications Physics (2022).
Novel materials could revolutionize computer technology. Research conducted by scientists at the Paul Scherrer Institute PSI using the Swiss Light Source [below] has reached an important milestone along this path.
Microchips are made from silicon and work on the physical principle of a semiconductor. Nothing has changed here since the first transistor was invented in 1947 in the Bell Labs in America. Ever since, researchers have repeatedly foretold the end of the silicon era – but have always been wrong. Silicon technology is very much alive, and continues to develop at a rapid pace. The IT giant IBM has just announced the first microprocessor whose transistor structures only measure two nanometres, equivalent to 20 adjacent atoms. So what's next? Even tinier structures? Presumably so – for this decade, at least.
At the same time, new ideas are taking shape in research laboratories regarding a revolutionary technology that could turn everything we think we know about microelectronics on its head. One of the shining lights in this research field is given by Milan Radovic team. Milan Radovic works at the Paul Scherrer Institute and his team just published an article in the journal Communication Physics [below] presenting sensational findings from cutting-edge research into transparent oxides (TOs) that could open up huge prospects for this novel technology.
Innovative microchips
Radovic and his co-authors Muntaser Naamneh and Eduardo Guedes, together with the Bharat Jalan research group from the University of Minnesota, do not work with silicon, but with transition metal oxides (TMOs). These exhibit exotic properties and multifunctional phenomena such as high-temperature superconductivity, colossal magnetoresistance, metal-insulator transition and much more besides. What may initially sound bewildering to a lay person promises enormous advances for the chip technology of the future.
In their latest publication [below], the researchers focus on barium tin oxide (BaSnO3), a material that combines optical transparency with high electrical conductivity.
Scientists have been trying for some time to elicit semiconductor-like properties from transition metals as well as special transparent oxides such as BaSnO3 and strontium stannate (SrSnO3). Compared with silicon, they offer ground-breaking advantages for optoelectronic elements: these transparent, conductive perovskite oxides, would make it possible to create switching elements with directly linked electrical and optical properties. It may then be conceivable to produce transistors that can be switched with light.
Knowledge of interfaces is critical
All microchips are made from a combination of different substances. To understand their function, it is important to know what happens in the thin adjacent layers, or interfaces, between these materials, because the physical properties of many materials are completely different on the surface compared with their interior. "Exotic phases" can occur at the interfaces of materials – a discovery made by three British physicists who were awarded the Nobel Prize in 2016. The article just published describes significant advances in the understanding of the surface-state electronic properties of BaSnO3.
The researchers used angle-resolved photoemission spectroscopy at the beamline of the Swiss Light Source SLS to "discover the two-dimensional electronic state of BaSnO3 , which opens up new prospects for this class of materials," stresses Eduardo Guedes.
Optimal facilities for spectroscopy at the SLS
It is no coincidence that these findings were made at PSI: researchers on the PSI campus have access to a laboratory specialising in designing, producing, modifying and thoroughly investigating new materials. In addition, the SLS at PSI offers the very best facilities for screening substances at high spatial and temporal resolution. These sophisticated spectroscopy methods are a speciality of PSI, Switzerland's foremost research centre. There are only three locations worldwide that simultaneously meet all these requirements. The relevant know-how and advanced research infrastructure are also important prerequisites. "At PSI we explore and combine a knowledge with experimental facilities," says Radovic. Now the researchers want to find out which other materials exhibit similar properties and could be potential candidates for the optical microchips of the future.
But silicon is far from being an outdated technology, Milan Radovic stresses. It is in fact highly developed and efficient. "However, technology based on transition metal oxides is much more powerful and versatile – its time will come."
Science paper:
Communication Physics
See the science paper for instructive material with images.
See the full article here.
Comments are invited and will be appreciated, especially if the reader finds any errors which I can correct. Use "Reply".
five-ways-keep-your-child-safe-school-shootings
Please help promote STEM in your local schools.
Paul Sherrer Institute SwissFEL Coherent Light Source, Spallation Neutron Source (SINQ), Muon Source (SμS), X-ray free-electron laser (SwissFEL).
The Paul Scherrer Institute [Paul Scherrer Institut] (CH) is the largest research institute for natural and engineering sciences within Switzerland. We perform world-class research in three main subject areas: Matter and Material; Energy and the Environment; and Human Health. By conducting fundamental and applied research, we work on long-term solutions for major challenges facing society, industry and science.
The Paul Scherrer Institute (PSI) is a multi-disciplinary research institute for natural and engineering sciences in Switzerland. It is located in the Canton of Aargau in the municipalities Villigen and Würenlingen on either side of the River Aare, and covers an area over 35 hectares in size. Like ETH Zurich [Swiss Federal Institute of Technology ETH Zürich [Eidgenössische Technische Hochschule Zürich)](CH) and EPFL [Swiss Federal Institute of Technology in Lausanne) [École polytechnique fédérale de Lausanne](CH)], PSI belongs to the Swiss Federal Institutes of Technology Domain of the Swiss Confederation . The PSI employs around 2100 people. It conducts basic and applied research in the fields of matter and materials, human health, and energy and the environment. About 37% of PSI's research activities focus on material sciences, 24% on life sciences, 19% on general energy, 11% on nuclear energy and safety, and 9% on particle physics.
PSI develops, builds and operates large and complex research facilities and makes them available to the national and international scientific communities. In 2017, for example, more than 2500 researchers from 60 different countries came to PSI to take advantage of the concentration of large-scale research facilities in the same location, which is unique worldwide. About 1900 experiments are conducted each year at the approximately 40 measuring stations in these facilities.
In recent years, the institute has been one of the largest recipients of money from the Swiss lottery fund.
Research and specialist areas
Paul Scherrer Institute develops, builds and operates several accelerator facilities, e. g. a 590 MeV high-current cyclotron, which in normal operation supplies a beam current of about 2.2 mA. PSI also operates four large-scale research facilities: a synchrotron light source (SLS), which is particularly brilliant and stable, a spallation neutron source (SINQ), a muon source (SμS) and an X-ray free-electron laser (SwissFEL).
This makes PSI currently (2020) the only institute in the world to provide the four most important probes for researching the structure and dynamics of condensed matter (neutrons, muons and synchrotron radiation) on a campus for the international user community. In addition, HIPA's target facilities also produce pions that feed the muon source and the Ultracold Neutron source UCN produces very slow, ultracold neutrons. All these particle types are used for research in particle physics.