From National Aeronautics and Space Administration (US) Chandra X-ray Telescope (US)
August 31, 2021
Media contacts:
Megan Watzke
Chandra X-ray Center, Cambridge, Mass.
617-496-7998
mwatzke@cfa.harvard.edu
Molly Porter
Marshall Space Flight Center, Huntsville, Alabama
256-544-0034
molly.a.porter@nasa.gov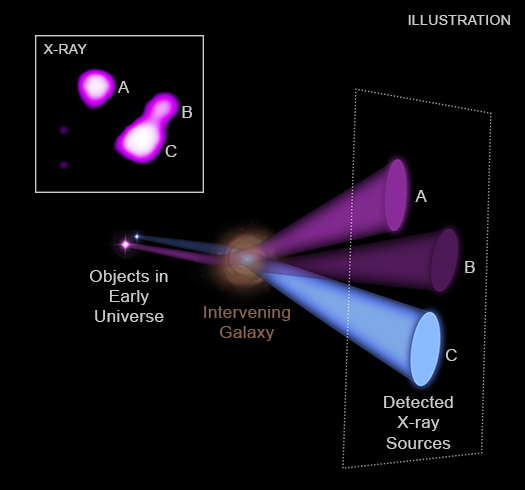 Astronomers have used an "X-ray magnifying glass" to study a black hole system in the early Universe.
The amplification and magnification of light by an intervening galaxy allowed the detection of two distant X-ray-emitting objects.
The objects are either two growing supermassive black holes, or one such black hole and a jet.
This result helps us understand the growth of black holes in the early Universe and the possible existence of systems with multiple black holes.
By taking advantage of a natural lens in space, astronomers have captured an unprecedented look at X-rays from a black hole system in the early Universe.
This magnifying glass was used to sharpen X-ray images for the first time using NASA's Chandra X-ray Observatory. It captured details about black holes that would normally be too distant to study using existing X-ray telescopes.
Astronomers applied a phenomenon known as "gravitational lensing" that occurs when the path taken by light from distant objects is bent by a large concentration of mass, such as a galaxy, that lies along the line of sight.
This lensing can magnify and amplify the light by large amounts and create duplicate images of the same object. The configuration of these duplicate images can be used to decipher the complexity of the object and sharpen images.
The gravitationally-lensed system in the new study is called MG B2016+112. The X-rays detected by Chandra were emitted by this system when the Universe was only 2 billion years old compared to its current age of nearly 14 billion years.
"Our efforts to see and understand such distant objects in X-rays would be doomed if we didn't have a natural magnifying glass like this," said Dan Schwartz of The Center for Astrophysics | Harvard & Smithsonian (CfA), who led the study.
The latest research builds on earlier work led by co-author Cristiana Spingola, currently at the Institute for Radio Astronomy of Bologna [Istituto di Radioastronomia di Bologna] (IT). Using radio observations of MG B2016+112, her team found evidence for a pair of rapidly growing supermassive black holes separated by only about 650 light years. They found that both of the black hole candidates possibly have jets.
Using a gravitational lensing model based on the radio data, Schwartz and his colleagues concluded that the three X-ray sources they detected from the MG B2016+112 system must have resulted from the lensing of two distinct objects. These two X-ray-emitting objects are likely a pair of growing supermassive black holes or a growing supermassive black hole and its jet. The estimated separation of these two objects is consistent with the radio work.
Previous Chandra measurements of pairs or trios of growing supermassive black holes have generally involved objects much closer to Earth, or with much larger separations between the objects. An X-ray jet at an even larger distance from Earth has previously been observed, with light emitted when the Universe was only 7% of its current age. However, the emission from the jet is separated from the black hole by about 160,000 light years.
The present result is important because it provides crucial information about the speed of growth of black holes in the early Universe and the detection of a possible double black hole system. The gravitational lens amplifies the light from these far-flung objects that otherwise would be too faint to detect. The detected X-ray light from one of the objects in MG B2016+112 may be up to 300 times brighter than it would have been without the lensing.
"Astronomers have discovered black holes with masses billions of times greater than that of our Sun being formed just hundreds of millions of years after the big bang, when the Universe was only a few percent of its current age," said Spingola. "We want to solve the mystery of how these supermassive black holes gained mass so quickly."
The boosts from gravitational lensing may enable researchers to estimate how many systems containing two supermassive black holes have separations small enough to produce gravitational waves observable in the future with space-based detectors.
"In many ways, this result is an exciting proof-of-concept of how this 'magnifying glass' can help us reveal physics of the distant supermassive black holes in a novel approach. Without this effect Chandra would have had to observe it a few hundred times longer and even then would not reveal the complex structures," said co-author Anna Barnacka of the CfA and Jagiellonian University Krakow [Uniwersytet Jagielloński] Astronomical Observatory (PL), who developed the techniques for turning gravitational lenses into high-resolution telescopes to sharpen the images.
"Thanks to gravitational lensing much longer Chandra observations may be able to distinguish between the black hole pair and the black hole plus jet explanations. We also look forward to applying this technique in the future, especially as surveys by major new optical and radio facilities that will soon come on line will supply tens of thousands of targets," concluded Schwartz.
The uncertainty in the X-ray position of one of the objects in MG B2016+112 is 130 light years in one dimension and 2,000 light years in the other, perpendicular dimension. This means that the size of the area where the source is likely located is more than 100 times smaller than the corresponding area for a typical Chandra source that is not lensed. Such precision in a position determination is unparalleled in X-ray astronomy for a source at this distance.
A paper describing these results appears in the August issue of The Astrophysical Journal.
See the full article here and here.

five-ways-keep-your-child-safe-school-shootings
Please help promote STEM in your local schools.


Stem Education Coalition
NASA's Marshall Space Flight Center in Huntsville, Ala., manages the Chandra program for NASA's Science Mission Directorate in Washington. The Smithsonian Astrophysical Observatory controls Chandra's science and flight operations from Cambridge, Mass.

In 1976 the Chandra X-ray Observatory (called AXAF at the time) was proposed to National Aeronautics and Space Administration (US) by Riccardo Giacconi and Harvey Tananbaum. Preliminary work began the following year at NASA's Marshall Space Flight Center(US) and the Harvard Smithsonian Center for Astrophysics(US) . In the meantime, in 1978, NASA launched the first imaging X-ray telescope, Einstein (HEAO-2), into orbit. Work continued on the AXAF project throughout the 1980s and 1990s. In 1992, to reduce costs, the spacecraft was redesigned. Four of the twelve planned mirrors were eliminated, as were two of the six scientific instruments. AXAF's planned orbit was changed to an elliptical one, reaching one third of the way to the Moon's at its farthest point. This eliminated the possibility of improvement or repair by the space shuttle but put the observatory above the Earth's radiation belts for most of its orbit. AXAF was assembled and tested by TRW (now Northrop Grumman Aerospace Systems) in Redondo Beach, California.
AXAF was renamed Chandra as part of a contest held by NASA in 1998, which drew more than 6,000 submissions worldwide. The contest winners, Jatila van der Veen and Tyrel Johnson (then a high school teacher and high school student, respectively), suggested the name in honor of Nobel Prize–winning Indian-American astrophysicist Subrahmanyan Chandrasekhar. He is known for his work in determining the maximum mass of white dwarf stars, leading to greater understanding of high energy astronomical phenomena such as neutron stars and black holes. Fittingly, the name Chandra means "moon" in Sanskrit.
Originally scheduled to be launched in December 1998, the spacecraft was delayed several months, eventually being launched on July 23, 1999, at 04:31 UTC by Space Shuttle Columbia during STS-93. Chandra was deployed from Columbia at 11:47 UTC. The Inertial Upper Stage's first stage motor ignited at 12:48 UTC, and after burning for 125 seconds and separating, the second stage ignited at 12:51 UTC and burned for 117 seconds. At 22,753 kilograms (50,162 lb), it was the heaviest payload ever launched by the shuttle, a consequence of the two-stage Inertial Upper Stage booster rocket system needed to transport the spacecraft to its high orbit.
Chandra has been returning data since the month after it launched. It is operated by the SAO at the Chandra X-ray Center in Cambridge, Massachusetts, with assistance from Massachusetts Institute of Technology(US) and Northrop Grumman Space Technology. The ACIS CCDs suffered particle damage during early radiation belt passages. To prevent further damage, the instrument is now removed from the telescope's focal plane during passages.
Although Chandra was initially given an expected lifetime of 5 years, on September 4, 2001, NASA extended its lifetime to 10 years "based on the observatory's outstanding results." Physically Chandra could last much longer. A 2004 study performed at the Chandra X-ray Center indicated that the observatory could last at least 15 years.
In July 2008, the International X-ray Observatory, a joint project between European Space Agency [Agence spatiale européenne][Europäische Weltraumorganisation](EU), NASA and Japan Aerospace Exploration Agency (JAXA) (国立研究開発法人宇宙航空研究開発機構](JP), was proposed as the next major X-ray observatory but was later cancelled. ESA later resurrected a downsized version of the project as the Advanced Telescope for High Energy Astrophysics (ATHENA), with a proposed launch in 2028.
European Space Agency [Agence spatiale européenne][Europäische Weltraumorganisation](EU) Athena spacecraft depiction
On October 10, 2018, Chandra entered safe mode operations, due to a gyroscope glitch. NASA reported that all science instruments were safe. Within days, the 3-second error in data from one gyro was understood, and plans were made to return Chandra to full service. The gyroscope that experienced the glitch was placed in reserve and is otherwise healthy.