From EPFL (Swiss Federal Institute of Technology in Lausanne) [École polytechnique fédérale de Lausanne](CH)
and
From University of Geneva [Université de Genève](CH)
18.03.21
Nik Papageorgiou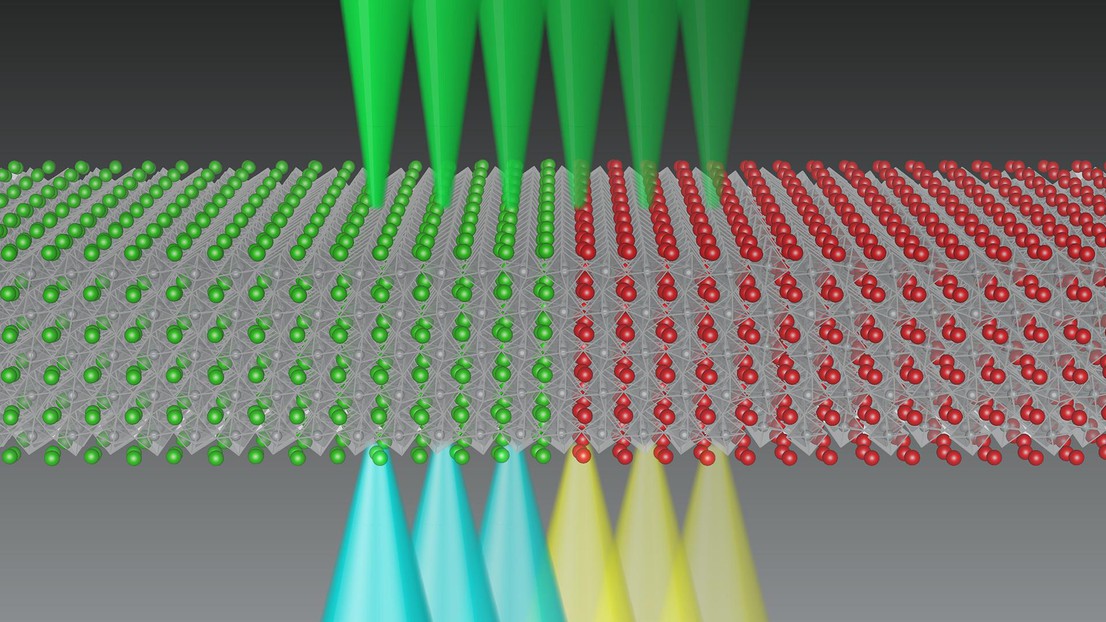 Schematic illustration of a STEM probe scanning across the interface of two nickelate compounds, with the nature of the scattered electrons changing as the electronic phase of the material goes from being metallic to insulating. Credit: Duncan T.L. Alexander. Atomic structure model rendered using VESTA.
"Phase transitions" are a central phenomenon in physical sciences. Despite being technical-sounding, they are actually something we all experience in everyday life: ice melting into liquid water, or hot water evaporating as steam. Solid; liquid; and gas are three well known "phases" and when one turns into another that is a phase transition.
Rare-earth nickelate oxides, also called nickelates, have attracted a lot of interest from researchers because they display an electronic phase transition, which may be exploited in future electronic devices. This particular phase transition consists of turning from a metallic state that conducts electricity into an electrically-insulating state as temperature drops.
Behind this behaviour is a strong interaction between the electronic properties of these compounds and their "lattice" structure – the well-ordered arrangement of atoms that forms a crystal. However, uncovering the true nature of this metal to insulator phase transition in nickelates, and being able to control it for potential electronic devices, requires knowing how each characteristic phase emerges and evolves across the transition.
Now, scientists from EPFL and the University of Geneva [Université de Genève](CH) have combined two cutting-edge techniques to achieve nanoscale mapping of each distinct electronic phase. Published in the journal Nano Letters, the study was led by Dr Duncan Alexander at EPFL's School of Basic Sciences and the group of Professor Jean-Marc Triscone at the University of Geneva.
The study's first author, Dr Bernat Mundet, says: "To fully understand the physics displayed by novel electronic materials and to control them in devices, new atomic-scale characterization techniques are required. In this regard, we have been able for the first time to precisely determine the metallic and insulating regions of atomically engineered devices made from two nickelate compounds with near atomic resolution. We believe that our methodology will help to better understand the physics of this important family of electronic materials."
The researchers combined aberration-corrected scanning transmission electron microscopy (STEM) with monochromated electron energy-loss spectroscopy (EELS).
In STEM, images are formed by scanning a beam of electrons, focused to a spot of about 1 Ångstroms in size, across a sufficiently thin specimen – in this case a sliver of nickelate – and collecting the transmitted and scattered electrons with the use of annular detectors. Though technically demanding, this technique allows researchers to precisely visualise a crystal's lattice structure, atomic row by atomic row.
For the second technique, EELS, those electrons passing through the central hole of the annular detector are instead collected. Some of these electrons have previously lost some energy due to their interaction with the Ni atoms of the nickelate crystal. By measuring how this energy difference changes, we can determine the metallic or insulating state of the nickelate compound.
Since all electrons are scattered and collected simultaneously, the researchers were able to correlate the electronic state changes with the associated lattice positions in the different nickelate compounds. This approach allowed them to map, for the first time, the spatial configuration of their metallic or insulating regions, reaching a very high spatial resolution of around 3.5 Ångstroms (0.35 nanometers). The technique will be a valuable tool for studying and guiding the atomic engineering of these novel electronic materials.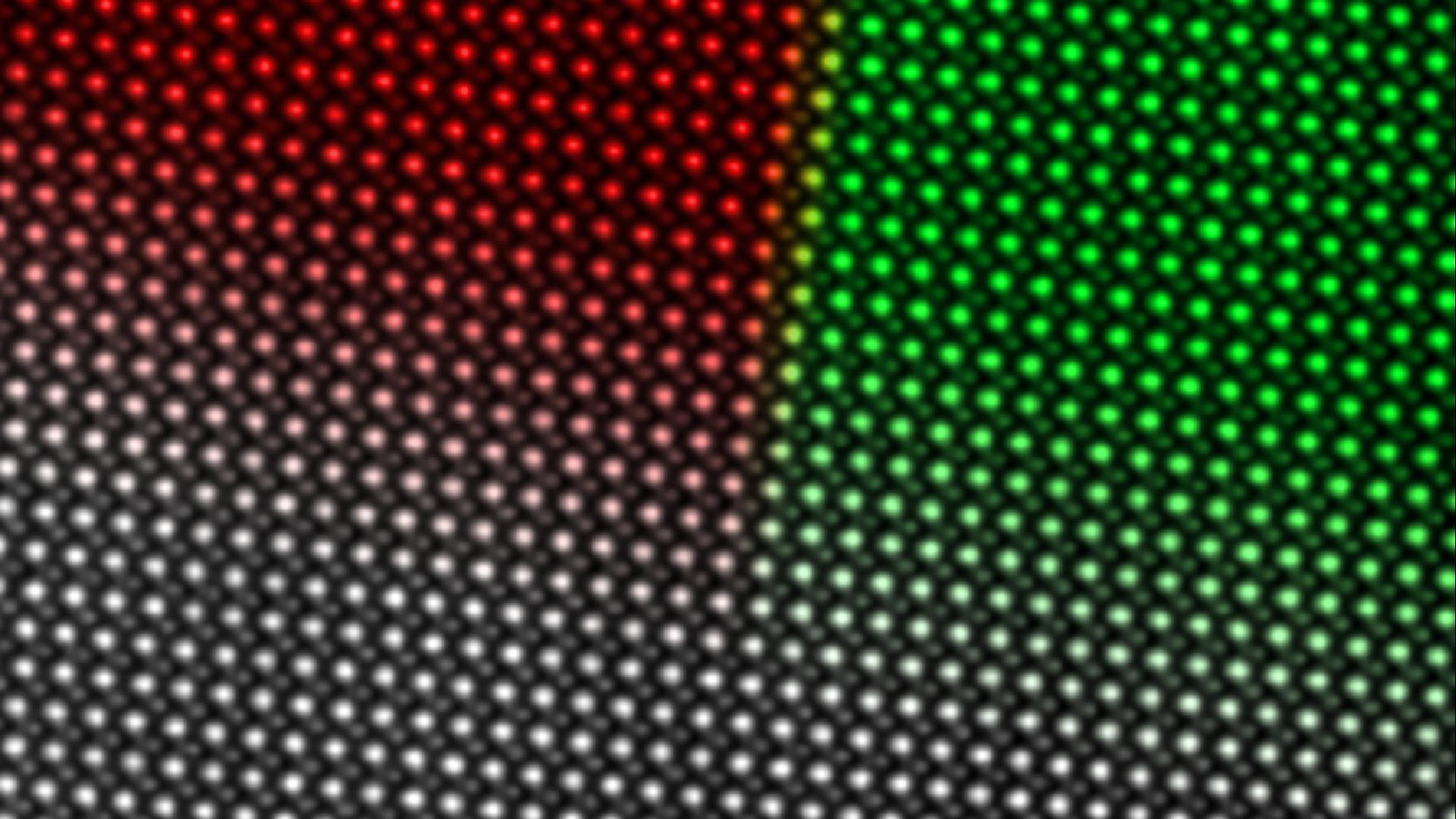 Atomic resolution STEM image showing the perfect crystal structure of a nickelate thin film, coloured to represent the two compounds. Credit: Bernat Mundet.
"The latest electron microscopes give us an amazing ability to measure a variety of materials physical properties with atomic or nanometric spatial resolution," says Duncan Alexander. "Here, by pushing the capabilities of EPFL's Titan Themis microscope to the limits, we take an exciting step forward in this domain, by proving that we can measure the changes in electronic state across a thin film structure precisely made from two different nickelates.

FEI Titan Themis 200 TEM. Credit:FEI.
Our approach opens up new avenues for investigating the physics of these nickelate compounds, which have sparked research interest worldwide."
"The combination of amazing artificial materials that display a metal to insulator transition and very advanced electron microscopy has allowed unprecedented detailed investigations of their electronic properties," adds Jean-Marc Triscone. "In particular, it revealed, at the atomic scale, whether the material is conducting or insulating – an important question for better understanding these materials that may be used in future computing approaches."
Other contributors
University of Zurich [Universität Zürich]
See the full article here .
five-ways-keep-your-child-safe-school-shootings
Please help promote STEM in your local schools.
The EPFL-École polytechnique fédérale de Lausanne(CH) is a research institute and university in Lausanne, Switzerland, that specializes in natural sciences and engineering. It is one of the two Swiss Federal Institutes of Technology, and it has three main missions: education, research and technology transfer.
The QS World University Rankings ranks EPFL(CH) 14th in the world across all fields in their 2020/2021 ranking, whereas Times Higher Education World University Rankings ranks EPFL(CH) as the world's 19th best school for Engineering and Technology in 2020.
EPFL(CH) is located in the French-speaking part of Switzerland; the sister institution in the German-speaking part of Switzerland is the Swiss Federal Institute of Technology in Zürich(CH) (ETH Zürich(CH). Associated with several specialized research institutes, the two universities form the Swiss Federal Institutes of Technology Domain (ETH(CH) Domain) which is directly dependent on the Federal Department of Economic Affairs, Education and Research. In connection with research and teaching activities, EPFL(CH) operates a nuclear reactor CROCUS; a Tokamak Fusion reactor; a Blue Gene/Q Supercomputer; and P3 bio-hazard facilities.
The roots of modern-day EPFL(CH) can be traced back to the foundation of a private school under the name École spéciale de Lausanne in 1853 at the initiative of Lois Rivier, a graduate of the École Centrale Paris and John Gay, the then professor and rector of the Académie de Lausanne. At its inception it had only 11 students and the offices was located at Rue du Valentin in Lausanne. In 1869, it became the technical department of the public Académie de Lausanne. When the Académie was reorganised and acquired the status of a university in 1890, the technical faculty changed its name to École d'ingénieurs de l'Université de Lausanne. In 1946, it was renamed the École polytechnique de l'Université de Lausanne (EPUL). In 1969, the EPUL was separated from the rest of the University of Lausanne and became a federal institute under its current name. EPFL(CH), like ETH Zürich(CH), is thus directly controlled by the Swiss federal government. In contrast, all other universities in Switzerland are controlled by their respective cantonal governments. Following the nomination of Patrick Aebischer as president in 2000, EPFL(CH) has started to develop into the field of life sciences. It absorbed the Swiss Institute for Experimental Cancer Research (ISREC) in 2008.
In 1946, there were 360 students. In 1969, EPFL(CH) had 1,400 students and 55 professors. In the past two decades the university has grown rapidly and as of 2012 roughly 14,000 people study or work on campus, about 9,300 of these being Bachelor, Master or PhD students. The environment at modern day EPFL(CH) is highly international with the school attracting students and researchers from all over the world. More than 125 countries are represented on the campus and the university has two official languages, French and English.