FNAL Art Image by Angela Gonzales
From Fermi National Accelerator Lab , an enduring source of strength for the US contribution to scientific research world wide.
August 12, 2019
Caitlyn Buongiorno
About 10 years ago, the world's most powerful X-ray laser — the Linac Coherent Light Source — made its debut at SLAC National Accelerator Laboratory. Now the next revolutionary X-ray laser in a class of its own, LCLS-II, is under construction at SLAC, with support from four other DOE national laboratories.
Researchers in biology, chemistry and physics will use LCLS-II to probe fundamental pieces of matter, creating 3-D movies of complex molecules in action, making LCLS-II a powerful, versatile instrument at the forefront of discovery.
The project is coming together thanks largely to a crucial advance in the fields of particle and nuclear physics: superconducting accelerator technology. DOE's Fermilab and Thomas Jefferson National Accelerator Facility are building the superconducting modules necessary for the accelerator upgrade for LCLS-II.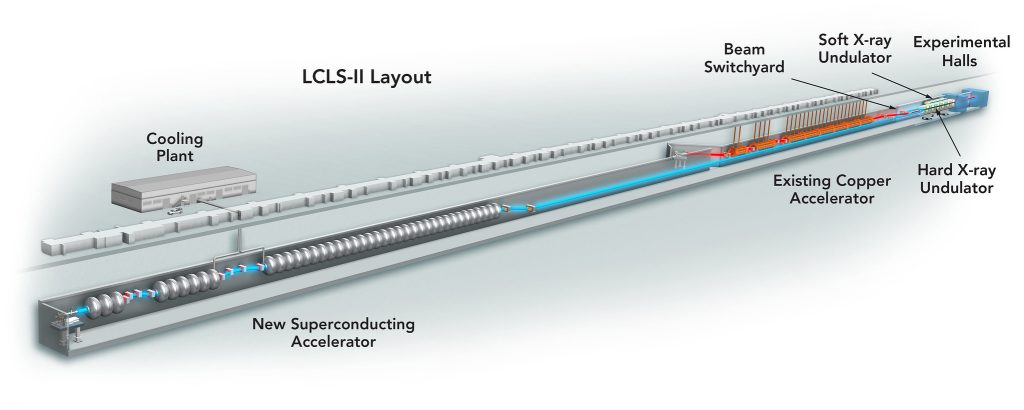 SLAC National Accelerator Laboratory is upgrading its Linac Coherent Light Source, an X-ray laser, to be a more powerful tool for science. Both Fermilab and Thomas Jefferson National Accelerator Facility are contributing to the machine's superconducting accelerator, seen here in the left part of the diagram. Image: SLAC
A powerful tool for discovery
Inside SLAC's linear particle accelerator today, bursts of electrons are accelerated to energies that allow LCLS to fire off 120 X-ray pulses per second. These pulses last for quadrillionths of a second – a time scale known as a femtosecond – providing scientists with a flipbook-like look at molecular processes.
"Over time, you can build up a molecular movie of how different systems evolve," said SLAC scientist Mike Dunne, director of LCLS. "That's proven to be quite remarkable, but it also has a number of limitations. That's where LCLS-II comes in."
Using state-of-the-art particle accelerator technology, LCLS-II will provide a staggering million pulses per second. The advance will provide a more detailed look into how chemical, material and biological systems evolve on a time scale in which chemical bonds are made and broken.
To really understand the difference, imagine you're an alien visiting Earth. If you take one image a day of a city, you would notice roads and the cars that drive on them, but you couldn't tell the speed of the cars or where the cars go. But taking a snapshot every few seconds would give you a highly detailed picture of how cars flow through the roads and would reveal phenomena like traffic jams. LCLS-II will provide this type of step-change information applied to chemical, biological and material processes.
To reach this level of detail, SLAC needs to implement technology developed for particle physics – superconducting acceleration cavities – to power the LCLS-II free-electron laser, or XFEL.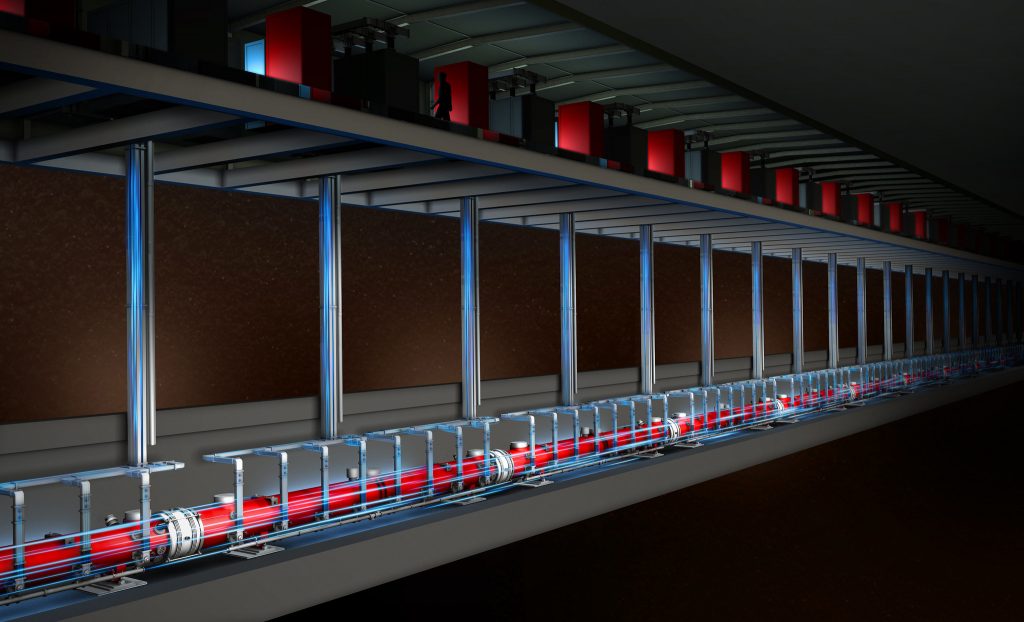 This is an illustration of the electron accelerator of SLAC's LCLS-II X-ray laser. The first third of the copper accelerator will be replaced with a superconducting one. The red tubes represent cryomodules, which are provided by Fermilab and Jefferson Lab. Image: SLAC
Accelerating science
Cavities are structures that impart energy to particle beams, accelerating the particles within them. LCLS-II, like modern particle accelerators, will take advantage of superconducting radio-frequency cavity technology, also called SRF technology. When cooled to 2 Kelvin, superconducting cavities allow electricity to flow freely, without any resistance. Like reducing the friction between a heavy object and the ground, less electrical resistance saves energy, allowing accelerators to reach higher power for less cost.
"The SRF technology is the enabling step for LCLS-II's million pulses per second," Dunne said. "Jefferson Lab and Fermilab have been developing this technology for years. The core expertise to make LCLS-II possible lives at these labs."
Fermilab modified a cryomodule design from DESY, in Germany, and specially prepared the cavities to draw the record-setting performance from the cavities and cryomodules that will be used for LCLS-II.
The cylinder-shaped cryomodules, about a meter in diameter, act as specialized containers for housing the cavities. Inside, ultracold liquid helium continuously flows around the cavities to ensure they maintain the unwavering 2 Kelvin essential for superconductivity. Lined up end to end, 37 cryomodules will power the LCLS-II XFEL.
See the full here.

five-ways-keep-your-child-safe-school-shootings
Please help promote STEM in your local schools.
Fermi National Accelerator Laboratory (Fermilab), located just outside Batavia, Illinois, near Chicago, is a US Department of Energy national laboratory specializing in high-energy particle physics. Fermilab is America's premier laboratory for particle physics and accelerator research, funded by the U.S. Department of Energy. Thousands of scientists from universities and laboratories around the world
collaborate at Fermilab on experiments at the frontiers of discovery.