January 13, 2021
Andrew Jones
China is making its Five-hundred-meter Aperture Spherical Telescope (FAST) available to international scientists in the wake of the collapse of the Arecibo telescope in Puerto Rico late last year.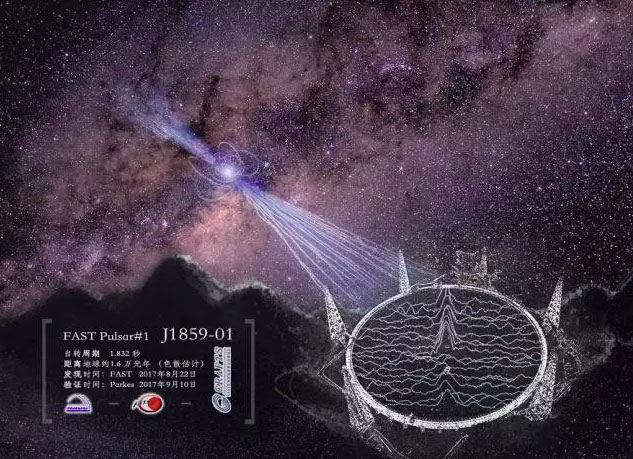 This diagram represents a pulsar detected during FAST's trial period. The telescope came fully online in January 2020.
National Astronomical Observatories of China [国家天文台] at CAS [中国科学院](CN)
The National Astronomical Observatories of China [国家天文台](NAOC)(CN), the telescope's operator, confirmed on January 4th that scientists outside of China will be able to apply for time using the facility on April 1st. A timetable for observation will then be published by August 1st.
Jiang Peng, FAST's chief engineer, said about 10% of the observation time will be allocated to foreign scientists in the first year of the telescope's opening to the global scientific community.
The facility's scientific committee also stated that FAST will become increasingly open to international teams. FAST's collecting area and sensitivity are expected to make a range of contributions to radio astronomy and are therefore of great interest internationally.
Also known as Tianyan, or the Eye of Heaven, FAST is the world's largest single-dish telescope, situated in a karst depression in Pingtang, Guizhou province in southwest China. Nearby settlements were relocated to reduce electromagnetic emissions which could interfere with the telescope's sensitive operations.
FAST and Arecibo
Like Arecibo, FAST's receivers are suspended high above the dish. The dish itself consists of 4,450 triangular panels, which can be controlled by more than 2,000 mechanical winches. This allows researchers to maneuver to focus on different areas of the sky.
With a deeper dish and panel system, FAST can cover a swath of sky within 40° of its zenith, while Arecibo was limited to 20°. However, unlike Arecibo, its receivers do not have radar capability, so it cannot investigate near-Earth objects.
FAST is more than 2.5 times more sensitive than Arecibo, according to the National Astronomical Observatories, under the Chinese Academy of Sciences, which means that FAST can see fainter sources from farther away. FAST also has a greater effective collecting area (71,000 square meters), than the 305-meter-wide Arecibo (50,000 square meters).
Wang Qiming, chief inspector of FAST's operations and development center, told AFP in December, that he had visited Arecibo, which influenced China's own plans.
"We drew a lot of inspiration from its structure, which we gradually improved to build our telescope," Wang said.
The telescope began operations in September 2016 and officially entered service on January 11, 2020.

Trial Operation for China's FAST Telescope to End Soon
FAST Possibilities
FAST features an innovative 19-beam receiver developed by Chinese and Australian scientists that enables sensitive observations for a number of scientific goals.
Researchers will be able to conduct studies and observations across a range of areas of interest, including pulsar discovery, galaxy evolution, and the large-scale nature of the universe. For example, FAST detected more than 240 pulsars and pulsar candidates by November 2020. These include an eclipsing binary millisecond pulsar in globular cluster Messier 92. The total number of pulsars FAST detects should reach 1,000 over the next five years, according to director of the FAST Science Committee, Wu Xiangping. Lists of detected pulsars can be found here, as well as those discovered through a Galactic Plane Pulsar Snapshot survey here.
The giant facility has also contributed to the study of fast radio bursts (FRBs) and magnetars, and it has made observations for the Search for extraterrestrial intelligence (SETI), including microware surveys to look for weak space signals.
FAST is also monitoring some of the pulsars it has detected to help find the signal of gravitational waves at nanohertz frequencies, joining efforts underway in the U.S., Europe, and Australia since 2005.
The facility may also extend China's deep-space exploration and communication capabilities to the edge of the solar system.
"Although this telescope was built by the Chinese people, we should have the mind of a big country and contribute to the exploration of the mysteries of the universe." Wu Xiangping said in November.
See the full article here .
five-ways-keep-your-child-safe-school-shootings
Please help promote STEM in your local schools.
Sky & Telescope, founded in 1941 by Charles A. Federer Jr. and Helen Spence Federer, has the largest, most experienced staff of any astronomy magazine in the world. Its editors are virtually all amateur or professional astronomers, and every one has built a telescope, written a book, done original research, developed a new product, or otherwise distinguished him or herself.
Sky & Telescope magazine, now in its eighth decade, came about because of some happy accidents. Its earliest known ancestor was a four-page bulletin called The Amateur Astronomer, which was begun in 1929 by the Amateur Astronomers Association in New York City. Then, in 1935, the American Museum of Natural History opened its Hayden Planetarium and began to issue a monthly bulletin that became a full-size magazine called The Sky within a year. Under the editorship of Hans Christian Adamson, The Sky featured large illustrations and articles from astronomers all over the globe. It immediately absorbed The Amateur Astronomer.
Despite initial success, by 1939 the planetarium found itself unable to continue financial support of The Sky. Charles A. Federer, who would become the dominant force behind Sky & Telescope, was then working as a lecturer at the planetarium. He was asked to take over publishing The Sky. Federer agreed and started an independent publishing corporation in New York.
"Our first issue came out in January 1940," he noted. "We dropped from 32 to 24 pages, used cheaper quality paper…but editorially we further defined the departments and tried to squeeze as much information as possible between the covers." Federer was The Sky's editor, and his wife, Helen, served as managing editor. In that January 1940 issue, they stated their goal: "We shall try to make the magazine meet the needs of amateur astronomy, so that amateur astronomers will come to regard it as essential to their pursuit, and professionals to consider it a worthwhile medium in which to bring their work before the public."