National Aeronautics Space Agency/European Space Agency [La Agencia Espacial Europea] [Agence spatiale européenne][Europäische Weltraumorganization](EU)/ Canadian Space Agency [Agence Spatiale Canadienne](CA) James Webb Infrared Space Telescope annotated, finally launched December 25, 2021, ten years late.
From The NASA/ESA/CSA James Webb Space Telescope
Via
5.15.23
Arwen Rimmer
New JWST images reveal that one of the most distant objects ever observed is actually two baby galaxies on a possible collision course.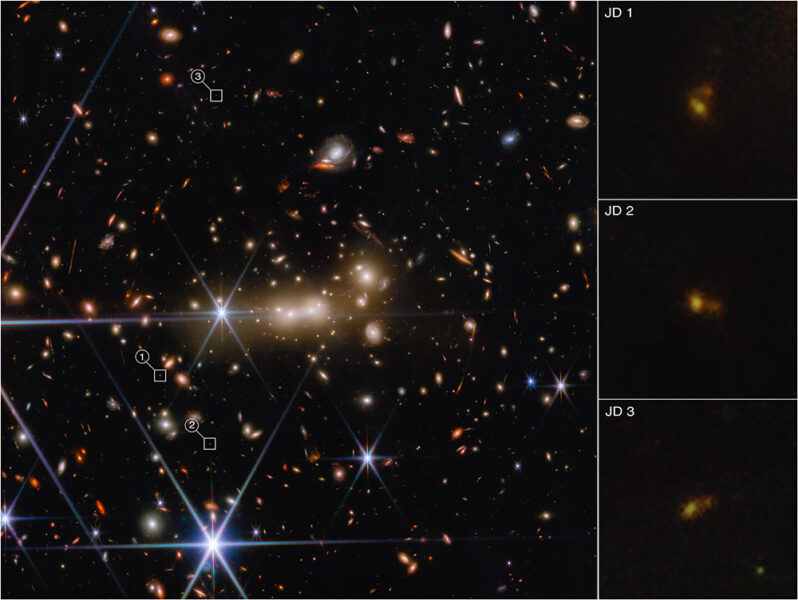 The massive gravity of galaxy cluster MACS0647 acts as a cosmic lens to bend and magnify light from the more distant MACS0647-JD system. It also triply lensed the JD system, causing its image to appear in three separate locations. These images, which are highlighted with white boxes, are marked JD1, JD2, and JD3; zoomed-in views are shown in the panels at right. Credit: Science: Rebecca Larson (UT) / Yu-Yang Hsiao (JHU) NASA / ESA / CSA / Dan Coe (STScI) / Rebecca Larson (UT) / Yu-Yang Hsiao (JHU); Image processing: Alyssa Pagan (STScI)
Big galaxies like the Milky Way — a spiral disk 100,000 light years across containing some 200 billion stars — are thought to come from the celestial meet-and-greets of the first galaxies, which were originally little more than tiny clumps of stars. Now, the James Webb Space Telescope (JWST) has imaged two baby galaxies that existed just 430 million years after the Big Bang, each only hundreds of light-years across. Astronomers think they might be merging, shedding light on galaxy growth in the early universe.
"Most galaxies today will have been through several merger events," says Tiger Yu-Yang Hsiao, (Johns Hopkins University), who led the study. "So [mergers] are key to studying the formation and evolution of galaxies today. Our target is from such an early time, right at the very beginning of this process. There is much we can learn from it."
MACS0647–JD (MACS-JD) is an extremely distant object first observed about 10 years ago. At the time, it was considered to be the most distant galaxy ever observed, and it is still one of the earliest things we can study in detail with JWST.
Generally speaking, galaxies from the dawn of time are too faint and too far away to see. The reason we can see MACS-JD is because its light has been triply lensed, magnified and distorted by a massive galaxy cluster lying in front of it from our point of view.
The cluster warps spacetime, splitting the light into three images of the same system. The images are magnified by factors of eight, five, and two, so they appear brighter than other galaxies at similar distances.
Hsiao's JWST observations of MAC-JD verified previous conclusions about its distance, size, and physical properties — but with a surprising twist. What was once seen as a single object now appears to be two baby galaxies, labeled A and B. A is brighter and larger with very recent star formation and no dust, while B looks older and has a little bit of dust. Their differing star formation histories suggest they formed farther apart, only coming together recently.
"The researchers did a very good job approaching this problem, but there is a lot of uncertainty," says Andrea Ferrara (Scuola Normale Superiore, Italy), who was not part of the study. He suggests that while a merger is a possibility, it's also possible that one of the galaxies is a satellite of the other. Alternatively, the two components might be part of the same galaxy.
"We do expect that galaxies at this very high redshift are in the assembly process," he notes, but he adds that additional data about the galaxies' motions would help clarify their relationship.
Hsiao's team based this study, posted in a science paper for The Astrophysical Journal Letters [below], solely on JWST images. Upcoming spectroscopic observations, also with JWST, should tell us how A and B are moving with respect to each other. If they are both part of the same galaxy, the difference between their velocities would be relatively small; if they are actually two merging galaxies, there would be a larger discrepancy. Besides shedding light on the objects' motions, spectra will also tell us more about the chemical properties of these tiny, highly magnified galaxies observed in the early universe.
The Astrophysical Journal Letters
JWST NIRSpec [below] spectroscopy of the triply-lensed z = 10.17 galaxy MACS0647–JD
See the full article here.
Comments are invited and will be appreciated, especially if the reader finds any errors which I can correct. Use "Reply"
five-ways-keep-your-child-safe-school-shootings
Please help promote STEM in your local schools.
The NASA/ESA/CSA James Webb Space Telescope is a large infrared telescope with a 6.5-meter primary mirror. Webb was finally launched December 25, 2021, ten years late. Webb will be the premier observatory of the next decade, serving thousands of astronomers worldwide. It will study every phase in the history of our Universe, ranging from the first luminous glows after the Big Bang, to the formation of solar systems capable of supporting life on planets like Earth, to the evolution of our own Solar System.
Webb is the world's largest, most powerful, and most complex space science telescope ever built. Webb will solve mysteries in our solar system, look beyond to distant worlds around other stars, and probe the mysterious structures and origins of our universe and our place in it.
Webb was formerly known as the "Next Generation Space Telescope" (NGST); it was renamed in Sept. 2002 after a former NASA administrator, James Webb.
Webb is an international collaboration between National Aeronautics and Space Administration, the European Space Agency (ESA), and the Canadian Space Agency (CSA). The NASA Goddard Space Flight Center managed the development effort. The main industrial partner is Northrop Grumman; the Space Telescope Science Institute operates Webb.
Several innovative technologies have been developed for Webb. These include a folding, segmented primary mirror, adjusted to shape after launch; ultra-lightweight beryllium optics; detectors able to record extremely weak signals, microshutters that enable programmable object selection for the spectrograph; and a cryocooler for cooling the mid-IR detectors to 7K.
There are four science instruments on Webb: The Near InfraRed Camera (NIRCam), The Near InfraRed Spectrograph (NIRspec), The Mid-InfraRed Instrument (MIRI), and The Fine Guidance Sensor/ Near InfraRed Imager and Slitless Spectrograph (FGS-NIRISS).
Webb's instruments are designed to work primarily in the infrared range of the electromagnetic spectrum, with some capability in the visible range. It will be sensitive to light from 0.6 to 28 micrometers in wavelength.

National Aeronautics Space Agency Webb NIRCam.
The European Space Agency [La Agencia Espacial Europea] [Agence spatiale européenne][Europäische Weltraumorganization](EU) Webb MIRI schematic.
Webb has four main science themes: The End of the Dark Ages: First Light and Reionization, The Assembly of Galaxies, The Birth of Stars and Protoplanetary Systems, and Planetary Systems and the Origins of Life.
Launch was December 25, 2021, ten years late on an Ariane 5 rocket. The launch was from Arianespace's ELA-3 launch complex at European Spaceport located near Kourou, French Guiana. Webb is located at the second Lagrange point, about a million miles from the Earth.