At
The National Aeronautics and Space Administration
Via
11.23.22
https://www.sciencenews.org/author/lisa-grossman
Astronomers saw a telltale signature of shock waves shooting along a jet.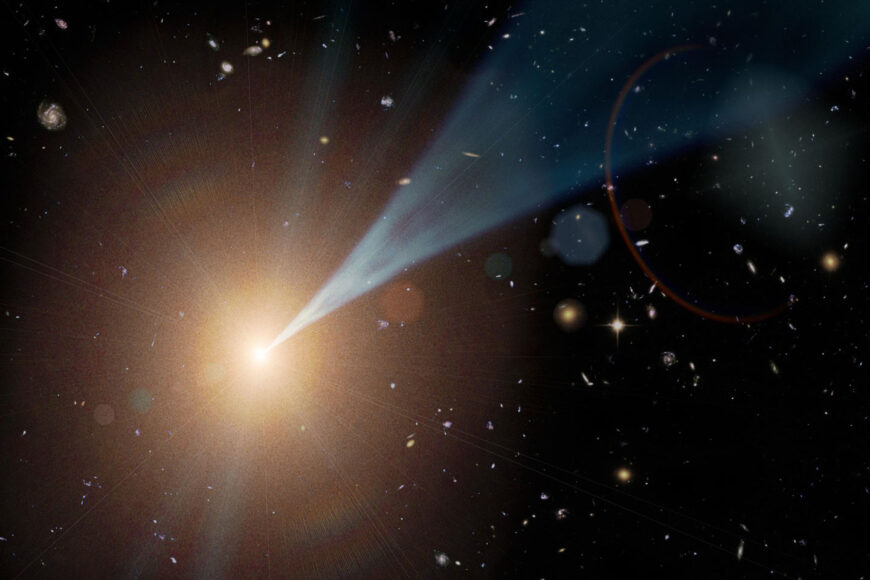 Blazars (one illustrated) are active black holes that shoot jets of charged particles into space. New work shows how order and chaos in those jets can launch the particles. Credit: NASA JPL-Caltech.
For the first time, astronomers have observed how certain supermassive black holes launch jets of high-energy particles into space — and the process is shocking.
Shock waves propagating along the jet of one such blazar contort magnetic fields that accelerate escaping particles to nearly the speed of light, astronomers report November 23 in Nature [below]. Studying such extreme acceleration can help probe fundamental physics questions that can't be studied any other way.
Blazars are active black holes that shoot jets of high-energy particles toward Earth, making them appear as bright spots from millions or even billions of light-years away (SN: 7/14/15). Astronomers knew that the jets' extreme speeds and tight columnated beams had something to do with the shape of magnetic fields around black holes, but the details were fuzzy.
Enter the Imaging X-Ray Polarimetry Explorer, or IXPE, an orbiting telescope launched in December 2021. Its mission is to measure X-ray polarization, or how X-ray light is oriented as it travels through space. While previous blazar observations of polarized radio waves and optical light probed parts of jets days to years after they'd been accelerated, polarized X-rays can see into a blazar's active core (SN: 3/24/21).
"In X-rays, you're really looking at the heart of the particle acceleration," says astrophysicist Yannis Liodakis of the University of Turku in Finland. "You're really looking at the region where everything happens."
In March 2022, IPXE looked at an especially bright blazar called Markarian 501, located about 450 million light-years from Earth.
Liodakis and colleagues had two main ideas for how magnetic fields might accelerate Markarian 501's jet. Particles could be boosted by magnetic reconnection, where magnetic field lines break, reform and connect with other nearby lines. The same process accelerates plasma on the sun (SN: 11/14/19). If that was the particle acceleration engine, the polarization of light should be the same along the jet in all wavelengths, from radio waves to X-rays.
Another option is a shock wave shooting particles down the jet. At the site of the shock, the magnetic fields suddenly switch from turbulent to ordered. That switch could send particles zooming away, like water through the nozzle of a hose. As the particles leave the shock site, turbulence should take over again. If a shock was responsible for the acceleration, short wavelength X-rays should be more polarized than longer wavelength optical and radio light, as measured by other telescopes.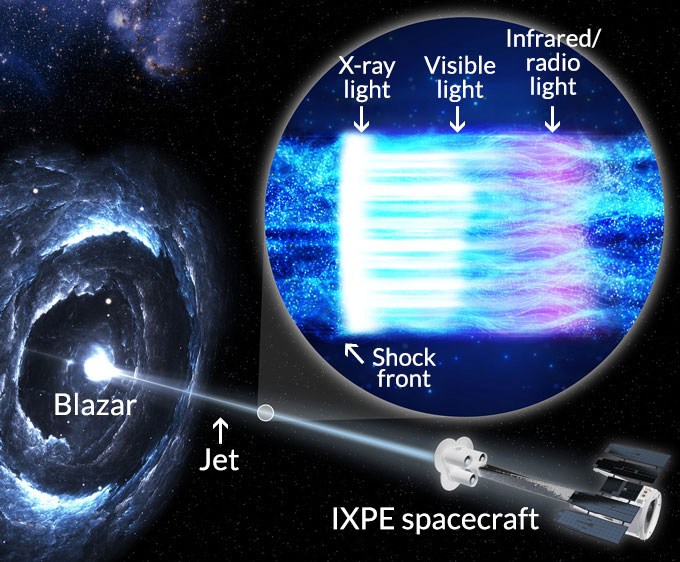 The IXPE spacecraft (illustrated) observed polarized X-rays come from a blazar and its jet. The inset illustrates how particles in the jet hit a shock wave (white) and get boosted to extreme speeds, emitting high-energy X-ray light. As they lose energy, the particles emit lower energy light in visible, infrared and radio wavelengths (purple and blue), and the jet becomes more turbulent. Credit: Pablo Garcia/MSFC/NASA.
That's exactly what the researchers saw, Liodakis says. "We got a clear result," he says, that favors the shock wave explanation.
There is still work to do to figure out the details of how the particles flow, says astrophysicist James Webb of Florida International University in Miami. For one, it's not clear what would produce the shock. But "this is a step in the right direction," he says. "It's like opening a new window and looking at the object freshly, and we now see things we hadn't seen before. It's very exciting."
Science paper:
Nature
See the science paper for instructive material with images.
See the full article here .
Comments are invited and will be appreciated, especially if the reader finds any errors which I can correct.
five-ways-keep-your-child-safe-school-shootings
Please help promote STEM in your local schools.
The Imaging X-ray Polarimetry Explorer (IXPE) exploits the polarization state of light from astrophysical sources to provide insight into our understanding of X-ray production in objects such as neutron stars and pulsar wind nebulae, as well as stellar and supermassive black holes. Technical and science objectives include:
Improving polarization sensitivity by two orders of magnitude over the X-ray polarimeter aboard the Orbiting Solar Observatory OSO-8 (scientists see HEASARC: OSO-8).
Providing simultaneous spectral, spatial, and temporal measurements.
Determining the geometry and the emission mechanism of Active Galactic Nuclei and microquasars.
Finding the magnetic field configuration in magnetars and determining the magnitude of the field.
Finding the mechanism for X ray production in pulsars (both isolated and accreting) and the geometry.
Determining how particles are accelerated in Pulsar-Wind Nebulae.
The National Aeronautics and Space Administration is the agency of the United States government that is responsible for the nation's civilian space program and for aeronautics and aerospace research.
President Dwight D. Eisenhower established the National Aeronautics and Space Administration (NASA) in 1958 with a distinctly civilian (rather than military) orientation encouraging peaceful applications in space science. The National Aeronautics and Space Act was passed on July 29, 1958, disestablishing NASA's predecessor, the National Advisory Committee for Aeronautics (NACA). The new agency became operational on October 1, 1958.
Since that time, most U.S. space exploration efforts have been led by NASA, including the Apollo moon-landing missions, the Skylab space station, and later the Space Shuttle. Currently, NASA is supporting the International Space Station and is overseeing the development of the Orion Multi-Purpose Crew Vehicle and Commercial Crew vehicles. The agency is also responsible for the Launch Services Program (LSP) which provides oversight of launch operations and countdown management for unmanned NASA launches. Most recently, NASA announced a new Space Launch System that it said would take the agency's astronauts farther into space than ever before and lay the cornerstone for future human space exploration efforts by the U.S.
NASA science is focused on better understanding Earth through the Earth Observing System, advancing heliophysics through the efforts of the Science Mission Directorate's Heliophysics Research Program, exploring bodies throughout the Solar System with advanced robotic missions such as New Horizons, and researching astrophysics topics, such as the Big Bang, through the Great Observatories [Hubble, Chandra,
Spitzer and associated programs, and now the NASA/ESA/CSA James Webb Space Telescope. NASA shares data with various national and international organizations such as from the The Japan Aerospace Exploration Agency [国立研究開発法人宇宙航空研究開発機構](JP).
and
The European Space Agency [La Agencia Espacial Europea] [Agence spatiale européenne][Europäische Weltraumorganization](EU)