From JILA – [The Joint Institute for Laboratory Astrophysics] Exploring the Frontiers of Physics (U Colorado and NIST)(US)
at
The University of Colorado-Boulder (US)
and
The National Institute of Standards and Technology (US)
via
October 18, 2021
Emily Conover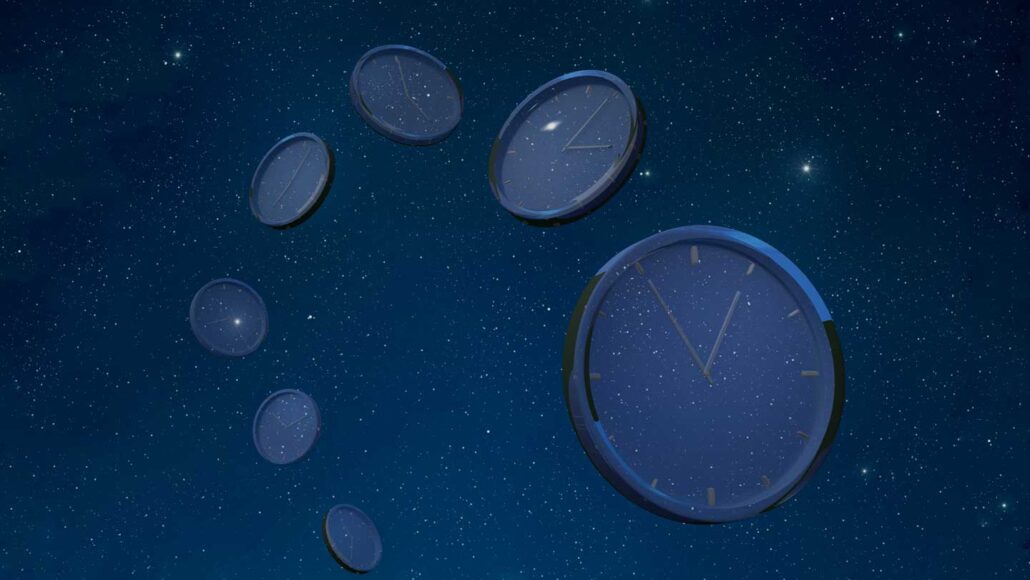 Clocks at different heights tick at different rates. An atomic clock has now revealed this key feature of the general theory of relativity on a scale of a millimeter. Credit: Hiroshi Watanabe/Getty Images Plus
A millimeter might not seem like much. But even a distance that small can alter the flow of time.
According to Einstein's theory of gravity, general relativity, clocks tick faster the farther they are from Earth or another massive object (SN: 10/4/15). Theoretically, that should hold true even for very small differences in the heights of clocks. Now an incredibly sensitive atomic clock has spotted that speedup across a millimeter-sized sample of atoms, revealing the effect over a smaller height difference than ever before. Time moved slightly faster at the top of that sample than at the bottom, researchers report September 24 [https://arxiv.org/ftp/arxiv/papers/2109/2109.12238.pdf].
"This is fantastic," says theoretical physicist Marianna Safronova of The University of Delaware (US), who was not involved with the research. "I thought it would take much longer to get to this point." The extreme precision of the atomic clock's measurement suggests the potential to use the sensitive timepieces to test other fundamental concepts in physics.
An inherent property of atoms allows scientists to use them as timepieces. Atoms exist at different energy levels, and a specific frequency of light makes them jump from one level to another. That frequency — the rate of wiggling of the light's waves — serves the same purpose as a clock's regularly ticking second hand. For atoms farther from the ground, time runs faster, so a greater frequency of light will be needed to make the energy jump. Previously, scientists have measured this frequency shift, known as gravitational redshift, across a height difference of 33 centimeters (SN: 9/23/10).
In the new study, physicist Jun Ye of JILA in Boulder, Colo., and colleagues used a clock made up of roughly 100,000 ultracold strontium atoms. Those atoms were arranged in a lattice, meaning that the atoms sat at a series of different heights as if standing on the rungs of a ladder. Mapping out how the frequency changed over those heights revealed a shift. After correcting for non-gravitational effects that could shift the frequency, the clock's frequency changed by about a hundredth of a quadrillionth of a percent over a millimeter, just the amount expected according to general relativity.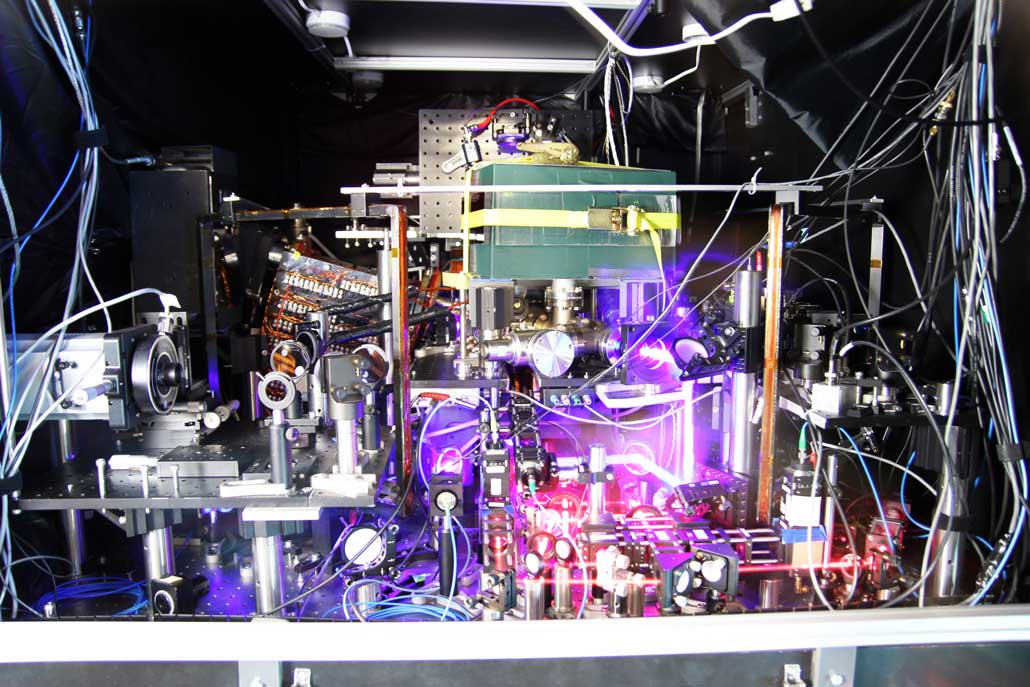 Atomic clocks (one shown in a composite image) keep time by measuring the frequency of light that initiates a jump between energy levels in atoms. This atomic clock, located at JILA, is similar to the one used in the new research by Jun Ye and colleagues, and uses laser light to hold strontium atoms in a lattice. Credit: Ye group and Baxley/JILA.
What's more, after taking data for about 90 hours, comparing the ticking of upper and lower sections of the clock, the scientists determined their technique could measure the relative ticking rates to a precision of 0.76 millionths of a trillionth of a percent. That makes it a record for the most precise frequency comparison ever performed.
In a related study, also submitted September 24 , another team of researchers loaded strontium atoms into specific portions of a lattice to create six clocks in one [https://arxiv.org/pdf/2109.12237.pdf]. "It's very exciting what they did, as well," Safronova says.
Shimon Kolkowitz of The University of Wisconsin–Madison (US) and colleagues measured the relative ticking rates of two of the clocks, separated by about six millimeters, to a precision of 8.9 millionths of a trillionth of a percent, which itself would have been a new record had it not been beat by Ye's group. With that sensitivity, scientists could detect a difference between two clocks ticking at a rate so slightly different that they'd disagree by just one second after about 300 billion years. Ye's clock could detect an even smaller discrepancy between the two halves of the clock of one second amassed over roughly 4 trillion years. Although Kolkowitz's team didn't yet measure gravitational redshift, the setup could be used for that in the future.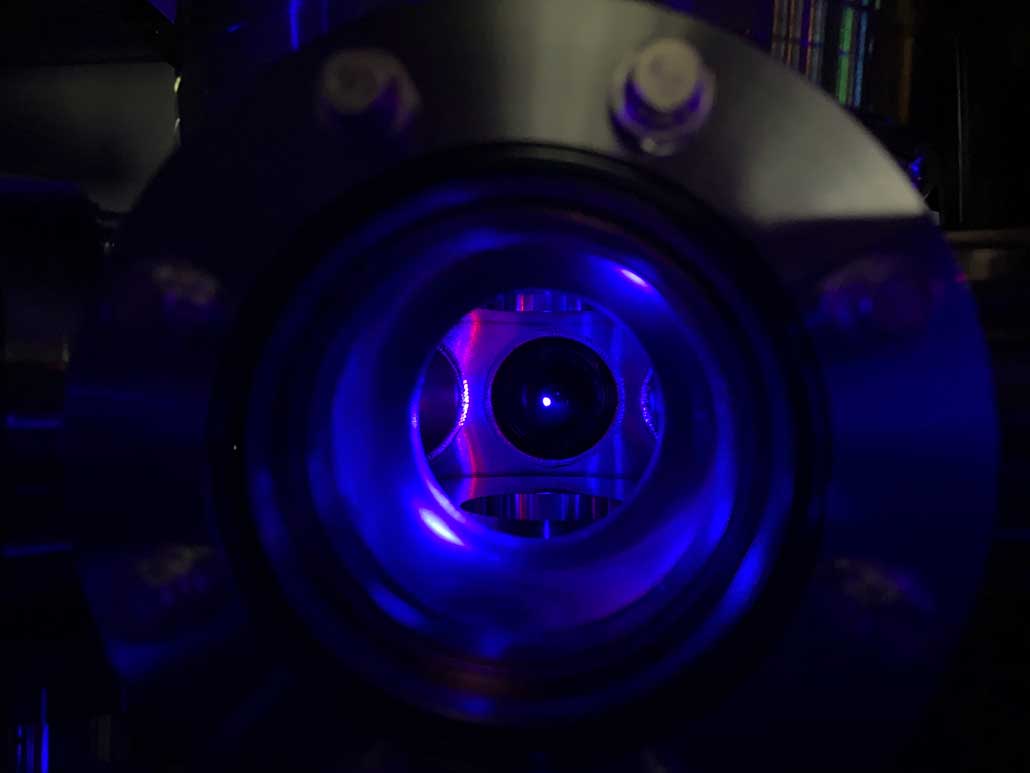 A cloud of strontium atoms (glowing blue dot at center) is trapped inside a vacuum chamber that contains Shimon Kolkowitz and colleagues' atomic clock. In the experiment, the atoms were shuttled into different parts of a lattice to make multiple atomic clocks in one.Credit: S. Kolkowitz.
Authors of both studies declined to comment, as the papers have not yet been through the peer-review process.
The measurements' precision hints at future possibilities, says theoretical physicist Victor Flambaum of the University of New South Wales in Sydney. For example, "atomic clocks are now so precise that they may be used to search for dark matter," he says. This stealthy, unidentified substance lurks invisibly in the cosmos; certain hypothesized types of dark matter could alter clocks' tick-tocks. Scientists could also compare atomic clocks made of different isotopes — atoms with varied numbers of neutrons in their nuclei — which might hint at undiscovered new particles. And atomic clocks can study whether fundamental constants of nature might vary (SN: 11/2/16).
The ability to precisely compare different clocks is also important for a major goal of timekeeping: updating the definition of a second (SN: 3/24/21). The length of a second is currently defined using an earlier generation of atomic clocks that are not as precise as newer ones like those used in the two new studies (SN: 5/20/19).
"There is a very bright future for the clocks," Safronova says.
See the full article here .
five-ways-keep-your-child-safe-school-shootings
Please help promote STEM in your local schools.
The National Institute of Standards and Technology (US)'s Mission, Vision, Core Competencies, and Core Values
Mission
To promote U.S. innovation and industrial competitiveness by advancing measurement science, standards, and technology in ways that enhance economic security and improve our quality of life.
NIST's vision
NIST will be the world's leader in creating critical measurement solutions and promoting equitable standards. Our efforts stimulate innovation, foster industrial competitiveness, and improve the quality of life.
NIST's core competencies
Measurement science
Rigorous traceability
Development and use of standards
NIST's core values
NIST is an organization with strong values, reflected both in our history and our current work. NIST leadership and staff will uphold these values to ensure a high performing environment that is safe and respectful of all.
Perseverance: We take the long view, planning the future with scientific knowledge and imagination to ensure continued impact and relevance for our stakeholders.
Integrity: We are ethical, honest, independent, and provide an objective perspective.
Inclusivity: We work collaboratively to harness the diversity of people and ideas, both inside and outside of NIST, to attain the best solutions to multidisciplinary challenges.
Excellence: We apply rigor and critical thinking to achieve world-class results and continuous improvement in everything we do.
Background
The Articles of Confederation, ratified by the colonies in 1781, contained the clause, "The United States in Congress assembled shall also have the sole and exclusive right and power of regulating the alloy and value of coin struck by their own authority, or by that of the respective states—fixing the standards of weights and measures throughout the United States". Article 1, section 8, of the Constitution of the United States (1789), transferred this power to Congress; "The Congress shall have power…To coin money, regulate the value thereof, and of foreign coin, and fix the standard of weights and measures".
In January 1790, President George Washington, in his first annual message to Congress stated that, "Uniformity in the currency, weights, and measures of the United States is an object of great importance, and will, I am persuaded, be duly attended to", and ordered Secretary of State Thomas Jefferson to prepare a plan for Establishing Uniformity in the Coinage, Weights, and Measures of the United States, afterwards referred to as the Jefferson report. On October 25, 1791, Washington appealed a third time to Congress, "A uniformity of the weights and measures of the country is among the important objects submitted to you by the Constitution and if it can be derived from a standard at once invariable and universal, must be no less honorable to the public council than conducive to the public convenience", but it was not until 1838, that a uniform set of standards was worked out. In 1821, John Quincy Adams had declared "Weights and measures may be ranked among the necessities of life to every individual of human society".
From 1830 until 1901, the role of overseeing weights and measures was carried out by the Office of Standard Weights and Measures, which was part of the U.S. Coast and Geodetic Survey in the Department of the Treasury.
Bureau of Standards
In 1901 in response to a bill proposed by Congressman James H. Southard (R- Ohio) the National Bureau of Standards was founded with the mandate to provide standard weights and measures and to serve as the national physical laboratory for the United States. (Southard had previously sponsored a bill for metric conversion of the United States.)
President Theodore Roosevelt appointed Samuel W. Stratton as the first director. The budget for the first year of operation was $40,000. The Bureau took custody of the copies of the kilogram and meter bars that were the standards for US measures, and set up a program to provide metrology services for United States scientific and commercial users. A laboratory site was constructed in Washington DC (US) and instruments were acquired from the national physical laboratories of Europe. In addition to weights and measures the Bureau developed instruments for electrical units and for measurement of light. In 1905 a meeting was called that would be the first National Conference on Weights and Measures.
Initially conceived as purely a metrology agency the Bureau of Standards was directed by Herbert Hoover to set up divisions to develop commercial standards for materials and products. Some of these standards were for products intended for government use; but product standards also affected private-sector consumption. Quality standards were developed for products including some types of clothing; automobile brake systems and headlamps; antifreeze; and electrical safety. During World War I, the Bureau worked on multiple problems related to war production even operating its own facility to produce optical glass when European supplies were cut off. Between the wars Harry Diamond of the Bureau developed a blind approach radio aircraft landing system. During World War II military research and development was carried out including development of radio propagation forecast methods; the proximity fuze and the standardized airframe used originally for Project Pigeon; and shortly afterwards the autonomously radar-guided Bat anti-ship guided bomb and the Kingfisher family of torpedo-carrying missiles.
In 1948, financed by the United States Air Force the Bureau began design and construction of SEAC: the Standards Eastern Automatic Computer. The computer went into operation in May 1950 using a combination of vacuum tubes and solid-state diode logic. About the same time the Standards Western Automatic Computer, was built at the Los Angeles office of the NBS by Harry Huskey and used for research there. A mobile version- DYSEAC- was built for the Signal Corps in 1954.
Due to a changing mission, the "National Bureau of Standards" became the " The National Institute of Standards and Technology (US)" in 1988.
Following September 11, 2001, NIST conducted the official investigation into the collapse of the World Trade Center buildings.
Organization
NIST is headquartered in Gaithersburg, Maryland, and operates a facility in Boulder, Colorado, which was dedicated by President Eisenhower in 1954. NIST's activities are organized into laboratory programs and extramural programs. Effective October 1, 2010, NIST was realigned by reducing the number of NIST laboratory units from ten to six. NIST Laboratories include:
Communications Technology Laboratory (CTL)
Engineering Laboratory (EL)
Information Technology Laboratory (ITL)
Center for Neutron Research (NCNR)
Material Measurement Laboratory (MML)
Physical Measurement Laboratory (PML)
Extramural programs include:
Hollings Manufacturing Extension Partnership (MEP), a nationwide network of centers to assist small and mid-sized manufacturers to create and retain jobs, improve efficiencies, and minimize waste through process improvements and to increase market penetration with innovation and growth strategies;
Technology Innovation Program (TIP), a grant program where NIST and industry partners cost share the early-stage development of innovative but high-risk technologies;
Baldrige Performance Excellence Program, which administers the Malcolm Baldrige National Quality Award, the nation's highest award for performance and business excellence.
NIST's Boulder laboratories are best known for NIST‑F1 which houses an atomic clock. NIST‑F1 serves as the source of the nation's official time. From its measurement of the natural resonance frequency of cesium—which defines the second—NIST broadcasts time signals via longwave radio station WWVB near Fort Collins in Colorado, and shortwave radio stations WWV and WWVH, located near Fort Collins and Kekaha in Hawai'i, respectively.
NIST also operates a neutron science user facility: the NIST Center for Neutron Research (NCNR). The NCNR provides scientists access to a variety of neutron scattering instruments which they use in many research fields (materials science; fuel cells; biotechnology etc.).
The SURF III Synchrotron Ultraviolet Radiation Facility is a source of synchrotron radiation in continuous operation since 1961. SURF III now serves as the US national standard for source-based radiometry throughout the generalized optical spectrum. All NASA-borne extreme-ultraviolet observation instruments have been calibrated at SURF since the 1970s, and SURF is used for measurement and characterization of systems for extreme ultraviolet lithography.
The Center for Nanoscale Science and Technology (CNST) performs research in nanotechnology, both through internal research efforts and by running a user-accessible cleanroom nanomanufacturing facility. This "NanoFab" is equipped with tools for lithographic patterning and imaging (e.g., electron microscopes and atomic force microscopes).
Committees
NIST has seven standing committees:
Technical Guidelines Development Committee (TGDC)
Advisory Committee on Earthquake Hazards Reduction (ACEHR)
National Construction Safety Team Advisory Committee (NCST Advisory Committee)
Information Security and Privacy Advisory Board (ISPAB)
Visiting Committee on Advanced Technology (VCAT)
Board of Overseers for the Malcolm Baldrige National Quality Award (MBNQA Board of Overseers)
Manufacturing Extension Partnership National Advisory Board (MEPNAB)
Measurements and standards
As part of its mission, NIST supplies industry, academia, government, and other users with over 1,300 Standard Reference Materials (SRMs). These artifacts are certified as having specific characteristics or component content, used as calibration standards for measuring equipment and procedures, quality control benchmarks for industrial processes, and experimental control samples.
Handbook 44
NIST publishes the Handbook 44 each year after the annual meeting of the National Conference on Weights and Measures (NCWM). Each edition is developed through cooperation of the Committee on Specifications and Tolerances of the NCWM and the Weights and Measures Division (WMD) of the NIST. The purpose of the book is a partial fulfillment of the statutory responsibility for "cooperation with the states in securing uniformity of weights and measures laws and methods of inspection".
NIST has been publishing various forms of what is now the Handbook 44 since 1918 and began publication under the current name in 1949. The 2010 edition conforms to the concept of the primary use of the SI (metric) measurements recommended by the Omnibus Foreign Trade and Competitiveness Act of 1988.
As the flagship university of the state of Colorado University of Colorado-Boulder (US), founded in 1876, five months before Colorado became a state. It is a dynamic community of scholars and learners situated on one of the most spectacular college campuses in the country, and is classified as an R1 University, meaning that it engages in a very high level of research activity. As one of 34 U.S. public institutions belonging to the prestigious Association of American Universities (US), a selective group of major research universities in North America, – and the only member in the Rocky Mountain region – we have a proud tradition of academic excellence, with five Nobel laureates and more than 50 members of prestigious academic academies.
University of Colorado-Boulder (US) has blossomed in size and quality since we opened our doors in 1877 – attracting superb faculty, staff, and students and building strong programs in the sciences, engineering, business, law, arts, humanities, education, music, and many other disciplines.
Today, with our sights set on becoming the standard for the great comprehensive public research universities of the new century, we strive to serve the people of Colorado and to engage with the world through excellence in our teaching, research, creative work, and service.
In 2015, the university comprised nine colleges and schools and offered over 150 academic programs and enrolled almost 17,000 students. Five Nobel Laureates, nine MacArthur Fellows, and 20 astronauts have been affiliated with CU Boulder as students; researchers; or faculty members in its history. In 2010, the university received nearly $454 million in sponsored research to fund programs like the Laboratory for Atmospheric and Space Physics and JILA. CU Boulder has been called a Public Ivy, a group of publicly funded universities considered as providing a quality of education comparable to those of the Ivy League.
The Colorado Buffaloes compete in 17 varsity sports and are members of the NCAA Division I Pac-12 Conference. The Buffaloes have won 28 national championships: 20 in skiing, seven total in men's and women's cross country, and one in football. The university has produced a total of ten Olympic medalists. Approximately 900 students participate in 34 intercollegiate club sports annually as well.
On March 14, 1876, the Colorado territorial legislature passed an amendment to the state constitution that provided money for the establishment of the University of Colorado in Boulder, the Colorado School of Mines(US) in Golden, and the Colorado State University (US) – College of Agricultural Sciences in Fort Collins.
Two cities competed for the site of the University of Colorado: Boulder and Cañon City. The consolation prize for the losing city was to be home of the new Colorado State Prison. Cañon City was at a disadvantage as it was already the home of the Colorado Territorial Prison. (There are now six prisons in the Cañon City area.)
The cornerstone of the building that became Old Main was laid on September 20, 1875. The doors of the university opened on September 5, 1877. At the time, there were few high schools in the state that could adequately prepare students for university work, so in addition to the University, a preparatory school was formed on campus. In the fall of 1877, the student body consisted of 15 students in the college proper and 50 students in the preparatory school. There were 38 men and 27 women, and their ages ranged from 12–23 years.
During World War II, Colorado was one of 131 colleges and universities nationally that took part in the V-12 Navy College Training Program which offered students a path to a navy commission.
University of Colorado-Boulder (US) hired its first female professor, Mary Rippon, in 1878. It hired its first African-American professor, Charles H. Nilon, in 1956, and its first African-American librarian, Mildred Nilon, in 1962. Its first African American female graduate, Lucile Berkeley Buchanan, received her degree in 1918.
Research institutes
University of Colorado-Boulder's (US) research mission is supported by eleven research institutes within the university. Each research institute supports faculty from multiple academic departments, allowing institutes to conduct truly multidisciplinary research.
The Institute for Behavioral Genetics (IBG) is a research institute within the Graduate School dedicated to conducting and facilitating research on the genetic and environmental bases of individual differences in behavior. After its founding in 1967 IBG led the resurging interest in genetic influences on behavior. IBG was the first post-World War II research institute dedicated to research in behavioral genetics. IBG remains one of the top research facilities for research in behavioral genetics, including human behavioral genetics, psychiatric genetics, quantitative genetics, statistical genetics, and animal behavioral genetics.
The Institute of Cognitive Science (ICS) at CU Boulder promotes interdisciplinary research and training in cognitive science. ICS is highly interdisciplinary; its research focuses on education, language processing, emotion, and higher level cognition using experimental methods. It is home to a state of the art fMRI system used to collect neuroimaging data.
ATLAS Institute is a center for interdisciplinary research and academic study, where engineering, computer science and robotics are blended with design-oriented topics. Part of CU Boulder's College of Engineering and Applied Science, the institute offers academic programs at the undergraduate, master's and doctoral levels, and administers research labs, hacker and makerspaces, and a black box experimental performance studio. At the beginning of the 2018–2019 academic year, approximately 1,200 students were enrolled in ATLAS academic programs and the institute sponsored six research labs.[64]
In addition to IBG, ICS and ATLAS, the university's other institutes include Biofrontiers Institute, Cooperative Institute for Research in Environmental Sciences, Institute of Arctic & Alpine Research (INSTAAR), Institute of Behavioral Science (IBS), JILA, Laboratory for Atmospheric & Space Physics (LASP), Renewable & Sustainable Energy Institute (RASEI), and the University of Colorado Museum of Natural History.