From Istituto Nazionale di Astrofisica
via
16 JAN 2020
MORGAN MCFALL-JOHNSEN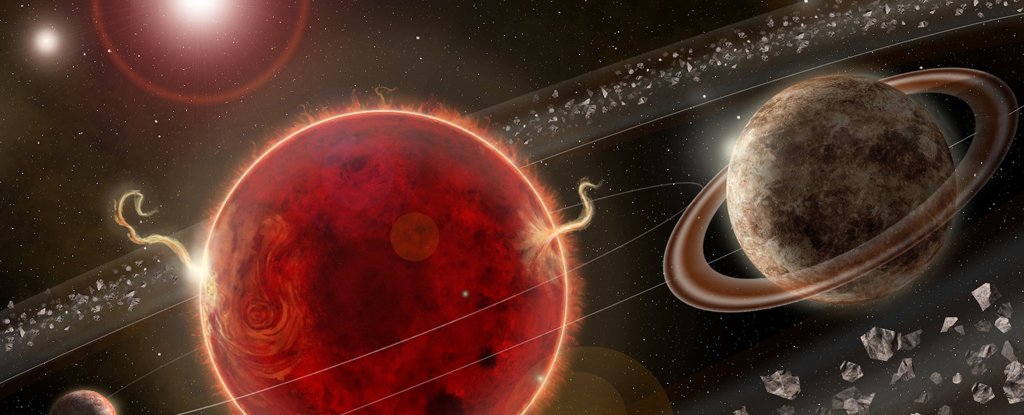 (Lorenzo Santinelli)
Proxima Centauri is our nearest neighbouring star; it's just 4.2 light-years away. It has one planet [?Proxima Centauri forms a third member of the Alpha Centauri system, being identified as component Alpha Centauri C, and is 2.18° to the southwest of the Alpha Centauri AB pair] that astronomers know of, a potentially habitable world called Proxima b.
But in a new study, researchers from Italy's National Institute for Astrophysics report that they have observed changes in the star's activity that indicate it could have another planet. They dubbed the world Proxima c in their paper, which was published Wednesday in the journal Science Advances.
The potential new planet seems to be a super-Earth – the term for a planet with a mass larger than Earth but significantly smaller than the ice giant Neptune.
"Proxima Centauri is the nearest star to the sun, and this detection would make it the closest planetary system to us," astronomer Mario Damasso, the paper's lead author, told Business Insider in an email.
Proxima c (if it exists) is probably not habitable – given its distance from its star, the planet is probably freezing or shrouded in a suffocating hydrogen-helium atmosphere. But its proximity to us could offer a unique opportunity to study another star system.
See the full article here .
five-ways-keep-your-child-safe-school-shootings
Please help promote STEM in your local schools.
The National Institute for Astrophysics (Italian: Istituto Nazionale di Astrofisica, or INAF) is an Italian research institute in astronomy and astrophysics, founded in 1999. INAF funds and operates twenty separate research facilities, which in turn employ scientists, engineers and technical staff. The research they perform covers most areas of astronomy, ranging from planetary science to cosmology.
INAF is the most important Italian research body for the universe's study. It promotes, realizes and coordinates research activities in the field of astronomy and astrophysics, cooperating with universities and public-private organizations at national and international level. The Institute designs and develops innovative technologies and advanced instruments for the cosmos exploration. It also promotes the scientific culture dissemination by projects for the education system and, more in general, for the society.
INAF coordinates the activities of twenty research units, nineteen in Italy and one in Spain:
Bologna Observatory
Istituto di Astrofisica Spaziale e Fisica cosmica di Bologna
Istituto di Radioastronomia di Bologna
Cagliari Observatory
Catania Observatory
Arcetri Observatory (Florence)
Brera Observatory (Milan)
Istituto di Astrofisica Spaziale e Fisica cosmica di Milano
Capodimonte Observatory (Naples)
Osservatorio Astronomico di Padova
Palermo Observatory
Istituto di Astrofisica Spaziale e Fisica cosmica di Palermo
Rome Observatory
Istituto di Astrofisica Spaziale e Fisica cosmica di Roma
Istituto di Fisica dello Spazio Interplanetario di Roma
Collurania-Teramo Observatory
Turin Observatory
Istituto di Fisica dello Spazio Interplanetario di Torino
Trieste Observatory
Telescopio Nazionale Galileo (Canary Islands, Spain)
Sardinia Radio Telescope (San Basilio, Sardinia)
Noto Radio Observatory (Noto, Sicily)
International partnerships
The European Southern Observatory (Italy has been an ESO member since 1982)
The astronomical observatories located in Canary Islands (Teide Observatory and Roque de los Muchachos Observatory)
The Large Binocular Telescope, in partnership with the United States and Germany
The Very Long Baseline Interferometry consortium
The European Space Agency (ESA)
National Aeronautic and Space Administration (NASA-USA)