From The University of Hamburg [Universität Hamburg] (DE)
and
The Leiden University [Universiteit Leiden] (NL)
via
2 JANUARY 2022
MICHELLE STARR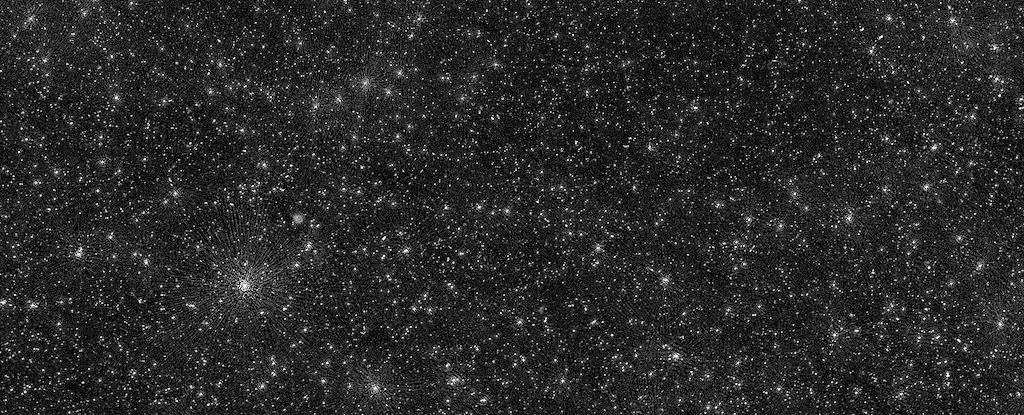 Credit: LOFAR/LOL Survey.
The image above may look like a fairly normal picture of the night sky, but what you're looking at is a lot more special than just glittering stars. Each of those white dots is an active supermassive black hole.
And each of those black holes is devouring material at the heart of a galaxy millions of light-years away – that's how they could be pinpointed at all.
Totaling 25,000 such dots, astronomers created the most detailed map to date of black holes at low radio frequencies in early 2021, an achievement that took years and a Europe-sized radio telescope to compile.
"This is the result of many years of work on incredibly difficult data," explained astronomer Francesco de Gasperin [Astronomy & Astrophysics] of the University of Hamburg in Germany. "We had to invent new methods to convert the radio signals into images of the sky."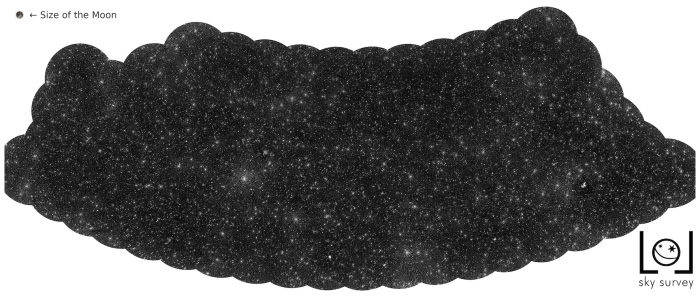 Credit: LOFAR/LOL Survey.
When they're just hanging out not doing much, black holes don't give off any detectable radiation, making them much harder to find. When a black hole is actively accreting material – spooling it in from a disc of dust and gas that circles it much as water circles a drain [Physical Review Letters] – the intense forces involved generate radiation across multiple wavelengths that we can detect across the vastness of space.
What makes the above image so special is that it covers the ultra-low radio wavelengths, as detected by the LOw Frequency ARray (LOFAR) in Europe. This interferometric network consists of around 20,000 radio antennas, distributed throughout 52 locations across Europe.
ASTRON Institute for Radio Astronomy(NL) LOFAR Radio Antenna Bank(NL)
ASTRON (NL) LOFAR European Map.
Currently, LOFAR is the only radio telescope network capable of deep, high-resolution imaging at frequencies below 100 megahertz, offering a view of the sky like no other. This data release, covering four percent of the Northern sky, was the first for the network's ambitious plan to image the entire Northern sky in ultra-low-frequencies, the LOFAR LBA Sky Survey (LoLSS).
Because it's based on Earth, LOFAR does have a significant hurdle to overcome that doesn't afflict space-based telescopes: the ionosphere. This is particularly problematic for ultra-low-frequency radio waves [Astronomy & Astrophysics], which can be reflected back into space. At frequencies below 5 megahertz, the ionosphere is opaque for this reason.
The frequencies that do penetrate the ionosphere can vary according to atmospheric conditions. To overcome this problem, the team used supercomputers running algorithms to correct for ionospheric interference every four seconds. Over the 256 hours that LOFAR stared at the sky, that's a lot of corrections.
This is what has given us such a clear view of the ultra-low-frequency sky.
"After many years of software development, it is so wonderful to see that this has now really worked out," said astronomer Huub Röttgering of The Leiden Observatory [Sterrewacht Leiden](NL).
Having to correct for the ionosphere has another benefit, too: It will allow astronomers to use LoLSS data to study the ionosphere itself. Ionospheric traveling waves, scintillations, and the relationship of the ionosphere with solar cycles could be characterized in much greater detail with the LoLSS. This will allow scientists to better constrain ionospheric models.
And the survey will provide new data on all sorts of astronomical objects and phenomena, as well as possibly undiscovered or unexplored objects in the region below 50 megahertz.
"The final release of the survey will facilitate advances across a range of astronomical research areas," the researchers wrote in their paper.
"[This] will allow for the study of more than 1 million low-frequency radio spectra, providing unique insights on physical models for galaxies, active nuclei, galaxy clusters, and other fields of research. This experiment represents a unique attempt to explore the ultra-low frequency sky at a high angular resolution and depth."
The results have been published in Astronomy & Astrophysics.
See the full article here .
five-ways-keep-your-child-safe-school-shootings
Please help promote STEM in your local schools.
Universiteit Leiden Heijmans onderhoudt.
The Leiden University [Universiteit Leiden] (NL) is a public research university in Leiden, Netherlands. Founded in 1575 by William, Prince of Orange as a reward to the town of Leiden for its defense against Spanish attacks during the Eighty Years' War, it is the oldest institution of higher education in the Netherlands.
Known for its historic foundations and emphasis on the social sciences, the university came into particular prominence during the Dutch Golden Age, when scholars from around Europe were attracted to the Dutch Republic due to its climate of intellectual tolerance and Leiden's international reputation. During this time, Leiden became the home to individuals such as René Descartes, Rembrandt, Christiaan Huygens, Hugo Grotius, Baruch Spinoza and Baron d'Holbach.
The university has seven academic faculties and over fifty subject departments while housing more than 40 national and international research institutes. Its historical primary campus consists of buildings scattered across the college town of Leiden, while a second campus located in The Hague houses a liberal arts college and several of its faculties. It is a member of The Coimbra Group Universities(EU), The Europaeum, and a founding member of The League of European Research Universities (EU).
Leiden University consistently ranks among the top 100 universities in the world by major ranking tables. It was placed top 50 worldwide in thirteen fields of study in the 2020 QS World University Rankings: classics & ancient history, politics, archaeology, anthropology, history, pharmacology, law, public policy, public administration, religious studies, arts & humanities, linguistics, modern languages and sociology.
The school has produced twenty-one Spinoza Prize Laureates and sixteen Nobel Laureates, including Enrico Fermi and Albert Einstein. It is closely associated with the Dutch Royal Family, with Queen Juliana, Queen Beatrix and King Willem-Alexander being alumni. Ten prime ministers of the Netherlands were also Leiden University alumni. Internationally, it is associated with nine foreign leaders, among them John Quincy Adams (the 6th President of the United States), two NATO Secretaries General, a President of the International Court of Justice, and a Prime Minister of the United Kingdom.
In 1575, the emerging Dutch Republic did not have any universities in its northern heartland. The only other university in the Habsburg Netherlands was the University of Leuven [Universiteit Leuven](BE) in southern Leuven, firmly under Spanish control. The scientific renaissance had begun to highlight the importance of academic study, so Prince William founded the first Dutch university in Leiden, to give the Northern Netherlands an institution that could educate its citizens for religious purposes, but also to give the country and its government educated men in other fields. It is said the choice fell on Leiden as a reward for the heroic defence of Leiden against Spanish attacks in the previous year. Ironically, the name of Philip II of Spain, William's adversary, appears on the official foundation certificate, as he was still the de jure count of Holland. Philip II replied by forbidding any subject to study in Leiden. Originally located in the convent of St Barbara, the university moved to the Faliede Bagijn Church in 1577 (now the location of the University museum) and in 1581 to the convent of the White Nuns, a site which it still occupies, though the original building was destroyed by fire in 1616.
The presence within half a century of the date of its foundation of such scholars as Justus Lipsius; Joseph Scaliger; Franciscus Gomarus; Hugo Grotius; Jacobus Arminius; Daniel Heinsius; and Gerhard Johann Vossius rapidly made Leiden university into a highly regarded institution that attracted students from across Europe in the 17th century. Renowned philosopher Baruch Spinoza was based close to Leiden during this period and interacted with numerous scholars at the university. The learning and reputation of Jacobus Gronovius; Herman Boerhaave; Tiberius Hemsterhuis; and David Ruhnken, among others, enabled Leiden to maintain its reputation for excellence down to the end of the 18th century.
At the end of the nineteenth century, Leiden University again became one of Europe's leading universities. In 1896 the Zeeman effect was discovered there by Pieter Zeeman and shortly afterwards given a classical explanation by Hendrik Antoon Lorentz. At the world's first university low-temperature laboratory, professor Heike Kamerlingh Onnes achieved temperatures of only one degree above absolute zero of −273 degrees Celsius. In 1908 he was also the first to succeed in liquifying helium and can be credited with the discovery of the superconductivity in metals.
The University Library, which has more than 5.2 million books and fifty thousand journals, also has a number of internationally renowned special collections of western and oriental manuscripts, printed books, archives, prints, drawings, photographs, maps, and atlases. It houses the largest collections worldwide on Indonesia and the Caribbean. The research activities of the Scaliger Institute focus on these special collections and concentrate particularly on the various aspects of the transmission of knowledge and ideas through texts and images from antiquity to the present day.
In 2005 the manuscript of Einstein on the quantum theory of the monatomic ideal gas (the Einstein-Bose condensation) was discovered in one of Leiden's libraries.
The University of Hamburg [Universität Hamburg] (DE) is the largest institution for research and education in northern Germany. As one of the country's largest universities, we offer a diverse range of degree programs and excellent research opportunities. The University boasts numerous interdisciplinary projects in a broad range of fields and an extensive partner network of leading regional, national, and international higher education and research institutions.
Sustainable science and scholarship
Universität Hamburg is committed to sustainability. All our faculties have taken great strides towards sustainability in both research and teaching.
Excellent research
As part of the Excellence Strategy of the Federal and State Governments, Universität Hamburg has been granted clusters of excellence for 4 core research areas: Advanced Imaging of Matter (photon and nanosciences), Climate, Climatic Change, and Society (CliCCS) (climate research), Understanding Written Artefacts (manuscript research) and Quantum Universe (mathematics, particle physics, astrophysics, and cosmology).
An equally important core research area is Infection Research, in which researchers investigate the structure, dynamics, and mechanisms of infection processes to promote the development of new treatment methods and therapies.
Outstanding variety: over 170 degree programs
Universität Hamburg offers approximately 170 degree programs within its eight faculties:
Faculty of Law
Faculty of Business, Economics and Social Sciences
Faculty of Medicine
Faculty of Education
Faculty of Mathematics, Informatics and Natural Sciences
Faculty of Psychology and Human Movement Science
Faculty of Business Administration (Hamburg Business School).
Universität Hamburg is also home to several museums and collections, such as the Zoological Museum, the Herbarium Hamburgense, the Geological-Paleontological Museum, the Loki Schmidt Garden, and the Hamburg Observatory.
History
Universität Hamburg was founded in 1919 by local citizens. Important founding figures include Senator Werner von Melle and the merchant Edmund Siemers. Nobel Prize winners such as the physicists Otto Stern, Wolfgang Pauli, and Isidor Rabi taught and researched at the University. Many other distinguished scholars, such as Ernst Cassirer, Erwin Panofsky, Aby Warburg, William Stern, Agathe Lasch, Magdalene Schoch, Emil Artin, Ralf Dahrendorf, and Carl Friedrich von Weizsäcker, also worked here.