From Rutgers University: "Rutgers Scientists Identify Substance That May Have Sparked Life on Earth"

Our Great Seal.
3.10.23
Kitta Macpherson
kitta.macpherson@rutgers.edu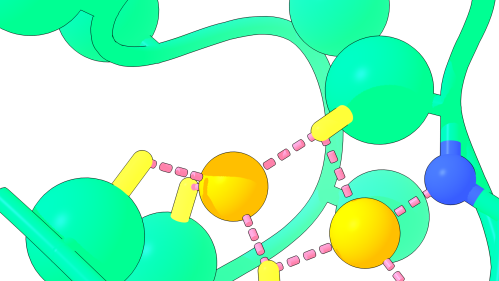 A computer rendering of the Nickelback peptide shows the backbone nitrogen atoms (blue) that bond two critical nickel atoms (orange). Rutgers scientists who identified this piece of a protein believe it may provide clues to detecting planets on the verge of producing life. Nanda Laboratory.
Research could provide clues to extraterrestrial life.
A team of Rutgers scientists dedicated to pinpointing the primordial origins of metabolism – a set of core chemical reactions that first powered life on Earth – has identified part of a protein that could provide scientists clues to detecting planets on the verge of producing life.
The research, published in Science Advances [below], has important implications in the search for extraterrestrial life because it gives researchers a new clue to look for, said Vikas Nanda, a researcher at the Center for Advanced Biotechnology and Medicine (CABM) at Rutgers.
Based on laboratory studies, Rutgers scientists say one of the most likely chemical candidates that kickstarted life was a simple peptide with two nickel atoms they are calling "Nickelback," not because it has anything to do with the Canadian rock band, but because its backbone nitrogen atoms bond two critical nickel atoms. A peptide is a constituent of a protein made up of a few elemental building blocks known as amino acids.
"Scientists believe that sometime between 3.5 and 3.8 billion years ago there was a tipping point, something that kickstarted the change from prebiotic chemistry – molecules before life – to­ living, biological systems," said Nanda, a professor of biochemistry and molecular biology at Robert Wood Johnson Medical School. "We believe the change was sparked by a few small precursor proteins that performed key steps in an ancient metabolic reaction. And we think we've found one of these 'pioneer peptides.'"
The scientists conducting the study are part of a Rutgers-led team called Evolution of Nanomachines in Geospheres and Microbial Ancestors (ENIGMA), which is part of the Astrobiology Program at NASA. The researchers are seeking to understand how proteins evolved to become the predominant catalyst of life on Earth.
When scouring the universe with telescopes and probes for signs of past, present or emerging life, NASA scientists look for specific "biosignatures" known to be harbingers of life. Peptides like nickelback could become the latest biosignature employed by NASA to detect planets on the verge of producing life, Nanda said.
An original instigating chemical, the researchers reasoned, would need to be simple enough to be able to assemble spontaneously in a prebiotic soup. But it would have to be sufficiently chemically active to possess the potential to take energy from the environment to drive a biochemical process.
To do so, the researchers adopted a "reductionist" approach: They started by examining existing contemporary proteins known to be associated with metabolic processes. Knowing the proteins were too complex to have emerged early on, they pared them down to their basic structure.
After sequences of experiments, researchers concluded the best candidate was Nickelback. The peptide is made of 13 amino acids and binds two nickel ions.
Nickel, they reasoned, was an abundant metal in early oceans. When bound to the peptide, the nickel atoms become potent catalysts, attracting additional protons and electrons and producing hydrogen gas. Hydrogen, the researchers reasoned, was also more abundant on early Earth and would have been a critical source of energy to power metabolism.
"This is important because, while there are many theories about the origins of life, there are very few actual laboratory tests of these ideas," Nanda said. "This work shows that, not only are simple protein metabolic enzymes possible, but that they are very stable and very active – making them a plausible starting point for life."
Other Rutgers researchers on the study include: Distinguished Professor Paul Falkowski and Jennifer Timm, a postdoctoral associate, in the Environmental Biophysics and Molecular Ecology Program, Department of Marine and Coastal Sciences at the School of Environmental and Biological Sciences; Joshua Mancini, Douglas Pike, Saroj Poudel and Alexei Tyryshkin, postdoctoral associates, and doctoral student Jan Siess at the Center for Advanced Biotechnology and Medicine and in the Department of Biochemistry and Molecular Biology at Robert Wood Johnson Medical School; and Kate Waldie, an assistant professor of the Department of Chemistry and Chemical Biology at the School of Arts and Sciences.
Researchers from the City College of New York also participated in the study.
Fig. 1. Model structure of NB and comparison to natural enzymes.


[Ni-Fe] hydrogenase (left) (PDB ID: 5XLE) and ACS (right) (PDB ID: 1RU3) are large, complex proteins with active di-metal sites coordinated by a few ligands. The model structure of NB (middle) combines elements of both active sites in a 13-residue polypeptide.
Fig. 2. Assembly and activity of NB.


(A) CD spectra of NB as a function of added Ni: [NB] = 750 μM (pH 7.5), temperature = 50°C. The peak at 340 nm (assigned to 2NB-1Ni) at first grows, reaching the maximum at [Ni] = 450 μM (solid purple line), and then declines at even higher [Ni] concentrations. The peak at 430 nm (assigned to NB-2Ni) starts to develop only at [Ni] > 500 μM, and it grows monotonously to saturate around [Ni] = 1650 μM (solid blue line). Black arrows show isosbestic points. (B) Fractional concentrations of 2NB-1Ni and NB-2Ni as extracted from the two-component spectral decomposition of the CD spectra from (A), as demonstrated in figs. S5 and S6. The dashed lines are the fits using a two-step reconstitution model: apo-NB → 2NB-1Ni → NB-2Ni (fig. S6). The upper bounds for Ni2+ binding constants were estimated from the fit to be around 1 μM in both 2NB-1Ni and NB-2Ni. Replications of this titration confirmed metal saturation beyond a 1:2 peptide-nickel stoichiometry (fig. S7). (C) Absorption spectra of pure 2NB-1Ni and NB-2Ni with characteristic bands labeled. (D) Reduction waves in bulk solution CV experiments at different stages of Ni reconstitution in NB: [NB] = 750 μM (pH 7.5), added [Ni] is indicated for each trace (full traces in figs. S14 to S16). NHE – normal hydrogen electrode. The catalytic current at −850 mV (vertical dashed line) starts to develop only at [Ni] > 500 μM, and it grows linearly with the NB-2Ni fraction as demonstrated in (E). (F) Photochemical H2 evolution by NB-2Ni (10 μM) with EosinY (500 μM) and TEOA (500 mM), 540-nm illumination (pH 8) at 37°C.
See the full article here .
Comments are invited and will be appreciated, especially if the reader finds any errors which I can correct. Use "Reply".

five-ways-keep-your-child-safe-school-shootings
Please help promote STEM in your local schools.
Rutgers-The State University of New Jersey, is a leading national research university and the state's preeminent, comprehensive public institution of higher education. Rutgers is dedicated to teaching that meets the highest standards of excellence; to conducting research that breaks new ground; and to providing services, solutions, and clinical care that help individuals and the local, national, and global communities where they live.
Founded in 1766, Rutgers teaches across the full educational spectrum: preschool to precollege; undergraduate to graduate; postdoctoral fellowships to residencies; and continuing education for professional and personal advancement.
Rutgers University is a public land-grant research university based in New Brunswick, New Jersey. Chartered in 1766, Rutgers was originally called Queen's College, and today it is the eighth-oldest college in the United States, the second-oldest in New Jersey (after Princeton University), and one of the nine U.S. colonial colleges that were chartered before the American War of Independence. In 1825, Queen's College was renamed Rutgers College in honor of Colonel Henry Rutgers, whose substantial gift to the school had stabilized its finances during a period of uncertainty. For most of its existence, Rutgers was a private liberal arts college but it has evolved into a coeducational public research university after being designated The State University of New Jersey by the New Jersey Legislature via laws enacted in 1945 and 1956.
Rutgers today has three distinct campuses, located in New Brunswick (including grounds in adjacent Piscataway), Newark, and Camden. The university has additional facilities elsewhere in the state, including oceanographic research facilities at the New Jersey shore. Rutgers is also a land-grant university, a sea-grant university, and the largest university in the state. Instruction is offered by 9,000 faculty members in 175 academic departments to over 45,000 undergraduate students and more than 20,000 graduate and professional students. The university is accredited by the Middle States Association of Colleges and Schools and is a member of the Big Ten Academic Alliance, the Association of American Universities and the Universities Research Association. Over the years, Rutgers has been considered a Public Ivy.
Research
Rutgers is home to the Rutgers University Center for Cognitive Science, also known as RUCCS. This research center hosts researchers in psychology, linguistics, computer science, philosophy, electrical engineering, and anthropology.
It was at Rutgers that Selman Waksman (1888–1973) discovered several antibiotics, including actinomycin, clavacin, streptothricin, grisein, neomycin, fradicin, candicidin, candidin, and others. Waksman, along with graduate student Albert Schatz (1920–2005), discovered streptomycin—a versatile antibiotic that was to be the first applied to cure tuberculosis. For this discovery, Waksman received the Nobel Prize for Medicine in 1952.
Rutgers developed water-soluble sustained release polymers, tetraploids, robotic hands, artificial bovine insemination, and the ceramic tiles for the heat shield on the Space Shuttle. In health related field, Rutgers has the Environmental & Occupational Health Science Institute (EOHSI).
Rutgers is also home to the RCSB Protein Data bank, "…an information portal to Biological Macromolecular Structures' cohosted with the San Diego Supercomputer Center. This database is the authoritative research tool for bioinformaticists using protein primary, secondary and tertiary structures worldwide…."
Rutgers is home to the Rutgers Cooperative Research & Extension office, which is run by the Agricultural and Experiment Station with the support of local government. The institution provides research & education to the local farming and agro industrial community in 19 of the 21 counties of the state and educational outreach programs offered through the New Jersey Agricultural Experiment Station Office of Continuing Professional Education.
Rutgers University Cell and DNA Repository (RUCDR) is the largest university based repository in the world and has received awards worth more than $57.8 million from the National Institutes of Health. One will fund genetic studies of mental disorders and the other will support investigations into the causes of digestive, liver and kidney diseases, and diabetes. RUCDR activities will enable gene discovery leading to diagnoses, treatments and, eventually, cures for these diseases. RUCDR assists researchers throughout the world by providing the highest quality biomaterials, technical consultation, and logistical support.
Rutgers–Camden is home to the nation's PhD granting Department of Childhood Studies. This department, in conjunction with the Center for Children and Childhood Studies, also on the Camden campus, conducts interdisciplinary research which combines methodologies and research practices of sociology, psychology, literature, anthropology and other disciplines into the study of childhoods internationally.
Rutgers is home to several National Science Foundation IGERT fellowships that support interdisciplinary scientific research at the graduate-level. Highly selective fellowships are available in the following areas: Perceptual Science, Stem Cell Science and Engineering, Nanotechnology for Clean Energy, Renewable and Sustainable Fuels Solutions, and Nanopharmaceutical Engineering.
Rutgers also maintains the Office of Research Alliances that focuses on working with companies to increase engagement with the university's faculty members, staff and extensive resources on the four campuses.
As a '67 graduate of University College, second in my class, I am proud to be a member of


Alpha Sigma Lamda, National Honor Society of non-tradional students.