From Rutgers University (US) : "Rutgers Leads Effort to Tackle Coastal Climate Crisis Through $20M NSF Grant"

Our Great Seal.
September 18, 2021
Marisol Seda
848-932-4411
marisol.seda@rutgers.edu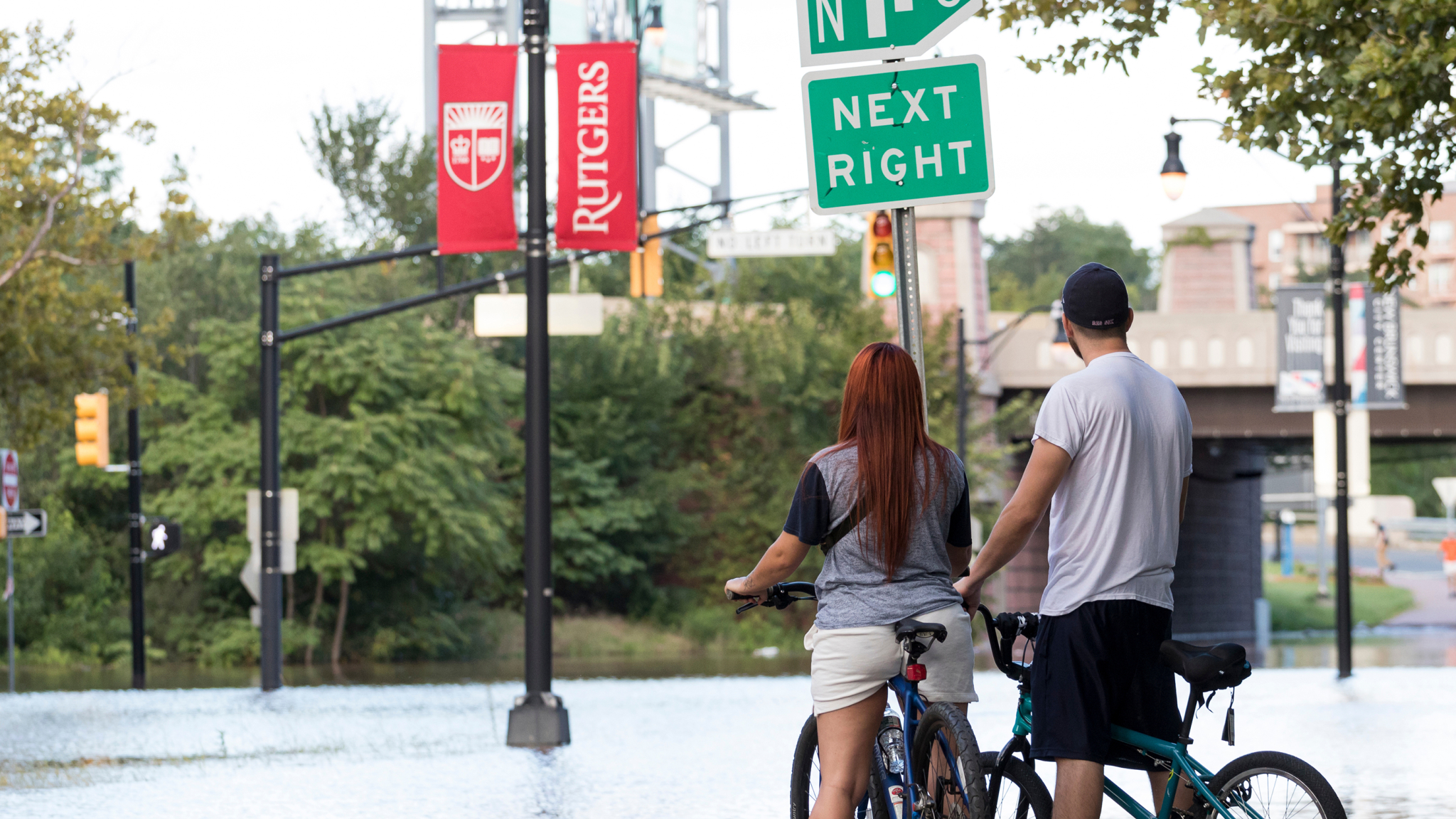 Local residents view flooded downtown streets in New Brunswick on Sept. 2 in the aftermath of Tropical Storm Ida. Credit: Benjamin Clapp/Shutterstock.
Universities join together to provide the research to work towards more resilient, sustainable coastlines.
Rutgers will take the lead – with a $20 million grant from The National Science Foundation (US) – to develop a plan with universities throughout the country to protect coastal areas increasingly threatened by extreme weather caused by climate change.
The university will be joined by sea level and climate scientists, civil engineers, urban planners, economists, emergency management specialists, environmental anthropologists, social scientists, humanists and others from The Pennsylvania State University (US), The University of Pennsylvania (US), Princeton University (US), Columbia University (US), The University at Albany – SUNY (US), Tulane University (US), Clark University (US), The Montclair State University (US), The University of Central Florida (US) and Carleton College (US).
Rutgers announced the partnership on the heels of historic flooding from the remnants of Hurricane Ida, which researchers say serves as a stark reminder that all communities are vulnerable to the increasing frequency and severity of extreme weather events.
"As extreme weather events continue to highlight our region's and world's vulnerability to the effects of climate change, Rutgers has taken a leadership role in addressing the climate crisis through research, scholarly activities, and meaningful action locally and globally," said Rutgers President Jonathan Holloway. "In addition to developing a plan for our own university to reduce our carbon footprint, our experts are leading collaborations such as this one to create mutual understanding within our diverse communities, gather insights to guide decisions, and develop adaptation plans that could benefit coastal megalopolises in our region and beyond. It is a proud moment for Rutgers and for our partners to collectively impact change for future generations."
These climate risk teams will create a Megalopolitan Coastal Transformation Hub (MACH) in an effort to provide fundamental research that will enable society to work towards more resilient, sustainable coastlines that are vital to the national economy.
Led by Rutgers climate scientist and principal investigator Robert Kopp, the multi-university group will partner with communities in the region, using real-world problems to shape its research activities. The project will investigate the hazards the region faces, as well as the way people understand and respond to them. It will also investigate the behavior of the housing markets, mortgages, and insurance companies, and the effects on municipal budgets.
Kopp says the goal is to manage the transformation of the coast by linking scientists and communities in order to manage risk.
"We are dealing with complex and rapidly changing coastal environments and hazards. Rutgers and most of the team working on this project sit within the dense urban mega-region that stretches from New York City, through New Jersey, to Philadelphia,'' said Kopp, who is also director of the Rutgers Institute of Earth, Ocean and Atmospheric Sciences and professor in the Department of Earth and Planetary Sciences.
"We have to understand the dynamics of how humans and the coastline interact in such complex, urbanized regions so that we can thrive despite rising sea levels and intensifying heat and rainfall and take advantage of new opportunities like offshore wind. The lessons we learn here should have application to urban megalopolises around the world," Kopp said.
The project will initially be funded by the NSF with a $7.9 million grant for the first two years, with the remaining $12 million in funds awarded following annual progress reports.
"These projects are unique, community-built and embody the goals of broadening participation in science and fostering societally relevant coastal research," says NSF Coastal and People Program director Amanda Adams. "The awards address coastal hazards from the Pacific Northwest to the Gulf of Mexico to the mid-Atlantic and engage communities from the densely populated Eastern Seaboard to tribal and rural coastal communities."
The coastal project will conduct research that supports the development of climate-resilient decision-making frameworks to equitably support coastal communities. In addition to facilitating interdisciplinary science, MACH will link researchers with coastal stakeholders and decision-makers to facilitate the co-development of dynamic adaptation policy pathways for equitably navigating a deeply uncertain future.
At Rutgers, researchers will engage students from the university and community colleges, junior faculty, and faculty through research symposia while training and providing the necessary concepts, tools and skills to a new generation of leaders to advance managing climate risks. Rutgers Mason Gross School of the Arts will also develop a documentary of the whole five-year process.
"This important project builds on and expands Rutgers-New Brunswick's leadership in climate science and our commitment to address one of the most pressing crises facing the human race," said Rutgers-New Brunswick Chancellor-Provost Francine Conway. "This effort requires the full focus of our prowess in academic excellence, world-changing research, and impactful public service."
See the full article here .

five-ways-keep-your-child-safe-school-shootings
Please help promote STEM in your local schools.
Rutgers, The State University of New Jersey (US), is a leading national research university and the state's preeminent, comprehensive public institution of higher education. Rutgers is dedicated to teaching that meets the highest standards of excellence; to conducting research that breaks new ground; and to providing services, solutions, and clinical care that help individuals and the local, national, and global communities where they live.
Founded in 1766, Rutgers teaches across the full educational spectrum: preschool to precollege; undergraduate to graduate; postdoctoral fellowships to residencies; and continuing education for professional and personal advancement.
Rutgers University (US) is a public land-grant research university based in New Brunswick, New Jersey. Chartered in 1766, Rutgers was originally called Queen's College, and today it is the eighth-oldest college in the United States, the second-oldest in New Jersey (after Princeton University (US)), and one of the nine U.S. colonial colleges that were chartered before the American War of Independence. In 1825, Queen's College was renamed Rutgers College in honor of Colonel Henry Rutgers, whose substantial gift to the school had stabilized its finances during a period of uncertainty. For most of its existence, Rutgers was a private liberal arts college but it has evolved into a coeducational public research university after being designated The State University of New Jersey by the New Jersey Legislature via laws enacted in 1945 and 1956.
Rutgers today has three distinct campuses, located in New Brunswick (including grounds in adjacent Piscataway), Newark, and Camden. The university has additional facilities elsewhere in the state, including oceanographic research facilities at the New Jersey shore. Rutgers is also a land-grant university, a sea-grant university, and the largest university in the state. Instruction is offered by 9,000 faculty members in 175 academic departments to over 45,000 undergraduate students and more than 20,000 graduate and professional students. The university is accredited by the Middle States Association of Colleges and Schools and is a member of the Big Ten Academic Alliance, the Association of American Universities (US) and the Universities Research Association (US). Over the years, Rutgers has been considered a Public Ivy.
Research
Rutgers is home to the Rutgers University Center for Cognitive Science, also known as RUCCS. This research center hosts researchers in psychology, linguistics, computer science, philosophy, electrical engineering, and anthropology.
It was at Rutgers that Selman Waksman (1888–1973) discovered several antibiotics, including actinomycin, clavacin, streptothricin, grisein, neomycin, fradicin, candicidin, candidin, and others. Waksman, along with graduate student Albert Schatz (1920–2005), discovered streptomycin—a versatile antibiotic that was to be the first applied to cure tuberculosis. For this discovery, Waksman received the Nobel Prize for Medicine in 1952.
Rutgers developed water-soluble sustained release polymers, tetraploids, robotic hands, artificial bovine insemination, and the ceramic tiles for the heat shield on the Space Shuttle. In health related field, Rutgers has the Environmental & Occupational Health Science Institute (EOHSI).
Rutgers is also home to the RCSB Protein Data bank, "…an information portal to Biological Macromolecular Structures' cohosted with the San Diego Supercomputer Center (US). This database is the authoritative research tool for bioinformaticists using protein primary, secondary and tertiary structures worldwide…."
Rutgers is home to the Rutgers Cooperative Research & Extension office, which is run by the Agricultural and Experiment Station with the support of local government. The institution provides research & education to the local farming and agro industrial community in 19 of the 21 counties of the state and educational outreach programs offered through the New Jersey Agricultural Experiment Station Office of Continuing Professional Education.
Rutgers University Cell and DNA Repository (RUCDR) is the largest university based repository in the world and has received awards worth more than $57.8 million from the National Institutes of Health (US). One will fund genetic studies of mental disorders and the other will support investigations into the causes of digestive, liver and kidney diseases, and diabetes. RUCDR activities will enable gene discovery leading to diagnoses, treatments and, eventually, cures for these diseases. RUCDR assists researchers throughout the world by providing the highest quality biomaterials, technical consultation, and logistical support.
Rutgers–Camden is home to the nation's PhD granting Department of Childhood Studies. This department, in conjunction with the Center for Children and Childhood Studies, also on the Camden campus, conducts interdisciplinary research which combines methodologies and research practices of sociology, psychology, literature, anthropology and other disciplines into the study of childhoods internationally.
Rutgers is home to several National Science Foundation (US) IGERT fellowships that support interdisciplinary scientific research at the graduate-level. Highly selective fellowships are available in the following areas: Perceptual Science, Stem Cell Science and Engineering, Nanotechnology for Clean Energy, Renewable and Sustainable Fuels Solutions, and Nanopharmaceutical Engineering.
Rutgers also maintains the Office of Research Alliances that focuses on working with companies to increase engagement with the university's faculty members, staff and extensive resources on the four campuses.
As a '67 graduate of University College, second in my class, I am proud to be a member of


Alpha Sigma Lamda, National Honor Society of non-tradional students.