From The Swiss Federal Institute of Technology in Lausanne [EPFL-École Polytechnique Fédérale de Lausanne] (CH)
7.28.22
Andreas Trabesinger
Tanya Petersen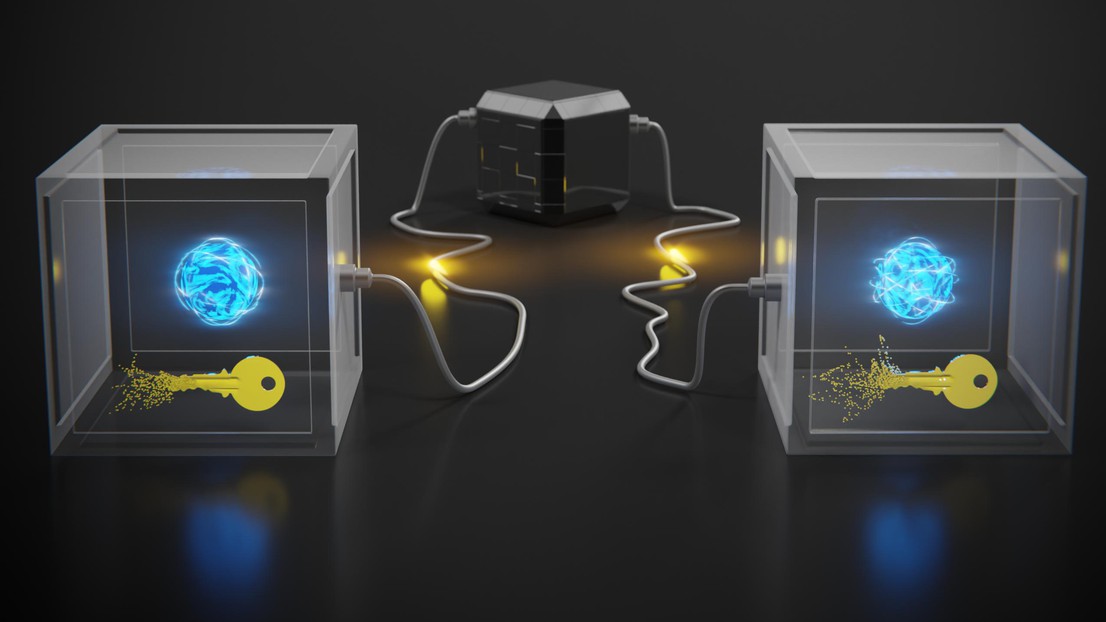 A method known as quantum key distribution has long held the promise of communication security not possible in conventional cryptography. For the first time, an international team of scientists, including researchers from EPFL, has demonstrated experimentally an approach to quantum key distribution based on high-quality quantum entanglement — offering much broader security guarantees than previous schemes.
The art of cryptography is to skillfully transform messages so that they become meaningless to everyone but the intended recipients. Modern cryptographic schemes, such as those underpinning digital commerce, prevent adversaries from illegitimately deciphering messages — say, credit-card information — by requiring them to perform mathematical operations that consume a prohibitively large amount of computational power.
However, for several decades now, ingenious theoretical concepts have been introduced in which security doesn't depend on an eavesdropper's finite number-crunching capabilities. Instead, the basic laws of quantum physics limit how much information, if any, an adversary can ultimately intercept.
In one such concept, called quantum key distribution, security can be guaranteed with only a few general assumptions about the physical apparatus used yet practically, it has remained out of reach. Now, writing in Nature [below], an international team of researchers from EPFL's School of Computer and Communication Sciences, ETH Zürich, the University of Geneva, the University of Oxford and the Université Paris-Saclay report the first demonstration of this sort of protocol — taking a decisive step towards practical devices offering such exquisite security.
The key is a secret
Secure communication is all about keeping information private. It might be surprising, therefore, that in real-world applications large parts of the transactions between legitimate users are played out in public. The key is that sender and receiver do not have to keep their entire communication hidden.
In essence, they only have to share one "secret"; in practice, this secret is a string of bits, known as a cryptographic key, that enables everyone in its possession to turn coded messages into meaningful information. Once the legitimate parties have ensured that they, and only they, share such a key, pretty much all the other communication can happen in plain view. The question, then, is how to ensure that only the legitimate parties share a secret key. The process of accomplishing this is known as 'key distribution'.
The cryptographic algorithms underlying, for instance, RSA — one of the most widely used cryptographic systems —relies on the fact that for today's computers it is hard to find the prime factors of a large number, whereas it is easy for them to multiply known prime factors to obtain that number. Secrecy is therefore ensured by mathematical difficulty. But what is impossibly difficult today might be easy tomorrow. Famously, quantum computers can find prime factors significantly more efficiently than classical computers. Once quantum computers with a sufficiently large number of qubits become available, RSA encoding is destined to become penetrable.
But quantum theory provides the basis not only for cracking the cryptosystems at the heart of digital commerce, but also for a potential solution to the problem: a way entirely different from RSA for distributing cryptographic keys — one that has nothing to do with the hardness of performing mathematical operations, but with fundamental physical laws. Enter quantum key distribution, or QKD for short.
"Over the years, it has been realized that QKD schemes can have a remarkable benefit: users have to make only very general assumptions regarding the devices employed in the process. The newest form of QKD is now generally known as 'device-independent QKD', and an experimental implementation of this became a major goal in the field. That's why it is exciting that such a breakthrough experiment has now finally been achieved," said Professor Rüdiger Ubanke, Dean of the IC School who, together with PhD student Kirill Ivanov, is one of the paper's authors.
Culmination of years of work
The experiment involved two single ions — one for the sender and one of the receiver — confined in separate traps that were connected with an optical-fibre link. In this basic quantum network, entanglement between the ions was generated with record-high fidelity over millions of runs. Without such a sustained source of high-quality entanglement, the protocol could not have been run in a practically meaningful manner. Equally important was to certify that the entanglement was suitably exploited. For the analysis of the data, as well as for an efficient extraction of the cryptographic key and to ensure optimal operation during the experiment, significant advances in theory were needed.
In the experiment, the 'legitimate parties' — the ions — were located in one and the same laboratory. But there is a clear route to extending the distance between them to kilometres and beyond. With that perspective, together with further recent progress made in related experiments in Germany and China, there is now a real prospect of turning theoretical into practical technology.
Science paper:
Nature
See the full article here .
five-ways-keep-your-child-safe-school-shootings
Please help promote STEM in your local schools.
EPFL campus
The Swiss Federal Institute of Technology in Lausanne [EPFL-École Polytechnique Fédérale de Lausanne] (CH) is a research institute and university in Lausanne, Switzerland, that specializes in natural sciences and engineering. It is one of the two Swiss Federal Institutes of Technology, and it has three main missions: education, research and technology transfer.
The QS World University Rankings ranks EPFL(CH) 14th in the world across all fields in their 2020/2021 ranking, whereas Times Higher Education World University Rankings ranks EPFL(CH) as the world's 19th best school for Engineering and Technology in 2020.
EPFL(CH) is located in the French-speaking part of Switzerland; the sister institution in the German-speaking part of Switzerland is The Swiss Federal Institute of Technology ETH Zürich [Eidgenössische Technische Hochschule Zürich] (CH). Associated with several specialized research institutes, the two universities form The Domain of the Swiss Federal Institutes of Technology (ETH Domain) [ETH-Bereich; Domaine des Écoles Polytechniques Fédérales] (CH) which is directly dependent on the Federal Department of Economic Affairs, Education and Research. In connection with research and teaching activities, EPFL(CH) operates a nuclear reactor CROCUS; a Tokamak Fusion reactor; a Blue Gene/Q Supercomputer; and P3 bio-hazard facilities.
ETH Zürich, EPFL (Swiss Federal Institute of Technology in Lausanne) [École Polytechnique Fédérale de Lausanne](CH), and four associated research institutes form The Domain of the Swiss Federal Institutes of Technology (ETH Domain) [ETH-Bereich; Domaine des Écoles polytechniques fédérales] (CH) with the aim of collaborating on scientific projects.
The roots of modern-day EPFL(CH) can be traced back to the foundation of a private school under the name École Spéciale de Lausanne in 1853 at the initiative of Lois Rivier, a graduate of the École Centrale Paris (FR) and John Gay the then professor and rector of the Académie de Lausanne. At its inception it had only 11 students and the offices were located at Rue du Valentin in Lausanne. In 1869, it became the technical department of the public Académie de Lausanne. When the Académie was reorganized and acquired the status of a university in 1890, the technical faculty changed its name to École d'Ingénieurs de l'Université de Lausanne. In 1946, it was renamed the École polytechnique de l'Université de Lausanne (EPUL). In 1969, the EPUL was separated from the rest of the University of Lausanne and became a federal institute under its current name. EPFL(CH), like ETH Zürich (CH), is thus directly controlled by the Swiss federal government. In contrast, all other universities in Switzerland are controlled by their respective cantonal governments. Following the nomination of Patrick Aebischer as president in 2000, EPFL(CH) has started to develop into the field of life sciences. It absorbed the Swiss Institute for Experimental Cancer Research (ISREC) in 2008.
In 1946, there were 360 students. In 1969, EPFL(CH) had 1,400 students and 55 professors. In the past two decades the university has grown rapidly and as of 2012 roughly 14,000 people study or work on campus, about 9,300 of these being Bachelor, Master or PhD students. The environment at modern day EPFL(CH) is highly international with the school attracting students and researchers from all over the world. More than 125 countries are represented on the campus and the university has two official languages, French and English.
Organization
EPFL is organized into eight schools, themselves formed of institutes that group research units (laboratories or chairs) around common themes:
School of Basic Sciences
Institute of Mathematics
Institute of Chemical Sciences and Engineering
Institute of Physics
European Centre of Atomic and Molecular Computations
Bernoulli Center
Biomedical Imaging Research Center
Interdisciplinary Center for Electron Microscopy
MPG-EPFL Centre for Molecular Nanosciences and Technology
Swiss Plasma Center
Laboratory of Astrophysics
School of Engineering
Institute of Electrical Engineering
Institute of Mechanical Engineering
Institute of Materials
Institute of Microengineering
Institute of Bioengineering
School of Architecture, Civil and Environmental Engineering
Institute of Architecture
Civil Engineering Institute
Institute of Urban and Regional Sciences
Environmental Engineering Institute
School of Computer and Communication Sciences
Algorithms & Theoretical Computer Science
Artificial Intelligence & Machine Learning
Computational Biology
Computer Architecture & Integrated Systems
Data Management & Information Retrieval
Graphics & Vision
Human-Computer Interaction
Information & Communication Theory
Networking
Programming Languages & Formal Methods
Security & Cryptography
Signal & Image Processing
Systems
School of Life Sciences
Bachelor-Master Teaching Section in Life Sciences and Technologies
Brain Mind Institute
Institute of Bioengineering
Swiss Institute for Experimental Cancer Research
Global Health Institute
Ten Technology Platforms & Core Facilities (PTECH)
Center for Phenogenomics
NCCR Synaptic Bases of Mental Diseases
College of Management of Technology
Swiss Finance Institute at EPFL
Section of Management of Technology and Entrepreneurship
Institute of Technology and Public Policy
Institute of Management of Technology and Entrepreneurship
Section of Financial Engineering
College of Humanities
Human and social sciences teaching program
EPFL Middle East
Section of Energy Management and Sustainability
In addition to the eight schools there are seven closely related institutions
Swiss Cancer Centre
Center for Biomedical Imaging (CIBM)
Centre for Advanced Modelling Science (CADMOS)
École Cantonale d'art de Lausanne (ECAL)
Campus Biotech
Wyss Center for Bio- and Neuro-engineering
Swiss National Supercomputing Centre