From University of Colorado Boulder (US)
via
5.24.21
Katherine Kornei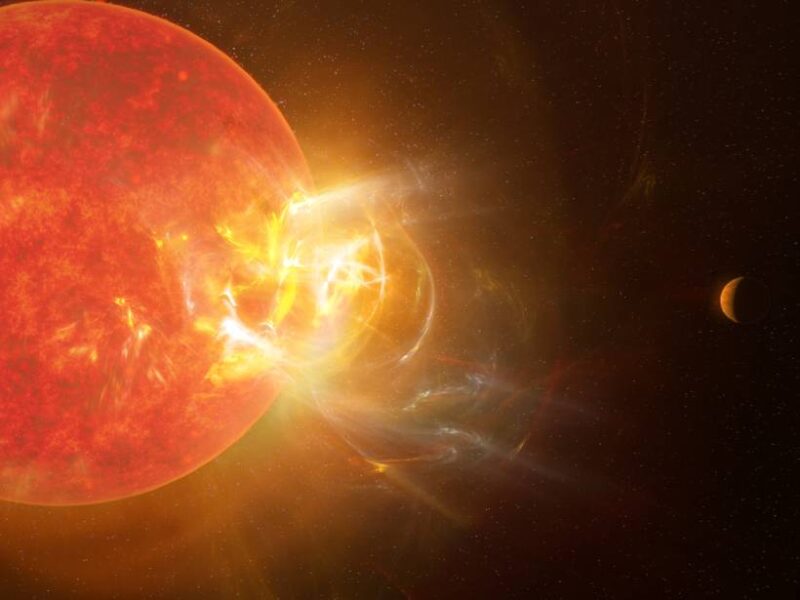 An enormous stellar flare erupts from Proxima Centauri in this artist's representation. Credit: S. Dagnello, National Radio Astronomy Observatory (US)/Associated Universities Inc (US)/National Science Foundation (US).
As stellar neighbors go, the Sun is a pretty good one—it occasionally produces a sizeable solar flare, but mostly, it leaves Earth well enough alone. The Proxima Centauri solar system isn't so lucky, however: Blasts of electromagnetic radiation from Proxima Centauri, the next nearest star to our own, can be potentially lethal to nearby planets.
Researchers recently spotted the brightest stellar flare ever detected from Proxima Centauri. That flare might have contributed to stripping away the atmosphere of one of its planets, a roughly Earth mass world that potentially hosts liquid water on its surface.
Destroyer of Atmospheres
Proxima Centauri is located 4.2 light-years away, yet it's much too faint to see with the naked eye. (Polaris, the North Star, is more than 400 light-years distant, for comparison.) Proxima Centauri's faintness stems from its low mass—it's what astronomers refer to as an M dwarf star, defined as having a mass between roughly 10% and 50% the mass of the Sun. M dwarf stars are the most common stars in the Milky Way, but they come with a reputation, said Meredith MacGregor, an astronomer at the University of Colorado Boulder (US). "M dwarfs are vastly more active than the Sun."
That means they regularly emit stellar flares, blasts of electromagnetic radiation launched by their host star's magnetic field. These streams of photons can be destructive, said MacGregor. When high-energy ultraviolet radiation collides with a planet's atmosphere, it can disassociate molecules like water and ozone, splitting them into their constituent atoms. Some of those lighter atoms can then drift away and escape. "You can basically erode away the atmosphere of a planet," said MacGregor.
And They're Off!
In 2015, unbeknownst to earthly observers, Proxima Centauri let loose an enormous flare. The photons streamed through the Proxima Centauri solar system—with its two known planets—and continued out into interstellar space.
A little more than 4 years later, MacGregor and her colleagues were observing Proxima Centauri using up to nine research telescopes simultaneously, five on the ground and four orbiting Earth. (Such coordinated observing is an astronomical tour de force, and it required a whole lot of communication among different observing facilities, said MacGregor.) On 1 May 2019, the team spotted a whopper of a flare. "This star is brightening in the ultraviolet by a factor of 14,000 in just a couple of seconds," said MacGregor. "That challenges our picture of flaring."
It's the brightest stellar flare ever detected from Proxima Centauri and about 100 times brighter than the largest flares produced by the Sun, MacGregor and her collaborators deduced. This event is a record setter, said MacGregor, but it's probably not unique. "The star is doing this very frequently."
Similarities Across the Spectrum
he researchers made a surprising discovery: The flare behaved remarkably similarly in observations at millimeter wavelengths (in the radio part of the electromagnetic spectrum) and in the ultraviolet. It brightened and diminished at very nearly the same times in both data sets, said MacGregor. "The millimeter and ultraviolet light are very tightly correlated."
That's intriguing, the team suggests, because ultraviolet measurements are somewhat of a holy grail when it comes to stellar flares: Getting a handle on this high-energy emission is critical to understanding whether flare activity might be stripping a planet of its atmosphere or, perhaps, even kick-starting life. But it's downright difficult to measure ultraviolet light on Earth since our planet's atmosphere blocks most of its wavelengths, said Katherine Garcia-Sage, a space physicist at NASA Goddard Space Flight Center in Greenbelt, Md., not involved in the research. "We can't detect them from the ground." (The Hubble Space Telescope, in orbit roughly 550 kilometers above Earth, is one of the only telescope facilities that can detect ultraviolet light.)
But millimeter-wavelength emission can be readily detected from Earth's surface using radio telescopes, said MacGregor. "If the millimeter really is tracing the ultraviolet, we might be able to use these millimeter observations to infer what the ultraviolet light is doing during these events."
These results were published last month in The Astrophysical Journal Letters.
See the full article here .
five-ways-keep-your-child-safe-school-shootings
Please help promote STEM in your local schools.
Eos is the leading source for trustworthy news and perspectives about the Earth and space sciences and their impact. Its namesake is Eos, the Greek goddess of the dawn, who represents the light shed on understanding our planet and its environment in space by the Earth and space sciences.
As the flagship university of the state of Colorado University of Colorado Boulder (US), founded in 1876, five months before Colorado became a state. It is a dynamic community of scholars and learners situated on one of the most spectacular college campuses in the country, and is classified as an R1 University, meaning that it engages in a very high level of research activity. As one of 34 U.S. public institutions belonging to the prestigious Association of American Universities (US), a selective group of major research universities in North America, – and the only member in the Rocky Mountain region – we have a proud tradition of academic excellence, with five Nobel laureates and more than 50 members of prestigious academic academies.
CU-Boulder has blossomed in size and quality since we opened our doors in 1877 – attracting superb faculty, staff, and students and building strong programs in the sciences, engineering, business, law, arts, humanities, education, music, and many other disciplines.
Today, with our sights set on becoming the standard for the great comprehensive public research universities of the new century, we strive to serve the people of Colorado and to engage with the world through excellence in our teaching, research, creative work, and service.
In 2015, the university comprised nine colleges and schools and offered over 150 academic programs and enrolled almost 17,000 students. Five Nobel Laureates, nine MacArthur Fellows, and 20 astronauts have been affiliated with CU Boulder as students; researchers; or faculty members in its history. In 2010, the university received nearly $454 million in sponsored research to fund programs like the Laboratory for Atmospheric and Space Physics and JILA. CU Boulder has been called a Public Ivy, a group of publicly funded universities considered as providing a quality of education comparable to those of the Ivy League.
The Colorado Buffaloes compete in 17 varsity sports and are members of the NCAA Division I Pac-12 Conference. The Buffaloes have won 28 national championships: 20 in skiing, seven total in men's and women's cross country, and one in football. The university has produced a total of ten Olympic medalists. Approximately 900 students participate in 34 intercollegiate club sports annually as well.
On March 14, 1876, the Colorado territorial legislature passed an amendment to the state constitution that provided money for the establishment of the University of Colorado in Boulder, the Colorado School of Mines(US) in Golden, and the Colorado State University (US) – College of Agricultural Sciences in Fort Collins.
Two cities competed for the site of the University of Colorado: Boulder and Cañon City. The consolation prize for the losing city was to be home of the new Colorado State Prison. Cañon City was at a disadvantage as it was already the home of the Colorado Territorial Prison. (There are now six prisons in the Cañon City area.)
The cornerstone of the building that became Old Main was laid on September 20, 1875. The doors of the university opened on September 5, 1877. At the time, there were few high schools in the state that could adequately prepare students for university work, so in addition to the University, a preparatory school was formed on campus. In the fall of 1877, the student body consisted of 15 students in the college proper and 50 students in the preparatory school. There were 38 men and 27 women, and their ages ranged from 12–23 years.
During World War II, Colorado was one of 131 colleges and universities nationally that took part in the V-12 Navy College Training Program which offered students a path to a navy commission.
CU hired its first female professor, Mary Rippon, in 1878. It hired its first African-American professor, Charles H. Nilon, in 1956, and its first African-American librarian, Mildred Nilon, in 1962. Its first African American female graduate, Lucile Berkeley Buchanan, received her degree in 1918.
Research institutes
CU Boulder's research mission is supported by eleven research institutes within the university. Each research institute supports faculty from multiple academic departments, allowing institutes to conduct truly multidisciplinary research.
The Institute for Behavioral Genetics (IBG) is a research institute within the Graduate School dedicated to conducting and facilitating research on the genetic and environmental bases of individual differences in behavior. After its founding in 1967 IBG led the resurging interest in genetic influences on behavior. IBG was the first post-World War II research institute dedicated to research in behavioral genetics. IBG remains one of the top research facilities for research in behavioral genetics, including human behavioral genetics, psychiatric genetics, quantitative genetics, statistical genetics, and animal behavioral genetics.
The Institute of Cognitive Science (ICS) at CU Boulder promotes interdisciplinary research and training in cognitive science. ICS is highly interdisciplinary; its research focuses on education, language processing, emotion, and higher level cognition using experimental methods. It is home to a state of the art fMRI system used to collect neuroimaging data.
ATLAS Institute is a center for interdisciplinary research and academic study, where engineering, computer science and robotics are blended with design-oriented topics. Part of CU Boulder's College of Engineering and Applied Science, the institute offers academic programs at the undergraduate, master's and doctoral levels, and administers research labs, hacker and makerspaces, and a black box experimental performance studio. At the beginning of the 2018–2019 academic year, approximately 1,200 students were enrolled in ATLAS academic programs and the institute sponsored six research labs.[64]
In addition to IBG, ICS and ATLAS, the university's other institutes include Biofrontiers Institute, Cooperative Institute for Research in Environmental Sciences, Institute of Arctic & Alpine Research (INSTAAR), Institute of Behavioral Science (IBS), JILA, Laboratory for Atmospheric & Space Physics (LASP), Renewable & Sustainable Energy Institute (RASEI), and the University of Colorado Museum of Natural History.