From RIKEN[理](JP): "Nascent gas giant planets may be lurking in dusty disk"
11.22.22
Clumps of matter in a protostellar disk cast a cold shadow that could affect how some planets gestate.
Nurseries for new planets, protostellar disks are oblate swathes of gas and dust that rotate about newly formed stars. The Earth and the other planets in the Solar System were birthed from such a disk.
Now, Satoshi Ohashi of the RIKEN Star and Planet Formation Laboratory and his colleagues have studied a protostellar disk in one of the closest star-forming regions to Earth.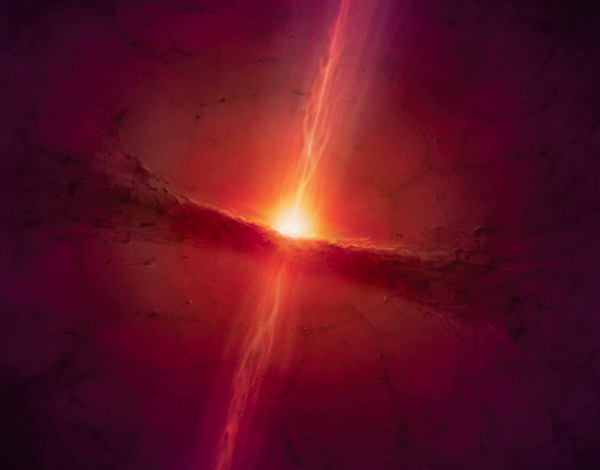 Figure 1: A computer-generated image depicting a dark protostellar disk seen edge-on at 90 degrees to jets (orange) emanating from the poles of a young star. Such disks are thought to be the precursors of planetary systems, with planets forming as the dust coalesces. RIKEN researchers may have spotted embryos of gas giant planets in one protostellar disk. © MARK GARLICK/SCIENCE PHOTO LIBRARY.
Using data from the Atacama Large Millimeter/submillimeter Array (ALMA) in Chile and the Jansky Very Large Array (VLA) in New Mexico, they found that the disk is 80–100 Au's wide.
The disk is unstable and collapsing in a region roughly 20 AU's from its young star. The VLA had previously identified several clumps of matter in the same area, and their formation may be driven by this gravitational instability.
"These clumps may be the precursors of gas giant planets, since they are massive and dense," says Ohashi. If this identification is correct, it would imply that planet formation can begin surprisingly early in protostellar disks.
Science paper:
The Astrophysical Journal
See the science paper for instructive material with images.
See the full article here .
Comments are invited and will be appreciated, especially if the reader finds any errors which I can correct.
five-ways-keep-your-child-safe-school-shootings
Please help promote STEM in your local schools.
RIKEN [理研](JP) is Japan's largest comprehensive research institution renowned for high-quality research in a diverse range of scientific disciplines. Founded in 1917 as a private research foundation in Tokyo, RIKEN has grown rapidly in size and scope, today encompassing a network of world-class research centers and institutes across Japan. Founded in 1917, it now has about 3,000 scientists on seven campuses across Japan, including the main site at Wakō, Saitama Prefecture, just outside Tokyo. Riken is a Designated National Research and Development Institute, and was formerly an Independent Administrative Institution.
Riken conducts research in many areas of science including physics; chemistry; biology; genomics; medical science; engineering; high-performance computing and computational science and ranging from basic research to practical applications with 485 partners worldwide. It is almost entirely funded by the Japanese government, and its annual budget is about ¥88 billion (US$790 million).
Organizational structure:
The main divisions of Riken are listed here. Purely administrative divisions are omitted.
Headquarters (mostly in Wako)
Wako Branch
Center for Emergent Matter Science (research on new materials for reduced power consumption)
Center for Sustainable Resource Science (research toward a sustainable society)
Nishina Center for Accelerator-Based Science (site of the Radioactive Isotope Beam Factory, a heavy-ion accelerator complex)
Center for Brain Science
Center for Advanced Photonics (research on photonics including terahertz radiation)
Research Cluster for Innovation
Cluster for Pioneering Research (chief scientists)
Interdisciplinary Theoretical and Mathematical Sciences Program
Tokyo Branch
Center for Advanced Intelligence Project (research on artificial intelligence)
Tsukuba Branch
BioResource Research Center
Harima Institute
Riken SPring-8 Center (site of the SPring-8 synchrotron and the SACLA x-ray free electron laser)
Riken SPring-8 synchrotron, located in Hyōgo Prefecture, Japan.
RIKEN/HARIMA (JP) X-ray Free Electron Laser
Yokohama Branch (site of the Yokohama Nuclear magnetic resonance facility)
Center for Sustainable Resource Science
Center for Integrative Medical Sciences (research toward personalized medicine)
Center for Biosystems Dynamics Research (also based in Kobe and Osaka)
Program for Drug Discovery and Medical Technology Platform
Structural Biology Laboratory
Sugiyama Laboratory
Kobe Branch
Center for Biosystems Dynamics Research (developmental biology and nuclear medicine medical imaging techniques)
Center for Computational Science (R-CCS, home of the K computer and The post-K (Fugaku) computer development plan)
Riken Fujitsu K supercomputer manufactured by Fujitsu, installed at the Riken Advanced Institute for Computational Science campus in Kobe, Hyōgo Prefecture, Japan.
Fugaku is a claimed exascale supercomputer (while only at petascale for mainstream benchmark), at the RIKEN Center for Computational Science in Kobe, Japan. It started development in 2014 as the successor to the K computer, and is officially scheduled to start operating in 2021. Fugaku made its debut in 2020, and became the fastest supercomputer in the world in the June 2020 TOP500 list, the first ever supercomputer that achieved 1 exaFLOPS. As of April 2021, Fugaku is currently the fastest supercomputer in the world.