From The University of Washington (US) Civil & Environmental Engineering
In
The University of Washington College of Engineering

At

The University of Washington(US)
December 13, 2021 [Just today in social media.]
Brooke Fisher
Marketing & Communications Manager
206-543-4514
brooke22@uw.edu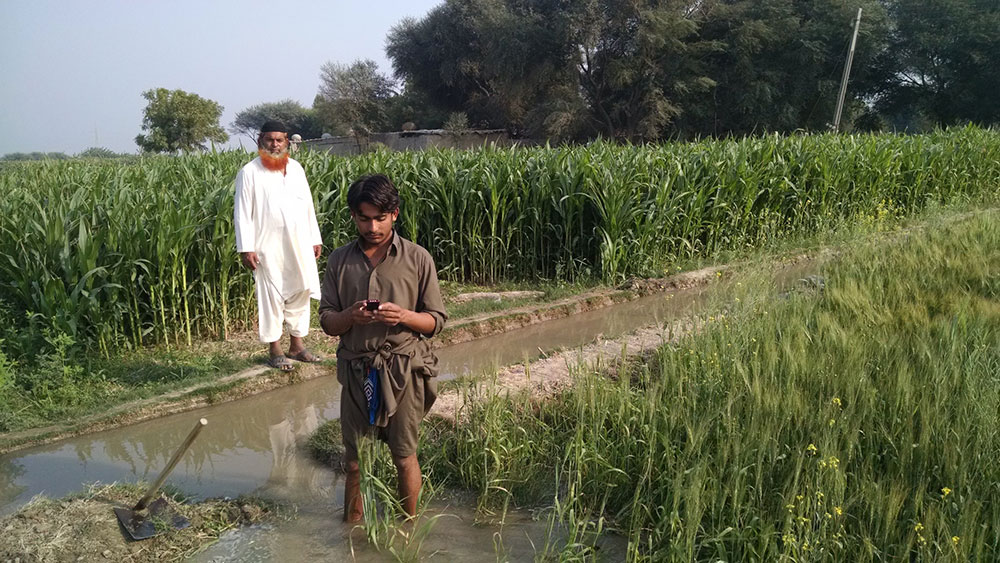 Checking his cell phone, a Pakistani farmer reads weather updates and estimates of how much irrigation water he will need over the next few days, provided by the Irrigation Advisory System. Credit: Faisal Hossain and Pakistan Council of Research in Water Resources.
Five years ago, when Professor Faisal Hossain helped implement a new satellite-based irrigation advisory system in Pakistan, it was uncharted territory. But that territory now includes three countries and more than 100,000 farmers who benefit from water conservation and improved crop yield.
"Because this was never something I planned to do, I am pleasantly surprised at how successful the system has been and how it's grown and expanded to other countries like India and Bangladesh," Hossain says. "This is one of the most enjoyable things I've worked on."
Water scarcity is a pressing issue throughout South Asia and beyond. While modern-day irrigation practices enable more farming and food production, they are estimated to consume between 60-90% of global freshwater. To help conserve water by preventing the overwatering of crops, the Pakistan Council of Research in Water Resources began working on a project in 2015 to utilize satellite-based data to provide irrigation advisories to farmers. When the government agency realized that available information wasn't user-friendly for farmers, they reached out to Hossain.
"I had an epiphany; we do all this great scientific research driven by making it user-inspired," Hossain recalls. "I realized this is not hard to solve, we just need to package it in a way that is user-ready."
The advisory system that Hossain and his research team helped develop utilizes weather and satellite data and estimated water consumption by crop to generate text messages that are delivered directly to farmers' cell phones. The system can be used for a variety of crops from rice to bananas to wheat. Examples of messages include "Dear farmer friend, we would like to inform you that the irrigation need for your banana crop is two inches this week" and "Corn fields do not need irrigation due to sufficient rainfall prediction this week."
"The farmers mostly over-irrigate and sometimes under-irrigate due to lack of information. I grew up in a farmer family in Bangladesh, so I understand the stressful time that farmers pass during the winter dry season," says alumnus Nishan Kumar Biswas (Ph.D. '21), who worked on the advisory systems during his graduate studies. "Farmers don't have access to weather forecast information and crop water demand. Thus, they don't know if plants need water right at the moment and if there will be any rain in the upcoming days."

Cotton Ivory Final 18 June HD.
17 minutes
Expanding east
First implemented in Pakistan, the irrigation advisory system has since expanded to India and northeastern Bangladesh, now serving more than 100,000 farmers. In Bangladesh, which is the world's fourth largest rice producer, the system is being considered for adoption countrywide in 2022 by the government's Department of Agricultural Extension (DAE).
In each country the system is tailored to the specific needs of the farmers. For example, farmers in India and Bangladesh grow a wider variety of crops on a smaller scale than farmers in Pakistan. To account for the greater variety in crops, the researchers introduced inexpensive low-power ground sensors in India. The sensors collect information specific to each plot of land, such as temperature and humidity, which is used to generate a greater number of irrigation advisories. And depending on the country, text messages are customized to reflect how farmers in a particular area may measure water. For example, a text message may advise farmers to "apply half a finger of irrigation," which ends up being about 1.5 inches. This is based on finger markings that divide fingers into three parts, each about 1 inch in length.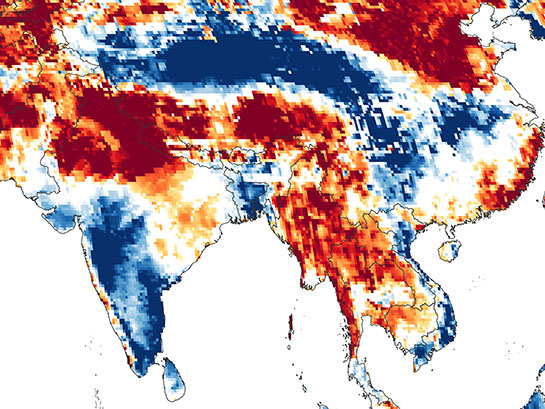 Based on satellite data, a map shows shallow groundwater storage in southern Asia for March 15, 2021. Areas in blue have abundant water, while red and orange areas contain less water than usual.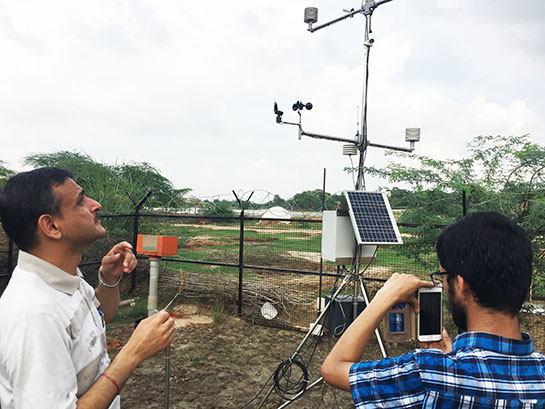 UW graduate student Shahryar Ahmad (Ph.D. '21) takes a photo while setting-up an automatic weather station that measures weather parameters in real time.
"We realized that we had to customize the solution," Hossain says. "We couldn't use the same exact method somewhere else, as it would be received differently given different customs and culture."
The researchers have also been eager to add innovations along the way. In Bangladesh, the advisory system was made "smarter" by adding additional satellite data that helps track farmers' individual water use. This allows the DAE to strategically target farmers in specific areas where severe over-irrigation occurs.
_____________________________________
Timeline of implementation:
2016: 700 farmers in Pakistan trial the Irrigation Advisory System (IAS).
2017: 10,000 farmers total use IAS in Pakistan.
2018: 50,000 farmers in two countries use the advisory system after the Provision of Advisory for Necessary Irrigation (PANI) system is implemented in India.
2020: 100,000 farmers in three countries use the advisory system after the Integrated Rice Advisory System (IRAS) is trialed in northeastern Bangladesh.
_____________________________________
Irrigation impact
Throughout the three countries, studies and assessments indicate that the advisory systems have been largely beneficial. During dry-season rice production, a control group study was conducted in Bangladesh, supported by the Asian Development Bank. The study revealed that the farmers utilizing the advisory system used significantly less water and diesel fuel, which powers water pumps. On average, the advisory system reduced irrigation water use and fuel consumption by up to 40% while increasing earnings by up to 30% through increased rice production, a benefit of not overwatering crops.
Informal assessments in the other two countries similarly revealed that the advisory systems were valuable. In India, 85% of farmers reported the system was beneficial. Farmers there also saw an increase in wheat yield by up to 25% when compared to the historical yield. In Pakistan, farmers saw up to 40% savings in irrigation water and a 15% increase in crop yield.
"I get a lot of joy when farmers tell us this advisory system is giving them so much benefit," Hossain says. "At the end of the day, that's what we are supposed to do. We are supposed to make the world a better place."
See the full article here .

five-ways-keep-your-child-safe-school-shootings
Please help promote STEM in your local schools.
The University of Washington (US) Civil & Environmental Engineering
Take a moment to look around you. Buildings, bridges, running water and transit systems are the work of civil and environmental engineers.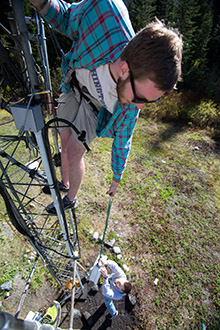 Civil and environmental engineers design, construct and manage the essential facilities, systems and structures around us. Their work plays a crucial role in enabling livable, sustainable cities, healthy environments and strong economies.
At the University of Washington, Civil & Environmental Engineering students and faculty are taking on the challenges presented by our aging national infrastructure, while developing new approaches to address the needs of urban systems and communities around the globe. UW CEE is dedicated to providing students with leading-edge technical skill development and opportunities for hands-on practice to enable them to tackle complex engineering problems in response to changing technological and societal needs.
Housed in an outstanding university, UW CEE offers one of the world's premier programs in the field. The UW College of Engineering undergraduate program is ranked #18 and CEE's graduate programs are ranked #16 for civil engineering and #27 for environmental engineering for 2020, according to U.S. News & World Report.
The University of Washington College of Engineering
Mission, Facts, and Stats
Our mission is to develop outstanding engineers and ideas that change the world.
Faculty:
275 faculty (25.2% women)
Achievements:
128 NSF Young Investigator/Early Career Awards since 1984
32 Sloan Foundation Research Awards
2 MacArthur Foundation Fellows (2007 and 2011)
A national leader in educating engineers, each year the College turns out new discoveries, inventions and top-flight graduates, all contributing to the strength of our economy and the vitality of our community.
Engineering innovation
Engineers drive the innovation economy and are vital to solving society's most challenging problems. The College of Engineering is a key part of a world-class research university in a thriving hub of aerospace, biotechnology, global health and information technology innovation. Over 50% of UW startups in FY18 came from the College of Engineering.
Commitment to diversity and access
The College of Engineering is committed to developing and supporting a diverse student body and faculty that reflect and elevate the populations we serve. We are a national leader in women in engineering; 25.5% of our faculty are women compared to 17.4% nationally. We offer a robust set of diversity programs for students and faculty.
Research and commercialization
The University of Washington is an engine of economic growth, today ranked third in the nation for the number of startups launched each year, with 65 companies having been started in the last five years alone by UW students and faculty, or with technology developed here. The College of Engineering is a key contributor to these innovations, and engineering faculty, students or technology are behind half of all UW startups. In FY19, UW received $1.58 billion in total research awards from federal and nonfederal sources.
The University of Washington is one of the world's preeminent public universities. Our impact on individuals, on our region, and on the world is profound — whether we are launching young people into a boundless future or confronting the grand challenges of our time through undaunted research and scholarship. Ranked number 10 in the world in Shanghai Jiao Tong University rankings and educating more than 54,000 students annually, our students and faculty work together to turn ideas into impact and in the process transform lives and our world. For more about our impact on the world, every day.
So what defines us —the students, faculty and community members at the University of Washington? Above all, it's our belief in possibility and our unshakable optimism. It's a connection to others, both near and far. It's a hunger that pushes us to tackle challenges and pursue progress. It's the conviction that together we can create a world of good. Join us on the journey.