From The University of Tsukuba [筑波大学](JP)
Jan 06, 2022
Professor YABANA Kazuhiro
Center for Computational Sciences
University of Tsukuba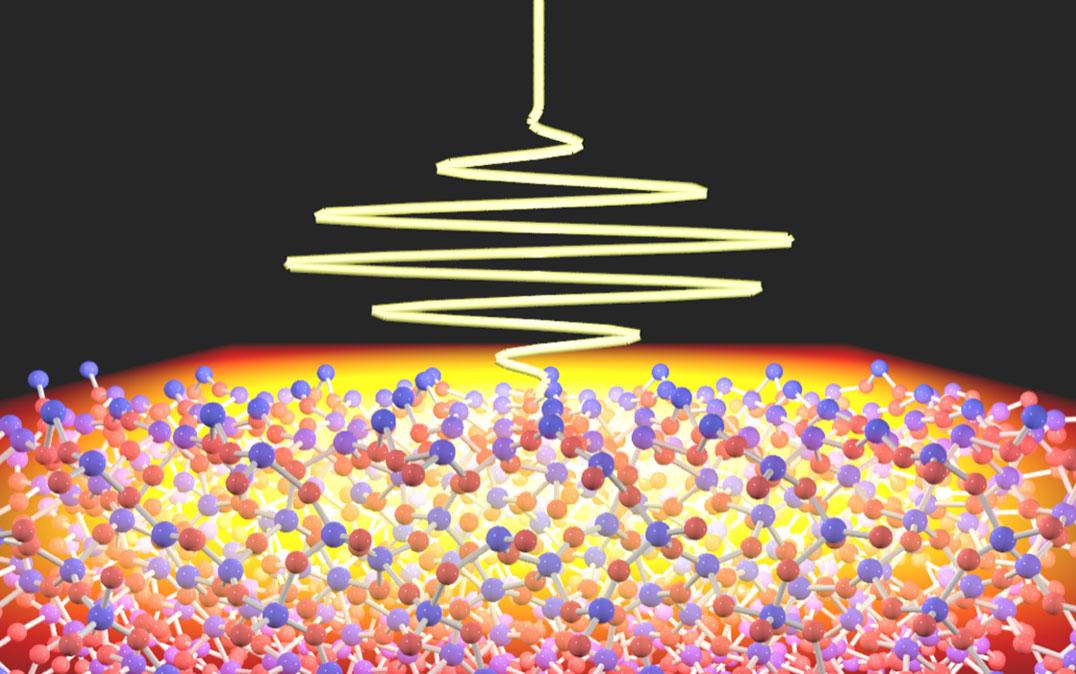 Researchers led by the University of Tsukuba present an improved way to model interactions between matter and light at the atomic scale.
Light-matter interactions form the basis of many important technologies including lasers; light-emitting diodes (LEDs); and atomic clocks. However, usual computational approaches for modeling such interactions have limited usefulness and capability. Now, researchers from Japan have developed a technique that overcomes these limitations.
In a study published this month in The International Journal of High Performance Computing Applications, a research team led by the University of Tsukuba describes a highly efficient method for simulating light-matter interactions at the atomic scale.
What makes these interactions so difficult to simulate? One reason is that phenomena associated with the interactions encompass many areas of physics, involving both the propagation of light waves and the dynamics of electrons and ions in matter. Another reason is that such phenomena can cover a wide range of length and time scales.
Given the multiphysics and multiscale nature of the problem, light-matter interactions are typically modeled using two separate computational methods. The first is electromagnetic analysis, whereby the electromagnetic fields of the light are studied; the second is a quantum-mechanical calculation of the optical properties of the matter. But these methods assume that the electromagnetic fields are weak and that there is a difference in the length scale.
"Our approach provides a unified and improved way to simulate light-matter interactions," says senior author of the study Professor Kazuhiro Yabana. "We achieve this feat by simultaneously solving three key physics equations: the Maxwell equation for the electromagnetic fields, the time-dependent Kohn-Sham equation for the electrons, and the Newton equation for the ions."
The researchers implemented the method in their in-house software SALMON (Scalable Ab initio Light-Matter simulator for Optics and Nanoscience), and they thoroughly optimized the simulation computer code to maximize its performance. They then tested the code by modeling light-matter interactions in a thin film of amorphous silicon dioxide, composed of more than 10,000 atoms. This simulation was carried out using almost 28,000 nodes of the fastest supercomputer in the world, Fugaku, at The RIKEN Center for Computational Science (JP).
Fugaku is a claimed exascale supercomputer (while only at petascale for mainstream benchmark), at The RIKEN Center for Computational Science in Kobe, Japan. It started development in 2014 as the successor to the K computer, and is officially scheduled to start operating in 2021. Fugaku made its debut in 2020, and became the fastest supercomputer in the world in the June 2020 TOP500 list, the first ever supercomputer that achieved 1 exaFLOPS. As of April 2021, Fugaku is currently the fastest supercomputer in the world.
"We found that our code is extremely efficient, achieving the goal of one second per time step of the calculation that is needed for practical applications," says Professor Yabana. "The performance is close to its maximum possible value, set by the bandwidth of the computer memory, and the code has the desirable property of excellent weak scalability."
Although the team simulated light-matter interactions in a thin film in this work, their approach could be used to explore many phenomena in nanoscale optics and photonics.
See the full article here.
five-ways-keep-your-child-safe-school-shootings
Please help promote STEM in your local schools.
The University of Tsukuba [筑波大学](JP) located in Tsukuba, Ibaraki, is one of top 9 Designated National University and selected as a Top Type university of Top Global University Project by the Japanese government.
The university's academic strength is in STEMM fields (Science, Technology, Engineering, Mathematics, Medicine), physical education, and related interdisciplinary fields. It is by taking located in Tsukuba Science City which has more than 300 research institutions. The university has had three Nobel laureates (two in Physics and one in Chemistry, see also "History"), and about 70 athletes, their students and alumni, have participated in the Olympic Games.
It has established interdisciplinary Ph.D. programs in Human Biology and Empowerment Informatics, and the International Institute for Integrative Sleep Medicine, which were created through the Ministry of Education, Culture, Sports, Science and Technology's competitive funding projects.
Its Graduate School of Life and Environmental Sciences is represented on the national Coordinating Committee for Earthquake Prediction.
Research performance
Tsukuba is one of the leading research institutions in Japan. According to Thomson Reuters, Tsukuba is the 10th best research institutions among all the universities and non-educational research institutions in Japan.
Weekly Diamond [ja] reported that Tsukuba has the 27th highest research standard in Japan in research fundings per researchers in COE Program. In the same article, it's ranked 11th in the quality of education by GP (in Japanese) funds per student.
It has a good research standard in Economics, as Research Papers in Economics ranked Tsukuba as the eighth best Economics research university in January 2011.
Undergraduate schools and colleges
School of Humanities and Culture, with separate colleges for the humanities, for comparative culture and for Japanese language and culture.
School of Social and International Studies, including colleges for social sciences and for international studies.
School of Human Sciences, with separate colleges for education, for psychology and for disability sciences.
School of Life and Environmental Sciences, incorporating colleges for biological sciences, for agro-biological resources and for geoscience.
School of Science and Engineering, with colleges for mathematics, physics, chemistry, engineering sciences and engineering systems, as well as for policy and planning sciences.
School of Informatics, incorporating separate colleges for information sciences; for media arts, science and technology; and for knowledge and library sciences.
School of Medicine and Medical Sciences, including schools of medicine, nursing nd medical sciences.
School of Health and Physical Education.
School of Art and Design.
Graduate schools and programs
Master's Program in Education
School Leadership and Professional Development
Secondary Education
Graduate School of Humanities and Social Sciences
Doctoral Program in Philosophy
Doctoral Program in History and Anthropology
Doctoral Program in Literature and Linguistics
Master's Program in Modern Languages and Cultures
Doctoral Program in Modern Languages and Cultures
Master's Program in International Public Policy
Doctoral Program in International Public Policy
Master's Program in Economics
Doctoral Program in Economics
Master's Program in Law
Doctoral Program in Law
Master's Program in International Area Studies
Doctoral Program in International and Advanced Japanese Studies
Graduate School of Business Sciences (programs for working individuals)
Master's Program in Systems Management
Master's Program in Advanced Studies of Business Law
Doctoral Program in Systems Management and Business Law
Law School Program
MBA Program in International Business
Graduate School of Pure and Applied Sciences
Master's Program in Mathematics
Doctoral Program in Mathematics
Master's Program in Physics
Doctoral Program in Physics
Master's Program in Chemistry
Doctoral Program in Chemistry
Doctoral Program in Nano-Science and Nano-Technology
Master's Program in Applied Physics
Doctoral Program in Applied Physics
Master's Program in Materials Science
Doctoral Program in Materials Science
Doctoral Program in Materials Sciences and Technology
Graduate School of Systems and Information Engineering
Master's Program in Policy and Planning Sciences
Master's Program in Service Engineering
Doctoral Program in Policy and Planning Sciences
Master's Program in Risk Engineering
Doctoral Program in Risk Engineering
Master's Program in Computer Science
Doctoral Program in Computer Science
Master's Program in Intelligent Interaction Technologies
Doctoral Program in Intelligent Interaction Technologies
Master's Program in Engineering Mechanics and Energy
Doctoral Program in Engineering Mechanics and Energy
Master's Program in Social Systems Engineering
Master's Program in Business Administration and Public Policy
Doctoral Program in Social Systems and Management
Graduate School of Life and Environmental Sciences
Doctoral Program in Integrative Environment and Biomass Sciences
Master's Program in Geosciences
Doctoral Program in Geoenvironmental Sciences
Doctoral Program in Earth Evolution Sciences
Master's Program in Biological Sciences
Doctoral Program in Biological Sciences
Master's Program in Agro-bioresources Science and Technology
Doctoral Program in Appropriate Technology and Sciences for Sustainable Development
Doctoral Program in Biosphere Resource Science and Technology
Doctoral Program in Life Sciences and Bioengineering
Doctoral Program in Bioindustrial Sciences
Master's Program in Environmental Sciences
Doctoral Program in Sustainable Environmental Studies
Doctoral Program in Advanced Agricultural Technology and Sciences
Graduate School of Comprehensive Human Sciences
Master's Program in Medical Sciences (Tokyo Campus (evening programs for working adults))
Master's Program in Sports and Health Promotion
Master's Program in Education Sciences
Doctoral Program in Education
Doctoral Program in School Education
Master's Program in Psychology
Doctoral Program in Psychology
Master's Program in Disability Sciences
Doctoral Program in Disability Sciences
Master's Program in Lifespan Development (Tokyo Campus (evening programs for working adults))
Doctoral Program in Lifespan Developmental Sciences (Tokyo Campus (evening programs for working adults))
Master's Program in Kansei, Behavioral and Brain Sciences
Doctoral Program in Kansei, Behavioral and Brain Sciences
Master's Program in Nursing Sciences
Doctoral Program in Nursing Sciences
Master's Program in Health and Sport Sciences
Doctoral Program in Physical Education, Health and Sport Sciences
Master's Program in Art and Design
Doctoral Program in Art and Design
Master's Program in World Heritage Studies
Doctoral Program in World Cultural Heritage Studies
Doctoral Program in Human Care Science
Doctoral Program in Sports Medicine
Doctoral Program in Coaching Science
Doctoral Program in Biomedical Sciences
Doctoral Program in Clinical Sciences
Graduate School of Library, Information and Media Studies
Master's Program in Library, Information and Media Studies
Doctoral Program in Library, Information and Media Studies
School of Integrative and Global Majors (SIGMA)
Ph.D. Program in Human Biology
Ph.D. Program in Empowerment Informatics
Master's Program in Life Science Innovation
Doctoral Program in Life Science Innovation
Research centers
Center for Computational Sciences
Shimoda Marine Research Center
Gene Research Center
Plasma Research Center
University's inter-department education research institutes (Research)
Life Science Center of Tsukuba Advanced Research Alliance (Life Science Center of TARA)
International Institute for Integrative Sleep Medicine (WPI-IIIS)
Agricultural and Forestry Research Center
Terrestrial Environment Research Center
Laboratory Animal Resource Center
Sugadaira Montane Research Center
Research Center for University Studies
Proton Medical Research Center
Tsukuba Industrial Liaison and Cooperative Research Center
Center for Research on International Cooperation in Educational Development
Research Center for Knowledge Communities
Tsukuba Research Center for Interdisciplinary Materials Science
Special Needs Education Research Center
The Alliance for Research on North Africa
Academic Computing and Communications Center
Research Facility Center for Science and Technology
Radioisotope Center
Tsukuba Critical Path Research and Education Integrated Leading Center
Center for Cybernics Research
University's inter-department education research institutes (student support)
Foreign Language Center
Sport and Physical Education Center
International Student Center
Admission Center
University Health Center