From National Radio Astronomy Observatory (US)
August 19, 2021
Brian Koberlein
Radio light comes in a rainbow of colors. We see these colors with radio bands, and each band has a story to tell about the universe.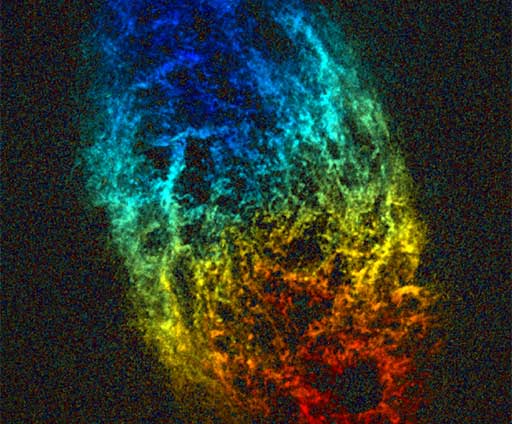 A 21-cm view of the Pinwheel Galaxy (Messier 33). The rainbow of colors is due to the rotation of the galaxy, which Doppler-shifts the radio light. Credit: NRAO/Associated Universities Inc (US)/The National Science Foundation (US).
Radio astronomers view the universe in several ranges of wavelengths we call bands. The Very Large Array (VLA) [below] uses wavelengths ranging from 4 meters to less than a centimeter. The Atacama Large Millimeter/submillimeter Array (ALMA)[below] uses radio bands ranging from a couple of centimeters to a third of a millimeter. But why do radio telescopes use such a wide range of wavelengths? The answer lies in the many ways that objects emit radio light, and how this light interacts with the gas and dust of interstellar space.
Long radio wavelengths, such as those seen by the VLA's Band 4, are typically produced by ionized gas. It lets us see where hot plasma is located in our galaxy. These long wavelengths are also useful because most neutral gas is transparent at these wavelengths. This means very little of this light is absorbed as it travels through space. Shorter wavelengths of light are often emitted by particular atoms or molecules. One of the most important of these is the 21-centimeter line, which is emitted by neutral hydrogen. This wavelength is one of the best ways to observe the distribution of matter in a galaxy since hydrogen is by far the most abundant element in the universe.
Wavelengths in the 10-cm to 20-cm range are particularly good for radio sky surveys, such as the VLA Sky Survey (VLASS). Radio galaxies are particularly bright in this range as are the jets emitted by supermassive black holes. By scanning the sky at these wavelengths, VLASS has captured images of nearly 10 million radio sources.
Light with wavelengths of a centimeter or two is often emitted through a process known as synchrotron radiation. When electrons speed through a strong magnetic field, the magnetic field forces them to move in tight spirals along the magnetic field lines. Because of this, they emit radio light. Synchrotron radiation is particularly useful at mapping the magnetic fields near black holes. Another process that emits light in this range is known as a maser or microwave laser. We're most familiar with simple laser pointers that emit coherent red light, but in interstellar space pockets of water can emit coherent light with a wavelength of 1.3 centimeters. Since these water masers emit a very specific wavelength of light, they can be used to measure the rate at which the universe expands.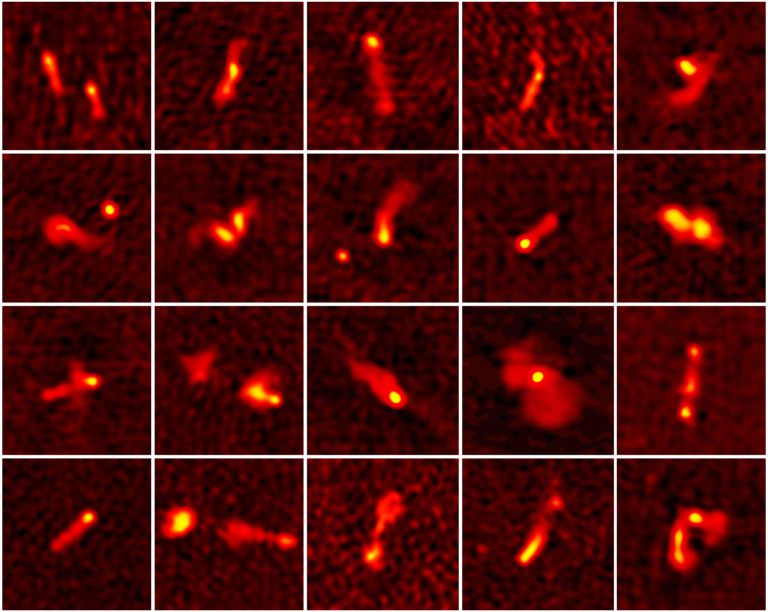 Black hole-powered radio galaxies discovered by VLASS. Credit: NRAO/AUI/NSF.
Radio wavelengths on the order of a millimeter are particularly useful for studying cold gas and dust. Dust grains in interstellar space emit light with wavelengths on the order of their size, and since much of this dust is about a millimeter in size, that's the wavelength where they emit the most light. These short wavelengths can be difficult to observe, in part because our atmosphere absorbs much of the light at these wavelengths. But they are also vitally important for the study of young planetary systems. ALMA has been able to capture disks of gas and dust around young stars and has even seen how gaps form within these disks as young planets begin to form. It is revolutionizing our understanding of how exoplanets form.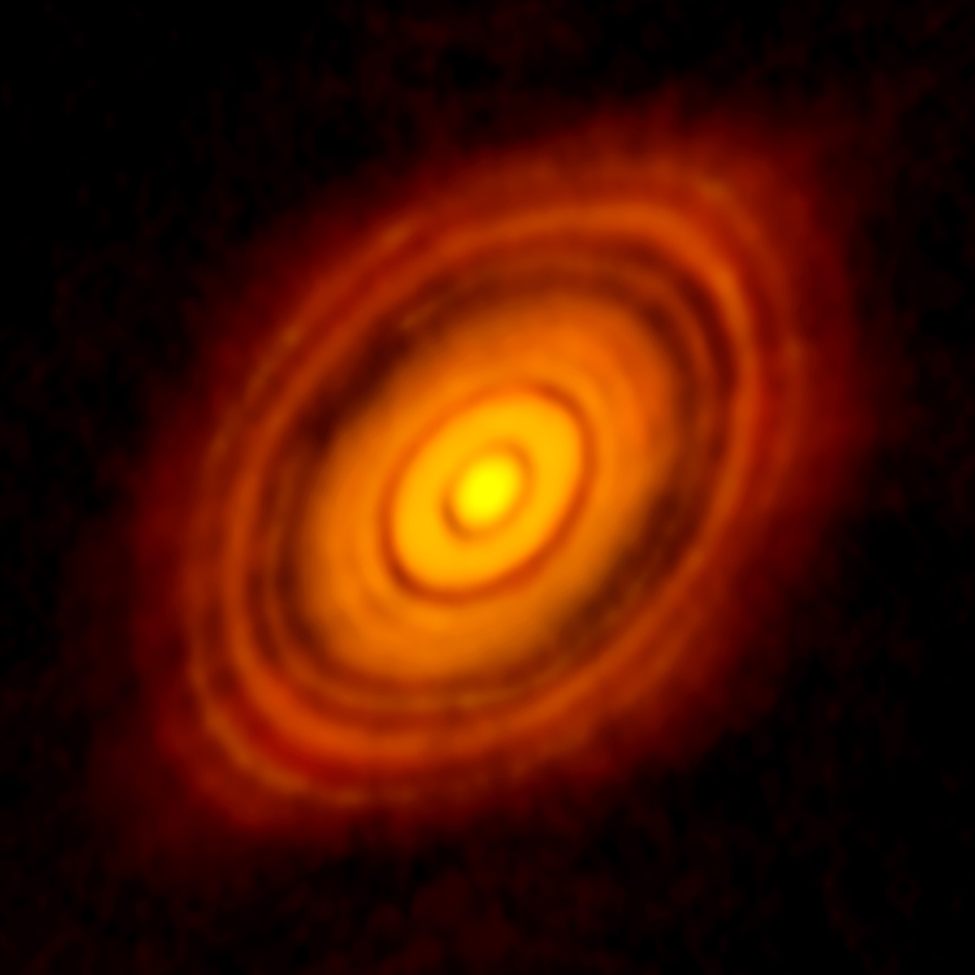 ALMA Observatory image of the young star HL Tau and its protoplanetary disk. One of the best images ever of planet formation, this image reveals multiple rings and gaps that herald the presence of emerging planets as they sweep their orbits clear of dust and gas. Credit: ALMA(European Southern Observatory [Observatoire européen austral][Europäische Südsternwarte](EU)(CL)/National Astronomy Observatory of Japan (JP)/NRAO); C. Brogan, B. Saxton (NRAO/AUI/NSF).
But perhaps one of the more interesting radio bands is ALMA's Band 6, which captures light with wavelengths from 1.1 – 1.4 mm. It has been used to study how red giant stars generate heat, and the distribution of molecules in planetary nebulae. But it was also used to create one of the most powerful radio images of recent years, that of the supermassive black hole in the heart of galaxy Messier 87. Band 6 receivers were used on radio telescopes across the world as part of the Event Horizon Telescope (EHT), and the data they gathered was combined to create the first direct image of a black hole.
Radio light is invisible to our eyes, so it's easy to think of all radio light as the same. But radio is filled with colors, just as the colors of visible light we can see, and radio astronomy is at its most powerful when we use all the colors of its rainbow.
See the full article here .

five-ways-keep-your-child-safe-school-shootings
Please help promote STEM in your local schools.
Stem Education Coalition
The National Radio Astronomy Observatory (NRAO)(US) is a Federally Funded Research and Development Center of the United States National Science Foundation operated under cooperative agreement by Associated Universities, Inc for the purpose of radio astronomy. NRAO designs, builds, and operates its own high sensitivity radio telescopes for use by scientists around the world.
Charlottesville, Virginia(US)
The NRAO headquarters is located on the campus of the University of Virginia (US). The North American ALMA Science Center (US) and the NRAO Technology Center and Central Development Laboratory are also in Charlottesville, Virginia.
Green Bank, West Virginia (US)
NRAO was, until October 2016, the operator of the world's largest fully steerable radio telescope, the Robert C. Byrd Green Bank Telescope, which stands near Green Bank, West Virginia.
The observatory contains several other telescopes, among them the 140-foot (43 m) telescope that utilizes an equatorial mount uncommon for radio telescopes, three 85-foot (26 m) telescopes forming the Green Bank Interferometer, a 40-foot (12 m) telescope used by school groups and organizations for small scale research, a fixed radio "horn" built to observe the radio source Cassiopeia A, as well as a reproduction of the original antenna built by Karl Jansky while he worked for Bell Labs to detect the interference that was discovered to be previously unknown natural radio waves emitted by the universe.
Green Bank is in the National Radio Quiet Zone, which is coordinated by NRAO for protection of the Green Bank site as well as the Sugar Grove, West Virginia monitoring site operated by the NSA. The zone consists of a 13,000-square-mile (34,000 km2) piece of land where fixed transmitters must coordinate their emissions before a license is granted. The land was set aside by the Federal Communications Commission in 1958. No fixed radio transmitters are allowed within the area closest to the telescope. All other fixed radio transmitters including TV and radio towers inside the zone are required to transmit such that interference at the antennas is minimized by methods including limited power and using highly directional antennas. With the advent of wireless technology and microprocessors in everything from cameras to cars, it is difficult to keep the sites free of radio interference. To aid in limiting outside interference, the area surrounding the Green Bank Observatory was at one time planted with pines characterized by needles of a certain length to block electromagnetic interference at the wavelengths used by the observatory. At one point, the observatory faced the problem of North American flying squirrels tagged with United States Fish and Wildlife Service telemetry transmitters. Electric fences, electric blankets, faulty automobile electronics, and other radio wave emitters have caused great trouble for the astronomers in Green Bank. All vehicles on the premises are powered by diesel motors to minimize interference by ignition systems.
Socorro, New Mexico
The NRAO's facility in Socorro is the Pete Domenici Array Operations Center (AOC). Located on the New Mexico Technical University campus, the AOC serves as the headquarters for the NRAO Jansky Very Large Array(VLA), which was the setting for the 1997 movie Contact, and is also the control center for the NRAO Very Long Baseline Array (VLBA)(US). The ten VLBA telescopes are in Hawaii, the U.S. Virgin Islands, and eight other sites across the continental United States.
The Very Long Baseline Array (VLBA) comprises ten radio telescopes spanning 5,351 miles. It's the world's largest, sharpest, dedicated telescope array. With an eye this sharp, you could be in Los Angeles and clearly read a street sign in New York City!
Astronomers use the continent-sized VLBA to zoom in on objects that shine brightly in radio waves, long-wavelength light that's well below infrared on the spectrum. They observe blazars, quasars, black holes, and stars in every stage of the stellar life cycle. They plot pulsars, exoplanets, and masers, and track asteroids and planets.
San Pedro de Atacama, Chile
The Atacama Large Millimeter Array (ALMA) site in Chile is at ~5000 m (~16,500 ft) altitude near Cerro Chajnantor in northern Chile.[10] This is about 40 km (about 25 miles) east of the historic village of San Pedro de Atacama, 130 km (about 80 miles) southeast of the mining town of Calama, and about 275 km (about 170 miles) east-northeast of the coastal port of Antofagasta.
Access to ALMA observing time by the North American astronomical community will be through the North American ALMA Science Center (NAASC).