From IAC-The Institute of Astrophysics of the Canary Islands [Instituto de Astrofísica de Canarias](ES)
via
Manu Garcia- a friend from IAC-Institute of Astrophysics of the Canaries[Instituto de Astrofísica de Canarias](ES).
13/12/2021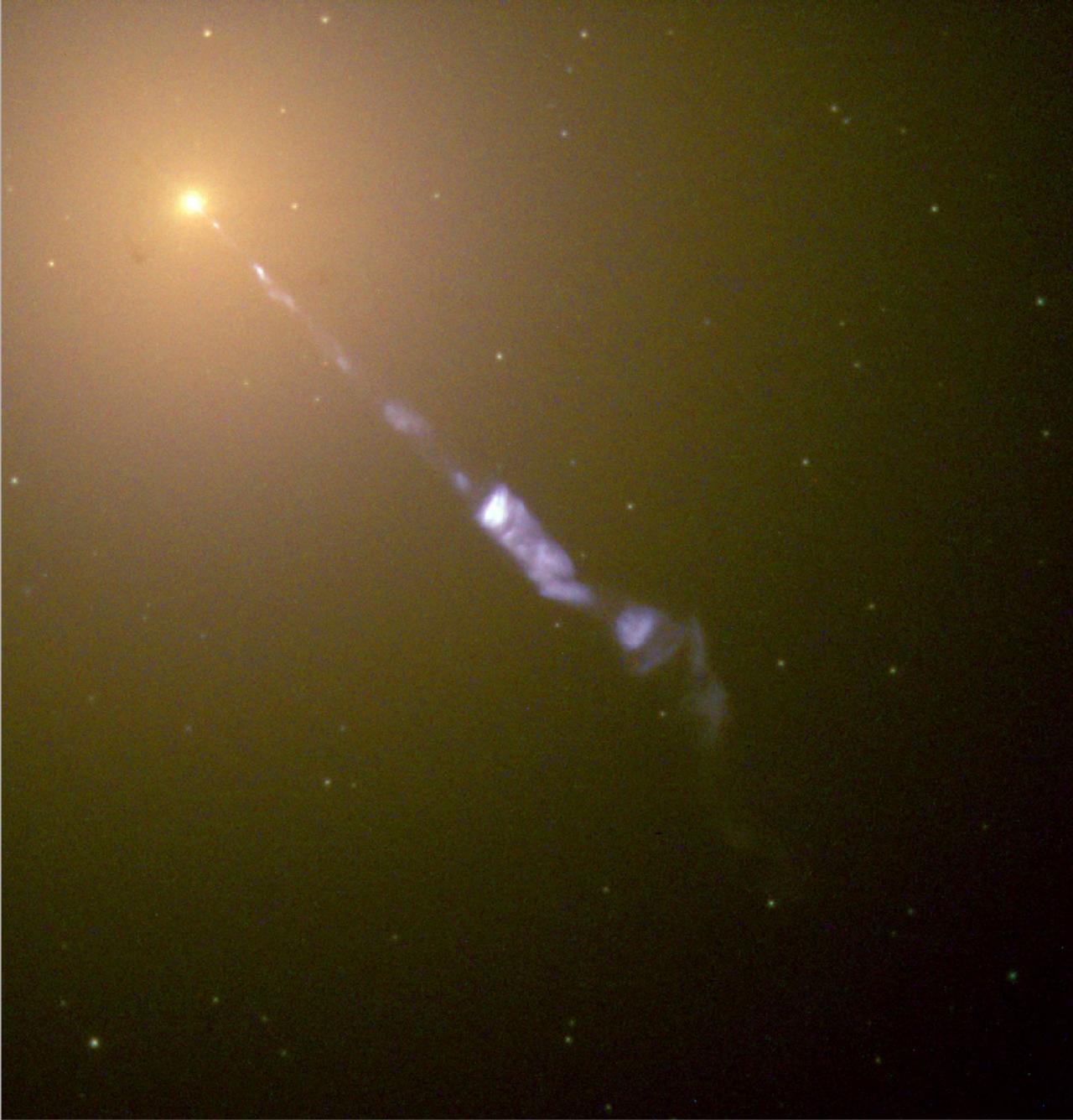 Picture of the jet of matter ejected from Messier 87* (NGC 4486), taken by the Hubble telescope. Credit: The National Aeronautics and Space Agency(US)/The European Space Agency [Agence spatiale européenne][Europäische Weltraumorganisation](EU) and The Hubble Heritage Team/The Space Telescope Science Institute (US)/The Association of Universities for Research in Astronomy (AURA)(US).
A team of astronomers has discovered that galaxies with an Active Galactic Nucleus (AGN) –hosting continuously growing black holes that emit large amounts of energy and radiation– may undergo a period of rapid star birth before shutting down completely. The research, conducted by astronomers from the Instituto de Astrofísica de Canarias (IAC), The University of Southampton (UK) and the Institute of Space Sciences, ICE (The Institute of Space Studies of Catalonia [Institut d'Estudis Espacials de Catalunya](ES)-The Spanish National Research Council [Consejo Superior de Investigaciones Científicas] (ES)), was published in MNRAS Letters.
The project used The Sloan Digital Sky Survey telescope (US) at Apache Pointnear Sunspot, New Mexico Altitude 2,788 meters (9,147 ft) in this work.
SDSS Telescope at Apache Point Observatory, near Sunspot NM, USA, Altitude 2,788 meters (9,147 ft).
Apache Point Observatory near Sunspot, New Mexico Altitude 2,788 meters (9,147 ft).
See the full article here .
five-ways-keep-your-child-safe-school-shootings
Please help promote STEM in your local schools.
IAC-The Institute of Astrophysics of the Canary Islands [Instituto de Astrofísica de Canarias] (ES) operates two astronomical observatories in the Canary Islands:
Roque de los Muchachos Observatory on La Palma
Teide Observatory on Tenerife.
The Instituto de Astrofísica the headquarters, which is in La Laguna (Tenerife).
Observatorio del Roque de los Muchachos at La Palma (ES) at an altitude of 2400m.
The seeing statistics at ORM make it the second-best location for optical and infrared astronomy in the Northern Hemisphere, after Mauna Kea Observatory Hawaii (US).
Maunakea Observatories Hawai'i (US) altitude 4,213 m (13,822 ft).
The site also has some of the most extensive astronomical facilities in the Northern Hemisphere; its fleet of telescopes includes the 10.4 m Gran Telescopio Canarias, the world's largest single-aperture optical telescope as of July 2009, the William Herschel Telescope (second largest in Europe), and the adaptive optics corrected Swedish 1-m Solar Telescope.
Gran Telescopio Canarias [Instituto de Astrofísica de Canarias ](ES) sited on a volcanic peak 2,267 metres (7,438 ft) above sea level.
Isaac Newton Group 4.2 meter William Herschel Telescope at Roque de los Muchachos Observatory on La Palma in the Canary Islands(ES), 2,396 m (7,861 ft).
The Swedish 1m Solar Telescope SST at the Roque de los Muchachos observatory on La Palma Spain, Altitude 2,360 m (7,740 ft).
The observatory was established in 1985, after 15 years of international work and cooperation of several countries with the Spanish island hosting many telescopes from Britain, The Netherlands, Spain, and other countries. The island provided better seeing conditions for the telescopes that had been moved to Herstmonceux by the Royal Greenwich Observatory, including the 98 inch aperture Isaac Newton Telescope (the largest reflector in Europe at that time). When it was moved to the island it was upgraded to a 100-inch (2.54 meter), and many even larger telescopes from various nations would be hosted there.
Tiede Observatory, Tenerife, Canary Islands (ES)
Teide Observatory [Observatorio del Teide], IAU code 954, is an astronomical observatory on Mount Teide at 2,390 metres (7,840 ft), located on Tenerife, Spain. It has been operated by the Instituto de Astrofísica de Canarias since its inauguration in 1964. It became one of the first major international observatories, attracting telescopes from different countries around the world because of the good astronomical seeing conditions. Later the emphasis for optical telescopes shifted more towards Roque de los Muchachos Observatory on La Palma.