At
5.26.23
Stacey Federoff
Aaron Aupperlee
School of Computer Science
aaupperlee@cmu.edu
412-268-9068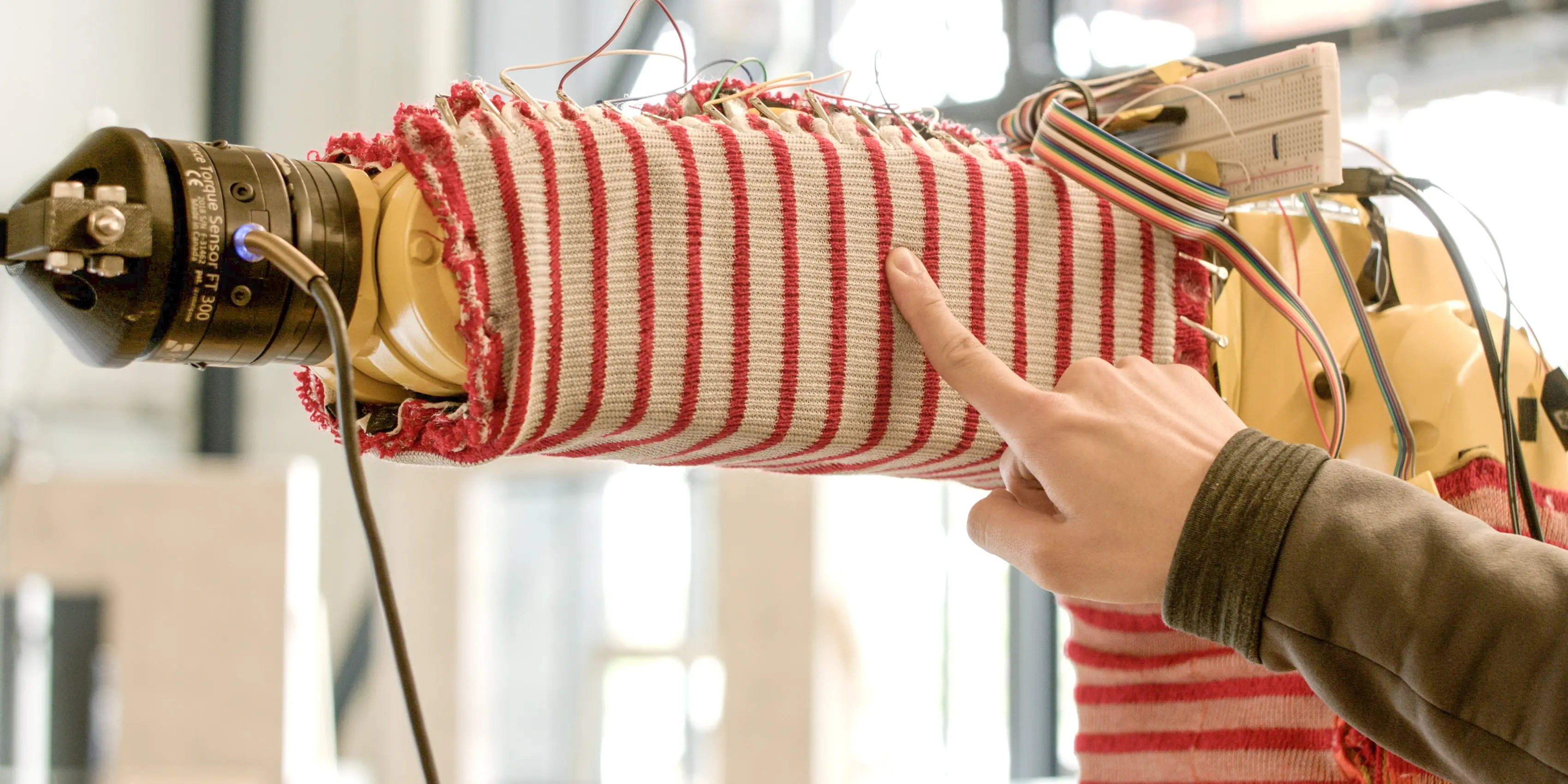 RobotSweater, developed by a research team in the Robotics Institute and shown here on a robotic arm, is a machine-knitted textile "skin" that can sense contact and pressure.
RobotSweater, developed by a research team from Carnegie Mellon University's Robotics Institute, is a machine-knitted textile "skin" that can sense contact and pressure.
"We can use that to make the robot smarter during its interaction with humans," said Changliu Liu, an assistant professor of robotics in the School of Computer Science.

Robot Sweater : Fabric Tactile Sensor "Skin"
Just as knitters can take any kind of yarn and turn it into a sock, hat, or sweater of any size or shape, the knitted RobotSweater fabric can be customized to fit uneven three-dimensional surfaces.
"Knitting machines can pattern yarn into shapes that are nonflat, that can be curved or lumpy," said James McCann, an SCS assistant professor whose research has focused on textile fabrication in recent years. "That made us think maybe we could make sensors that fit over curved or lumpy robots."
Once knitted, the fabric can be used to help the robot "feel" when a human touches it, particularly in an industrial setting where safety is paramount. Current solutions for detecting human-robot interaction in industry look like shields and use very rigid materials that Liu notes can't cover the robot's entire body because some parts need to deform.
"With RobotSweater, the robot's whole body can be covered, so it can detect any possible collisions," said Liu, whose research focuses on industrial applications of robotics.
RobotSweater's knitted fabric consists of two layers of yarn made with metallic fibers to conduct electricity. Sandwiched between the two is a netlike, lace-patterned layer. When pressure is applied to the fabric — say, from someone touching it — the conductive yarn closes a circuit and is read by the sensors.
"The force pushes together the rows and columns to close the connection," said Wenzhen Yuan, an SCS assistant professor and director of the RoboTouch lab. "If there's a force through the conductive stripes, the layers would contact each other through the holes."
Apart from the design of the knitted layers — the culmination of dozens if not hundreds of samples and tests — the team faced another challenge in connecting the wiring and electronics components to the soft textile.
"There was a lot of fiddly physical prototyping and adjustment," McCann said. "The students working on this managed to go from something that seemed promising to something that actually worked."
What worked: wrapping the wires around snaps attached to the ends of each stripe in the knitted fabric.
Snaps are a cost-effective and efficient solution, such that even hobbyists creating textiles with electronic elements, known as e-textiles, could use them, McCann said.
"You need a way of attaching these things together that is strong, so it can deal with stretching, but isn't going to destroy the yarn," he said, adding that the team also discussed using flexible circuit boards.
Once fitted to the robot's body, RobotSweater can sense the distribution, shape and force of the contact. It's also more accurate and effective than the visual sensors most robots rely on now.
"The robot will move in the way that the human pushes it, or can respond to human social gestures," Yuan said.
In their research, the team demonstrated that pushing on a companion robot outfitted in RobotSweater told it which way to move or what direction to turn its head. When used on a robot arm, RobotSweater allowed a push from a person's hand to guide the arm's movement, while grabbing the arm told it to open or close its gripper.
In future research, the team wants to explore how to program reactions from the swipe or pinching motions used on a touchscreen.
The team — including SCS Ph.D. students Zilin Si and Catherine Tianhong Yu, and visiting undergraduate student Katrene Morozov from the University of California-Santa Barbara — will present the RobotSweater research paper next week at the 2023 IEEE International Conference on Robotics and Automation(ICRA).
Begun by the three faculty members in a conversation over lunch one day, the collaboration among the team of researchers helped the RobotSweater come to life, McCann said.
"We had a person thinking about fabrication, a person thinking about the robotics integration, a person thinking about sensing, and a person thinking about planning and control," he said. "It's really nice to have this project where we have the full stack of people to cover each concern."
See the full article here .
Comments are invited and will be appreciated, especially if the reader finds any errors which I can correct. Use "Reply".
five-ways-keep-your-child-safe-school-shootings
Please help promote STEM in your local schools.
The Robomechanics Lab is working to take robots out of the lab and factory and into challenging real world environments, such as rocky hills and cluttered houses. We use the word "robomechanics" to mean the study of the mechanics of how a robot interacts with an environment, analogous to the field of biomechanics for natural systems. Common themes that arise in our research include modeling and planning for changing contact conditions, developing systems that are inherently robust to uncertainty, and enabling more dynamic robot behaviors. The Robomechanics Lab conducts research in legged and wheeled mobile robotics, mechanism design, feedback control, computer vision, motion planning, and applications of robotics research to environmental monitoring, planetary exploration, and home assistance.
The Robomechanics Lab believes in actively working towards creating a diverse, equitable, and inclusive environment. We do this in several ways:
• Conduct Ethical Research – We involve all lab participants in discussion of the direction of new research projects, and ensure the project's impact is in line with both our lab and personal values. This includes regular review of research topics, funding sources, and industry partners.
• Drive Reform in Academia – We actively work on DEI and other reform initiatives at CMU and in the broader academic robotics community by participating in departmental initiatives, collaborating with advocacy organizations, and organizing events at conferences.
• Foster Equitable Access – We strive to create STEM opportunities for historically marginalized students in Pittsburgh and beyond through the development and execution of outreach activities that allow us to share our technical skills and inspire the next generation of engineers.
• Support Each Other – We sustain an inclusive environment where everyone is valued as both a researcher and an individual. This includes active, structured mentorship for all lab members as well as informal social events and regular DEI-centered conversations.
Carnegie Mellon University is a global research university with more than 12,000 students, 95,000 alumni, and 5,000 faculty and staff.
Carnegie Mellon University has been a birthplace of innovation since its founding in 1900.
Today, we are a global leader bringing groundbreaking ideas to market and creating successful startup businesses.
Our award-winning faculty members are renowned for working closely with students to solve major scientific, technological and societal challenges. We put a strong emphasis on creating things—from art to robots. Our students are recruited by some of the world's most innovative companies.
We have campuses in Pittsburgh, Qatar and Silicon Valley, and degree-granting programs around the world, including Africa, Asia, Australia, Europe and Latin America.
The Carnegie Mellon University was established by Andrew Carnegie as the Carnegie Technical Schools, the university became the Carnegie Institute of Technology in 1912 and began granting four-year degrees. In 1967, the Carnegie Institute of Technology merged with the Mellon Institute of Industrial Research, formerly a part of the The University of Pittsburgh. Since then, the university has operated as a single institution.
The Carnegie Mellon University has seven colleges and independent schools, including the College of Engineering, College of Fine Arts, Dietrich College of Humanities and Social Sciences, Mellon College of Science, Tepper School of Business, Heinz College of Information Systems and Public Policy, and the School of Computer Science. The Carnegie Mellon University has its main campus located 3 miles (5 km) from Downtown Pittsburgh, and the university also has over a dozen degree-granting locations in six continents, including degree-granting campuses in Qatar and Silicon Valley.
Past and present faculty and alumni include 20 Nobel Prize laureates, 13 Turing Award winners, 23 Members of the American Academy of Arts and Sciences, 22 Fellows of the American Association for the Advancement of Science , 79 Members of the National Academies, 124 Emmy Award winners, 47 Tony Award laureates, and 10 Academy Award winners. Carnegie Mellon enrolls 14,799 students from 117 countries and employs 1,400 faculty members.
Research
Carnegie Mellon University is classified among "R1: Doctoral Universities – Very High Research Activity". For the 2006 fiscal year, the Carnegie Mellon University spent $315 million on research. The primary recipients of this funding were the School of Computer Science ($100.3 million), the Software Engineering Institute ($71.7 million), the College of Engineering ($48.5 million), and the Mellon College of Science ($47.7 million). The research money comes largely from federal sources, with a federal investment of $277.6 million. The federal agencies that invest the most money are the National Science Foundation and the Department of Defense, which contribute 26% and 23.4% of the total Carnegie Mellon University research budget respectively.
The recognition of Carnegie Mellon University as one of the best research facilities in the nation has a long history—as early as the 1987 Federal budget Carnegie Mellon University was ranked as third in the amount of research dollars with $41.5 million, with only Massachusetts Institute of Technology and Johns Hopkins University receiving more research funds from the Department of Defense.
The Pittsburgh Supercomputing Center is a joint effort between Carnegie Mellon University, University of Pittsburgh, and Westinghouse Electric Company. Pittsburgh Supercomputing Center was founded in 1986 by its two scientific directors, Dr. Ralph Roskies of the University of Pittsburgh and Dr. Michael Levine of Carnegie Mellon. Pittsburgh Supercomputing Center is a leading partner in the TeraGrid, The National Science Foundation's cyberinfrastructure program.
Scarab lunar rover is being developed by the RI.
The Robotics Institute (RI) is a division of the School of Computer Science and considered to be one of the leading centers of robotics research in the world. The Field Robotics Center (FRC) has developed a number of significant robots, including Sandstorm and H1ghlander, which finished second and third in the DARPA Grand Challenge, and Boss, which won the DARPA Urban Challenge. The Robotics Institute has partnered with a spinoff company, Astrobotic Technology Inc., to land a CMU robot on the moon by 2016 in pursuit of the Google Lunar XPrize. The robot, known as Andy, is designed to explore lunar pits, which might include entrances to caves. The RI is primarily sited at Carnegie Mellon University 's main campus in Newell-Simon hall.
The Software Engineering Institute (SEI) is a federally funded research and development center sponsored by the U.S. Department of Defense and operated by Carnegie Mellon University, with offices in Pittsburgh, Pennsylvania, USA; Arlington, Virginia, and Frankfurt, Germany. The SEI publishes books on software engineering for industry, government and military applications and practices. The organization is known for its Capability Maturity Model (CMM) and Capability Maturity Model Integration (CMMI), which identify essential elements of effective system and software engineering processes and can be used to rate the level of an organization's capability for producing quality systems. The SEI is also the home of CERT/CC, the federally funded computer security organization. The CERT Program's primary goals are to ensure that appropriate technology and systems management practices are used to resist attacks on networked systems and to limit damage and ensure continuity of critical services subsequent to attacks, accidents, or failures.
The Human–Computer Interaction Institute (HCII) is a division of the School of Computer Science and is considered one of the leading centers of human–computer interaction research, integrating computer science, design, social science, and learning science. Such interdisciplinary collaboration is the hallmark of research done throughout the university.
The Language Technologies Institute (LTI) is another unit of the School of Computer Science and is famous for being one of the leading research centers in the area of language technologies. The primary research focus of the institute is on machine translation, speech recognition, speech synthesis, information retrieval, parsing and information extraction. Until 1996, the institute existed as the Center for Machine Translation that was established in 1986. From 1996 onwards, it started awarding graduate degrees and the name was changed to Language Technologies Institute.
Carnegie Mellon is also home to the Carnegie School of management and economics. This intellectual school grew out of the Tepper School of Business in the 1950s and 1960s and focused on the intersection of behavioralism and management. Several management theories, most notably bounded rationality and the behavioral theory of the firm, were established by Carnegie School management scientists and economists.
Carnegie Mellon also develops cross-disciplinary and university-wide institutes and initiatives to take advantage of strengths in various colleges and departments and develop solutions in critical social and technical problems. To date, these have included the Cylab Security and Privacy Institute, the Wilton E. Scott Institute for Energy Innovation, the Neuroscience Institute (formerly known as BrainHub), the Simon Initiative, and the Disruptive Healthcare Technology Institute.
Carnegie Mellon has made a concerted effort to attract corporate research labs, offices, and partnerships to the Pittsburgh campus. Apple Inc., Intel, Google, Microsoft, Disney, Facebook, IBM, General Motors, Bombardier Inc., Yahoo!, Uber, Tata Consultancy Services, Ansys, Boeing, Robert Bosch GmbH, and the Rand Corporation have established a presence on or near campus. In collaboration with Intel, Carnegie Mellon has pioneered research into claytronics.