From Tokyo Institute of Technology
Love of space drives invention for students and researchers.

On January 18, 2019, a 100-ton rocket lifted off from Uchinoura in Kagoshima Prefecture. Piercing the crisp blue sky of winter, the 26-meter long Epsilon-4 rocketed heavenward with a payload of satellites developed by private businesses and universities under the auspices of the Japan Aerospace Exploration Agency (JAXA).
These satellites were put into sun-synchronous orbits at an altitude of 500 kilometers. Their main missions were demonstrations of technology needed to enable business in, and utilization of space, a growing arena of activity in recent years. Out of the total 13 themes selected for this launch, Tokyo Tech handled two: an innovative Earth sensor and star tracker applying deep learning (DLAS), and a demonstration for advanced deployable structures based on 3U CubeSats (OrigamiSat-1).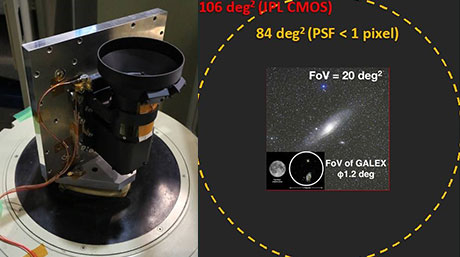 Deep Learning Attitude Sensor. Tokyo Tech.

OrigamiSat-1. Tokyo Tech.
Compared to conventional full-sized satellites, microsatellites can be developed at a lower cost and under a reduced lead-time. Thus they are expected to play a crucial role in space business and utilization. Tokyo Tech is a global pioneer of this satellite format, and we interviewed the head of the Laboratory for Space Systems at the Department of Mechanical Engineering, School of Engineering, Professor Saburo Matunaga. We also introduce the two JAXA-selected projects currently in orbit, as well as two Tokyo Tech ventures, Axelspace and UMITRON, that are working to advance private-sector space development.

Axelspace. Axelspace Corporation.

UMITRON. UMITRON K.K.

Tokyo Tech's satellite development history
See the full article here .
five-ways-keep-your-child-safe-school-shootings
Please help promote STEM in your local schools.
Tokyo Tech is the top national university for science and technology in Japan with a history spanning more than 130 years. Of the approximately 10,000 students at the Ookayama, Suzukakedai, and Tamachi Campuses, half are in their bachelor's degree program while the other half are in master's and doctoral degree programs. International students number 1,200. There are 1,200 faculty and 600 administrative and technical staff members.
In the 21st century, the role of science and technology universities has become increasingly important. Tokyo Tech continues to develop global leaders in the fields of science and technology, and contributes to the betterment of society through its research, focusing on solutions to global issues. The Institute's long-term goal is to become the world's leading science and technology university.