From Boston University (US) : "Another Breakthrough for Team Studying Our Solar System's Protective Bubble"
December 3, 2021
Kat J. McAlpine
Astrophysicists on BU's NASA-funded SHIELD team reach another milestone on their quest to understand the heliosphere.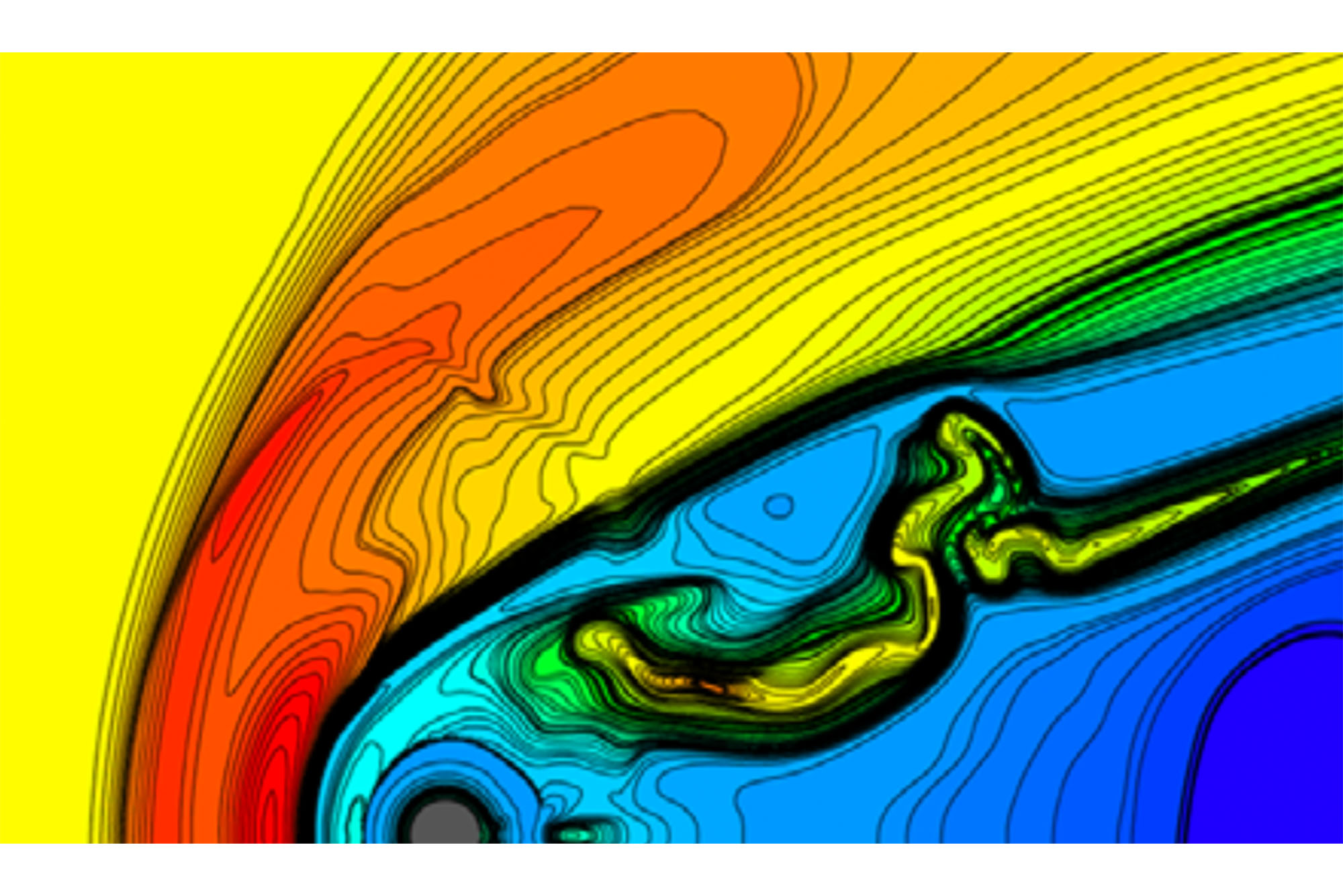 New research led by BU astrophysicist Merav Opher could explain why the heliosphere, a protective magnetic "force field" emanating from our sun and encompassing our solar system, is likely unstable and irregularly shaped. "The universe is not quiet," Opher says. "Our BU model doesn't try to cut out the chaos." Image courtesy of Merav Opher, et. al.
A multi-institutional team of astrophysicists headquartered at Boston University, led by BU astrophysicist Merav Opher, has made a breakthrough discovery in our understanding of the cosmic forces that shape the protective bubble surrounding our solar system—a bubble that shelters life on Earth and is known by space researchers as the heliosphere.
Astrophysicists believe the heliosphere protects the planets within our solar system from powerful radiation emanating from supernovas-the final explosions of dying stars throughout the universe.
They believe the heliosphere extends far beyond our solar system, but despite the massive buffer against cosmic radiation that the heliosphere provides Earth's life-forms, no one really knows the shape of the heliosphere—or, for that matter, the size of it.
"How is this relevant for society? The bubble that surrounds us, produced by the sun, offers protection from galactic cosmic rays, and the shape of it can affect how those rays get into the heliosphere," says James Drake, an astrophysicist at The University of Maryland (US) who collaborates with Opher. "There's lots of theories, but of course, the way that galactic cosmic rays can get in can be impacted by the structure of the heliosphere—does it have wrinkles and folds and that sort of thing?"
Cosmic rays produced by high-energy astrophysics sources ASPERA collaboration AStroParticle ERAnet.
Opher's team has constructed some of the most compelling computer simulations of the heliosphere, based on models built on observable data and theoretical astrophysics. At BU, in the Center for Space Physics, Opher, a College of Arts & Sciences professor of astronomy, leads a NASA DRIVE (Diversity, Realize, Integrate, Venture, Educate) Science Center that's supported by $1.3 million in NASA funding. That team, made up of experts Opher recruited from 11 other universities and research institutes, develops predictive models of the heliosphere in an effort the team calls SHIELD (Solar-wind with Hydrogen Ion Exchange and Large-scale Dynamics).
Since BU'S NASA DRIVE Science Center first received funding in 2019, Opher's SHIELD team has hunted for answers to several puzzling questions: What is the overall structure of the heliosphere? How do its ionized particles evolve and affect heliospheric processes? How does the heliosphere interact and influence the interstellar medium, the matter and radiation that exists between stars? And how do cosmic rays get filtered by, or transported through, the heliosphere?
"SHIELD combines theory; modeling; and observations to build comprehensive models," Opher says. "All these different components work together to help understand the puzzles of the heliosphere."
And now a paper published by Opher and collaborators in The Astrophysical Journal reveals that neutral hydrogen particles streaming from outside our solar system most likely play a crucial role in the way our heliosphere takes shape.
In their latest study, Opher's team wanted to understand why heliospheric jets—blooming columns of energy and matter that are similar to other types of cosmic jets found throughout the universe—become unstable. "Why do stars and black holes—and our own sun—eject unstable jets?" Opher says. "We see these jets projecting as irregular columns, and [astrophysicists] have been wondering for years why these shapes present instabilities."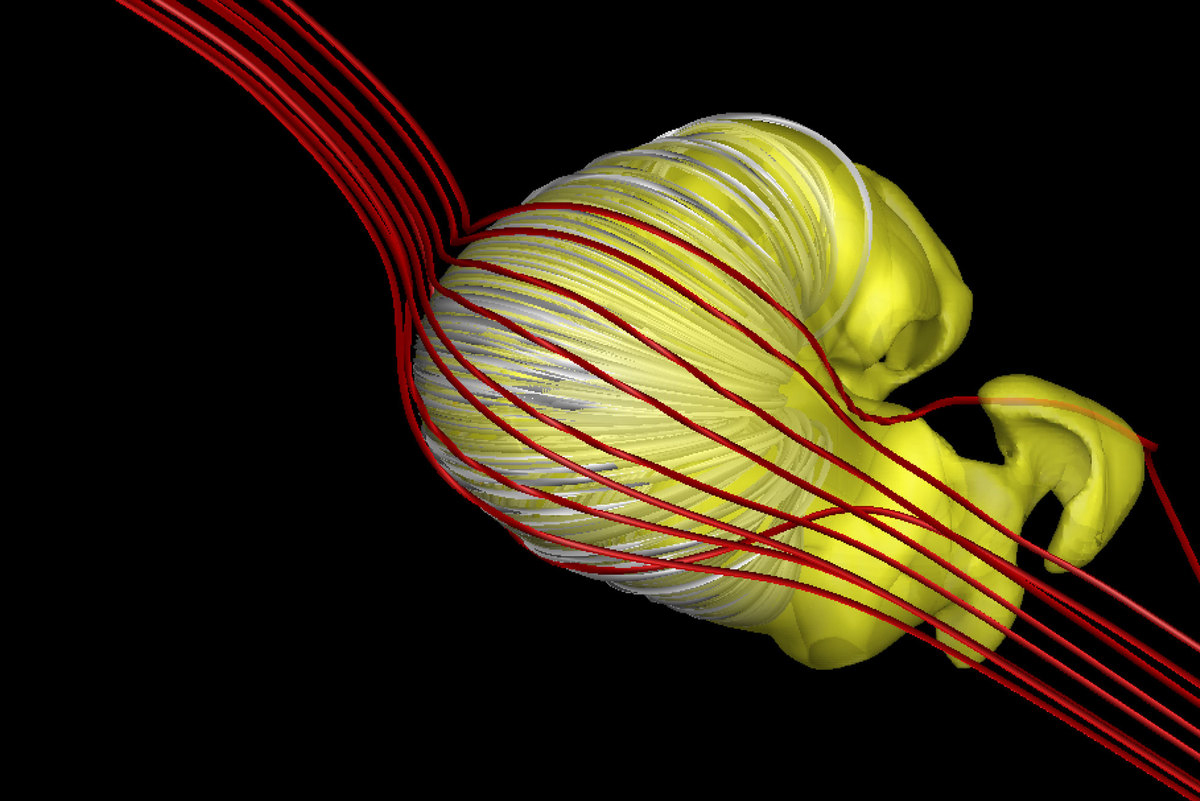 Is this what the heliosphere looks like? BU-led research suggests so. The size and shape of the magnetic "force field" that protects our solar system from deadly cosmic rays has long been debated by astrophysicists. Image courtesy of Merav Opher, et. al.
Similarly, SHIELD models predict that the heliosphere, traveling in tandem with our sun and encompassing our solar system, doesn't appear to be stable. Other models of the heliosphere developed by other astrophysicists tend to depict the heliosphere as having a comet-like shape, with a jet—or a "tail"—streaming behind in its wake. In contrast, Opher's model suggests the heliosphere is shaped more like a croissant or even a donut.
The reason for that? Neutral hydrogen particles, so-called because they have equal amounts of positive and negative charge that net no charge at all.
"They come streaming through the solar system," Opher says. Using a computational model like a recipe to test the effect of 'neutrals' on the shape of the heliosphere, she "took one ingredient out of the cake—the neutrals—and noticed that the jets coming from the sun, shaping the heliosphere, become super stable. When I put them back in, things start bending, the center axis starts wiggling, and that means that something inside the heliospheric jets is becoming very unstable."
Instability like that would theoretically cause disturbance in the solar winds and jets emanating from our sun, causing the heliosphere to split its shape—into a croissant-like form. Although astrophysicists haven't yet developed ways to observe the actual shape of the heliosphere, Opher's model suggests the presence of neutrals slamming into our solar system would make it impossible for the heliosphere to flow uniformly like a shooting comet. And one thing is for sure—neutrals are definitely pelting their way through space.
Drake, a coauthor on the new study, says Opher's model "offers the first clear explanation for why the shape of the heliosphere breaks up in the northern and southern areas, which could impact our understanding of how galactic cosmic rays come into Earth and the near-Earth environment." That could affect the threat that radiation poses to life on Earth and also for astronauts in space or future pioneers attempting to travel to Mars or other planets.
"The universe is not quiet," Opher says. "Our BU model doesn't try to cut out the chaos, which has allowed me to pinpoint the cause [of the heliosphere's instability]…. The neutral hydrogen particles."
Specifically, the presence of the neutrals colliding with the heliosphere triggers a phenomenon well known by physicists, called the Rayleigh-Taylor instability, which occurs when two materials of different densities collide, with the lighter material pushing against the heavier material. It's what happens when oil is suspended above water, and when heavier fluids or materials are suspended above lighter fluids. Gravity plays a role and gives rise to some wildly irregular shapes. In the case of the cosmic jets, the drag between the neutral hydrogen particles and charged ions creates a similar effect as gravity. The "fingers" seen in the famous Horsehead Nebula, for example, are caused by the Rayleigh-Taylor instability.
Horsehead Nebula Credit NASA/ ESA Hubble.
"This finding is a really major breakthrough, it's really set us in a direction of discovering why our model gets its distinct croissant-shaped heliosphere and why other models don't," Opher says.
See the full article here .
See also the related post from The University of Maryland (US) here.
five-ways-keep-your-child-safe-school-shootings
Please help promote STEM in your local schools.
Boston University is a private research university in Boston, Massachusetts. The university is nonsectarian but has a historical affiliation with the United Methodist Church. It was founded in 1839 by Methodists with its original campus in Newbury, Vermont, before moving to Boston in 1867.
The university now has more than 4,000 faculty members and nearly 34,000 students, and is one of Boston's largest employers. It offers bachelor's degrees, master's degrees, doctorates, and medical, dental, business, and law degrees through 17 schools and colleges on three urban campuses. The main campus is situated along the Charles River in Boston's Fenway-Kenmore and Allston neighborhoods, while the Boston University Medical Campus is located in Boston's South End neighborhood. The Fenway campus houses the Wheelock College of Education and Human Development, formerly Wheelock College, which merged with BU in 2018.
BU is a member of the Boston Consortium for Higher Education (US) and the Association of American Universities (US). It is classified among "R1: Doctoral Universities – Very High Research Activity".
Among its alumni and current or past faculty, the university counts eight Nobel Laureates, 23 Pulitzer Prize winners, 10 Rhodes Scholars, six Marshall Scholars, nine Academy Award winners, and several Emmy and Tony Award winners. BU also has MacArthur, Fulbright, and Truman Scholars, as well as American Academy of Arts and Sciences (US) and National Academy of Sciences (US) members, among its past and present graduates and faculty. In 1876, BU professor Alexander Graham Bell invented the telephone in a BU lab.
The Boston University Terriers compete in the NCAA Division I. BU athletic teams compete in the Patriot League, and Hockey East conferences, and their mascot is Rhett the Boston Terrier. Boston University is well known for men's hockey, in which it has won five national championships, most recently in 2009.
Research
In FY2016, the University reported in $368.9 million in sponsored research, comprising 1,896 awards to 722 faculty investigators. Funding sources included the National Science Foundation (US), the National Institutes of Health (US), the Department of Defense (US), the European Commission of the European Union, the Susan G. Komen Foundation (US), and the federal Health Resources and Services Administration (US). The University's research enterprise encompasses dozens of fields, but its primary focus currently lies in seven areas: Data Science, Engineering Biology, Global Health, Infectious Diseases, Neuroscience, Photonics, and Urban Health.
The University's strategic plan calls for the removal of barriers between previously siloed departments, schools, and fields. The result has been an increasing emphasis by the University on interdisciplinary work and the creation of multidisciplinary centers such as the Rajen Kilachand Center for Integrated Life Sciences & Engineering, a $140 million, nine-story research facility that has brought together life scientists, engineers, and physicians from the Medical and Charles River Campuses; the Institute for Health Systems Innovation & Policy, a cross-campus initiative combining business, health law, medicine, and public policy; a neurophotonics center that combines photonics and neuroscience to study the brain; and the Software and Application Innovation Lab, where technologists work with colleagues in the arts and humanities and together develop digital research tools. The University also made a large investment in an emerging field, when it created a new university-wide academic unit called the Faculty of Computing & Data Sciences in 2019 and began construction of the nineteen-story Center for Computing & Data Sciences, slated to open in 2022.
In 2003, the National Institute of Allergy and Infectious Diseases awarded Boston University a grant to build one of two National Biocontainment Laboratories. The National Emerging Infectious Diseases Laboratories (NEIDL) was created to study emerging infectious diseases that pose a significant threat to public health. NEIDL has biosafety level 2, 3, and 4 (BSL-2, BSL-3, and BSL-4, respectively) labs that enable researchers to work safely with the pathogens. BSL-4 labs are the highest level of biosafety labs and work with diseases with a high risk of aerosol transmission.
The strategic plan also encouraged research collaborations with industry and government partners. In 2016, as part of a broadbased effort to solve the critical problem of antibiotic resistance, the US Department of Health & Human Services selected the Boston University School of Law (LAW)—and Kevin Outterson, a BU professor of law—to lead a $350 million trans-Atlantic public-private partnership called CARB-X to foster the preclinical development of new antibiotics and antimicrobial rapid diagnostics and vaccines.
That same year, BU researcher Avrum Spira joined forces with Janssen Research & Development and its Disease Interception Accelerator group. Spira—a professor of medicine, pathology and laboratory medicine, and bioinformatics—has spent his career at BU pursuing a better, and earlier, way to diagnose pulmonary disorders and cancers, primarily using biomarkers and genomic testing. In 2015, under a $13.7 million Defense Department grant, Spira's efforts to identify which members of the military will develop lung cancer and COPD caught the attention of Janssen, part Johnson & Johnson. They are investing $10.1 million to collaborate with Spira's lab with the hope that his discoveries—and potential therapies—could then apply to the population at large.
In its effort to increase diversity and inclusion, Boston University appointed Ibram X. Kendi in July 2020 as a history professor and the director and founder of its newly established Center for Antiracist Research. The university also appointed alumna Andrea Taylor as its first senior diversity officer.