At
European Southern Observatory [Observatoire européen austral][Europäische Südsternwarte] (EU) (CL)
17 December 2021
Science@ESO
National Aeronautics Space Agency(USA)/European Space Agency [Agence spatiale européenne][Europäische Weltraumorganisation](EU)/ Canadian Space Agency [Agence Spatiale Canadienne](CA) Webb Infrared Space Telescope(US) James Webb Space Telescope annotated. Scheduled for launch in October 2021 delayed to December 2021.

Giulio Mazzolo.
Giulio Mazzolo is a science journalism intern at ESO. Before starting a career in science communication, he completed a PhD in astrophysics from The MPG Institute for Gravitational Physics [MPG Institut für Gravitationsphysik] (Albert Einstein Institute) (DE) and has been a member of the LIGO Scientific Collaboration (US).
Soon the James Webb Space Telescope (JWST) will be launched into space [ten years late], and astronomers could not ask for a better present! Built by The National Aeronautics and Space Administration (US), The European Space Agency [Agence spatiale européenne][Europäische Weltraumorganisation](EU) and The Canadian Space Agency [Agence spatiale canadienne, ASC](CA), it will be the largest and most powerful space observatory ever created, scanning the heavens all the way back to the very first stars in the history of the Universe. But how does it work? Which cosmic secrets will it unlock? And how will it join forces with other astronomical Goliaths like ESO's Extremely Large Telescope [below]?
Given all the breakthrough discoveries made in the last years, this truly is a golden age for astronomy; an age about to get even brighter with the beginning of JWST's adventure.
Unfolding a telescope; unfolding the Universe
JWST is the result of more than two decades of work by thousands of scientists and engineers located in 14 countries, with astronomers from 41 countries having been awarded observing time during the first year of science operations. A really international endeavour spanning the whole globe!
It will build upon its illustrious forebears, the NASA/ESA Hubble Space Telescope and NASA's Spitzer Space Telescope, and it will probe the cosmos in the infrared.
National Aeronautics and Space Administration(US)/European Space Agency [Agence spatiale européenne] [Europäische Weltraumorganisation](EU) Hubble Space Telescope.
National Aeronautics and Space Administration(US) Spitzer Infrared Space Telescope no longer in service. Launched in 2003 and retired on 30 January 2020.
This brings two main benefits: first, infrared light is not blocked by the thick, giant clouds of dust wandering in space. This allows astronomers to see the cosmic objects behind the clouds which would otherwise remain hidden in visible light. Second, it will enable JWST to admire some of the very first stars and galaxies in the history of the cosmos. This is because the universe is expanding, meaning their ancient visible light has been stretched to longer infrared wavelengths on its journey to us.
As heavy as a school bus once launched JWST will be travelling for one month to the so-called second Lagrange point (L2) of the Sun-Earth system.
LaGrange Points map. NASA.
Being at L2 will allow JWST to keep its massive sunshield, as large as a tennis court, permanently oriented towards the Sun and the Earth, blocking their radiation. The telescope needs to be kept at an extremely cold temperature of -230 ºC, otherwise the thermal radiation from the telescope itself would blind the astronomical observations at infrared wavelengths.
JWST's primary mirror is 6.5-metres wide and is segmented into 18 hexagonal pieces.These segments are made of beryllium and covered in a layer of gold to optimise the reflection of incoming infrared light. The gold layer is extremely thin: only about 700 atoms, for an amount of gold of just 48 grams for the entire mirror!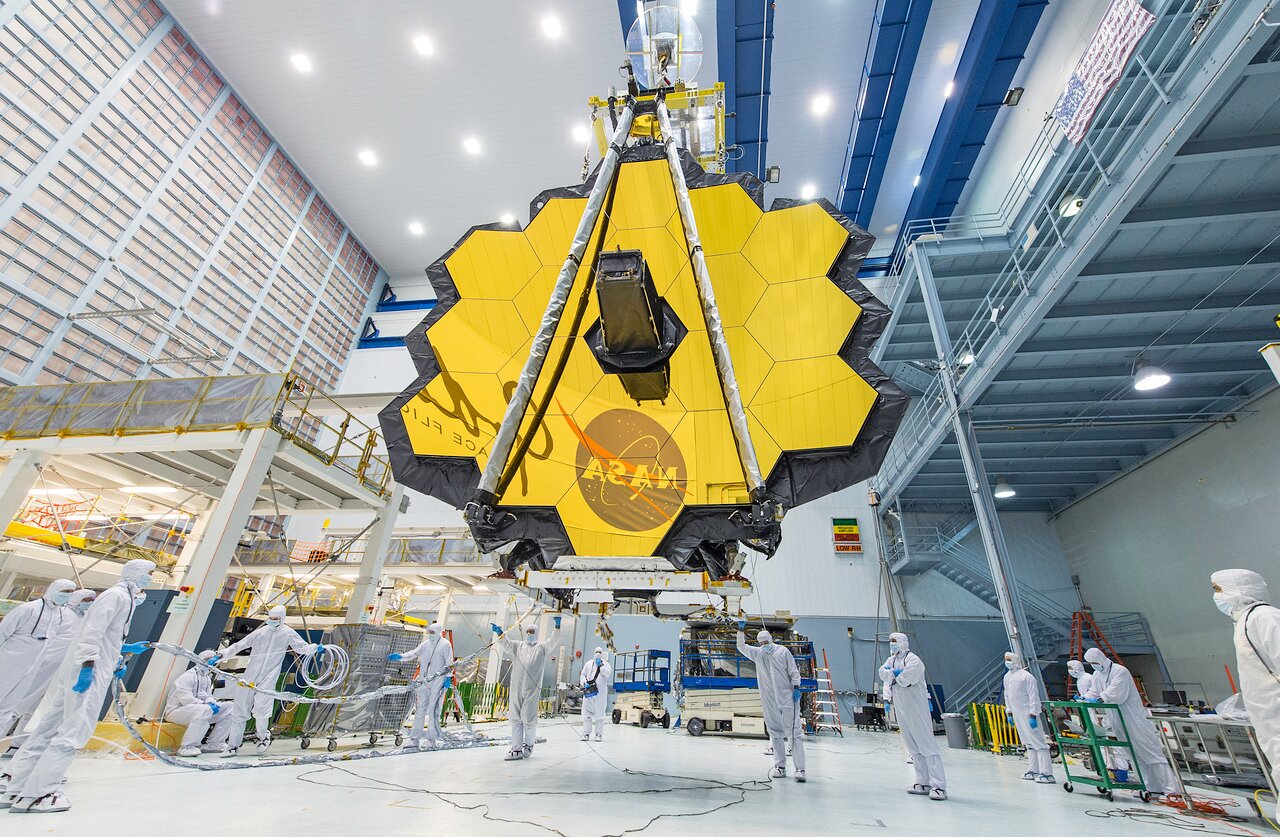 The primary mirror of JWST, in its unfolded configuration, being lifted and moved into a clean room at NASA´s Goddard Space Flight Center. Credit: Desiree Stover/NASA.
To fit such a huge telescope in the Ariane 5 rocket that will launch it into space, JWST was cleverly designed to be folded. Once in space, the sunshield and mirror will unfold in a complex origami manoeuvre.
Later this decade, JWST will be joined in its mission to unravel the cosmos by ESO's Extremely Large Telescope (ELT), currently under construction in Chile's Atacama Desert, and which will also be active in the infrared. With its 39 meter mirror, ESO's ELT will be the world's biggest eye on the Universe, promising to deepen our understanding of the heavens.
The ELT and JWST will nicely complement each other. Being in space will allow JWST to be extremely sensitive at infrared wavelengths, and it won't have to worry about the blurring caused by atmospheric turbulence. The ELT, on the other hand, has a much larger mirror, and after correcting atmospheric turbulence with Adaptive Optics [below] it will be able to obtain even sharper images. One drawback of JWST being at L2 is that upgrades won't be possible, which is not an issue for the ELT. Both telescopes carry a suite of sophisticated instruments that will tackle similar problems in a complementary way, and astronomers are already rubbing their hands. Let's see why.
Let there be light
No planets, no stars, no galaxies. Just a mist of hydrogen and helium gas and, possibly, dark matter. At the beginning of its so-called Cosmic Dark Ages, approximately 400 000 years after the Big Bang, the Universe must have been a pretty boring place to visit. Until the first stars started lighting up here and there.
We think those first stars were massive beasts — from a few tens to several hundreds of times our Sun. They were living a fast and furious lifestyle, only surviving for a few million years during which they emitted intense high-energy radiation, before exploding as supernovae. Relentlessly, this energetic radiation stripped the surrounding hydrogen and helium from their electrons, the so-called Epic of Reionization.


Universe. Atacama Large Millimiter/submillimeter Array (CL) [ALMA] 300000 Years After the Big Bang Credit: National Astronomical Observatory of Japan[国立天文台](JP).
But dark ages are hard to come out of, and the cosmic one was no exception. Reionization did not happen overnight all over the Universe. Most likely, it started in cosmic bubbles scattered here and there. Where were these first pockets and how big were they? How did reionisation extend throughout the whole Universe? How exactly did the first stars look?
We do not know the answer…yet, as ESO's ELT and JWST will push back the limits of what we can currently observe, back to the edge of the dark ages, unveiling how and when light in the Universe was switched on.
A long time ago, in a galaxy far, far away…
The stars born during the dark ages came together to form the first galaxies populating the cosmos. These ancient galaxies were probably rather small and irregularly shaped. Over time, they merged into each other, leading to larger, more structured galaxies. But how exactly this happened is still unknown.
ESO's ELT and JWST will be able to study galaxies all over the history of the cosmos, analysing their shapes, chemical composition and at what rate they form stars. In their search, they will be helped by radio telescopes such as the Atacama Large Millimeter/submillimeter Array (ALMA) in Chile [below], in which ESO is a partner, which maps the distribution of the cold gas out of which stars form.
By comparing galaxies across different cosmic eras, astronomers will be able to draw a picture of how they form and evolve.
Strongly related with the study of galaxies is the investigation of the intergalactic medium — the matter in the space between galaxies.

Intergalactic medium. Credit: Princeton University (US).

Intergalactic medium. The structure of the intergalactic medium can be illustrated by the Millenium simulation. Millennium Simulation Project [MPG Institute for Astrophysics [Max-Planck-Institut für Astrophysik]](DE).
Believed to make up most of the visible matter in the Universe, it is the descendant of the mist of hydrogen and helium from the dark ages. Little is known about it, but astronomers are aware of its interplay with galaxies. On one hand, the intergalactic medium can feed galaxies with pristine gas, fueling the birth of new stars. On the other hand, galaxies can influence the properties of the intergalactic medium through the energy and gas they expel into it. ESO's ELT and JWST will allow the intergalactic medium to be mapped to the distant corners of the Universe, shedding new light on its nature.
Another problem that these two telescopes will tackle is the nature of Dark Matter and Dark Energy, which still cause astronomers to scratch their heads.
______________________________________________________
Dark Matter Background
Fritz Zwicky discovered Dark Matter in the 1930s when observing the movement of the Coma Cluster., Vera Rubin a Woman in STEM, denied the Nobel, some 30 years later, did most of the work on Dark Matter.
Fritz Zwicky.
Coma cluster via NASA/ESA Hubble, the original example of Dark Matter discovered during observations by Fritz Zwicky and confirmed 30 years later by Vera Rubin.
In modern times, it was astronomer Fritz Zwicky, in the 1930s, who made the first observations of what we now call dark matter. His 1933 observations of the Coma Cluster of galaxies seemed to indicated it has a mass 500 times more than that previously calculated by Edwin Hubble. Furthermore, this extra mass seemed to be completely invisible. Although Zwicky's observations were initially met with much skepticism, they were later confirmed by other groups of astronomers.
Thirty years later, astronomer Vera Rubin provided a huge piece of evidence for the existence of dark matter. She discovered that the centers of galaxies rotate at the same speed as their extremities, whereas, of course, they should rotate faster. Think of a vinyl LP on a record deck: its center rotates faster than its edge. That's what logic dictates we should see in galaxies too. But we do not. The only way to explain this is if the whole galaxy is only the center of some much larger structure, as if it is only the label on the LP so to speak, causing the galaxy to have a consistent rotation speed from center to edge.
Vera Rubin, following Zwicky, postulated that the missing structure in galaxies is dark matter. Her ideas were met with much resistance from the astronomical community, but her observations have been confirmed and are seen today as pivotal proof of the existence of dark matter.
Astronomer Vera Rubin at the Lowell Observatory in 1965, worked on Dark Matter (The Carnegie Institution for Science).
Vera Rubin, with Department of Terrestrial Magnetism (DTM) image tube spectrograph attached to the Kitt Peak 84-inch telescope, 1970.
Vera Rubin measuring spectra, worked on Dark Matter(Emilio Segre Visual Archives AIP SPL).
Dark Matter Research
LBNL LZ Dark Matter Experiment (US) xenon detector at Sanford Underground Research Facility(US) Credit: Matt Kapust.
Lamda Cold Dark Matter Accerated Expansion of The universe http scinotions.com the-cosmic-inflation-suggests-the-existence-of-parallel-universes. Credit: Alex Mittelmann.
DAMA at Gran Sasso uses sodium iodide housed in copper to hunt for dark matter LNGS-INFN.
Yale HAYSTAC axion dark matter experiment at Yale's Wright Lab.
DEAP Dark Matter detector, The DEAP-3600, suspended in the SNOLAB (CA) deep in Sudbury's Creighton Mine.
The LBNL LZ Dark Matter Experiment (US) Dark Matter project at SURF, Lead, SD, USA.
DAMA-LIBRA Dark Matter experiment at the Italian National Institute for Nuclear Physics' (INFN's) Gran Sasso National Laboratories (LNGS) located in the Abruzzo region of central Italy.
DARWIN Dark Matter experiment. A design study for a next-generation, multi-ton dark matter detector in Europe at The University of Zurich [Universität Zürich](CH).
PandaX II Dark Matter experiment at Jin-ping Underground Laboratory (CJPL) in Sichuan, China.
Inside the Axion Dark Matter eXperiment U Washington (US) Credit : Mark Stone U. of Washington. Axion Dark Matter Experiment.
_____________________________________________________________________________________
Dark Energy Survey
Dark Energy Camera [DECam] built at DOE's Fermi National Accelerator Laboratory(US).
NOIRLab National Optical Astronomy Observatory(US) Cerro Tololo Inter-American Observatory(CL) Victor M Blanco 4m Telescope which houses the Dark-Energy-Camera – DECam at Cerro Tololo, Chile at an altitude of 7200 feet.
NOIRLab(US)NSF NOIRLab NOAO (US) Cerro Tololo Inter-American Observatory(CL) approximately 80 km to the East of La Serena, Chile, at an altitude of 2200 meters.
Timeline of the Inflationary Universe WMAP.
The Dark Energy Survey (DES) is an international, collaborative effort to map hundreds of millions of galaxies, detect thousands of supernovae, and find patterns of cosmic structure that will reveal the nature of the mysterious dark energy that is accelerating the expansion of our Universe. DES began searching the Southern skies on August 31, 2013.
According to Einstein's theory of General Relativity, gravity should lead to a slowing of the cosmic expansion. Yet, in 1998, two teams of astronomers studying distant supernovae made the remarkable discovery that the expansion of the universe is speeding up. To explain cosmic acceleration, cosmologists are faced with two possibilities: either 70% of the universe exists in an exotic form, now called dark energy, that exhibits a gravitational force opposite to the attractive gravity of ordinary matter, or General Relativity must be replaced by a new theory of gravity on cosmic scales.
DES is designed to probe the origin of the accelerating universe and help uncover the nature of dark energy by measuring the 14-billion-year history of cosmic expansion with high precision. More than 400 scientists from over 25 institutions in the United States, Spain, the United Kingdom, Brazil, Germany, Switzerland, and Australia are working on the project. The collaboration built and is using an extremely sensitive 570-Megapixel digital camera, DECam, mounted on the Blanco 4-meter telescope at Cerro Tololo Inter-American Observatory, high in the Chilean Andes, to carry out the project.
Over six years (2013-2019), the DES collaboration used 758 nights of observation to carry out a deep, wide-area survey to record information from 300 million galaxies that are billions of light-years from Earth. The survey imaged 5000 square degrees of the southern sky in five optical filters to obtain detailed information about each galaxy. A fraction of the survey time is used to observe smaller patches of sky roughly once a week to discover and study thousands of supernovae and other astrophysical transients.
_____________________________________________________________________________________
Dark matter is believed to be distributed all over the cosmos, forming huge halos around galaxies. Without it, and given our current understanding of gravity, it's hard to explain the large scale structure of the universe and why galaxies spin the way they do. Dark energy, on the other hand, is thought to cause the accelerated expansion of the Universe. Through the detailed analysis of galaxies at different distances, astronomers hope to finally break the code of these two enigmas of the cosmos.
We are all made of stardust
The life cycle of stars is another hot topic in astronomy. That's quite understandable considering the building blocks of literally everyone on this planet — including you — are forged in stars.
Stars form in massive clouds of gas and dust. These clouds are transparent to infrared light, which the ELT and JWST will use to gaze into them with unprecedented detail, opening a new window on how stars and planets form and develop.
In addition to baby stars, the two telescopes will also investigate more mature ones, both in the Milky Way and beyond, as their chemical compositions and motions tell the story of how their host galaxies were assembled.
And then, just like us humans, stars will eventually die. Low-mass stars die quietly, whereas massive ones end with huge supernova explosions. Studying supernovae with JWST and ESO's ELT will allow us not only to understand how these explosions occur, but also how the elements forged in the stars are expelled into the Universe to one day form new stars, planets and, possibly, living beings.
The most massive supernovae are also one of the sources of high-energy radiation flashes known as gamma-ray bursts [GRB's], the most energetic events in the Universe. The ELT and JWST will be able to spot them across most epochs in the history of the Universe, using them as powerful beacons to go all the way back to the end of the dark ages.
The world is not enough
The Earth is just one of billions of planets out there in the Universe. How the Solar System formed and whether there is life somewhere else in the Universe are two of the deepest questions humanity has ever pondered. Searching for other planets [exoplanets] and studying the thousands we already know are the only way to find the answer.

The European Southern Observatory's Very Large Telescope (ESO's VLT) [below] has captured an image of a planet orbiting b Centauri-a two-star system that can be seen with the naked eye. This is the hottest and most massive planet-hosting star system found to date, and the planet was spotted orbiting it at 100 times the distance Jupiter orbits the Sun. Some astronomers believed planets could not exist around stars this massive and this hot — until now.
===
To find unknown worlds, ESO's ELT will be a formidable ace up astronomers' sleeve. It will use the so-called radial velocity method — basically, inferring the presence of a planet from how its gravitational pull influences the motion of the parent star — with unprecedented accuracy.
Radial Velocity Method-Las Cumbres Observatory, a network of astronomical observatories, located at both northern and southern hemisphere sites distributed in longitude around the Earth.
Radial velocity Image via SuperWasp.
This will help us to spot many new rocky planets, like the Earth or Mars. These are much smaller than gas giants — such as Jupiter — and, hence, more difficult to find due to the weaker gravitational effect on the star's motion. Rocky planets, when placed at the right distance from their star to host liquid water on the surface, are the most likely candidates to host life as we know it.
The ELT will also be able to directly image alien worlds. A challenging feat, as planets are often outshone by their parent star — and this is why such observations are typically done in the infrared, where the difference in brightness between the planet and the star is milder. But a necessary one to characterise the physical properties of the planet, such as mass and size.
The next step after discovering a planet is to study its atmosphere. To understand which molecules make it up, astronomers peer at the planet when it passes between us and the star. This way, the light from the star reaches us after crossing the atmosphere and by checking which wavelengths have been absorbed, researchers can determine its composition. The ELT and JWST will excel in this and may be the first to find traces of life outside the Earth.
ESO's ELT and JWST will not only study mature planets, but also unlock the secrets of worlds still in the process of forming. They will look at the so-called protoplanetary discs around newly born stars, from which planetary systems emerge. Thanks to their unprecedented accuracy, they will be able to probe the inner regions of these gaseous structures, where rocky planets form, beautifully complementing observations of the colder, outer regions home to gas giants done with radio telescopes such as ALMA.
Of course, the ELT and JWST will not overlook our neighbours within the Solar System. They will use their powerful eyes to probe the surface and atmosphere of planets, moons, comets and asteroids, giving us a new perspective on our home planetary system.
After all, sometimes in life answers could be much closer than we think.
See the full article here .

five-ways-keep-your-child-safe-school-shootings
Please help promote STEM in your local schools.


Stem Education Coalition
Visit ESO (EU) in Social Media-

European Southern Observatory [Observatoire européen austral][Europäische Südsternwarte] (EU) is the foremost intergovernmental astronomy organisation in Europe and the world's most productive ground-based astronomical observatory by far. It is supported by 16 countries: Austria, Belgium, Brazil, the Czech Republic, Denmark, France, Finland, Germany, Italy, the Netherlands, Poland, Portugal, Spain, Sweden, Switzerland and the United Kingdom, along with the host state of Chile. ESO carries out an ambitious programme focused on the design, construction and operation of powerful ground-based observing facilities enabling astronomers to make important scientific discoveries. ESO also plays a leading role in promoting and organising cooperation in astronomical research. ESO operates three unique world-class observing sites in Chile: La Silla, Paranal and Chajnantor. At Paranal, ESO operates the Very Large Telescope, the world's most advanced visible-light astronomical observatory and two survey telescopes. VISTA works in the infrared and is the world's largest survey telescope and the VLT Survey Telescope is the largest telescope designed to exclusively survey the skies in visible light. ESO is a major partner in ALMA, the largest astronomical project in existence. And on Cerro Armazones, close to Paranal, ESO is building the 39-metre European Extremely Large Telescope, the E-ELT, which will become "the world's biggest eye on the sky".
European Southern Observatory(EU) La Silla HELIOS (HARPS Experiment for Light Integrated Over the Sun).
ESO 3.6m telescope & HARPS atCerro LaSilla, Chile, 600 km north of Santiago de Chile at an altitude of 2400 metres.
MPG Institute for Astronomy [Max-Planck-Institut für Astronomie](DE) 2.2 meter telescope at/European Southern Observatory(EU) Cerro La Silla, Chile, 600 km north of Santiago de Chile at an altitude of 2400 metres.
European Southern Observatory(EU)La Silla Observatory 600 km north of Santiago de Chile at an altitude of 2400 metres.
European Southern Observatory(EU) , Very Large Telescope at Cerro Paranal in the Atacama Desert •ANTU (UT1; The Sun ) •KUEYEN (UT2; The Moon ) •MELIPAL (UT3; The Southern Cross ), and •YEPUN (UT4; Venus – as evening star). Elevation 2,635 m (8,645 ft) from above Credit J.L. Dauvergne & G. Hüdepohl atacama photo.
European Southern Observatory(EU)VLTI Interferometer image, Cerro Paranal, with an elevation of 2,635 metres (8,645 ft) above sea level, •ANTU (UT1; The Sun ),
•KUEYEN (UT2; The Moon ),
•MELIPAL (UT3; The Southern Cross ), and
•YEPUN (UT4; Venus – as evening.
ESO Very Large Telescope 4 lasers on Yepun (CL)
Glistening against the awesome backdrop of the night sky above ESO's Paranal Observatory, four laser beams project out into the darkness from Unit Telescope 4 UT4 of the VLT, a major asset of the Adaptive Optics system.
ESO/NTT NTT at Cerro La Silla , Chile, at an altitude of 2400 metres.
Part of ESO's Paranal Observatory, the VLT Survey Telescope (VISTA) observes the brilliantly clear skies above the Atacama Desert of Chile. It is the largest survey telescope in the world in visible light, with an elevation of 2,635 metres (8,645 ft) above sea level.
European Southern Observatory/National Radio Astronomy Observatory(US)/National Astronomical Observatory of Japan(JP) ALMA Array in Chile in the Atacama at Chajnantor plateau, at 5,000 metres.
European Southern Observatory(EU) ELT 39 meter telescope to be on top of Cerro Armazones in the Atacama Desert of northern Chile. located at the summit of the mountain at an altitude of 3,060 metres (10,040 ft).
European Southern Observatory(EU)/MPG Institute for Radio Astronomy [MPG Institut für Radioastronomie](DE) ESO's Atacama Pathfinder Experiment(CL) high on the Chajnantor plateau in Chile's Atacama region, at an altitude of over 4,800 m (15,700 ft).
Leiden MASCARA instrument cabinet at Cerro La Silla, located in the southern Atacama Desert 600 kilometres (370 mi) north of Santiago de Chile at an altitude of 2,400 metres (7,900 ft).
ESO Next Generation Transit Survey telescopes, an array of twelve robotic 20-centimetre telescopes at Cerro Paranal,(CL) 2,635 metres (8,645 ft) above sea level.

ESO Speculoos telescopes four 1 meter robotic telescopes at ESO Paranal Observatory 2635 metres 8645 ft above sea level.
TAROT telescope at Cerro LaSilla, 2,635 metres (8,645 ft) above sea level.
European Southern Observatory(EU) ExTrA telescopes at erro LaSilla at an altitude of 2400 metres.
A novel gamma ray telescope under construction on Mount Hopkins, Arizona. A large project known as the Čerenkov Telescope Array composed of hundreds of similar telescopes to be situated in the Canary Islands and Chile at, ESO Cerro Paranal site The telescope on Mount Hopkins will be fitted with a prototype high-speed camera, assembled at the. University of Wisconsin–Madison and capable of taking pictures at a billion frames per second. Credit: Vladimir Vassiliev.
European Space Agency [Agence spatiale européenne][Europäische Weltraumorganisation](EU), The new Test-Bed Telescope 2is housed inside the shiny white dome shown in this picture, at ESO's LaSilla Facility in Chile. The telescope has now started operations and will assist its northern-hemisphere twin in protecting us from potentially hazardous, near-Earth objects.The domes of ESO's 0.5 m and the Danish 0.5 m telescopes are visible in the background of this image.Part of the world-wide effort to scan and identify near-Earth objects, the European Space Agency's Test-Bed Telescope 2 (TBT2), a technology demonstrator hosted at ESO's La Silla Observatory in Chile, has now started operating. Working alongside its northern-hemisphere partner telescope, TBT2 will keep a close eye on the sky for asteroids that could pose a risk to Earth, testing hardware and software for a future telescope network.
European Space Agency [Agence spatiale européenne][Europäische Weltraumorganisation](EU) The open dome of The black telescope structure of the's Test-Bed Telescope 2 peers out of its open dome in front of the rolling desert landscape. The telescope is located at ESO's La Silla Observatory, which sits at a 2400 metre altitude in the Chilean Atacama desert.a desert.