From Woods Hole Oceanographic Institution (US) : Women in STEM-Joan Bernhard and Fatma Gomaa "Some Forams Could Thrive with Climate Change Metabolism Study Finds"
From Woods Hole Oceanographic Institution (US)
May 27, 2021
Media Relations Office
media@whoi.edu
(508) 289-3340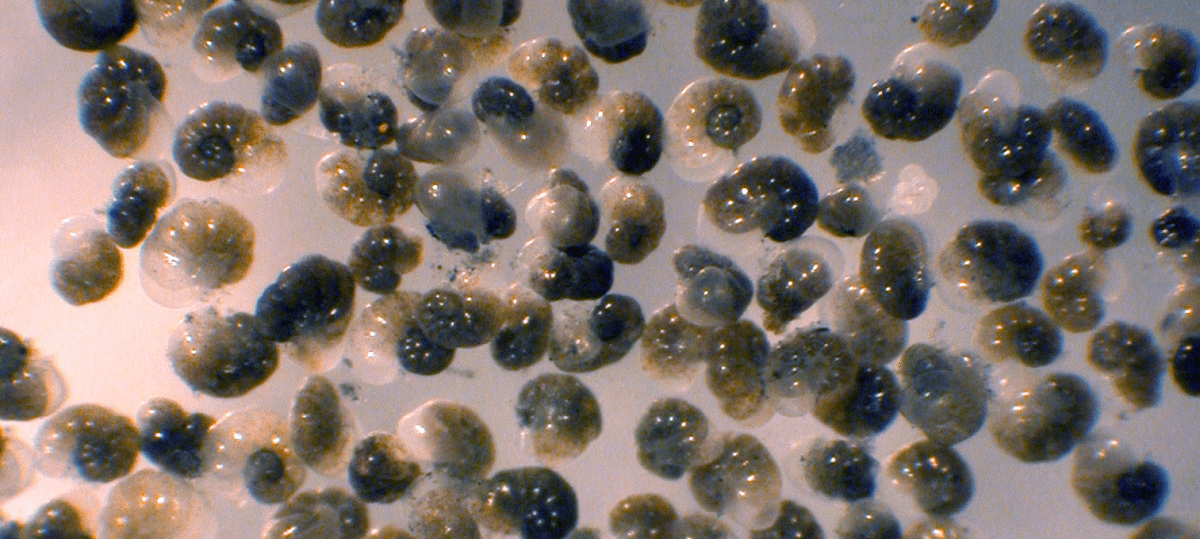 Light micrograph of the benthic foraminifer Nonionella stella, which thrives in anoxic sulfidic sediments far below the euphotic zone. Individuals are ~225 microns in diameter. Image credit: J.M. Bernhard.
With the expansion of oxygen-depleted waters in the oceans due to climate change, some species of foraminifera (forams, a type of protist or single-celled eukaryote) that thrive in those conditions could be big winners, biologically speaking.
A new paper that examines two foram species found that they demonstrated great metabolic versatility to flourish in hypoxic and anoxic sediments where there is little or no dissolved oxygen, inferring that the forams' contribution to the marine ecosystem will increase with the expansion of oxygen-depleted habitats.
In addition, the paper found that the multiple metabolic strategies that these forams exhibit to adapt to low and no oxygen conditions are changing the classical view about the evolution and diversity of eukaryotes. That classical view hypothesizes that the rise of oxygen in Earth's system led to the acquisition of oxygen-respiring mitochondria, the part of a cell that generates most of the chemical energy that powers a cell's biochemical reactions. The forams in the study represent "typical" mitochondrial-bearing eukaryotes. However, these two forams respire nitrate and produce energy in the absence of oxygen, with one colonizing an anoxic environment, often with high levels of hydrogen sulfide, a chemical compound typically toxic to eukaryotes.
"Benthic foraminifera represent truly successful microbial eukaryotes with diverse and sophisticated metabolic adaptive strategies" that scientists are just beginning to discover, the authors noted in the paper, Multiple integrated metabolic strategies allow foraminiferal protists to thrive in anoxic marine sediments appearing in Science Advances.
This is important because scientists have studied forams extensively for interpreting past oceanographic and climate conditions. Scientists largely have assumed that forams evolved after oxygen was on the planet and likely require oxygen to survive. However, finding that forams can perform the processes described "throws a whole new wrench in interpretations of past environmental conditions on Earth, driven by the foram fossil record," said co-author and project leader Joan Bernhard, senior scientist in the Geology and Geophysics Department at the Woods Hole Oceanographic Institution (WHOI).
Bernhard said that over the past several decades she has worked to establish that forams can live where there is little or no oxygen. "We never knew exactly why forams can live where there isn't any oxygen until molecular methods got good enough that we could really start to ask some of these questions. This is our first paper that's coming out with some of these insights," she said. Bernhard added that with thousands of foram species living today, and with hundreds of thousands extinct, it is likely that this is "the tip of the iceberg" in terms of possibly discovering other metabolic strategies invoked by these forams.
Specific insights from the paper pertain to two highly successful benthic foraminiferal species that inhabit hypoxic or anoxic sediments in the Santa Barbara Basin, a sort of natural laboratory off the coast of California for studying the impact of oxygen depletion in the ocean.
Through gene expression analysis of the two species—Nonionella stella and Bolivina argentea—scientists found different successful metabolic adaptations that allowed the forams to succeed in oxygen-depleted marine sediments and identified candidate genes involved in anaerobic respiration and energy metabolism.
The N. stella is a sort of kleptomaniac, utilizing a technique to steal chloroplasts—the structure in a cell where photosynthesis occurs—from a particular diatom genus. What makes this particularly interesting is that N. stella lives well below what is considered to be the zone where photosynthesis can happen. The authors noted that there has been discussion in the literature questioning the functionality of these kleptoplasts in the Santa Barbara Basin N. stella but the new results show that these kleptoplasts are firmly functional, although exact metabolic details remain elusive.
In addition, the scientists found that the two foram species in the study use different metabolic pathways to incorporate ammonium into organic nitrogen in the form of glutamate, a metabolic strategy that was not previously known to be performed by these organisms.
"The metabolic variety suggests that at least some species of this diverse protistan group will withstand severe deoxygenation and likely play major roles in oceans affected by climate change," the authors wrote.
The study "gives the scientific community a new direction for research," said lead author Fatma Gomaa, who, at the time of the study, was a postdoctoral investigator at the Geology and Geophysics Department at WHOI. "We are now starting to learn that there are microeukaryotes living in habitats similar to those in Earth's early history that are performing very interesting biological functions. Learning about these forams is very intriguing and will shed light on how early eukaryotes evolved."
See the full article here .
five-ways-keep-your-child-safe-school-shootings
Please help promote STEM in your local schools.
Mission Statement
The Woods Hole Oceanographic Institution (US) is dedicated to advancing knowledge of the ocean and its connection with the Earth system through a sustained commitment to excellence in science, engineering, and education, and to the application of this knowledge to problems facing society.
Vision & Mission
The ocean is a defining feature of our planet and crucial to life on Earth, yet it remains one of the planet's last unexplored frontiers. For this reason, WHOI scientists and engineers are committed to understanding all facets of the ocean as well as its complex connections with Earth's atmosphere, land, ice, seafloor, and life—including humanity. This is essential not only to advance knowledge about our planet, but also to ensure society's long-term welfare and to help guide human stewardship of the environment. WHOI researchers are also dedicated to training future generations of ocean science leaders, to providing unbiased information that informs public policy and decision-making, and to expanding public awareness about the importance of the global ocean and its resources.
The Institution is organized into six departments, the Cooperative Institute for Climate and Ocean Research, and a marine policy center. Its shore-based facilities are located in the village of Woods Hole, Massachusetts(US) and a mile and a half away on the Quissett Campus. The bulk of the Institution's funding comes from grants and contracts from the National Science Foundation(US) and other government agencies, augmented by foundations and private donations.
WHOI scientists, engineers, and students collaborate to develop theories, test ideas, build seagoing instruments, and collect data in diverse marine environments. Ships operated by WHOI carry research scientists throughout the world's oceans. The WHOI fleet includes two large research vessels (R/V Atlantis and R/V Neil Armstrong); the coastal craft Tioga; small research craft such as the dive-operation work boat Echo; the deep-diving human-occupied submersible Alvin; the tethered, remotely operated vehicle Jason/Medea; and autonomous underwater vehicles such as the REMUS and SeaBED.
WHOI offers graduate and post-doctoral studies in marine science. There are several fellowship and training programs, and graduate degrees are awarded through a joint program with the Massachusetts Institute of Technology(US). WHOI is accredited by the New England Association of Schools and Colleges. WHOI also offers public outreach programs and informal education through its Exhibit Center and summer tours. The Institution has a volunteer program and a membership program, WHOI Associate.
On October 1, 2020, Peter B. de Menocal became the institution's eleventh president and director.
History
In 1927, a National Academy of Sciences(US) committee concluded that it was time to "consider the share of the United States of America in a worldwide program of oceanographic research." The committee's recommendation for establishing a permanent independent research laboratory on the East Coast to "prosecute oceanography in all its branches" led to the founding in 1930 of the Woods Hole Oceanographic Institution(US).
A $2.5 million grant from the Rockefeller Foundation supported the summer work of a dozen scientists, construction of a laboratory building and commissioning of a research vessel, the 142-foot (43 m) ketch R/V Atlantis, whose profile still forms the Institution's logo.
WHOI grew substantially to support significant defense-related research during World War II, and later began a steady growth in staff, research fleet, and scientific stature. From 1950 to 1956, the director was Dr. Edward "Iceberg" Smith, an Arctic explorer, oceanographer and retired Coast Guard rear admiral.
In 1977 the institution appointed the influential oceanographer John Steele as director, and he served until his retirement in 1989.
On 1 September 1985, a joint French-American expedition led by Jean-Louis Michel of IFREMER and Robert Ballard of the Woods Hole Oceanographic Institution identified the location of the wreck of the RMS Titanic which sank off the coast of Newfoundland 15 April 1912.
On 3 April 2011, within a week of resuming of the search operation for Air France Flight 447, a team led by WHOI, operating full ocean depth autonomous underwater vehicles (AUVs) owned by the Waitt Institute discovered, by means of sidescan sonar, a large portion of debris field from flight AF447.
In March 2017 the institution effected an open-access policy to make its research publicly accessible online.
The Institution has maintained a long and controversial business collaboration with the treasure hunter company Odyssey Marine. Likewise, WHOI has participated in the location of the San José galleon in Colombia for the commercial exploitation of the shipwreck by the Government of President Santos and a private company.
In 2019, iDefense reported that China's hackers had launched cyberattacks on dozens of academic institutions in an attempt to gain information on technology being developed for the United States Navy. Some of the targets included the Woods Hole Oceanographic Institution. The attacks have been underway since at least April 2017.