From Woods Hole Oceanographic Institution (US)
September 24, 2020 [Re-presented 7.15.21]
Evan Lubofsky


Credit: Natalie Renier © Woods Hole Oceanographic Institution.
In the spring of 2010, a satellite the size of a small school bus plunged through the upper atmosphere like a fiery cannonball as it fell to the South Pacific Ocean, hair-raisingly close to where scientists aboard the research vessel (R/V) JOIDES Resolution happened to be working.
"We got an alert from the European Space Agency [Agence spatiale européenne][Europäische Weltraumorganisation](EU) that it was bringing a satellite back down, basically telling us that we had to move within the next 24 hours," says WHOI deputy director Rick Murray, who was there.
The ship moved to a new location and avoided a catastrophic, albeit unlikely, collision with spacecraft. But, Murray says, the incident was "a stark reminder of how far away we actually were from everything else on this planet."
The researchers were in that desolate stretch of ocean— an area so removed from humanity that it's become a cemetery for dying spacecraft—to learn about earlier episodes of climate change that can help inform future changes. Specifically, they were coring for ocean sediments, which contain various amounts of dust. "We can use the dust," Murray says, "to tease out information about how climate changed in the Southern Hemisphere over millions of years."
A dusty ocean
Dust is not only found on land though that is where it is most familiar to us. The pesky particles that build up on coffee tables also infiltrate our oceans, thanks to winds that constantly sweep it off land into the atmosphere. And that's good, since plankton use iron and other nutrients from the tiny specks to grow. In the process, they draw down heat-trapping carbon dioxide (CO2) from the atmosphere above. When plankton eventually die and sink, some of them become buried in the seafloor. The carbon they've captured is buried along with them. As a result, dust has a direct and important impact on climate.
Scientists at WHOI are investigating the amount of dust blown into the Southern Ocean over tens of millions of years. In doing so, they hope to pinpoint when the Earth went through periods of warm, slightly moister weather, and when the planet turned cooler and drier.
Ann Dunlea, a marine geochemist at WHOI and one of Murray's former graduate students when they were at Boston University (US), has been analyzing sediment samples from the 2010 R/V JOIDES Resolution expedition. She says looking at dust fluxes in the ocean over time enables her to understand the climatic history of the Southern Hemisphere and know, for example, at what point Australia became a dry and dusty place. It happened after the land mass dislodged from Antarctica 50-35 million years ago and migrated north, she says.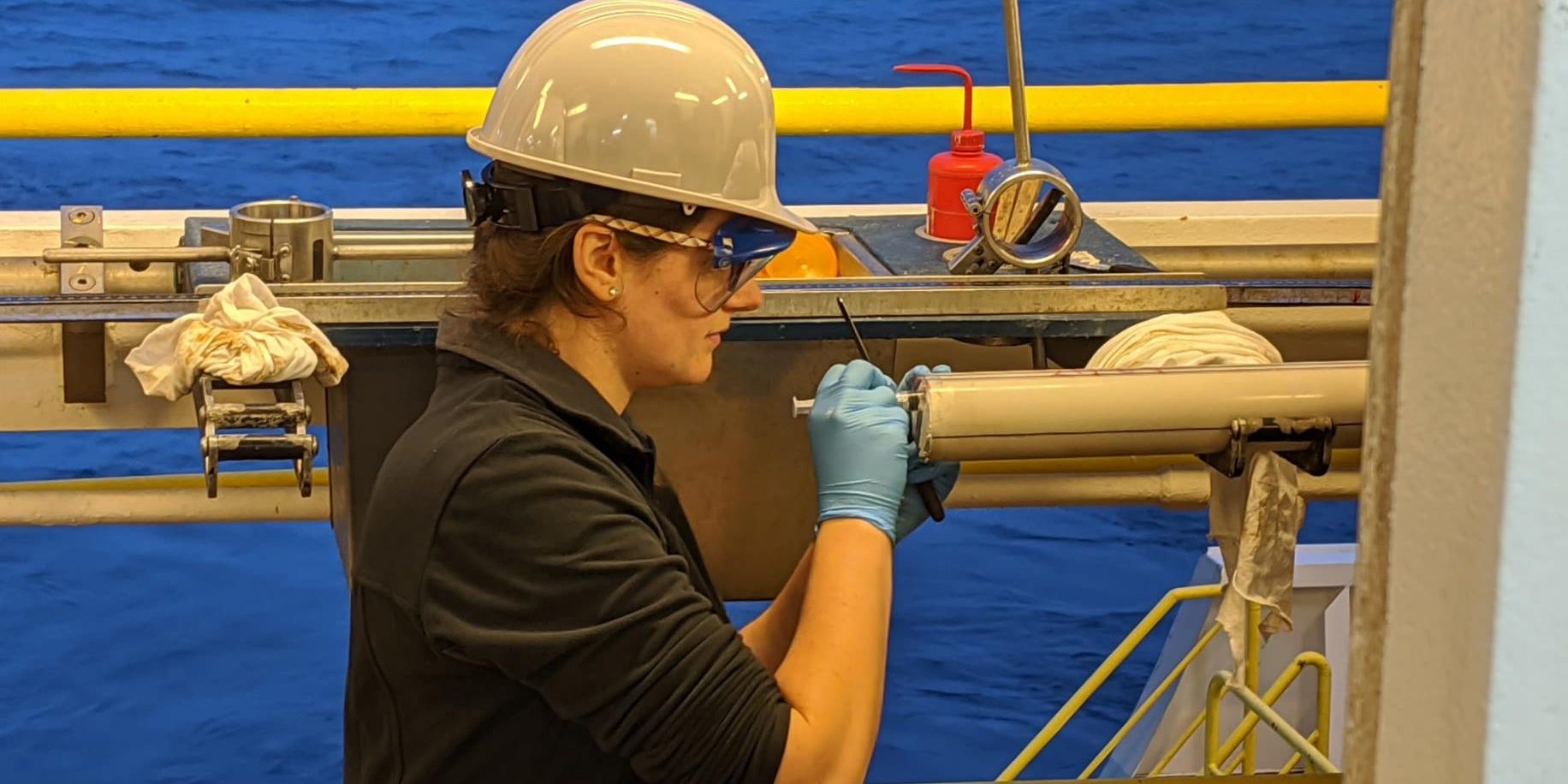 WHOI marine geochemist Ann Dunlea samples sediment from a core drilled on the R/V JOIDES Resolution. Analysis of dust in the samples allows her to reconstruct the climatic history of the Southern Hemisphere over tens of millions of years. Photo by Alex Reis.
"In my data, you can see when the continent became desert-like as it tectonically migrated to 30 degrees south latitude," Dunlea says. She can tell by the amount of dust that came off and drifted into the open ocean.
Dust quantities are helping her reconstruct the region's climactic history, which can inform predictions of future climate. But Dunlea is also analyzing the "oozy clay goo" to understand more about how iron and other micronutrients have cycled across ocean basins and influenced biological productivity in this oceanic desert, where nutrients run scarce. "Knowing how nutrient content levels have changed over millions of years can tell us more about how different plankton communities involved in the biological carbon pump have evolved over these time scales," she says.
A place of extremes
None of these analyses would be possible without ancient ocean sediments, those that go way back to when dinosaurs walked the Earth.
To collect sediments of that vintage, Murray and his colleagues had to trek 10,000 nautical miles through the South Pacific to a location near the Point Nemo region-the furthest point in the global ocean from land. "The sediment there is unique in that it accumulates incredibly slowly—about a meter per million years," Murray says. "This means that there is a lot of time for the sediments to collect dust and minerals that we can use for analysis."
He says there are no near-shore areas that will give you 100 million years of climate history so scientists need to go extreme locations to drill for sediments of that age.
"We were so far from anything, we would have been in a lot of trouble if something went wrong during the cruise. Like a satellite crashing down on us," he laughs.
Dust isn't the only thing that persists in these ancient sediments. They also contain dormant deep-sea microbes that researchers from the JAPAN AGENCY FOR MARINE-EARTH SCIENCE AND TECHNOLOGY [国立研究開発法人海洋研究開発機構] (JP) (JAMSTEC) recently incubated, fed, and woke from their 100-million-year snooze fests.
Another extreme, Murray says, was the tap-water-like clarity of the seawater where they drilled. "At one point we looked over the side of the ship and saw what appeared to be five-inch fish swimming deep down. When they came up to the surface, we couldn't believe these tiny fish were actually 18-foot sharks!"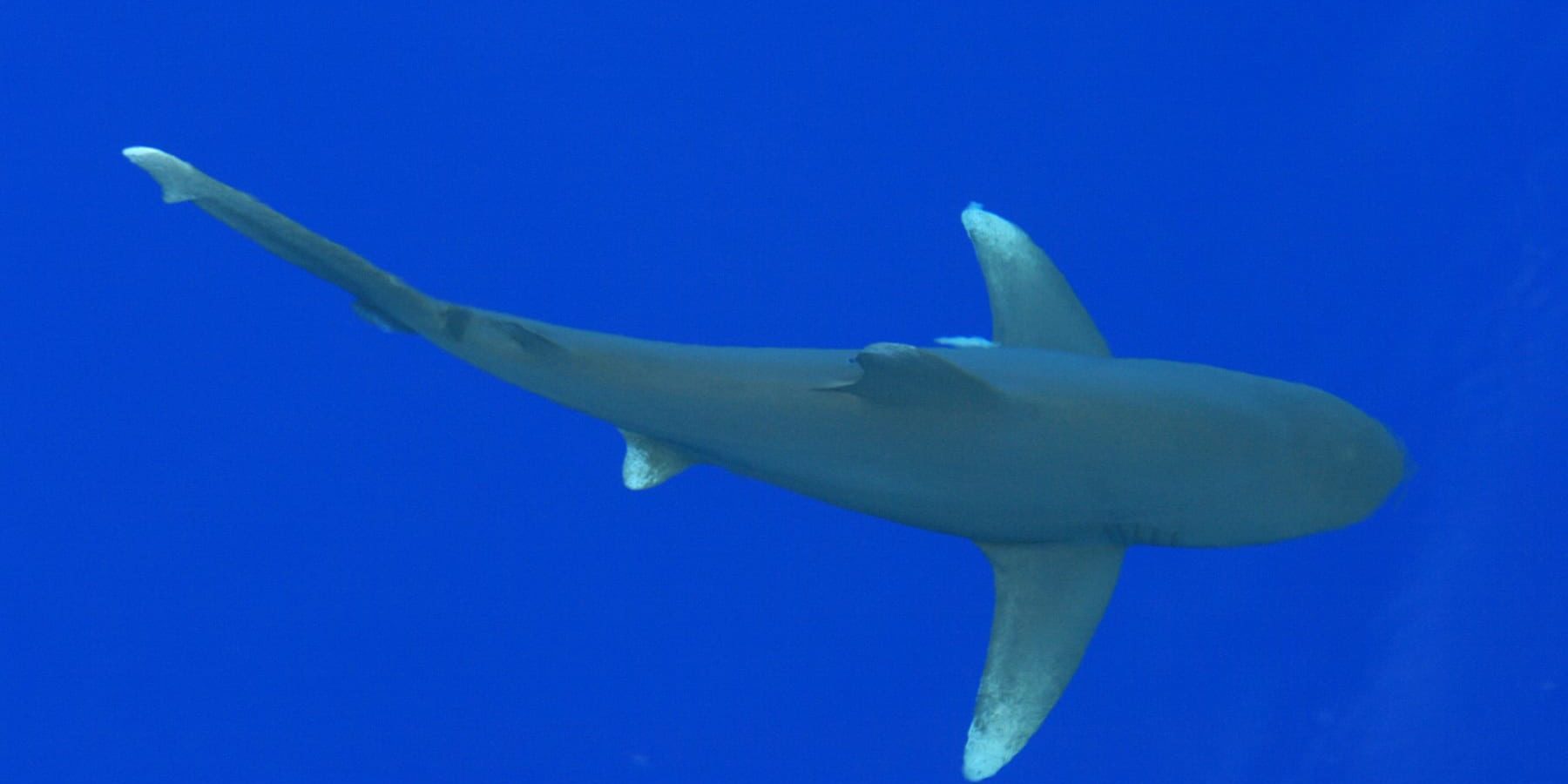 Due to incredibly clear waters, 18-foot sharks like the white-tipped shark shown here, looked like small fish down deep from the side of the ship during the 2010 R/V JOIDES Resolution expedition. Photo by Carlos Alvarez Zarikian, International Ocean Discovery Program, Texas A&M University (US))
Understanding the sources
Dunlea has found a window into ancient climate patterns, but the process hasn't been without challenges. For instance, she has had to develop analytical techniques to distinguish continental dust from volcanic ash, which look identical even under a microscope. She must analyze the chemical composition of the sediments and ferret out hidden trends in the data with advanced statistical techniques.
"It's important to know what's dust and what's ash, since ash won't tell us anything about warm or cold periods in the geologic record, and factoring it in will skew our results," Dunlea says. "The ash can tell us, however, more about the history of volcanism, how many eruptions there have been, and how that may have impacted global climate."
Another material she has found in the sediments is cosmogenic dust from outer space-tiny micrometeorites that bombard the Earth each day. Dunlea says the slowly-accumulating sediment in the South Pacific Gyre also allows for a high concentration of these cosmic particles, some of which she can extract with a magnet.
The next phase of the research will involve investigating how much iron content in the ocean may be coming from another source: metal-rich fluids erupting from hydrothermal vents on the seafloor.
"It is commonly assumed that almost all iron in surface waters comes from dust, but recent research suggests that vents could be another important source of iron," Dunlea says. "It's unclear how far hydrothermal plumes can travel or if iron from them can reach surface waters, so those are some of the questions we're trying to tackle in order to better understand past climate patterns and improve our predictions of future ones."
This research is funded by the National Science Foundation's Division of Ocean Sciences (US).
See the full article here .
five-ways-keep-your-child-safe-school-shootings
Please help promote STEM in your local schools.
Mission Statement
The Woods Hole Oceanographic Institution (US) is dedicated to advancing knowledge of the ocean and its connection with the Earth system through a sustained commitment to excellence in science, engineering, and education, and to the application of this knowledge to problems facing society.
Vision & Mission
The ocean is a defining feature of our planet and crucial to life on Earth, yet it remains one of the planet's last unexplored frontiers. For this reason, WHOI scientists and engineers are committed to understanding all facets of the ocean as well as its complex connections with Earth's atmosphere, land, ice, seafloor, and life—including humanity. This is essential not only to advance knowledge about our planet, but also to ensure society's long-term welfare and to help guide human stewardship of the environment. WHOI researchers are also dedicated to training future generations of ocean science leaders, to providing unbiased information that informs public policy and decision-making, and to expanding public awareness about the importance of the global ocean and its resources.
The Institution is organized into six departments, the Cooperative Institute for Climate and Ocean Research, and a marine policy center. Its shore-based facilities are located in the village of Woods Hole, Massachusetts(US) and a mile and a half away on the Quissett Campus. The bulk of the Institution's funding comes from grants and contracts from the National Science Foundation(US) and other government agencies, augmented by foundations and private donations.
WHOI scientists, engineers, and students collaborate to develop theories, test ideas, build seagoing instruments, and collect data in diverse marine environments. Ships operated by WHOI carry research scientists throughout the world's oceans. The WHOI fleet includes two large research vessels (R/V Atlantis and R/V Neil Armstrong); the coastal craft Tioga; small research craft such as the dive-operation work boat Echo; the deep-diving human-occupied submersible Alvin; the tethered, remotely operated vehicle Jason/Medea; and autonomous underwater vehicles such as the REMUS and SeaBED.
WHOI offers graduate and post-doctoral studies in marine science. There are several fellowship and training programs, and graduate degrees are awarded through a joint program with the Massachusetts Institute of Technology(US). WHOI is accredited by the New England Association of Schools and Colleges (US). WHOI also offers public outreach programs and informal education through its Exhibit Center and summer tours. The Institution has a volunteer program and a membership program, WHOI Associate.
On October 1, 2020, Peter B. de Menocal became the institution's eleventh president and director.
History
In 1927, a National Academy of Sciences(US) committee concluded that it was time to "consider the share of the United States of America in a worldwide program of oceanographic research." The committee's recommendation for establishing a permanent independent research laboratory on the East Coast to "prosecute oceanography in all its branches" led to the founding in 1930 of the Woods Hole Oceanographic Institution(US).
A $2.5 million grant from the Rockefeller Foundation supported the summer work of a dozen scientists, construction of a laboratory building and commissioning of a research vessel, the 142-foot (43 m) ketch R/V Atlantis, whose profile still forms the Institution's logo.
WHOI grew substantially to support significant defense-related research during World War II, and later began a steady growth in staff, research fleet, and scientific stature. From 1950 to 1956, the director was Dr. Edward "Iceberg" Smith, an Arctic explorer, oceanographer and retired Coast Guard rear admiral.
In 1977 the institution appointed the influential oceanographer John Steele as director, and he served until his retirement in 1989.
On 1 September 1985, a joint French-American expedition led by Jean-Louis Michel of IFREMER and Robert Ballard of the Woods Hole Oceanographic Institution identified the location of the wreck of the RMS Titanic which sank off the coast of Newfoundland 15 April 1912.
On 3 April 2011, within a week of resuming of the search operation for Air France Flight 447, a team led by WHOI, operating full ocean depth autonomous underwater vehicles (AUVs) owned by the Waitt Institute discovered, by means of sidescan sonar, a large portion of debris field from flight AF447.
In March 2017 the institution effected an open-access policy to make its research publicly accessible online.
The Institution has maintained a long and controversial business collaboration with the treasure hunter company Odyssey Marine. Likewise, WHOI has participated in the location of the San José galleon in Colombia for the commercial exploitation of the shipwreck by the Government of President Santos and a private company.
In 2019, iDefense reported that China's hackers had launched cyberattacks on dozens of academic institutions in an attempt to gain information on technology being developed for the United States Navy. Some of the targets included the Woods Hole Oceanographic Institution. The attacks have been underway since at least April 2017.