From The Michigan State University
5.19.23
Africa's trees are located outside areas classified as forest
MSU Department of Forestry professor David Skole, in partnership with NASA and European collaborators, led a team of researchers on a quest to count and map every tree in Africa using precise satellite imaging captured over the course of a year. New results from this research were recently published in the journal Nature Communications [below].
Researchers ultimately discovered that 29 percent of tree cover in Africa is found outside areas previously classified as woodlands or forests — such as in croplands and grassland.
Such precise mapping of tree cover, down to the level of individual trees, has the potential to redefine land-use impacts, build a basis for natural climate solutions through novel land-use practices, and provide a new scientific basis for elevating tree-based analysis to support climate change mitigation policies and actions, and enhance local livelihoods at the same time.
Previous monitoring systems were unable to account for trees outside of forests and other mapping efforts are too costly to reproduce on a consistent basis. Skole and his team partnered with NASA to use high-resolution images from PlanetScope nanosattelites, allowing precise tree counting to rectify previous errors in tree calculations.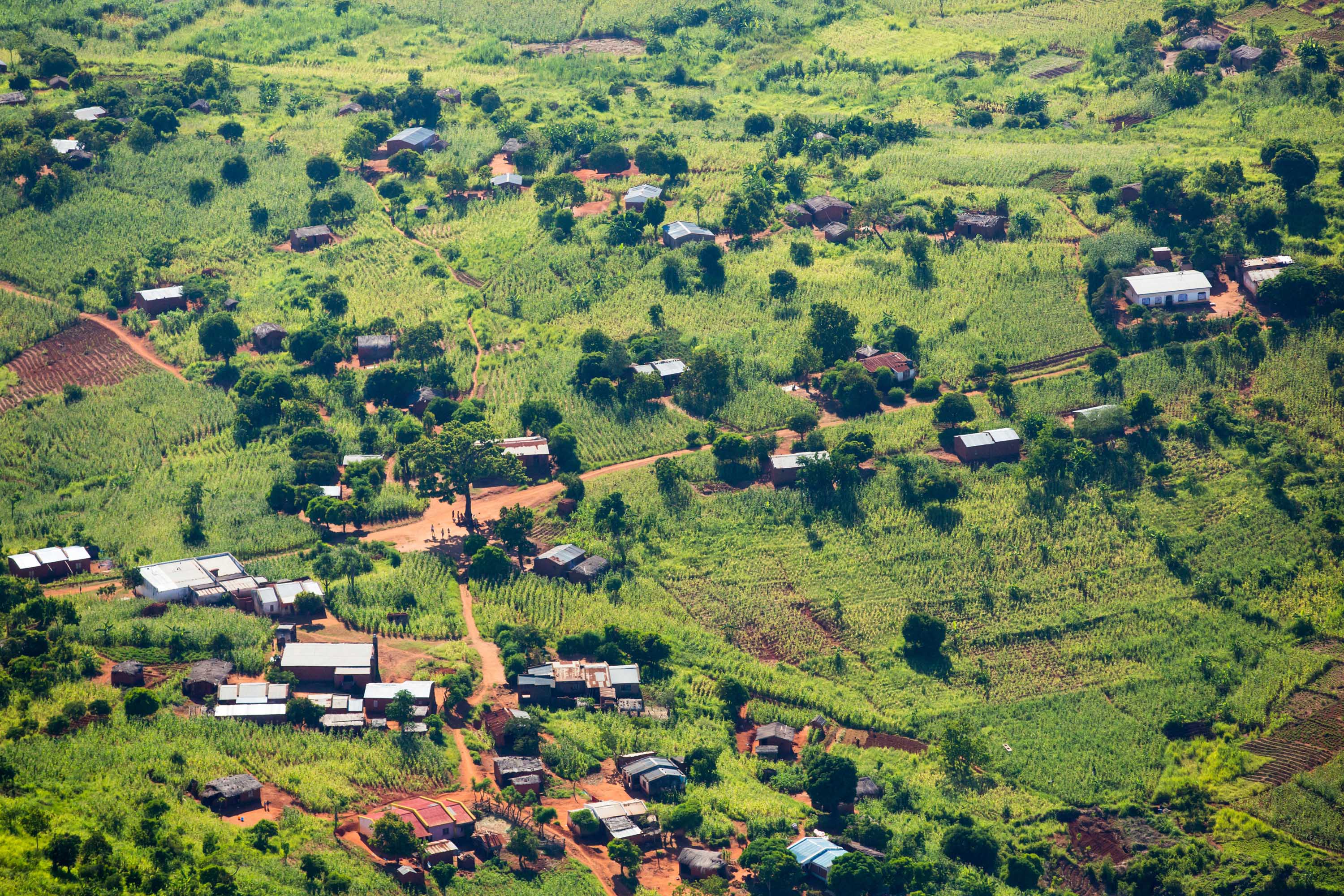 Trees outside of forests in Malawi, Africa.
The first leg of Skole's research began in Malawi, with the goal of counting trees outside of forests in the southeast African nation. Precision imaging allowed researchers to account for trees in areas as small as 0.1 hectare (1/4 acre), when previous tree-cover mapping was done on a scale of 1 hectare (2.5 acres). Next the team developed the means to use very high-resolution satellite data to detect and map individual tree crowns in Senegal at the resolution half-a-meter (5 square feet, 0.0001 acres), which is "smaller than my kitchen table," says Skole.
The project in Senegal proved the concept that a full accounting of tree cover down to the individual tree level was possible on a countrywide scale, and Skole's team and collaborators began to scale up the project.
Next, the team attempted to account for tree cover on a national scale in Rwanda, but in addition attempted to detect tree-level carbon stocks. A carbon stock is a system in which carbon can be stored or released. The Rwanda project allowed researchers to account for a complete picture of the nation's carbon stock.
"Scaling up to the entire continent of Africa, we can now specifically measure trees to inform us on what needs to be done for moving forward to improve carbon mitigation efforts," said Skole, whose MSU AgBioResearch funded research focuses on land-use change, the global carbon cycle, and identifying mitigation and adaptation solutions.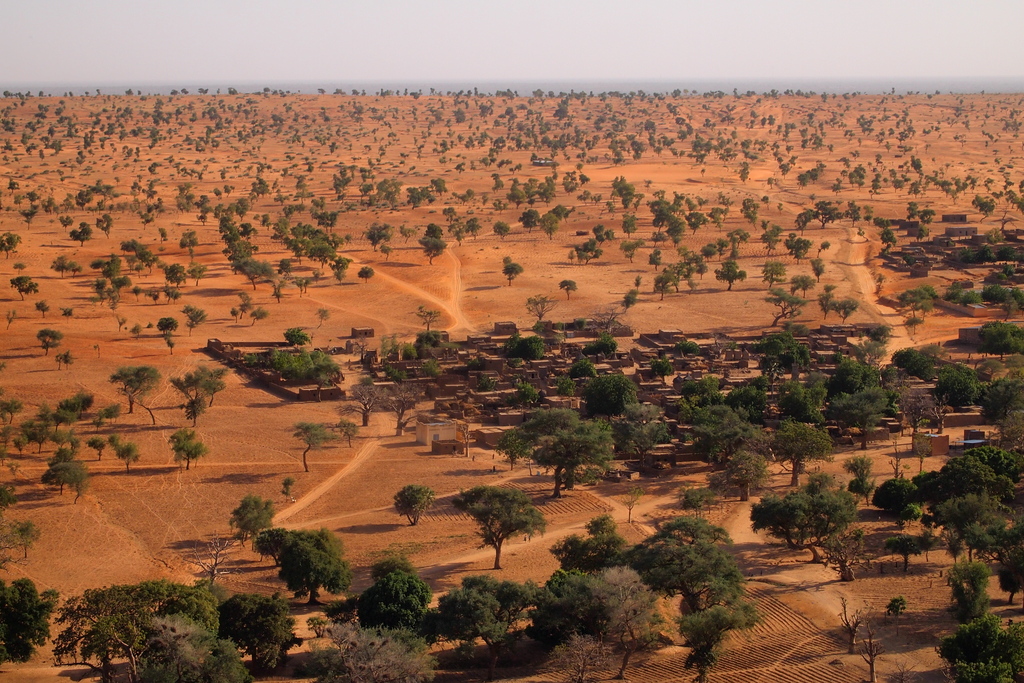 Trees outside of forests in Senegal, Africa
Mapping trees on a more precise scale allows land managers to adjust their mitigation and planning efforts for their unique tree cover and land-use needs.
"Tree cover has no meaning," Skole said. "Yes, you can detect it, you can say 'this 30-by-30 meter area probably has trees,' but you need to plant individual trees and monitor the success of tree planting at the individual scale. This way you can monitor progress over time as they grow and sequester."
The research team now hopes to use the data gathered through satellite imaging to model potential carbon storage and mitigation options in these previously unaccounted for areas of tree cover in Africa.
In addition to having new very high-resolution earth observation satellite data in massive amounts, detection of individual tree "objects" is achieved using new machine learning, which involves computerized programs that train themselves to detect and "draw" complex patterns and spatial objects such as trees and tree crowns. MSU forest carbon experts can then build new models that relate these tree attributes to the weight of the tree, which in turn can be numerically converted to the tree's stock of carbon, because we know that half of all living tree mass is comprised of carbon.
Using MSU's high performance computing center, the Institute for Cyber-Enabled Research Center, as well as collaborating computing centers in Copenhagen and NASA, these algorithms can be applied to tens of thousands of high-resolution satellite images, more data and information in bytes than twice the amount in the MSU library. A combination of massive data, new algorithms, new forestry models and new computational infrastructure produce billions of trees and their assigned carbon stocks.
Mapping and monitoring tree systems outside of forests will allow for better carbon sequestration efforts on a local, national and eventually global scale. Mapping and monitoring carbon stocks is one of the most important factors of climate change mitigation, and demand for accurate tree accounting is high.
"The next step is taking science out of the lab, and putting it into practice," Skole said. "We can put the science of monitoring in the hands of people that can use it." For that, the team is now funded by the World Resources Institute, the Bezos Earth Fund, and the African Union Development Agency to enable advanced continent-wide measurements of carbon stocks in tree-planting, agroforestry and other natural climate solutions projects across all of Africa.
Fig. 1: Mapped tree cover across areas of different tree densities.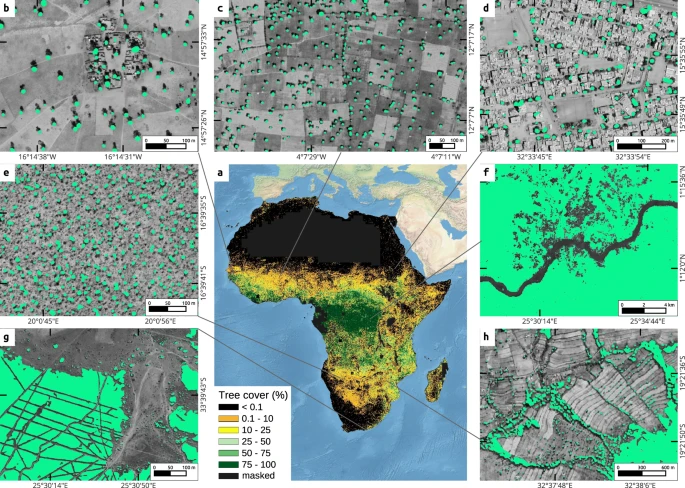 a) Percentage tree cover, at 1 km spatial resolution; (b–h) examples of predicted tree cover overlaid on Google Maps satellite imagery (Imagery © 2022 CNES / Airbus, Landsat / Copernicus, Maxar Technologies, Map data ©2022), in: b) a village in Senegal; c) agricultural fields in Burkina Faso; d) an urban environment in Khartoum, Sudan; e) Miombo woodlands in Angola; f) deforestation in the Democratic Republic of Congo (DRC); g) Eucalyptus plantations in South Africa; h) terrace farming in Zimbabwe. The ocean basemaps in a are from http://www.naturalearth.com.
Fig. 2: Distribution of tree cover by rainfall and percent cover.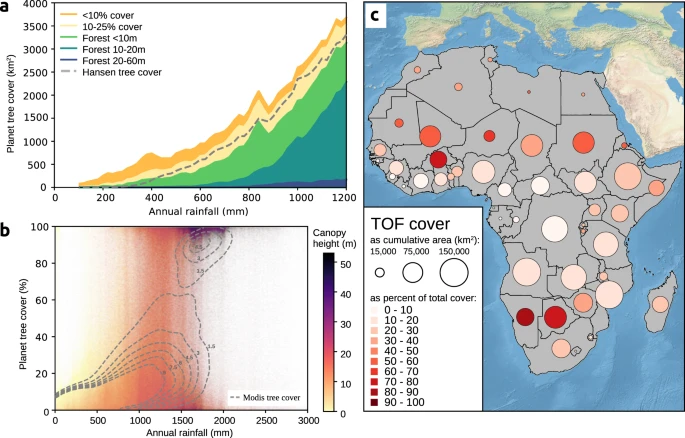 a) Total tree cover area by rainfall. Tree cover is classified into forest at different heights [21*], and into two groups of trees outside forest (TOF) with canopy cover <10% and 10–25%, respectively. A current state-of-the-art global map is added for comparison [12]. This figure highlights the regions below 1200 mm rainfall and the full map is shown in Supplementary Fig. 2a. b) Tree cover vs. rainfall at 100 m resolution using a random sample of 10 million grids, with hue as the forest height [21], and isolines overlaid for MODIS tree cover [49] from 100 000 samples at 250 m, with isoline units as relative probability per rainfall and cover grid cell. c) Contribution of trees outside forests (TOF) to total tree cover at country scale. We group trees in 30 × 30 m grids and define a cell as non-forest if the canopy cover is below 25%, and as forest, if it exceeded 25%. Tree cover is subsequently accumulated for each country. The ocean basemaps are from http://www.naturalearth.com.
*References in the science paper
See the full article here .
Comments are invited and will be appreciated, especially if the reader finds any errors which I can correct. Use "Reply".

five-ways-keep-your-child-safe-school-shootings
Please help promote STEM in your local schools.


Stem Education Coalition
The Michigan State University is a public research university located in East Lansing, Michigan, United States. Michigan State University was founded in 1855 and became the nation's first land-grant institution under the Morrill Act of 1862, serving as a model for future land-grant universities.
The university was founded as the Agricultural College of the State of Michigan, one of the country's first institutions of higher education to teach scientific agriculture. After the introduction of the Morrill Act, the college became coeducational and expanded its curriculum beyond agriculture. Today, Michigan State University is one of the largest universities in the United States (in terms of enrollment) and has approximately 634,300 living alumni worldwide.
U.S. News & World Report ranks its graduate programs the best in the U.S. in elementary teacher's education, secondary teacher's education, industrial and organizational psychology, rehabilitation counseling, African history (tied), supply chain logistics and nuclear physics in 2019. Michigan State University pioneered the studies of packaging, hospitality business, supply chain management, and communication sciences. Michigan State University is a member of the Association of American Universities and is classified among "R1: Doctoral Universities – Very high research activity". The university's campus houses the National Superconducting Cyclotron Laboratory, the W. J. Beal Botanical Garden, the Abrams Planetarium, the Wharton Center for Performing Arts, the Eli and Edythe Broad Art Museum, the Facility for Rare Isotope Beams, and the country's largest residence hall system.
Research
The university has a long history of academic research and innovation. In 1877, botany professor William J. Beal performed the first documented genetic crosses to produce hybrid corn, which led to increased yields. Michigan State University dairy professor G. Malcolm Trout improved the process for the homogenization of milk in the 1930s, making it more commercially viable. In the 1960s, Michigan State University scientists developed cisplatin, a leading cancer fighting drug, and followed that work with the derivative, carboplatin. Albert Fert, an Adjunct professor at Michigan State University, was awarded the 2007 Nobel Prize in Physics together with Peter Grünberg.
Today Michigan State University continues its research with facilities such as the Department of Energy -sponsored Plant Research Laboratory and a particle accelerator called the National Superconducting Cyclotron Laboratory [below]. The Department of Energy Office of Science named Michigan State University as the site for the Facility for Rare Isotope Beams (FRIB). The $730 million facility will attract top researchers from around the world to conduct experiments in basic nuclear science, astrophysics, and applications of isotopes to other fields.
Michigan State University FRIB [Facility for Rare Isotope Beams] .
In 2004, scientists at the Cyclotron produced and observed a new isotope of the element germanium, called Ge-60 In that same year, Michigan State University, in consortium with the University of North Carolina at Chapel Hill and the government of Brazil, broke ground on the 4.1-meter Southern Astrophysical Research Telescope (SOAR) in the Andes Mountains of Chile.
The consortium telescope will allow the Physics & Astronomy department to study galaxy formation and origins. Since 1999, Michigan State University has been part of a consortium called the Michigan Life Sciences Corridor, which aims to develop biotechnology research in the State of Michigan. Finally, the College of Communication Arts and Sciences' Quello Center researches issues of information and communication management.
The Michigan State University Spartans compete in the NCAA Division I Big Ten Conference. Michigan State Spartans football won the Rose Bowl Game in 1954, 1956, 1988 and 2014, and the university claims a total of six national football championships. Spartans men's basketball won the NCAA National Championship in 1979 and 2000 and has attained the Final Four eight times since the 1998–1999 season. Spartans ice hockey won NCAA national titles in 1966, 1986 and 2007. The women's cross country team was named Big Ten champions in 2019. In the fall of 2019, MSU student-athletes posted all-time highs for graduation success rates and federal graduation rates, according to NCAA statistics.