22 November 2019

Outreach@ESO
Did you know that the beautiful images of the cosmos that we see online and in books don't typically come directly from telescopes? Raw, black and white images are processed into colourful photos that not only look stunning, but also bring out fine details to help scientists understand more about the Universe. At ESO, this processing is partly done by our visual artists, Martin Kornmesser and Luis Calçada. But their work doesn't stop there; Martin and Luis also illustrate mysterious objects that we can't use telescopes to image clearly or directly — making the invisible visible and helping us imagine the most mysterious parts of the Universe.
Q. First of all, why don't we show the images as they are collected by the telescopes and how do you transform raw telescope images into stunning images of the cosmos?
MK: We initially get many images of the same object, each of which is a record of a different wavelength of light. These images come in FITS format — a digital file format that is commonly used in astronomy. We assign a colour to each wavelength and layer these images on top of each other to make one nice coloured image.
Below is an image before and after I processed it. Some images are more difficult to process than others; a mosaic image from ESO's VLT Survey Telescope (VST) [below], for example, involves a lot more work than a Hubble Space Telescope image, because it contains billions of pixels. The challenge with giant images is that they need to look good when you zoom out and also when you zoom in. But in the end, the VST wide-angle images are among my favourites. Totally worth all the effort.

The Cat's Paw Nebula, before (left) and after processing and mixing all filters (right).
Credit: ESO
Q. How do you create an artist's impression to visualise something we can't yet image directly, like the surface of an exoplanet?
Luis Calçada (LC): Often, we cannot see them close up, but scientific analysis reveals most of the physical processes behind these objects or events. This means that we can usually (at least partly!) guess how something looks. We know the velocities, we know the scales, we know the temperature, and that all translates into something physical, something visual. For example, if an object has a certain temperature then we know it emits radiation at a certain wavelength, so we can assign colours to it.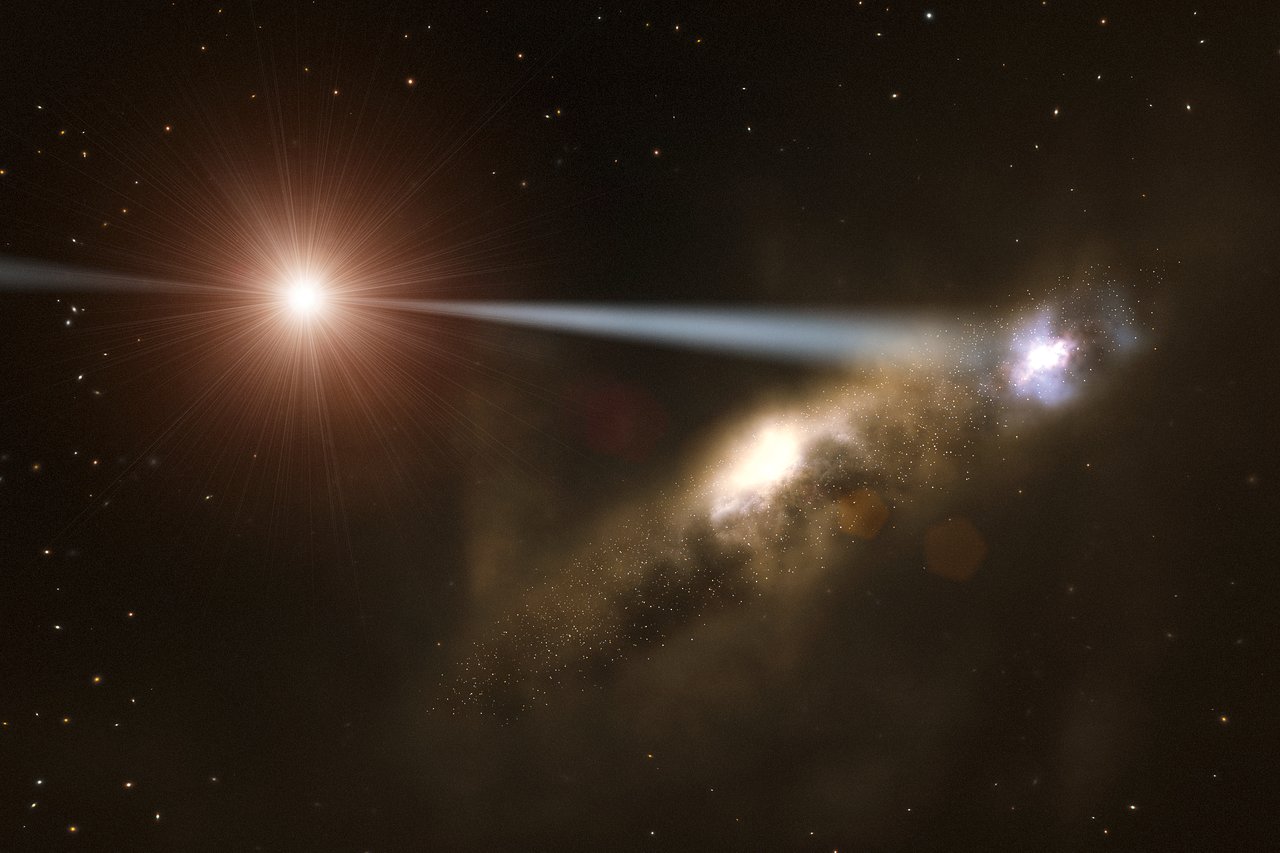 This artist's impression shows how jets from supermassive black holes could form galaxies, thereby explaining why the mass of black holes is larger in galaxies that contain more stars. Credit: ESO/L. Calçada
That's exactly why it's interesting to create these images, because we can work out how an object looks to some extent. It's not just down to the imagination, it is also based on science.
Q. How long does it take you to create an image or an animation?
LC: We've had cases where we have spent a couple of weeks on some stuff when it is very important, like for the images and simulations we created for the release of the first image of a black hole earlier this year. But for weekly press releases sometimes we take just one or two days. Some things are quicker than others; we've done so many exoplanets, for example, that for them it's just a case of changing the colour and composition to match the new observations. It's different when we're drawing or animating something completely new.

Superheated material swirling around the black hole at the heart of Messier 87, which was imaged by the Event Horizon Telescope. Credit: ESO/M. Kornmesser
Q. What does a typical working day at ESO look like for you?
MK: Luckily there are no typical days at work for me. I'm fortunate to be able to work with talented people on a lot of different projects. We work on visuals for the ESO site, for the ESO Supernova Planetarium & Visitor Centre, and also the Hubble Space Telescope, so it doesn't get boring very often.
The best days for me are of course the ones where I am let off the leash, allowed to do whatever I want without restrictions, such as illustrating abstract physical phenomena in frontier science where nobody really knows what it should look like. A dream for every artist.
Q. How did you come into this role? Is this a career you always knew you wanted?
LC: When I was studying astronomy, I started working in a planetarium and I thought, "oh, we need some visuals for this", so I gave it a go. I started teaching myself about computer graphics and astronomy animation, and continued developing my skills in that direction before ending up at ESO. Illustration was not something I'd thought about as a kid but when I got into it, I really enjoyed it. So for me, combining illustration with astronomy at ESO is the best place I could be.

Artist's impression of a baby star still surrounded by a protoplanetary disc in which planets are forming. Using ESO's very successful HARPS spectrograph [below], a team of astronomers has found that Sun-like stars which host planets have destroyed their lithium much more efficiently than planet-free stars. This finding does not only shed light on the low levels of this chemical element in the Sun, solving a long-standing mystery, but also provides astronomers with a very efficient way to pick out the stars most likely to host planets. It is not clear what causes the lithium to be destroyed. The general idea is that the planets or the presence of the protoplanetary disc disturb the interior of the star, bringing the lithium deeper down into the star than usual, into regions where the temperature is so hot that it is destroyed. Credit: ESO/L. Calçada

This is the sharpest image ever taken by ALMA — sharper than is routinely achieved in visible light with the NASA/ESA Hubble Space Telescope. It shows the protoplanetary disc surrounding the young star HL Tauri. These new ALMA observations reveal substructures within the disc that have never been seen before and even show the possible positions of planets forming in the dark patches within the system. Credit: ALMA (ESO/NAOJ/NRAO)
Martin is a graphics designer which is nice because we really complement each other. He has the formal art background and I have the astronomical one. He has already been working here for something like twenty years though, so by now he's got a pretty good knowledge of astrophysics!
Q. Martin, when you started working at ESO, image processing technology must have been quite different. How has the software changed over the years and how does that impact your work?
MK: Besides the very much improved computer power and reliability, actually not much has changed. Although artificial intelligence is coming into play more and more, for example for sharpening, noise reduction etc., the most important things are still to have a clear vision of where you want to go, and being careful not to overdo it. My motto is "Maximum Natural", meaning I try to squeeze everything out of the data without going overboard.

This colour-composite image of the Helix Nebula (NGC 7293) was created from images obtained using the Wide Field Imager (WFI), an astronomical camera attached to the 2.2-metre Max-Planck Society/ESO telescope at the La Silla observatory in Chile [below].
The blue-green glow in the centre of the Helix comes from oxygen atoms shining under effects of the intense ultraviolet radiation of the 120 000 degree Celsius central star and the hot gas. Further out from the star and beyond the ring of knots, the red colour from hydrogen and nitrogen is more prominent. A careful look at the central part of this object reveals not only the knots, but also many remote galaxies seen right through the thinly spread glowing gas.
This image was created from images through blue, green and red filters and the total exposure times were 12 minutes, 9 minutes and 7 minutes respectively.
This image is available as a mounted image in the ESOshop.
Credit: ESO
Q. Do you have an idea of the impact your images or animations have online or in the media?
LC: Since I joined ESO thirteen years ago, I have produced a lot of images that have been used on book covers and even on Wikipedia. It's interesting when you look up some phenomena and go onto the Wikipedia page and there's your image! I feel lucky to have produced some images that go down as the recorded image for a certain phenomena.
MK: For example my illustration of the Solar System ended up as the main image on the Wikipedia page for the Solar System!
Q. What do you think the future will look like for astronomical images?
MK: Over the next few years, two exciting new telescopes will arrive on the scene, the James Webb Space Telescope and the Extremely Large Telescope (ELT). Both will primarily observe near-infrared light, with James Webb providing crisp images from space, and the ELT providing images with an incredible amount of detail.
These new telescopes will confront our imagined illustrations with real images, which is always exciting. In 2009 we illustrated the atmosphere of Pluto, way before the New Horizons spacecraft took photos of the planet close-up. The real images were so similar to our illustrations!
Also, I think that in the future images will be processed more and more by artificial intelligence, rather than one person using one computer.

Artist's impression of how the surface of Pluto might look, according to one of the two models that a team of astronomers has developed to account for the observed properties of Pluto's atmosphere, as studied with CRIRES. The image shows patches of pure methane on the surface. At the distance of Pluto, the Sun appears about 1,000 times fainter than on Earth. Credit: ESO/L. Calçada

Real observation of Pluto, taken by NASA's New Horizon Spacecraft on 14 July 2015. Credit: NASA/JHUAPL/SwRI

Q. What advice would you give to someone looking to get into space illustration?
MK: My advice for everyone interested in image processing would be; get the best out of the newest technology but don't get carried away. I think we have all seen images which look more like a psychedelic-neon-pizza than a nebula. So don't do everything possible just because it is possible.
Q. What do you think is the most exciting part of your job?
MK: From the feedback we get from the millions of followers and astronomy enthusiasts around the world we know how much people love space images, and how much these images help connect people with the sometimes complicated scientific discoveries that ESO conveys. We seem to touch people on a deep emotional, sometimes even spiritual level with our images; for me, this is probably the most rewarding aspect of our work.
You basically start with a blank sheet of paper and infinite possibilities. It is really fascinating to understand and fully master the tools that we have nowadays. Whether it's image processing, animations or video editing, aligning the vision of an artist and the hard facts coming from a passionate scientist is pretty cool.
The first detected interstellar asteroid `Oumuamua being discussed at The Late Show with Stephen Colbert, with Martin's illustration of the asteroid in the background. The illustration was based on observations by the Very Large Telescope [below] and the Hubble Space Telescope.
Credit: ESO/M. Kornmesser/The Late Show with Stephen Colbert
See the full article here .

five-ways-keep-your-child-safe-school-shootings
Please help promote STEM in your local schools.


Stem Education Coalition
Visit ESO in Social Media-
ESO is the foremost intergovernmental astronomy organisation in Europe and the world's most productive ground-based astronomical observatory by far. It is supported by 16 countries: Austria, Belgium, Brazil, the Czech Republic, Denmark, France, Finland, Germany, Italy, the Netherlands, Poland, Portugal, Spain, Sweden, Switzerland and the United Kingdom, along with the host state of Chile. ESO carries out an ambitious programme focused on the design, construction and operation of powerful ground-based observing facilities enabling astronomers to make important scientific discoveries. ESO also plays a leading role in promoting and organising cooperation in astronomical research. ESO operates three unique world-class observing sites in Chile: La Silla, Paranal and Chajnantor. At Paranal, ESO operates the Very Large Telescope, the world's most advanced visible-light astronomical observatory and two survey telescopes. VISTA works in the infrared and is the world's largest survey telescope and the VLT Survey Telescope is the largest telescope designed to exclusively survey the skies in visible light. ESO is a major partner in ALMA, the largest astronomical project in existence. And on Cerro Armazones, close to Paranal, ESO is building the 39-metre European Extremely Large Telescope, the E-ELT, which will become "the world's biggest eye on the sky".
ESO/Cerro LaSilla 600 km north of Santiago de Chile at an altitude of 2400 metres.
ESO/Vista Telescope at Cerro Paranal, with an elevation of 2,635 metres (8,645 ft) above sea level.

ESO/NTT at Cerro LaSilla 600 km north of Santiago de Chile at an altitude of 2400 metres.

VLT Survey Telescope at Cerro Paranal with an elevation of 2,635 metres (8,645 ft) above sea level.
APEX Atacama Pathfinder 5,100 meters above sea level, at the Llano de Chajnantor Observatory in the Atacama desert.