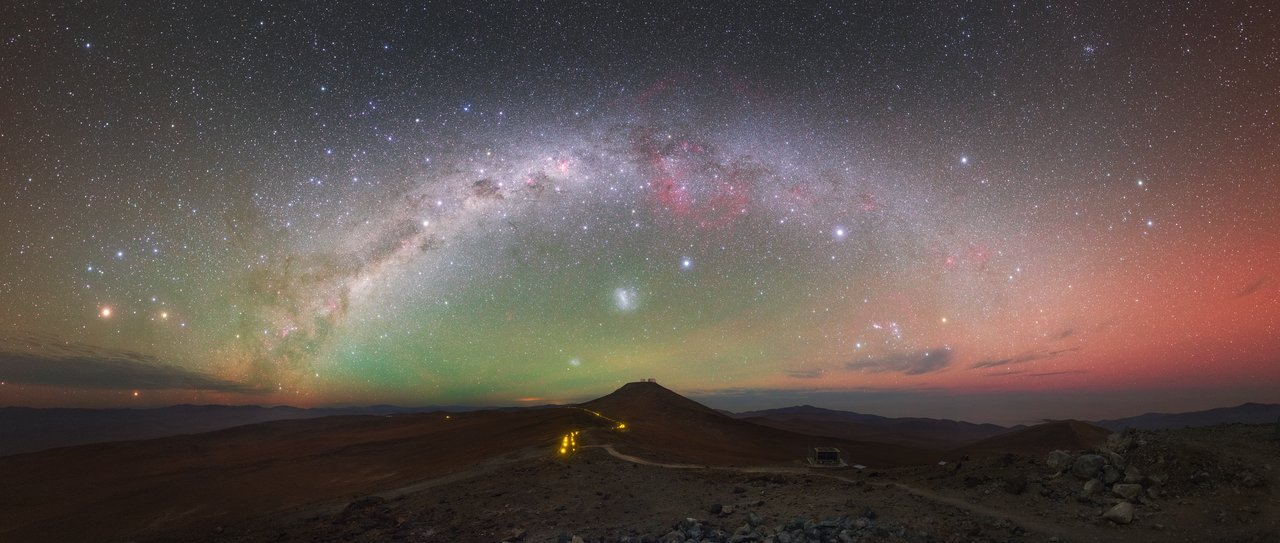 Credit: Y. Beletsky (LCO)/ESO
ESO's various observatory sites in Chile — Paranal, La Silla, Chajnantor — boast enviably low levels of light pollution. However, the skies overhead are rarely pitch-black!
As shown in this image of Paranal Observatory, the skies regularly display a myriad of colours and astronomical sights, from the plane of the Milky Way shining brightly overhead to the orange-hued speck of Mars (left), the starry constellations of Scorpius and Orion, and the magenta splash of the Carina Nebula (upper middle). Despite the remote location there are also occasional signs of human activity, for example the sequence of lamps seen in the centre of the frame. These faint lights illuminate the route from the Very Large Telescope (VLT) to the Visible and Infrared Survey Telescope for Astronomy (VISTA) where this image was taken.
Due to the highly sensitive camera this photograph also showcases a mysterious phenomenon called airglow. The night sky is ablaze with deep red and eerie green hues, caused by the faint glow of Earth's atmosphere. Because of airglow, no observatory site on Earth could ever be absolutely, completely dark — although ESO's do come pretty close.
This image was taken by talented astronomer and photographer Yuri Beletsky, a member of the 2016 ESO Fulldome Expedition team. This team visited Chile to gather spectacular images for use in the ESO Supernova Planetarium & Visitor Centre.
See the full article here .
Please help promote STEM in your local schools.

Stem Education Coalition
Visit ESO in Social Media-
ESO is the foremost intergovernmental astronomy organisation in Europe and the world's most productive ground-based astronomical observatory by far. It is supported by 16 countries: Austria, Belgium, Brazil, the Czech Republic, Denmark, France, Finland, Germany, Italy, the Netherlands, Poland, Portugal, Spain, Sweden, Switzerland and the United Kingdom, along with the host state of Chile. ESO carries out an ambitious programme focused on the design, construction and operation of powerful ground-based observing facilities enabling astronomers to make important scientific discoveries. ESO also plays a leading role in promoting and organising cooperation in astronomical research. ESO operates three unique world-class observing sites in Chile: La Silla, Paranal and Chajnantor. At Paranal, ESO operates the Very Large Telescope, the world's most advanced visible-light astronomical observatory and two survey telescopes. VISTA works in the infrared and is the world's largest survey telescope and the VLT Survey Telescope is the largest telescope designed to exclusively survey the skies in visible light. ESO is a major partner in ALMA, the largest astronomical project in existence. And on Cerro Armazones, close to Paranal, ESO is building the 39-metre European Extremely Large Telescope, the E-ELT, which will become "the world's biggest eye on the sky".