9 January 2018
Marc Cayrel
ESO, Head of ELT Optomechanics
Garching bei München, Germany
Tel: +49 89 3200 6685
Email: mcayrel@eso.org
Richard Hook
ESO Public Information Officer
Garching bei München, Germany
Tel: +49 89 3200 6655
Cell: +49 151 1537 3591
Email: rhook@eso.org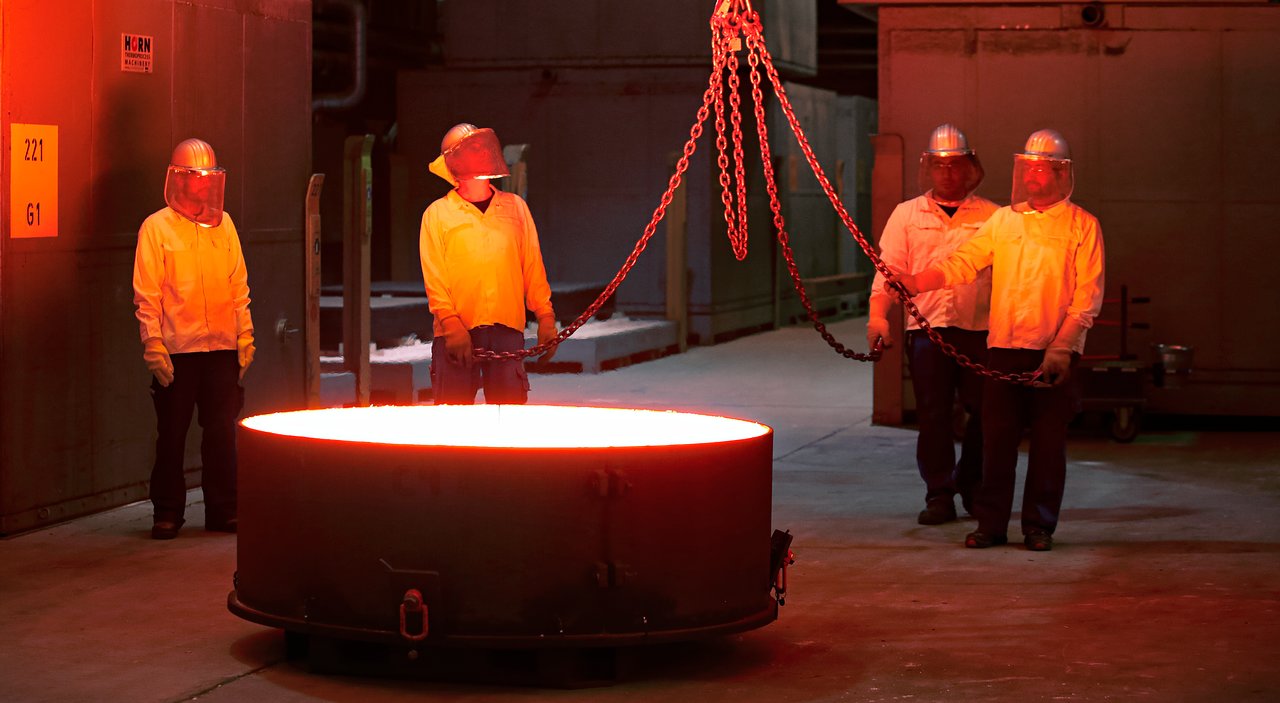 The first six hexagonal segments for the main mirror of ESO's Extremely Large Telescope (ELT) have been successfully cast by the German company SCHOTT at their facility in Mainz. These segments will form parts of the ELT's 39-metre main mirror, which will have 798 segments in total when completed. The ELT will be the largest optical telescope in the world when it sees first light in 2024. Credit: SCHOTT/ESO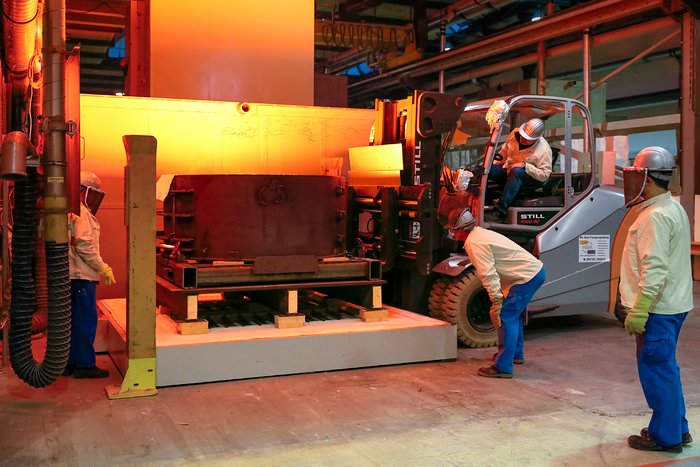 Credit: SCHOTT/ESO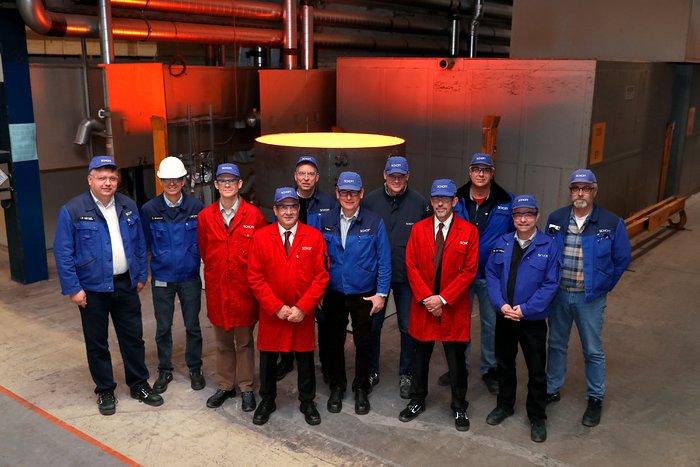 No image caption. Credit: SCHOTT/ESO

This ESOcast shows the casting of the segments and explains how they form part of the ELT. Credit: ESO.
Directed by: Nico Bartmann.
Editing: Nico Bartmann.
Web and technical support: Mathias André and Raquel Yumi Shida.
Written by: Rosa Jesse and Richard Hook.
Music: Music written and performed by: Astral Electronic.
Footage and photos: ESO, ACe Consortium, SCHOTT.
The 39-metre-diameter primary mirror of ESO's Extremely Large Telescope will be by far the largest ever made for an optical-infrared telescope. Such a giant is much too large to be made from a single piece of glass, so it will consist of 798 individual hexagonal segments, each measuring 1.4 metres across and about 5 centimetres thick. The segments will work together as a single huge mirror to collect tens of millions of times as much light as the human eye.
Marc Cayrel, head of ELT optomechanics at ESO, was present at the first castings: "It was a wonderful feeling to see the first segments being successfully cast. This is a major milestone for the ELT!"
As with the telescope's secondary mirror blank, the ELT main mirror segments are made from the low-expansion ceramic material Zerodur© [1] from SCHOTT. ESO has awarded this German company with contracts to manufacture the blanks of the first four ELT mirrors (known as M1 to M4, with M1 being the primary mirror) (eso1704).
The first segment castings are important as they allow the engineers at SCHOTT to validate and optimise the manufacturing process and the associated tools and procedures.
The casting of the first six segments is a major milestone, but the road ahead is long — in total more than 900 segments will need to be cast and polished (798 for the main mirror itself, plus a spare set of 133). When fully up to speed, the production rate will be about one segment per day.
After casting, the mirror segment blanks will go through a slow cooling and heat treatment sequence and will then be ground to the right shape and polished to a precision of 15 nanometres across the entire optical surface. The shaping and polishing will be performed by the French company Safran Reosc, which will also be responsible for additional testing (eso1717).
Notes
[1] Zerodur© was originally developed for astronomical telescopes in the late 1960s. It has an extremely low coefficient of thermal expansion, meaning that even in the case of large temperature fluctuations, the material does not expand. Chemically, Zerodur© is very resistant and can be polished to a high standard of finish. The actual reflective layer, made of aluminium or silver, is usually vaporised onto the extremely smooth surface shortly before a telescope is put into operation and at regular intervals afterwards. Many well-known telescopes with Zerodur© mirrors have been operating reliably for decades, including ESO's Very Large Telescope in Chile.
Links
Further information about the ELT
Further information on SCHOTT
Further information on Safran Reosc
See the latest news and press-releases about the ELT
ELT FAQ page
Images and videos of the ELT
See the full article here .
Please help promote STEM in your local schools.

Stem Education Coalition
Visit ESO in Social Media-
ESO is the foremost intergovernmental astronomy organisation in Europe and the world's most productive ground-based astronomical observatory by far. It is supported by 16 countries: Austria, Belgium, Brazil, the Czech Republic, Denmark, France, Finland, Germany, Italy, the Netherlands, Poland, Portugal, Spain, Sweden, Switzerland and the United Kingdom, along with the host state of Chile. ESO carries out an ambitious programme focused on the design, construction and operation of powerful ground-based observing facilities enabling astronomers to make important scientific discoveries. ESO also plays a leading role in promoting and organising cooperation in astronomical research. ESO operates three unique world-class observing sites in Chile: La Silla, Paranal and Chajnantor. At Paranal, ESO operates the Very Large Telescope, the world's most advanced visible-light astronomical observatory and two survey telescopes. VISTA works in the infrared and is the world's largest survey telescope and the VLT Survey Telescope is the largest telescope designed to exclusively survey the skies in visible light. ESO is a major partner in ALMA, the largest astronomical project in existence. And on Cerro Armazones, close to Paranal, ESO is building the 39-metre European Extremely Large Telescope, the E-ELT, which will become "the world's biggest eye on the sky".

ESO/Cerro LaSilla 600 km north of Santiago de Chile at an altitude of 2400 metres.

VLT at Cerro Paranal, with an elevation of 2,635 metres (8,645 ft) above sea level.

ESO/Vista Telescope at Cerro Paranal, with an elevation of 2,635 metres (8,645 ft) above sea level.

ESO/NTT at Cerro LaSilla 600 km north of Santiago de Chile at an altitude of 2400 metres.

VLT Survey Telescope at Cerro Paranal with an elevation of 2,635 metres (8,645 ft) above sea level.

ALMA on the Chajnantor plateau at 5,000 metres.

ESO/E-ELT to be built at Cerro Armazones at 3,060 m.

APEX Atacama Pathfinder 5,100 meters above sea level, at the Llano de Chajnantor Observatory in the Atacama desert.