From Eos: "Processes in Earth's Mantle and Surface Connections"
9.24.21
Hauke Marquardt
hauke.marquardt@earth.ox.ac.uk
Maxim Ballmer
Sanne Cottaar
Jasper Konter
A new AGU book presents a multidisciplinary perspective on the dynamic processes occurring in Earth's mantle.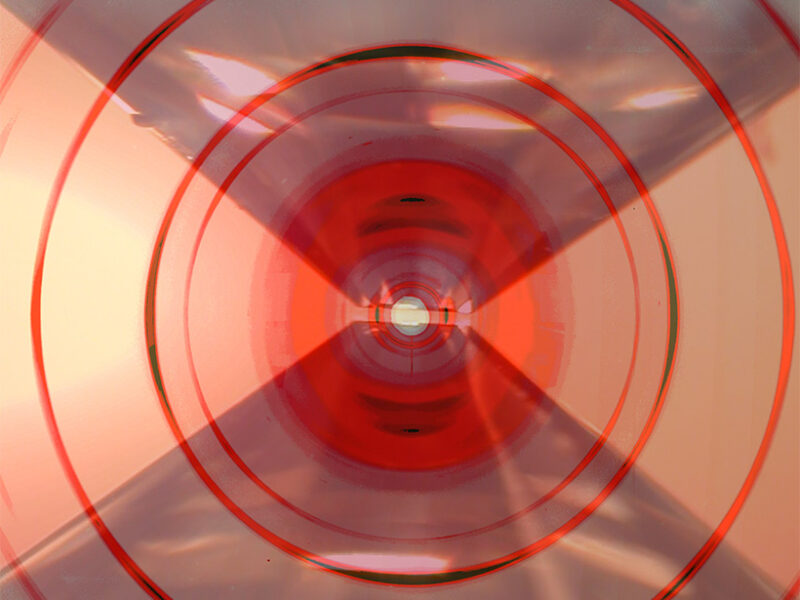 A synchrotron X-ray diffraction image collected in a high-pressure/-temperature diamond-anvil cell experiment to determine the deformation behavior of ferropericlase. Credit: © Hauke Marquardt.
The motion of material in Earth's mantle powered by heat from the deep interior moves tectonic plates on our planet's surface. This motion generates earthquakes, fuels volcanic activity, and shapes surface landscapes. Furthermore, chemical exchanges between the surface and Earth's mantle possibly stabilize the oceans and atmosphere on geologic timescales. A book recently published by AGU, Mantle Convection and Surface Expressions, gathers perspectives from observational geophysics, numerical modelling, geochemistry, and mineral physics to construct a holistic picture of the deep Earth. We asked the book's editors some questions about what readers can expect from this monograph.
In simple terms for a non-expert, can you start by explaining what the mantle is, how material moves around the mantle, and the effects of this on Earth's surface?
The mantle is the largest region in our planet, connecting the hot liquid outer core to Earth's surface. Convection in the Earth's mantle is linked to plate tectonic processes and controls the fluxes of heat and material between deep mantle reservoirs and the atmosphere over time. A better understanding of these deep-mantle material cycles and their impact on the long-term evolution of our planet requires integrated approaches that involve all disciplines in the Earth sciences.
For example, geochemical observations on the surface suggest different chemical reservoirs within the lower mantle. This would imply potentially widespread variations in physical properties driven by the chemical differences between materials.
The connection between chemical variations and physical property changes needs to be quantified by experimental and theoretical mineral physics. In turn, the constrained variations in physical properties provide the basis for self-consistent state-of-the-art geodynamic models of mantle convection.
Finally, the predictions of geodynamic models can be quantitatively tested by geophysical observations, which constrain the geometry of sinking slabs and rising plumes, as well as geochemical data.
Any such models rooted by observational and theoretical constraints can be applied to study the evolution of the mantle over billions of years, thereby linking the accretion of our planet to the present-day. Indeed, such an interdisciplinary effort can even provide insight into the conditions for planetary habitability and sustainability of higher life.
What motivated you to write a book on mantle processes and surface expressions?
Our book aimed to unify researchers with expertise in different Earth science disciplines, including observational geophysics, numerical modelling, geochemistry, and mineral physics, to outline current concepts on dynamic processes occurring in the mantle and associated material cycles. We believe that real progress is increasingly made at the intersection between different sub-disciplines and, ultimately, only the synergy between disciplines can truly overcome the limitations of each individual approach. Our book is motivated by the vision of a new holistic picture of deep Earth sciences.
How is your book structured?
The overarching idea of the book is to bridge between disciplines. The sub-sections of the book are not sorted by discipline, but rather by research topic. The first part describes key mantle domains and basic properties of the Earth's mantle. The second part presents reviews and new research related to the dynamic aspects of deep Earth material cycles, integrating all relevant geoscientific disciplines. The third part aims to place the preceding chapters in a broader context, trying to summarize ideas and stimulate new concepts on how the Earth's deep mantle is connected to our planet's surface and atmosphere, and how processes might work on other planets.
What value did you find in bringing together perspectives from different scientific disciplines in your book?
Several high-profile papers have been published relating to mantle convection and surface connections during the past decade, including materials cycles through the deep Earth interior and its impact on the evolution of the atmosphere.
Progress has been significant, but often work still falls mostly within one discipline. Some initial progress in multidisciplinary work has been made, but is still often complicated by gaps in knowledge, jargon, and networks.
The value that our book adds is to summarize existing multidisciplinary work and foster future research across the boundaries.
How do you hope that your book will inspire further transdisciplinary research?
Despite the common call for transdisciplinary research only little work has been done that truly and quantitatively integrates different approaches. Sometimes, just the lack of a common language, with different jargon across discipline boundaries, prevents any directed and sustainable progress.
We are convinced that our book can help to bridge the gaps between different Earth Science communities, resolve some semantic issues, and foster promising future collaborations. In order to achieve this, we took particular care that chapters are written in a style that makes them accessible for researchers from all sub-disciplines (i.e., jargon and pre-conceptions are explained).
The topic Mantle Convection and Surface Expressions covers an area of central importance for all target research disciplines and is central to our understanding of the evolution of our planet. Thus, we feel that the topic is not only a 'hot-topic' of cross-disciplinary importance but is also ideally suited to unify researchers and trigger fruitful future work.
See the full article here .
five-ways-keep-your-child-safe-school-shootings
Please help promote STEM in your local schools.
Eos is the leading source for trustworthy news and perspectives about the Earth and space sciences and their impact. Its namesake is Eos, the Greek goddess of the dawn, who represents the light shed on understanding our planet and its environment in space by the Earth and space sciences.