From "Science News" : "Here is how olivine may trigger deep earthquakes"
9.26.22
Nikk Ogasa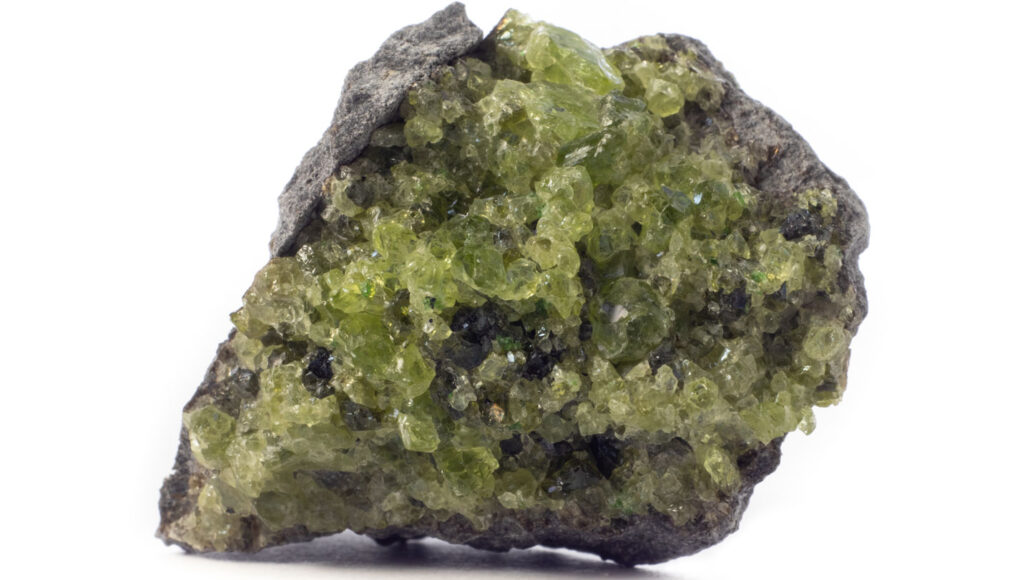 The transformation of olivine (the yellow-green mineral seen in this rock) into wadsleyite hundreds of kilometers underground may set off the deepest earthquakes ever recorded. Credit: Joel Papalini/iStock/Getty Images Plus.
Cocooned within the bowels of the Earth, one mineral's metamorphosis into another may trigger some of the deepest earthquakes ever detected.
These cryptic tremors — known as deep-focus earthquakes — are a seismic conundrum. They violently rupture at depths greater than 300 kilometers, where intense temperatures and pressures are thought to force rocks to flow smoothly. Now, experiments suggest that those same hellish conditions might also sometimes transform olivine — the primary mineral in Earth's mantle — into the mineral wadsleyite. This mineral switch-up can destabilize the surrounding rock, enabling earthquakes at otherwise impossible depths, mineral physicist Tomohiro Ohuchi and colleagues report September 15 in Nature Communications [below].
"It's been a real puzzle for many scientists because earthquakes shouldn't occur deeper than 300 kilometers," says Ohuchi, of Ehime University in Matsuyama, Japan.
Fig. 1: Summary of experimental conditions.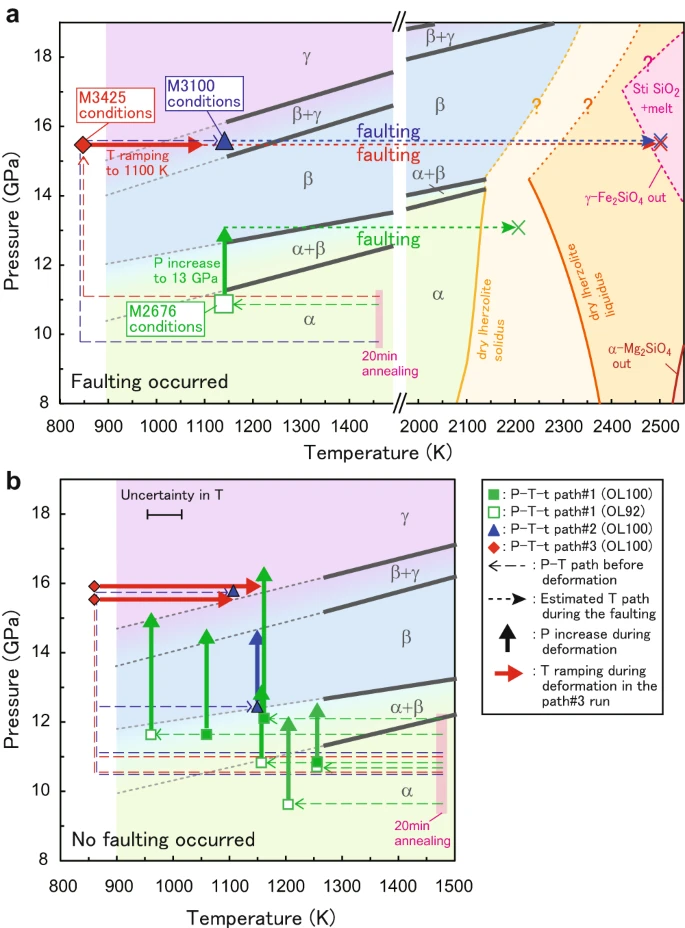 a Throughgoing faulting occurred. b No throughgoing faulting occurred. The long-dashed arrows indicate the P-T-t paths for our experiments. Squares, triangles, and diamonds represent the P-T-t path#1 (normal), #2 (overpressurized just before the deformation), and #3 (temperature ramping during the deformation), respectively. Large symbols represent the runs with throughgoing faulting (M2676, M3100, and M3425). Crosses show the lower limit of the peak temperature during the throughgoing faulting (estimated from the microstructures: see text for details). Short dashed lines are the estimated T-paths of shear heating. Red thick arrows show the temperature ranges during each deformation run of path#3. Solid and open symbols represent the runs in which the OL100 and OL92 samples were used, respectively. The equilibrium boundaries of α (olivine), β (wadsleyite), and γ (ringwoodite) for Mg1.8Fe0.2SiO4 are shown by gray solid lines14,34. Pale orange curve: solidus for dry lherzolite26. Dark-orange curve: liquidus for dry lherzolite26. Brown curve: melting of forsterite25. Pink curve: incongruent melting of γ-Fe2SiO4 to a liquid phase and stishovite (Sti)24 (i.e., the lower limit of the melting temperature of β/γ-Mg1.8Fe0.2SiO4). The M2472 run, in which a blow-out occurred in the early stage of deformation, is not shown.
Fig. 2: Summary of experimental results as a function of temperature.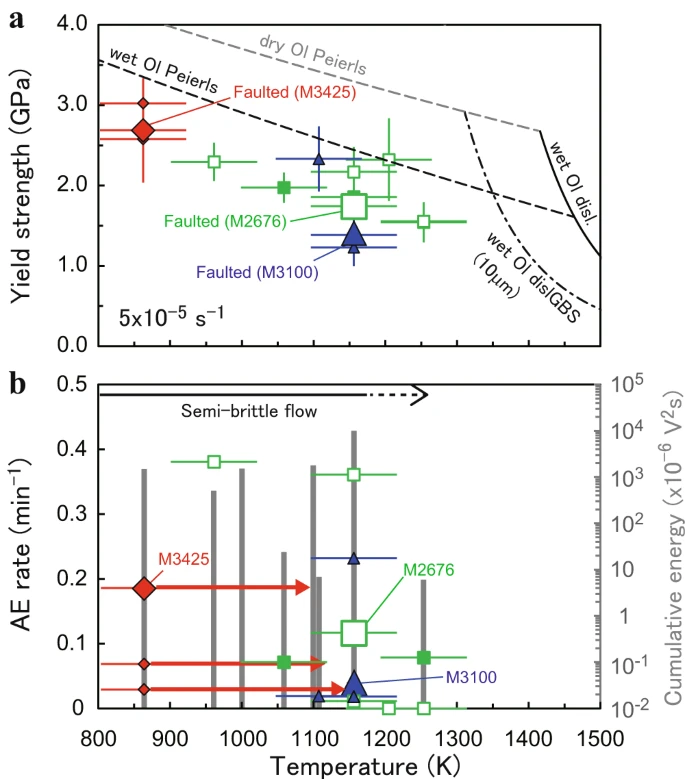 a Temperature dependence of the yield strength of the samples. Creep strength of olivine (Ol) is calculated assuming the Peierls creep for sintered dry/wet aggregates15,16,17, wet dislocation (disl.) creep18 and wet dislocation-accommodated grain boundary sliding (dislGBS; for a typical grain size of 10 µm)19. Water content of 190 wt. ppm is assumed for the calculations. b Temperature dependence of averaged acoustic emission (AE) rate (symbols) and cumulative AE energy release (gray bars). Symbols and red thick-arrows are the same as those in Fig. 1. The error bars represent the uncertainties in temperature or stress.
More instructive images are available in the science paper.
Deep-focus earthquakes usually occur at subduction zones where tectonic plates made of oceanic crust — rich in olivine — plunge toward the mantle (SN: 1/13/21). Since the quakes' seismic waves lose strength during their long ascent to the surface, they aren't typically dangerous. But that doesn't mean the quakes aren't sometimes powerful. In 2013, a magnitude 8.3 deep-focus quake struck around 609 kilometers below the Sea of Okhotsk, just off Russia's eastern coast.
Past studies [Nature Letters (below)] hinted that unstable olivine crystals could spawn deep quakes. But those studies tested other minerals that were similar in composition to olivine but deform at lower pressures, Ohuchi says, or the experiments didn't strain samples enough to form faults.
He and his team decided to put olivine itself to the test. To replicate conditions deep underground, the researchers heated and squeezed olivine crystals up to nearly 1100° Celsius and 17 gigapascals. Then the team used a mechanical press to further compress the olivine slowly and monitored the deformation.
From 11 to 17 gigapascals and about 800° to 900° C, the olivine recrystallized into thin layers containing new wadsleyite and smaller olivine grains. The researchers also found tiny faults and recorded bursts of sound waves — indicative of miniature earthquakes. Along subducting tectonic plates, many of these thin layers grow and link to form weak regions in the rock, upon which faults and earthquakes can initiate, the researchers suggest.
"The transformation really wreaks havoc with the [rock's] mechanical stability," says geophysicist Pamela Burnley of the University of Nevada, Las Vegas, who was not involved in the research. The findings help confirm that olivine transformations are enabling deep-focus earthquakes, she says.
Next, Ohuchi's team plans to experiment on olivine at even higher pressures to gain insights into the mineral's deformation at greater depths.
Science paper:
Nature Communications
Nature Letters
See the full article here .

five-ways-keep-your-child-safe-school-shootings
Please help promote STEM in your local schools.