FNAL Art Image by Angela Gonzales
From DOE's Fermi National Accelerator Laboratory (US) , an enduring source of strength for the US contribution to scientific research worldwide.
August 30, 2021
Hannah Adams
The Superconducting Quantum Materials and Systems Center hosted by Fermilab is proud to announce the addition of a new contributing partner: Rutgers University-New Brunswick (US).
The Superconducting Quantum Materials and Systems Center was established in September 2020 as a National Quantum Information Science Research Center. It comprises a diverse group of collaborators from a variety of disciplines and backgrounds.
Following its inception, SQMS established a rigorous process to onboard new partner institutions into the collaboration. Rutgers-New Brunswick joins 19 other collaborating institutions, representing federal labs, academia and industry. To date, more than 275 members — both national and international — conduct center research activities.
"Rutgers is extremely excited by this opportunity to collaborate with the efforts of SQMS. Quantum information science is a high-priority area for the university," said Robert Bartynski, chair of the department of physics and astronomy at Rutgers-New Brunswick.
Srivatsan Chakram, an assistant professor in the department of physics and astronomy at Rutgers-New Brunswick, will serve as one of the principal investigators in the SQMS technology thrust, specifically in the devices and materials focus areas.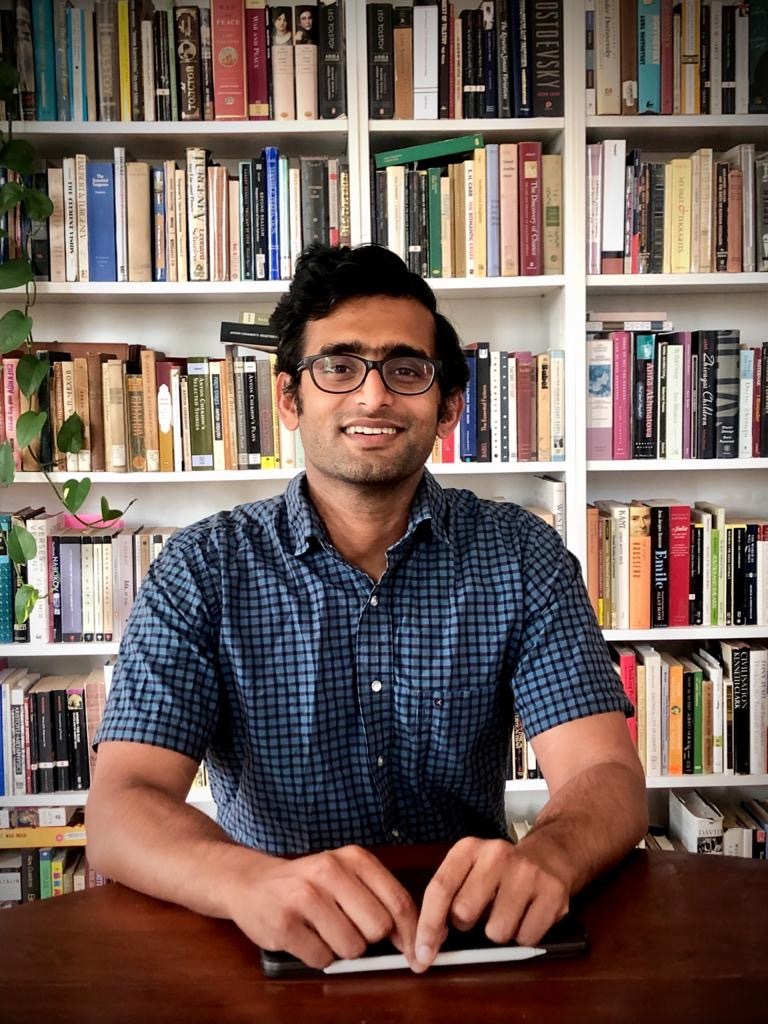 Assistant Professor in the department of Physics and Astronomy Srivatsan Chakram
"Having Professor Chakram as a principal investigator forms a natural bridge between the complementary expertise present at both organizations," said Bartynski.
"Rutgers brings world-class expertise in the 3D superconducting quantum systems," said Alexander Romanenko, Fermilab chief technology officer and SQMS technology thrust leader. "Professor Chakram is one of the world experts on the 3D superconducting qubit architecture and specifically on cavity-based quantum processors, where he performed some recent pioneering work."
A primary focus of the SQMS Center is the extension of the lifetime of qubits, the foundational element of quantum computing. Extending the lifetime, or coherence time, of qubits increases the amount of time that they can exist in a quantum state and hold quantum information.
"It's great to be part of this collaboration, which I think will be very fruitful," said Chakram. "Fermilab makes the best cavities in the world. The best cavities I have made can store single microwave photons for a few milliseconds. The cavities made at Fermilab have lifetimes approaching a second. Leveraging the extraordinary coherence of the Fermilab cavities should allow us to build better quantum processors. I have some expertise with designing and building these kinds of systems, so I think this collaboration will be mutually beneficial."
The addition of new collaborators requires review from the center's leadership and must be approved by the Office of Science of the U.S. Department of Energy. New partners can be added to increase technical capabilities and strengthen the SQMS Center. The addition of a new partner often meets a specific need.
"The strength of SQMS is that it brings world experts in quantum information science together as one collaboration," said SQMS Director Anna Grassellino of Fermilab. "Professor Chakram is one such expert, and we are thrilled to welcome him to the SQMS Center."
The Superconducting Quantum Materials and Systems Center at Fermilab is supported by the DOE Office of Science.
See the full article here.

five-ways-keep-your-child-safe-school-shootings
Please help promote STEM in your local schools.
Fermi National Accelerator Laboratory (US), located just outside Batavia, Illinois, near Chicago, is a United States Department of Energy national laboratory specializing in high-energy particle physics. Since 2007, Fermilab has been operated by the Fermi Research Alliance, a joint venture of the University of Chicago, and the Universities Research Association (URA). Fermilab is a part of the Illinois Technology and Research Corridor.
Fermilab's Tevatron was a landmark particle accelerator; until the startup in 2008 of the Large Hadron Collider(CH) near Geneva, Switzerland, it was the most powerful particle accelerator in the world, accelerating antiprotons to energies of 500 GeV, and producing proton-proton collisions with energies of up to 1.6 TeV, the first accelerator to reach one "tera-electron-volt" energy. At 3.9 miles (6.3 km), it was the world's fourth-largest particle accelerator in circumference. One of its most important achievements was the 1995 discovery of the top quark, announced by research teams using the Tevatron's CDF and DØ detectors. It was shut down in 2011.
In addition to high-energy collider physics, Fermilab hosts fixed-target and neutrino experiments, such as MicroBooNE (Micro Booster Neutrino Experiment), NOνA (NuMI Off-Axis νe Appearance) and SeaQuest. Completed neutrino experiments include MINOS (Main Injector Neutrino Oscillation Search), MINOS+, MiniBooNE and SciBooNE (SciBar Booster Neutrino Experiment). The MiniBooNE detector was a 40-foot (12 m) diameter sphere containing 800 tons of mineral oil lined with 1,520 phototube detectors. An estimated 1 million neutrino events were recorded each year. SciBooNE sat in the same neutrino beam as MiniBooNE but had fine-grained tracking capabilities. The NOνA experiment uses, and the MINOS experiment used, Fermilab's NuMI (Neutrinos at the Main Injector) beam, which is an intense beam of neutrinos that travels 455 miles (732 km) through the Earth to the Soudan Mine in Minnesota and the Ash River, Minnesota, site of the NOνA far detector. In 2017, the ICARUS neutrino experiment was moved from CERN to Fermilab.
In the public realm, Fermilab is home to a native prairie ecosystem restoration project and hosts many cultural events: public science lectures and symposia, classical and contemporary music concerts, folk dancing and arts galleries. The site is open from dawn to dusk to visitors who present valid photo identification.
Asteroid 11998 Fermilab is named in honor of the laboratory.
Weston, Illinois, was a community next to Batavia voted out of existence by its village board in 1966 to provide a site for Fermilab.
The laboratory was founded in 1969 as the National Accelerator Laboratory; it was renamed in honor of Enrico Fermi in 1974. The laboratory's first director was Robert Rathbun Wilson, under whom the laboratory opened ahead of time and under budget. Many of the sculptures on the site are of his creation. He is the namesake of the site's high-rise laboratory building, whose unique shape has become the symbol for Fermilab and which is the center of activity on the campus.
After Wilson stepped down in 1978 to protest the lack of funding for the lab, Leon M. Lederman took on the job. It was under his guidance that the original accelerator was replaced with the Tevatron, an accelerator capable of colliding protons and antiprotons at a combined energy of 1.96 TeV. Lederman stepped down in 1989. The science education center at the site was named in his honor.
The later directors include:
John Peoples, 1989 to 1996
Michael S. Witherell, July 1999 to June 2005
Piermaria Oddone, July 2005 to July 2013
Nigel Lockyer, September 2013 to the present
Fermilab continues to participate in the work at the Large Hadron Collider (LHC); it serves as a Tier 1 site in the Worldwide LHC Computing Grid.

DOE's Fermi National Accelerator Laboratory(US)/MINERvA Reidar Hahn.
FNAL Don Lincoln.