From Department of Energy (US)
August 30, 2021
Since the early 2000s, wind turbines have grown in size—in both height and blade lengths—and generate more energy. What's driving this growth? Let's take a closer look.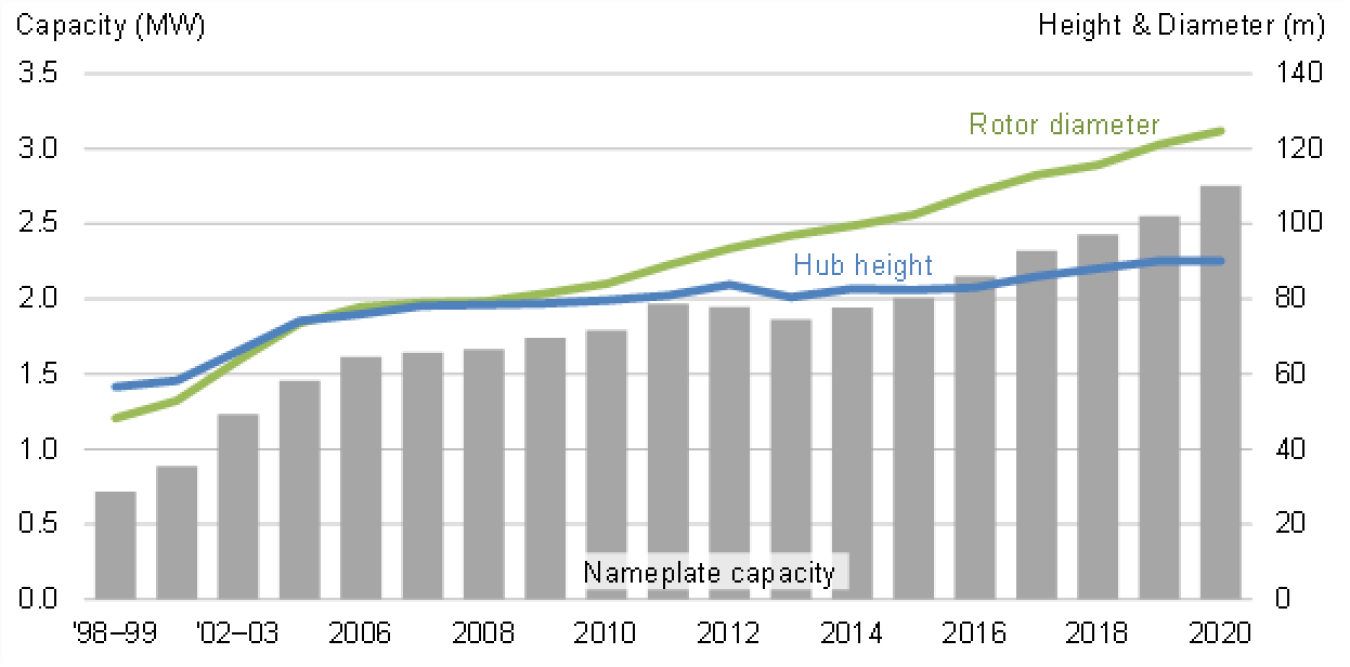 Average turbine hub height, rotor diameter, and nameplate capacity for land-based wind projects from the Land-Based Wind Market Report: 2021 Edition.
A wind turbine's hub height is the distance from the ground to the middle of the turbine's rotor. The hub height for utility-scale land-based wind turbines has increased 59% since 1998–1999, to about 90 meters (295 feet) in 2020. That's about as tall as the Statue of Liberty! The average hub height for offshore turbines in the United States is projected to grow even taller—from 100 meters (330 feet) in 2016 to about 150 meters (500 feet), or about the height of the Washington Monument, in 2035.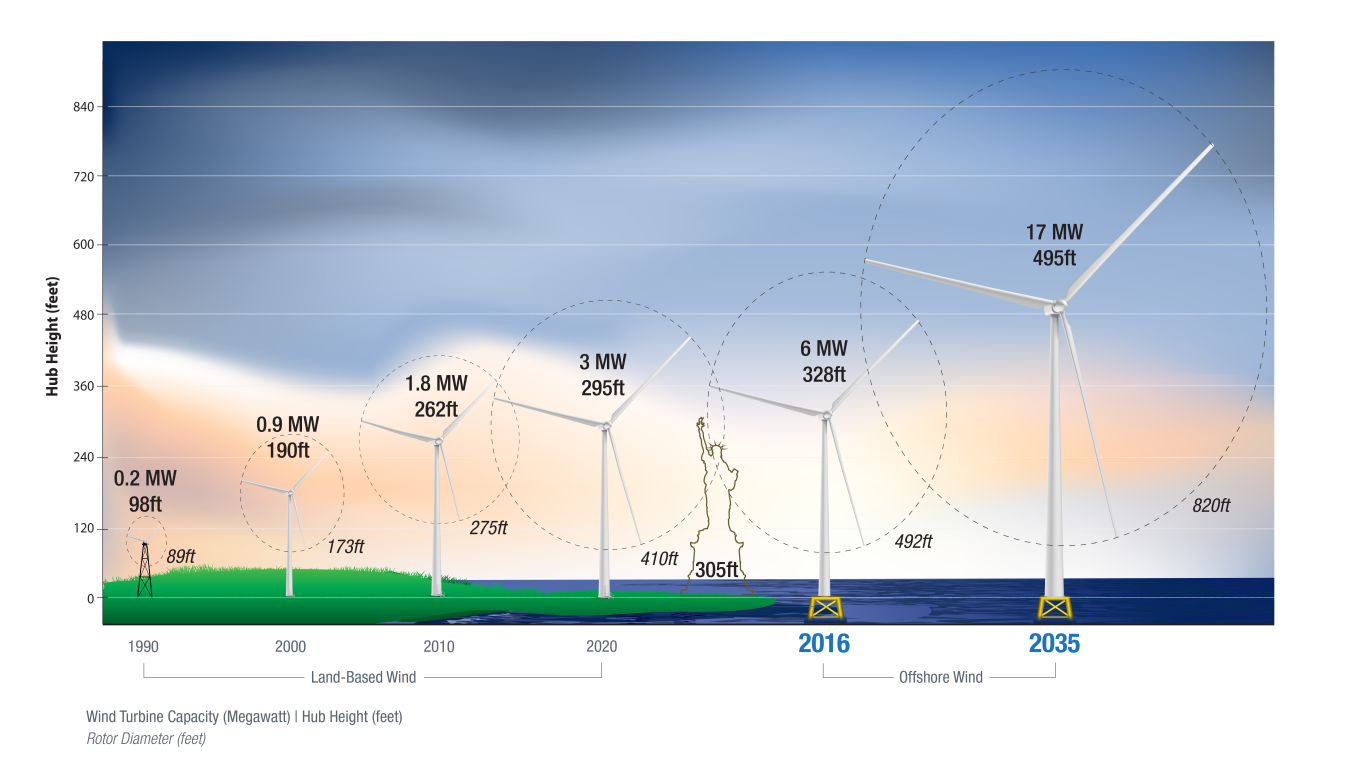 Illustration of increasing turbine heights and blades lengths over time.
Turbine towers are becoming taller to capture more energy, since winds generally increase as altitudes increase. The change in wind speed with altitude is called wind shear. At higher heights above the ground, wind can flow more freely, with less friction from obstacles on the earth's surface such as trees and other vegetation, buildings, and mountains. Most wind turbine towers taller than 100 meters tend to be concentrated in the Midwest and Northeast, two regions with higher-than-average wind shear.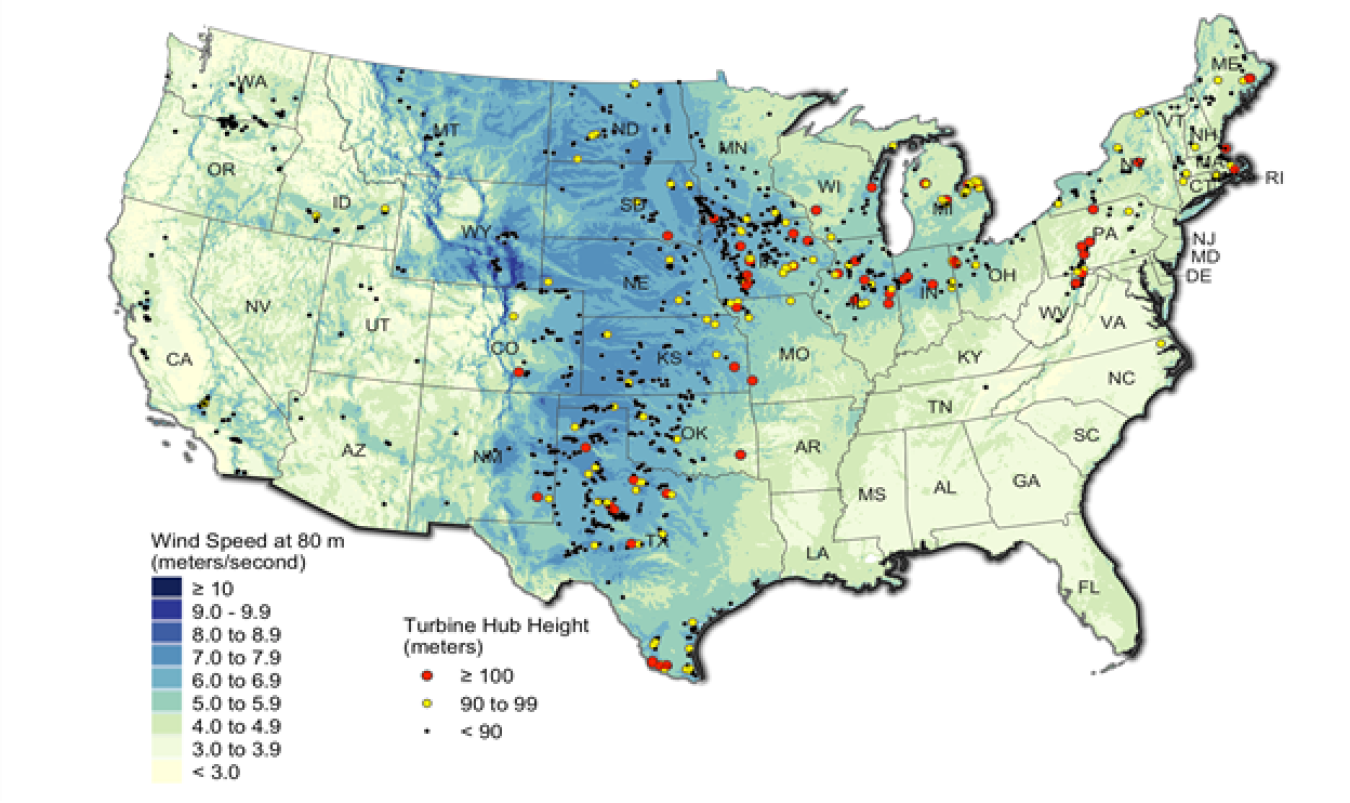 Location of tall-tower turbine installations from the Land-Based Wind Market Report: 2021 Edition.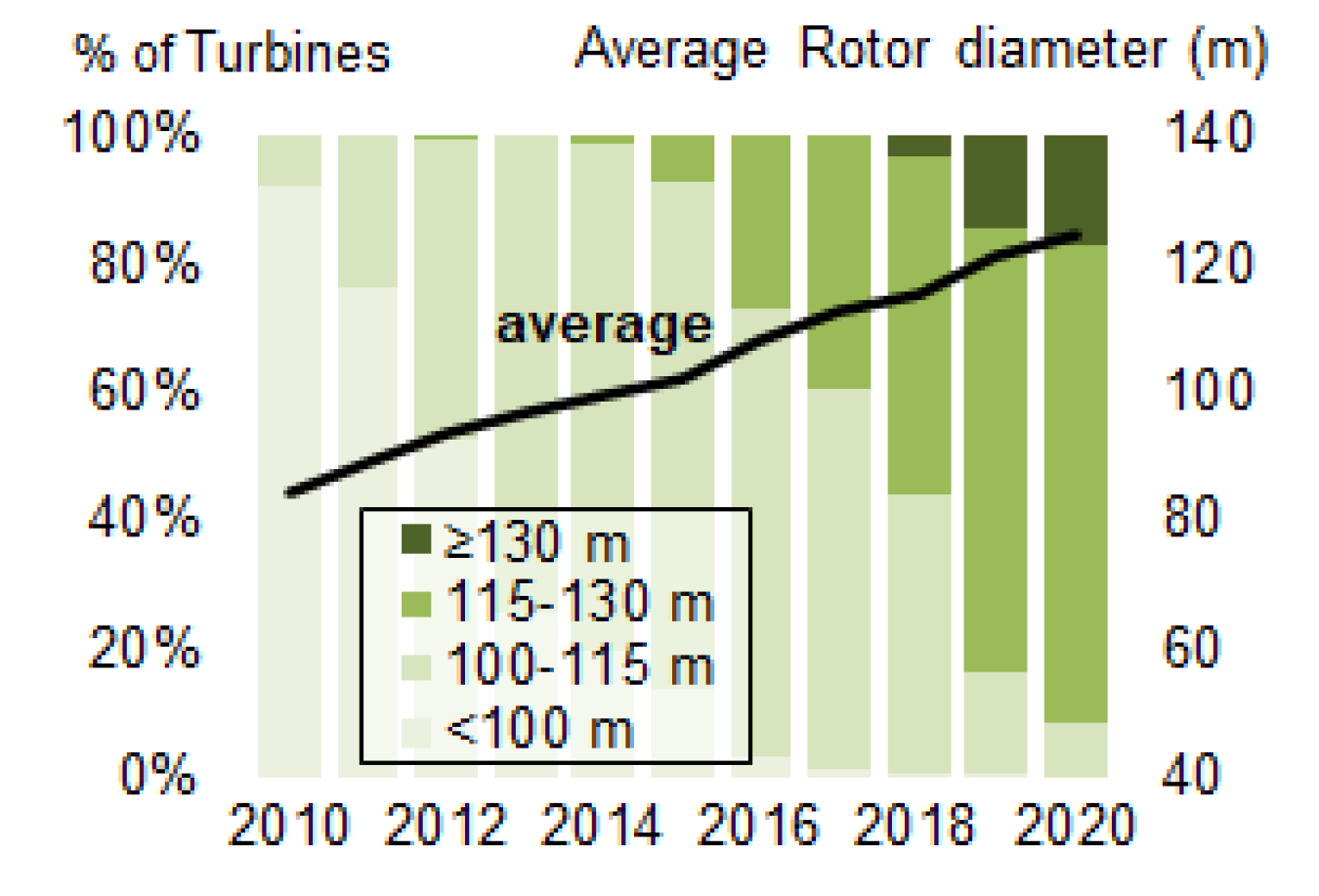 Rotor Diameter
A turbine's rotor diameter, or the width of the circle swept by the rotating blades (the dotted circles in the second illustration), has also grown over the years. Back in 2010, no turbines in the United States employed rotors that were 115 meters (380 feet) in diameter or larger. In 2020, 91% of newly installed turbines featured such rotors. The average rotor diameter in 2020 was about 125 meters (410 feet)—longer than a football field.
Larger rotor diameters allow wind turbines to sweep more area, capture more wind, and produce more electricity. A turbine with longer blades will be able to capture more of the available wind than shorter blades—even in areas with relatively less wind. Being able to harvest more wind at lower wind speeds can increase the number of areas available for wind development nationwide. Due to this trend, rotor swept areas have grown 570% since 1998–1999.
Nameplate Capacity
In addition to getting taller and bigger, wind turbines have also increased in maximum power rating, or capacity, since the early 2000s. The average capacity of newly installed U.S. wind turbines in 2020 was 2.75 megawatts (MW), up 8% since 2019 and 284% since 1998–1999. In 2020, there was a sharp increase for turbines installed in the 2.75–3.5 MW range. More wind energy per turbine means that fewer turbines are needed to generate a desired capacity across a wind plant—ultimately leading to lower costs.
Transportation and Installation Challenges
If bigger is better, why aren't even larger turbines used currently? Although turbine heights and rotor diameters are increasing, there are a few limitations. Transporting and installing large turbine blades for land-based wind is not easy, since they cannot be folded or bent once constructed. This limits the routes trucks can take and the radius of their turns. Turbine tower diameters are also difficult to manage, since they may not fit under bridges or highway overpasses. DOE is addressing these challenges through its research projects. For instance, DOE is designing turbines with more slender and flexible blades that can navigate through curves in roads and rail lines that conventional blades cannot. DOE is also supporting efforts to develop tall turbine towers that can be produced on site, thus eliminating tower transportation issues.
See the full article here.
five-ways-keep-your-child-safe-school-shootings
Please help promote STEM in your local schools.
The Department of Energy (US) is a cabinet-level department of the United States Government concerned with the United States' policies regarding energy and safety in handling nuclear material. Its responsibilities include the nation's nuclear weapons program; nuclear reactor production for the United States Navy; energy conservation; energy-related research; radioactive waste disposal; and domestic energy production. It also directs research in genomics. the Human Genome Project originated in a DOE initiative. DOE sponsors more research in the physical sciences than any other U.S. federal agency, the majority of which is conducted through its system of National Laboratories. The agency is led by the United States Secretary of Energy, and its headquarters are located in Southwest Washington, D.C., on Independence Avenue in the James V. Forrestal Building, named for James Forrestal, as well as in Germantown, Maryland.
Formation and consolidation
In 1942, during World War II, the United States started the Manhattan Project, a project to develop the atomic bomb, under the eye of the U.S. Army Corps of Engineers. After the war in 1946, the Atomic Energy Commission (AEC) was created to control the future of the project. The Atomic Energy Act of 1946 also created the framework for the first National Laboratories. Among other nuclear projects, the AEC produced fabricated uranium fuel cores at locations such as Fernald Feed Materials Production Center in Cincinnati, Ohio. In 1974, the AEC gave way to the Nuclear Regulatory Commission, which was tasked with regulating the nuclear power industry and the Energy Research and Development Administration, which was tasked to manage the nuclear weapon; naval reactor; and energy development programs.
The 1973 oil crisis called attention to the need to consolidate energy policy. On August 4, 1977, President Jimmy Carter signed into law The Department of Energy Organization Act of 1977 (Pub.L. 95–91, 91 Stat. 565, enacted August 4, 1977), which created the Department of Energy(US). The new agency, which began operations on October 1, 1977, consolidated the Federal Energy Administration; the Energy Research and Development Administration; the Federal Power Commission; and programs of various other agencies. Former Secretary of Defense James Schlesinger, who served under Presidents Nixon and Ford during the Vietnam War, was appointed as the first secretary.
President Carter created the Department of Energy with the goal of promoting energy conservation and developing alternative sources of energy. He wanted to not be dependent on foreign oil and reduce the use of fossil fuels. With international energy's future uncertain for America, Carter acted quickly to have the department come into action the first year of his presidency. This was an extremely important issue of the time as the oil crisis was causing shortages and inflation. With the Three-Mile Island disaster, Carter was able to intervene with the help of the department. Carter made switches within the Nuclear Regulatory Commission in this case to fix the management and procedures. This was possible as nuclear energy and weapons are responsibility of the Department of Energy.
Recent
On March 28, 2017, a supervisor in the Office of International Climate and Clean Energy asked staff to avoid the phrases "climate change," "emissions reduction," or "Paris Agreement" in written memos, briefings or other written communication. A DOE spokesperson denied that phrases had been banned.
In a May 2019 press release concerning natural gas exports from a Texas facility, the DOE used the term 'freedom gas' to refer to natural gas. The phrase originated from a speech made by Secretary Rick Perry in Brussels earlier that month. Washington Governor Jay Inslee decried the term "a joke".
Facilities
The Department of Energy operates a system of national laboratories and technical facilities for research and development, as follows:
Ames Laboratory
Argonne National Laboratory
Brookhaven National Laboratory
Fermi National Accelerator Laboratory
Idaho National Laboratory
Lawrence Berkeley National Laboratory
Lawrence Livermore National Laboratory
Los Alamos National Laboratory
National Energy Technology Laboratory
National Renewable Energy Laboratory
Oak Ridge National Laboratory
Pacific Northwest National Laboratory
Princeton Plasma Physics Laboratory
Sandia National Laboratories
Savannah River National Laboratory
SLAC National Accelerator Laboratory
Thomas Jefferson National Accelerator Facility
Other major DOE facilities include:
Albany Research Center
Bannister Federal Complex
Bettis Atomic Power Laboratory – focuses on the design and development of nuclear power for the U.S. Navy
Kansas City Plant
Knolls Atomic Power Laboratory – operates for Naval Reactors Program Research under the DOE (not a National Laboratory)
National Petroleum Technology Office
Nevada Test Site
New Brunswick Laboratory
Office of Fossil Energy
Office of River Protection
Pantex
Radiological and Environmental Sciences Laboratory
Y-12 National Security Complex
Yucca Mountain nuclear waste repository
Other:
Pahute Mesa Airstrip – Nye County, Nevada, in supporting Nevada National Security Site