From astrobites : "How to turn two galaxies into ten"
Jun 21, 2022
Roan Haggar
Title: A trail of dark matter-free galaxies from a bullet dwarf collision
Authors: Pieter van Dokkum, Zili Shen, Michael A. Keim, Sebastian Trujillo-Gomez, Shany Danieli, Dhruba Dutta Chowdhury, Roberto Abraham, Charlie Conroy, J. M. Diederik Kruijssen, Daisuke Nagai, Aaron Romanowsky
First Author's Institution: Yale University, New Haven, CT, USA
Status: Published in Nature [open access], available on arXiv
The nature of Dark Matter is one of the biggest mysteries in physics. All we really know about this strange type of matter is that it doesn't experience any forces other than gravity. This makes it totally invisible, and allows it to pass through other matter, such as stars, planets and us, almost completely unnoticed. Despite this, evidence from the past several decades means that we know Dark Matter exists, and that there is a lot of it – about six times more than all of the visible matter in our Universe! Additionally, we know that most large astronomical structures, such as galaxies and galaxy clusters, are embedded in large, spherical haloes of Dark Matter.
One of the most striking pieces of evidence for Dark Matter is the Bullet Cluster, shown in Figure 1. This image is actually the result of two galaxy clusters that have crashed into each other, and are now side-by-side. In pink, the hot, visible gas in these clusters is shown, which has been pulled towards the middle of the two clusters by drag forces. Using weak gravitational lensing to study the light from galaxies in the background of this image, we can infer the location of the matter in these clusters, which is shown by the blue areas.
The fact that the distributions of hot gas and mass don't overlap tells us that, whilst the regular matter in these clusters gets stirred up and pulled into the centre, there is some extra cluster material that is flying by unimpeded – our old friend, Dark Matter!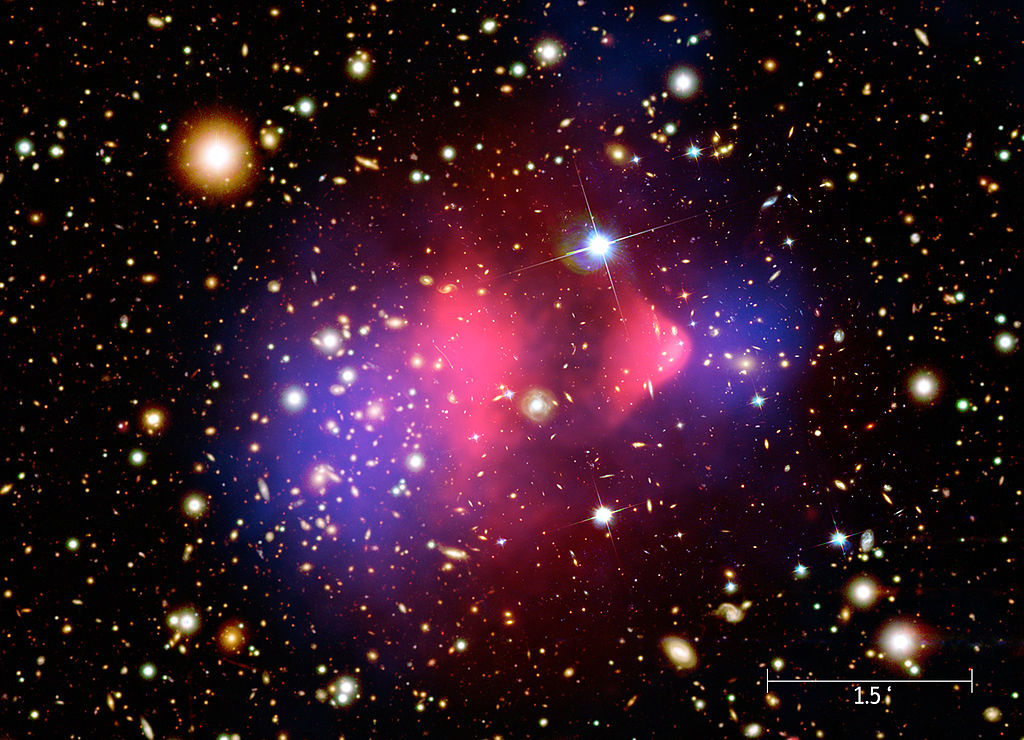 Figure 1: The Bullet Cluster, shown as three separate overlaid images. The galaxies of the two colliding clusters (as well as background galaxies) are shown in optical (visible) wavelengths. The two pink regions near the centre of the image show the X-rays emitted by the hot cluster gas, showing that these two clouds have collided and been dragged to the central region. The two blue circular regions show where the majority of the clusters' mass is located, indicating that much of their mass is made of non-visible matter. Credit: Chandra/Magellan/NASA/STScI/ESO.
This same process can, in principle, occur on smaller scales. Today's paper provides evidence of two dwarf galaxies having previously experienced a collision similar to the Bullet Cluster, and goes on to discuss how this could explain some of the strangest types of galaxies that we observe in our Universe.
A glancing blow
This paper looks at the NGC1052 galaxy group, and in particular, two dwarf galaxies in this group, called DF2 and DF4. These galaxies are notable because they are ultra-diffuse galaxies, which contain very few stars but have a diameter similar to other galaxies, meaning they are very faint. Many ultra-diffuse galaxies, including DF2 and DF4, also contain very little Dark Matter, and the reason why they differ to other galaxies in this way is still unknown.
But, we may be approaching an answer! The authors suggest that a collision between two galaxies, the predecessors of DF2 and DF4, occurred about 8 billion years ago. Figure 2 shows what such a collision would have looked like, and what the result of it would be at the present day.


Figure 2: Schematic showing collision between DF2 and DF4, nearby to the galaxy NGC1052, which lies at the centre of a galaxy group. In this scenario, a galaxy (progenitor 1) collided with a member of the NGC1052 group (progenitor 2) about 8 billion years ago. This removed the stars from the Dark Matter haloes of progenitors 1 and 2, which then became galaxies DF2 and DF4 respectively. Parts of these galaxies were pulled away by the collision, becoming other, small galaxies between these two. Adapted from Figure 1 in today's paper.
Such a collision could result in the positions and speeds of DF2 and DF4 that are consistent with observations: that they are separated by a distance of 2.1 Mpc (about 7 million light years) and are moving away from each other at 358 km/s. Additionally, this collision could cause the Dark Matter haloes and stellar components of these galaxies to separate, similarly to what occurred in the Bullet Cluster, leaving two galaxies with very little Dark Matter remaining: DF2 and DF4. The authors also predict that parts of these galaxies would be stripped away, leading to an arc of around 10 smaller galaxies, as well as two "dark galaxies", made almost entirely of Dark Matter!
A cosmic mess
To back up their claims, the authors present observational data of DF2 and DF4, as well as the region of space between them. The image of this region is shown in Figure 3, which bears an uncanny resemblance to Figure 2! Amazingly, the observations match exactly what is predicted by a Bullet Cluster-like collision between two galaxies: a chain of small, faint galaxies located on a line between DF2 and DF4 can be seen, as well as a companion galaxy nearby to each of these two, which have both been found to be almost entirely made up of Dark Matter.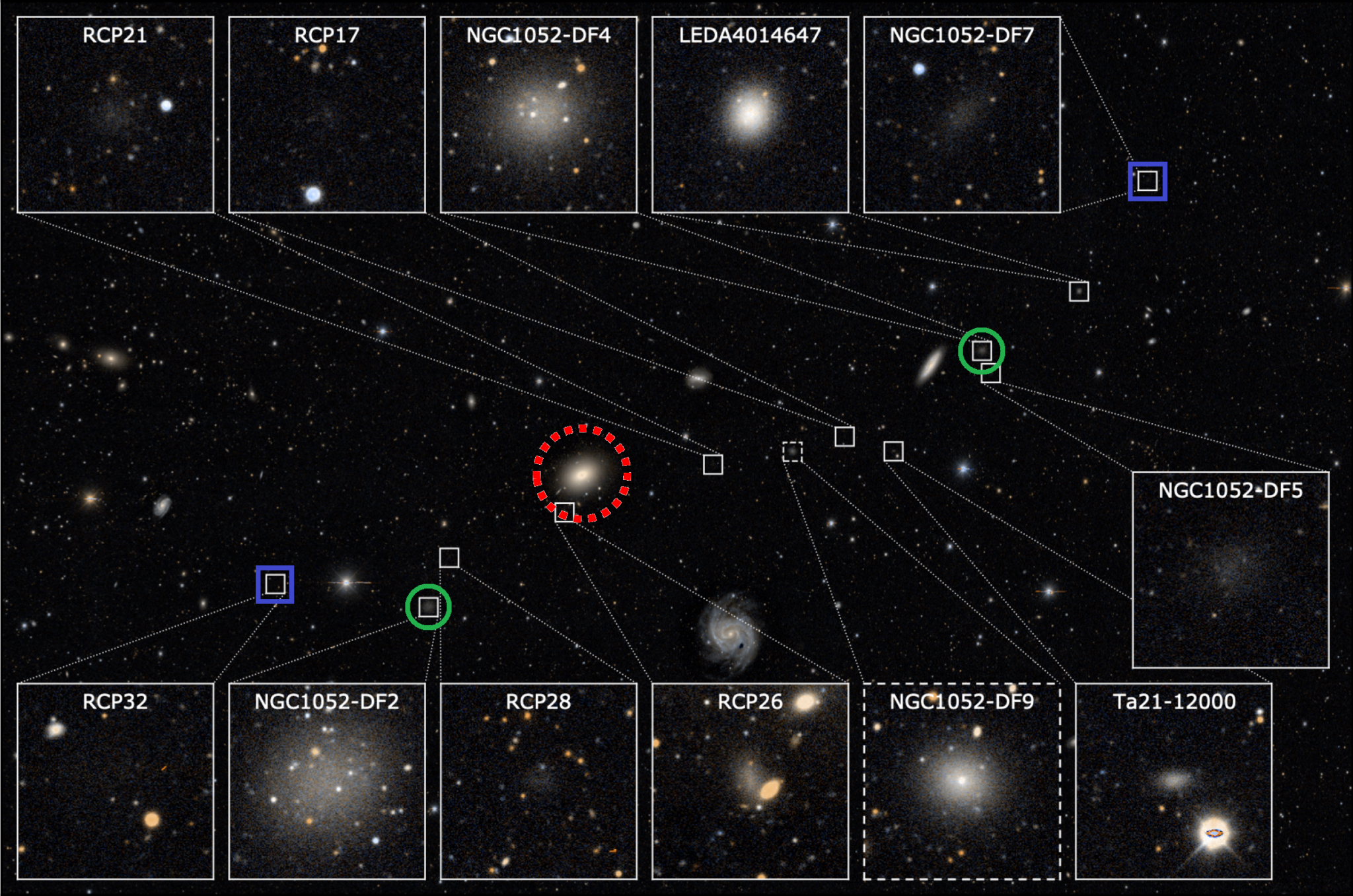 Figure 3: Image of NGC1052 group, and nearby galaxies. The central galaxy NGC1052 is highlighted with a dotted red circle, the ultra-diffuse galaxies DF2 and DF4 with solid green circles, and two galaxies composed almost entirely of Dark Matter (RCP32 and DF7) are shown by blue squares. Several other faint galaxies are marked in small white squares, along a line between DF2 and DF4, mirroring the prediction in Figure 2. Adapted from Figure 3 in today's paper.
This work provides an origin story for the galaxies in this region of the Universe, and explains their unusual characteristics – specifically, why some have such little Dark Matter, and some have much more than average. Similar collisions might be able to explain other galaxies with an atypical Dark Matter content. Crucially though, the formation of these systems will depend on the properties of the galaxies' Dark Matter haloes. Studying galaxies that have been torn apart like this could help us to constrain the properties of dark matter, and get one step closer to finally understanding this elusive portion of the Universe.
__________________________________
Dark Matter Background
Fritz Zwicky discovered Dark Matter in the 1930s when observing the movement of the Coma Cluster., Vera Rubin a Woman in STEM, denied the Nobel, some 30 years later, did most of the work on Dark Matter.
Fritz Zwicky.

Coma cluster via NASA/ESA Hubble, the original example of Dark Matter discovered during observations by Fritz Zwicky and confirmed 30 years later by Vera Rubin.
In modern times, it was astronomer Fritz Zwicky, in the 1930s, who made the first observations of what we now call dark matter. His 1933 observations of the Coma Cluster of galaxies seemed to indicated it has a mass 500 times more than that previously calculated by Edwin Hubble. Furthermore, this extra mass seemed to be completely invisible. Although Zwicky's observations were initially met with much skepticism, they were later confirmed by other groups of astronomers.
Thirty years later, astronomer Vera Rubin provided a huge piece of evidence for the existence of dark matter. She discovered that the centers of galaxies rotate at the same speed as their extremities, whereas, of course, they should rotate faster. Think of a vinyl LP on a record deck: its center rotates faster than its edge. That's what logic dictates we should see in galaxies too. But we do not. The only way to explain this is if the whole galaxy is only the center of some much larger structure, as if it is only the label on the LP so to speak, causing the galaxy to have a consistent rotation speed from center to edge.
Vera Rubin, following Zwicky, postulated that the missing structure in galaxies is dark matter. Her ideas were met with much resistance from the astronomical community, but her observations have been confirmed and are seen today as pivotal proof of the existence of dark matter.

Astronomer Vera Rubin at the Lowell Observatory in 1965, worked on Dark Matter (The Carnegie Institution for Science).
Vera Rubin, with Department of Terrestrial Magnetism (DTM) image tube spectrograph attached to the Kitt Peak 84-inch telescope, 1970.
Vera Rubin measuring spectra, worked on Dark Matter(Emilio Segre Visual Archives AIP SPL).
Dark Matter Research
Super Cryogenic Dark Matter Search from DOE's SLAC National Accelerator Laboratory (US) at Stanford University (US) at SNOLAB (Vale Inco Mine, Sudbury, Canada).
LBNL LZ Dark Matter Experiment (US) xenon detector at Sanford Underground Research Facility(US) Credit: Matt Kapust.
Lamda Cold Dark Matter Accerated Expansion of The universe http scinotions.com the-cosmic-inflation-suggests-the-existence-of-parallel-universes. Credit: Alex Mittelmann.
DAMA at Gran Sasso uses sodium iodide housed in copper to hunt for dark matter LNGS-INFN.
Yale HAYSTAC axion dark matter experiment at Yale's Wright Lab.
DEAP Dark Matter detector, The DEAP-3600, suspended in the SNOLAB (CA) deep in Sudbury's Creighton Mine.
The LBNL LZ Dark Matter Experiment (US) Dark Matter project at SURF, Lead, SD, USA.
DAMA-LIBRA Dark Matter experiment at the Italian National Institute for Nuclear Physics' (INFN's) Gran Sasso National Laboratories (LNGS) located in the Abruzzo region of central Italy.
DARWIN Dark Matter experiment. A design study for a next-generation, multi-ton dark matter detector in Europe at The University of Zurich [Universität Zürich](CH).
PandaX II Dark Matter experiment at Jin-ping Underground Laboratory (CJPL) in Sichuan, China.
Inside the Axion Dark Matter eXperiment U Washington (US) Credit : Mark Stone U. of Washington. Axion Dark Matter Experiment.
__________________________________
See the full article here .

five-ways-keep-your-child-safe-school-shootings
Please help promote STEM in your local schools.
What do we do?
Astrobites is a daily astrophysical literature journal written by graduate students in astronomy. Our goal is to present one interesting paper per day in a brief format that is accessible to undergraduate students in the physical sciences who are interested in active research.
Why read Astrobites?
Reading a technical paper from an unfamiliar subfield is intimidating. It may not be obvious how the techniques used by the researchers really work or what role the new research plays in answering the bigger questions motivating that field, not to mention the obscure jargon! For most people, it takes years for scientific papers to become meaningful.
Our goal is to solve this problem, one paper at a time. In 5 minutes a day reading Astrobites, you should not only learn about one interesting piece of current work, but also get a peek at the broader picture of research in a new area of astronomy.