From "The Conversation (AU)" : "We found some strange radio sources in a distant galaxy cluster. They're making us rethink what we thought we knew."
July 31, 2022
Christopher Riseley
Research Fellow
Università di Bologna (IT)
Tessa Vernstrom
Senior research fellow
The University of Western Australia (AU)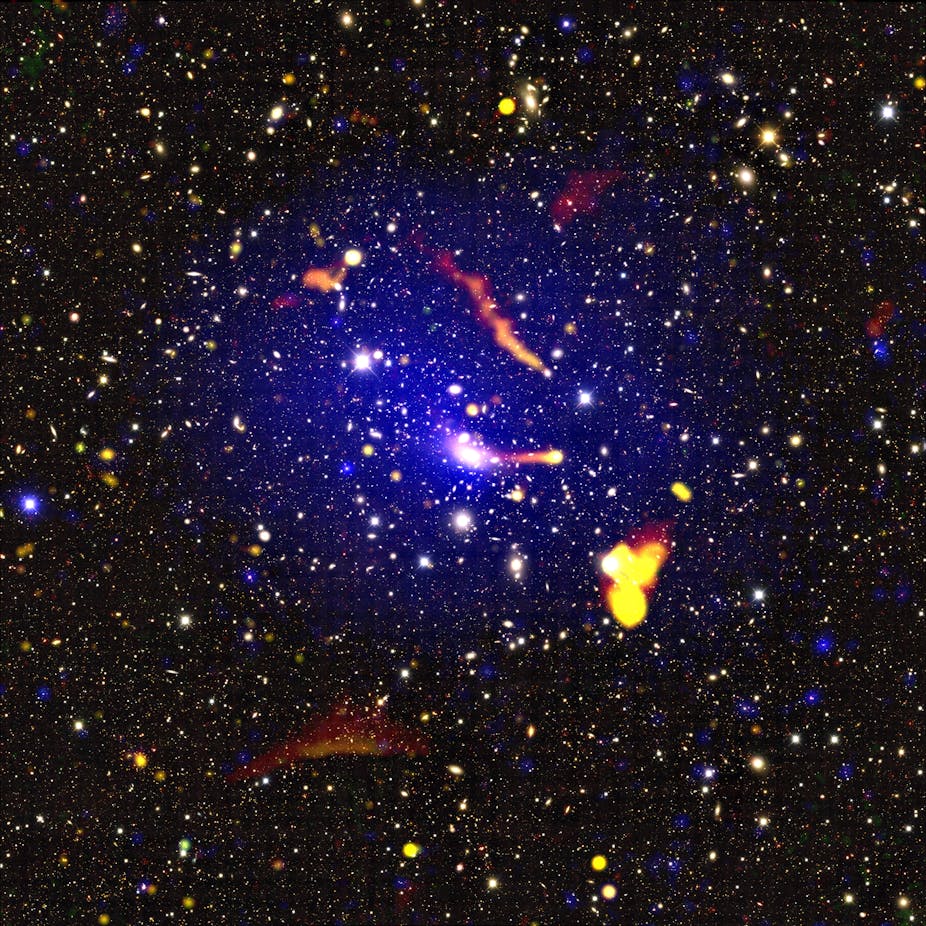 The colliding cluster Abell 3266 as seen across the electromagnetic spectrum, using data from ASKAP and the ATCA (red/orange/yellow colours), XMM-Newton (blue) and the Dark Energy Survey (background map). Christopher Riseley (Università di Bologna), Author provided.
The universe is littered with galaxy clusters – huge structures piled up at the intersections of the cosmic web.
A single cluster can span millions of light-years across and be made up of hundreds, or even thousands, of galaxies.
However, these galaxies represent only a few percent of a cluster's total mass. About 80% of it is Dark Matter, and the rest is a hot plasma "soup": gas heated to above 10,000,000℃ and interwoven with weak magnetic fields.
We and our international team of colleagues have identified a series of rarely observed radio objects – a radio relic, a radio halo and fossil radio emission – within a particularly dynamic galaxy cluster called Abell 3266. They defy existing theories about both the origins of such objects and their characteristics.
Relics, haloes and fossils
Galaxy clusters allow us to study a broad range of rich processes – including magnetism and plasma physics – in environments we can't recreate in our labs.
When clusters collide with each other, huge amounts of energy are put into the particles of the hot plasma, generating radio emission. And this emission comes in a variety of shapes and sizes.
"Radio relics" are one example. They are arc-shaped and sit towards a cluster's outskirts, powered by shockwaves travelling through the plasma, which cause a jump in density or pressure, and energise the particles. An example of a shockwave on Earth is the sonic boom that happens when an aircraft breaks the sound barrier.
"Radio haloes" are irregular sources that lie towards the cluster's centre. They're powered by turbulence in the hot plasma, which gives energy to the particles. We know both haloes and relics are generated by collisions between galaxy clusters – yet many of their gritty details remain elusive.
Then there are "fossil" radio sources. These are the radio leftovers from the death of a supermassive black hole at the centre of a radio galaxy.
When they're in action, black holes shoot huge jets of plasma far out beyond the galaxy itself. As they run out of fuel and shut off, the jets begin to dissipate. The remnants are what we detect as radio fossils.
Abell 3266
Our new paper, published in the MNRAS [below], presents a highly detailed study of a galaxy cluster called Abell 3266.
This is a particularly dynamic and messy colliding system around 800 million light-years away. It has all the hallmarks of a system that should be host to relics and haloes – yet none had been detected until recently.
Following up on work conducted using the Murchison Widefield Array earlier this year, we used new data from the ASKAP radio telescope and the Australia Telescope Compact Array (ATCA) to see Abell 3266 in more detail.
Our data paint a complex picture. You can see this in the lead image: yellow colours show features where energy input is active. The blue haze represents the hot plasma, captured at X-ray wavelengths.
Redder colours show features that are only visible at lower frequencies. This means these objects are older and have less energy. Either they have lost a lot of energy over time, or they never had much to begin with.
The radio relic is visible in red near the bottom of the image. And our data here reveal particular features that have never been seen before in a relic.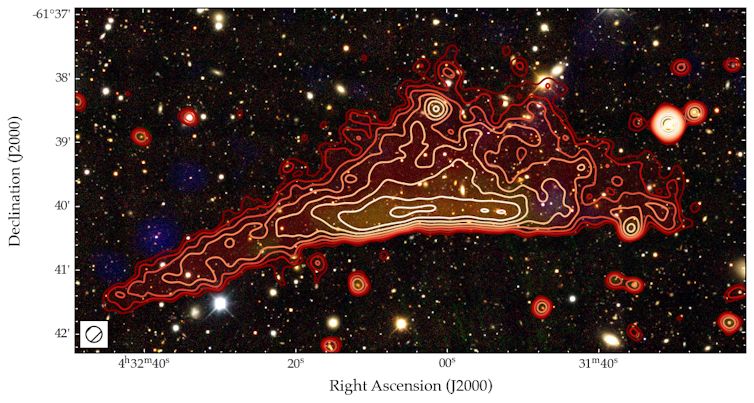 The 'wrong-way' relic in Abell 3266 is shown here with yellow/orange/red colours representing the radio brightness. Credit: Christopher Riseley, using data from ASKAP, ATCA, XMM-Newton and the Dark Energy Survey.
Its concave shape is also unusual, earning it the catchy moniker of a "wrong-way" relic. Overall, our data break our understanding of how relics are generated, and we're still working to decipher the complex physics behind these radio objects.
Ancient remnants of a supermassive black hole
The radio fossil, seen towards the upper right of the lead image (and also below), is very faint and red, indicating it is ancient. We believe this radio emission originally came from the galaxy at the lower left, with a central black hole that has long been switched off.

The radio fossil in Abell 3266 is shown here with red colours and contours depicting the radio brightness measured by ASKAP, and blue colours showing the hot plasma. The cyan arrow points to the galaxy we think once powered the fossil. Credit: Christopher Riseley, using data from ASKAP, XMM-Newton and the Dark Energy Survey.
Our best physical models simply can't fit the data. This reveals gaps in our understanding of how these sources evolve – gaps that we're working to fill.
Finally, using a clever algorithm, we de-focused the lead image to look for very faint emission that's invisible at high resolution, unearthing the first detection of a radio halo in Abell 3266 (see below).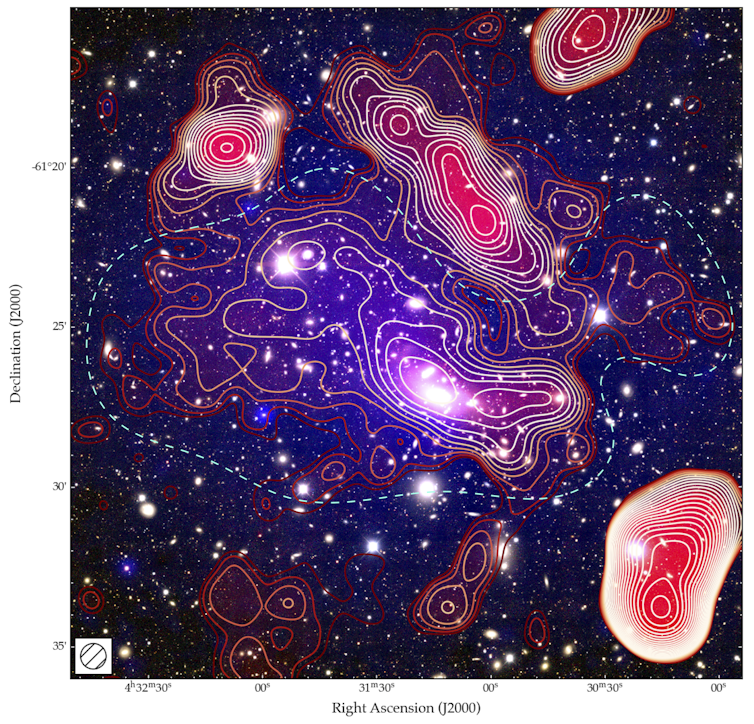 The radio halo in Abell 3266 is shown here with red colours and contours depicting the radio brightness measured by ASKAP, and blue colours showing the hot plasma. The dashed cyan curve marks the outer limits of the radio halo. Credit: Christopher Riseley, using data from ASKAP, XMM-Newton and the Dark Energy Survey.
Towards the future
This is the beginning of the road towards understanding Abell 3266. We have uncovered a wealth of new and detailed information, but our study has raised yet more questions.
The telescopes we used are laying the foundations for revolutionary science from the Square Kilometre Array project.
______________________________________________
The Square Kilometre Array (SKA)– a next-generation telescope due to be completed by the end of the decade – will likely be able to make images of the earliest light in the Universe, but for current telescopes the challenge is to detect the cosmological signal of the stars through the thick hydrogen clouds.
______________________________________________
Studies like ours allow astronomers to figure out what we don't know – but you can be sure we're going to find out.
___________________________________________________________________
The Dark Energy Survey
Dark Energy Camera [DECam] built at The DOE's Fermi National Accelerator Laboratory.
NOIRLab National Optical Astronomy Observatory Cerro Tololo Inter-American Observatory(CL) Victor M Blanco 4m Telescope which houses the Dark-Energy-Camera – DECam at Cerro Tololo, Chile at an altitude of 7200 feet.
NOIRLabNSF NOIRLab NOAO Cerro Tololo Inter-American Observatory(CL) approximately 80 km to the East of La Serena, Chile, at an altitude of 2200 meters.
Timeline of the Inflationary Universe WMAP.
The Dark Energy Survey is an international, collaborative effort to map hundreds of millions of galaxies, detect thousands of supernovae, and find patterns of cosmic structure that will reveal the nature of the mysterious dark energy that is accelerating the expansion of our Universe. The Dark Energy Survey began searching the Southern skies on August 31, 2013.
According to Albert Einstein's Theory of General Relativity, gravity should lead to a slowing of the cosmic expansion. Yet, in 1998, two teams of astronomers studying distant supernovae made the remarkable discovery that the expansion of the universe is speeding up.

Saul Perlmutter (center) [The Supernova Cosmology Project] shared the 2006 Shaw Prize in Astronomy, the 2011 Nobel Prize in Physics, and the 2015 Breakthrough Prize in Fundamental Physics with Brian P. Schmidt (right) and Adam Riess (left) [The High-z Supernova Search Team] for providing evidence that the expansion of the universe is accelerating.
To explain cosmic acceleration, cosmologists are faced with two possibilities: either 70% of the universe exists in an exotic form, now called Dark Energy, that exhibits a gravitational force opposite to the attractive gravity of ordinary matter, or General Relativity must be replaced by a new theory of gravity on cosmic scales.
The Dark Energy Survey is designed to probe the origin of the accelerating universe and help uncover the nature of Dark Energy by measuring the 14-billion-year history of cosmic expansion with high precision. More than 400 scientists from over 25 institutions in the United States, Spain, the United Kingdom, Brazil, Germany, Switzerland, and Australia are working on the project. The collaboration built and is using an extremely sensitive 570-Megapixel digital camera, DECam, mounted on the Blanco 4-meter telescope at Cerro Tololo Inter-American Observatory, high in the Chilean Andes, to carry out the project.
Over six years (2013-2019), the Dark Energy Survey collaboration used 758 nights of observation to carry out a deep, wide-area survey to record information from 300 million galaxies that are billions of light-years from Earth. The survey imaged 5000 square degrees of the southern sky in five optical filters to obtain detailed information about each galaxy. A fraction of the survey time is used to observe smaller patches of sky roughly once a week to discover and study thousands of supernovae and other astrophysical transients.
___________________________________________________________________
Dark Matter Background
Fritz Zwicky discovered Dark Matter in the 1930s when observing the movement of the Coma Cluster., Vera Rubin a Woman in STEM, denied the Nobel, some 30 years later, did most of the work on Dark Matter.
Fritz Zwicky.

Coma cluster via NASA/ESA Hubble, the original example of Dark Matter discovered during observations by Fritz Zwicky and confirmed 30 years later by Vera Rubin.
In modern times, it was astronomer Fritz Zwicky, in the 1930s, who made the first observations of what we now call dark matter. His 1933 observations of the Coma Cluster of galaxies seemed to indicated it has a mass 500 times more than that previously calculated by Edwin Hubble. Furthermore, this extra mass seemed to be completely invisible. Although Zwicky's observations were initially met with much skepticism, they were later confirmed by other groups of astronomers.
Thirty years later, astronomer Vera Rubin provided a huge piece of evidence for the existence of dark matter. She discovered that the centers of galaxies rotate at the same speed as their extremities, whereas, of course, they should rotate faster. Think of a vinyl LP on a record deck: its center rotates faster than its edge. That's what logic dictates we should see in galaxies too. But we do not. The only way to explain this is if the whole galaxy is only the center of some much larger structure, as if it is only the label on the LP so to speak, causing the galaxy to have a consistent rotation speed from center to edge.
Vera Rubin, following Zwicky, postulated that the missing structure in galaxies is dark matter. Her ideas were met with much resistance from the astronomical community, but her observations have been confirmed and are seen today as pivotal proof of the existence of dark matter.

Astronomer Vera Rubin at the Lowell Observatory in 1965, worked on Dark Matter (The Carnegie Institution for Science).
Vera Rubin, with Department of Terrestrial Magnetism (DTM) image tube spectrograph attached to the Kitt Peak 84-inch telescope, 1970.
Vera Rubin measuring spectra, worked on Dark Matter(Emilio Segre Visual Archives AIP SPL).
Dark Matter Research
Super Cryogenic Dark Matter Search from DOE's SLAC National Accelerator Laboratory at Stanford University at SNOLAB (Vale Inco Mine, Sudbury, Canada).
LBNL LZ Dark Matter Experiment xenon detector at Sanford Underground Research Facility Credit: Matt Kapust.
Lamda Cold Dark Matter Accerated Expansion of The universe http scinotions.com the-cosmic-inflation-suggests-the-existence-of-parallel-universes. Credit: Alex Mittelmann.
DAMA at Gran Sasso uses sodium iodide housed in copper to hunt for dark matter LNGS-INFN.
Yale HAYSTAC axion dark matter experiment at Yale's Wright Lab.
DEAP Dark Matter detector, The DEAP-3600, suspended in the SNOLAB (CA) deep in Sudbury's Creighton Mine.
The LBNL LZ Dark Matter Experiment Dark Matter project at SURF, Lead, SD.
DAMA-LIBRA Dark Matter experiment at the Italian National Institute for Nuclear Physics' (INFN's) Gran Sasso National Laboratories (LNGS) located in the Abruzzo region of central Italy.
DARWIN Dark Matter experiment. A design study for a next-generation, multi-ton dark matter detector in Europe at The University of Zurich [Universität Zürich](CH).
PandaX II Dark Matter experiment at Jin-ping Underground Laboratory (CJPL) in Sichuan, China.
Inside the Axion Dark Matter eXperiment U Washington (US) Credit : Mark Stone U. of Washington. Axion Dark Matter Experiment.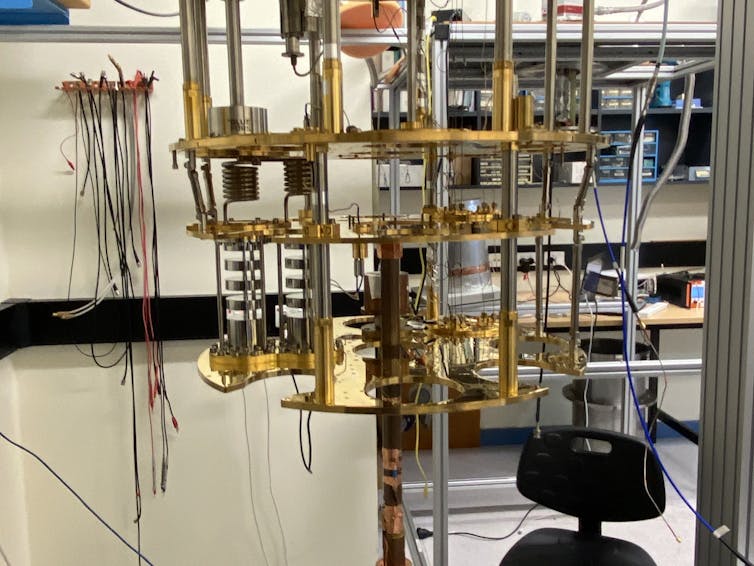 The University of Western Australia ORGAN Experiment's main detector. A small copper cylinder called a "resonant cavity" traps photons generated during dark matter conversion. The cylinder is bolted to a "dilution refrigerator" which cools the experiment to very low temperatures.
__________________________________
Science paper:
MNRAS
See the full article here .
five-ways-keep-your-child-safe-school-shootings
Please help promote STEM in your local schools.
The Conversation (AU) launched as a pilot project in October 2014. It is an independent source of news and views from the academic and research community, delivered direct to the public.
Our team of professional editors work with university and research institute experts to unlock their knowledge for use by the wider public.
Access to independent, high quality, authenticated, explanatory journalism underpins a functioning democracy. Our aim is to promote better understanding of current affairs and complex issues. And hopefully allow for a better quality of public discourse and conversation.