From European Space Agency – United Space in Europe
6.17.20
Paolo Esposito
University School for Advanced Studies IUSS
Pavia, Italy
Email: paolo.esposito@iusspavia.it
Nanda Rea
Institute of Space Sciences (CSIC, IEEC)
Barcelona, Spain
Email: rea@ice.csic.es
Norbert Schartel
XMM-Newton project scientist
European Space Agency
Email: norbert.Schartel@esa.int
ESA Media Relations
Email: media@esa.int
An observation campaign led by ESA's XMM-Newton space observatory reveals the youngest pulsar ever seen – the remnant of a once-massive star – that is also a 'magnetar', sporting a magnetic field some 70 quadrillion times stronger than that of Earth.
Pulsars are some of the most exotic objects in the Universe. They form as massive stars end their lives via powerful supernova explosions and leave extreme stellar remnants behind: hot, dense and highly magnetised. Sometimes pulsars also undergo periods of greatly enhanced activity, in which they throw off enormous amounts of energetic radiation on timescales from milliseconds to years.
Smaller bursts often mark the onset of a more enhanced 'outburst', when X-ray emission can become a thousand times more intense. A multi-instrument campaign led by XMM-Newton has now captured such an outburst emanating from the youngest baby pulsar ever spotted: Swift J1818.0−1607, which was originally discovered by NASA's Swift Observatory in March.
And there is more. Not only is this pulsar the youngest of the 3000 known in our Milky Way galaxy, but it also belongs to a very rare category of pulsars: magnetars, the cosmic objects with the strongest magnetic fields ever measured in the Universe.
"Swift J1818.0−1607 lies around 15,000 light-years away, within the Milky Way," says lead author Paolo Esposito of the University School for Advanced Studies IUSS Pavia, Italy.
"Spotting something so young, just after it formed in the Universe, is extremely exciting. People on Earth would have been able to see the supernova explosion that formed this baby magnetar around 240 years ago, right in the middle of the American and French revolutions."
The magnetar has yet more claims to fame. It is one of the fastest-spinning such objects known, whirling around once every 1.36 seconds – despite containing the mass of two Suns within a stellar remnant measuring just 25 kilometres across.
Immediately after the discovery, the astronomers looked at this object in further detail using XMM-Newton, NASA's Swift and NuSTAR X-ray satellites, and the Sardinia Radio Telescope in Italy.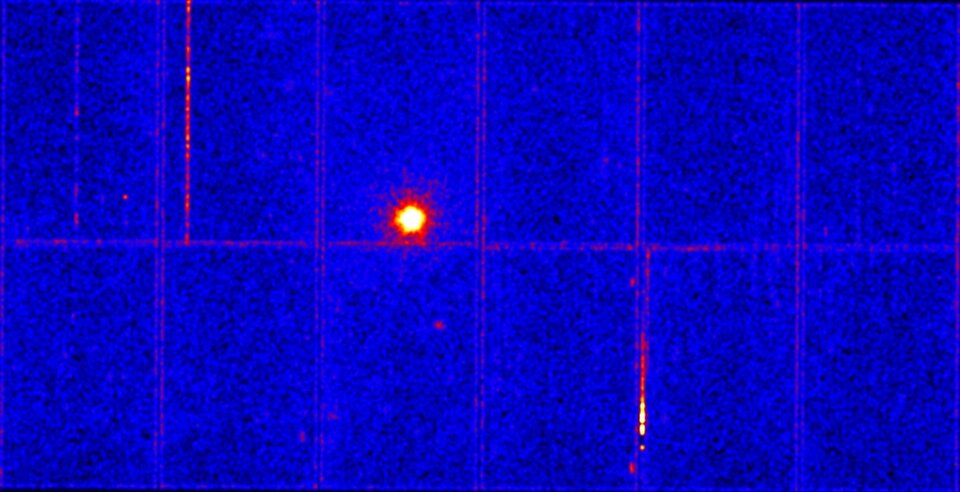 XMM-Newton observations of Swift J1818.0−1607, the youngest magnetar known. ESA
Unlike most magnetars, which are only observable in X-rays, the observations revealed that Swift J1818.0−1607 is one of the very few to also show pulsed emission in radio waves.
"Magnetars are fascinating objects, and this baby one appears to be especially intriguing given its extreme characteristics," says Nanda Rea of the Institute of Space Sciences (CSIC, IEEC) in Barcelona, Spain, and principal investigator of the observations.
"The fact that it can be seen in both radio waves and X-rays offers an important clue in an ongoing scientific debate on the nature of a specific type of stellar remnant: pulsars."
An especially magnetised type of pulsar, magnetars are generally thought to be uncommon in the Universe – astronomers have only detected around 30 – and are assumed to be distinct from other types of pulsar that show up strongly in radio emission.
But X-ray researchers have long suspected that magnetars may be far more common than this view suggests. This new finding supports the idea that, rather than being exotic, they may instead form a substantial fraction of the pulsars found in the Milky Way.
"The fact that a magnetar formed just recently indicates that this idea is well-founded," explains co-author Alice Borghese, who worked on the data analysis with colleague Francesco Coti Zelati – both also based at the Institute of Space Sciences in Barcelona.
"Astronomers have also discovered many magnetars in the past decade, doubling the known population," she adds. "It's likely that magnetars are just good at flying under the radar when they're dormant, and are only discovered when they 'wake up' – as demonstrated by this baby magnetar, which was far less luminous before the outburst that led to its discovery."
Additionally, there may not be as wide a diversity of pulsars as initially thought. The distinctive phenomena shown by magnetars may also occur in other types of pulsar, just as Swift J1818.0−1607 exhibits characteristics – radio emission – not usually attributed to magnetars.
"While interesting in their own right, magnetars are relevant on a far wider scale: they might play a key role in driving a whole host of transient events we see in the Universe," adds Francesco.
"Such events are thought to be somehow connected to magnetars either during their birth, or in the very early stages of their lives, making this discovery especially exciting."
Examples of transient events include gamma-ray bursts, super-luminous supernova explosions, and the mysterious fast radio bursts. These energetic events are potentially linked to the formation and existence of young, strongly magnetised objects – like Swift J1818.0−1607.
"To infer this magnetar's age, the researchers needed high-resolution long-term measurements of both the rate at which it is spinning, and of how this spin is changing over time," adds ESA XMM-Newton Project Scientist Norbert Schartel.
"XMM-Newton's European Photon Imaging Camera, EPIC, observed Swift J1818.0−1607 just three days after it was discovered, enabling the researchers to extract an accurate picture of its X-ray emission, and characterise its rotation and spectral properties in detail."
"This kind of research is hugely important in understanding more about the stellar content of the Milky Way, and revealing the intricacies of phenomena occurring throughout the wider Universe."
More information
"A very young radio-loud magnetar" by P. Esposito et al. (2020) is published in The Astrophysical Journal Letters.
________________________________________________________________
Women in STEM – Dame Susan Jocelyn Bell Burnell Discovered pulsars
Biography
British astrophysicist, scholar and trailblazer Jocelyn Bell Burnell discovered the space-based phenomena known as pulsars, going on to establish herself as an esteemed leader in her field.Who Is Jocelyn Bell Burnell?
Jocelyn Bell Burnell is a British astrophysicist and astronomer. As a research assistant, she helped build a large radio telescope and discovered pulsars, providing the first direct evidence for the existence of rapidly spinning neutron stars. In addition to her affiliation with Open University, she has served as dean of science at the University of Bath and president of the Royal Astronomical Society. Bell Burnell has also earned countless awards and honors during her distinguished academic career.
Early Life
Jocelyn Bell Burnell was born Susan Jocelyn Bell on July 15, 1943, in Belfast, Northern Ireland. Her parents were educated Quakers who encouraged their daughter's early interest in science with books and trips to a nearby observatory. Despite her appetite for learning, however, Bell Burnell had difficulty in grade school and failed an exam intended to measure her readiness for higher education.
Undeterred, her parents sent her to England to study at a Quaker boarding school, where she quickly distinguished herself in her science classes. Having proven her aptitude for higher learning, Bell Burnell attended the University of Glasgow, where she earned a bachelor's degree in physics in 1965.
Little Green Men
In 1965, Bell Burnell began her graduate studies in radio astronomy at Cambridge University. One of several research assistants and students working under astronomers Anthony Hewish, her thesis advisor, and Martin Ryle, over the next two years she helped construct a massive radio telescope designed to monitor quasars. By 1967, it was operational and Bell Burnell was tasked with analyzing the data it produced. After spending endless hours pouring over the charts, she noticed some anomalies that did not fit with the patterns produced by quasars and called them to Hewish's attention.
Over the ensuing months, the team systematically eliminated all possible sources of the radio pulses—which they affectionately labeled Little Green Men, in reference to their potentially artificial origins—until they were able to deduce that they were made by neutron stars, fast-spinning collapsed stars too small to form black holes.
Pulsars and Nobel Prize Controversy
Their findings were published in the February 1968 issue of Nature and caused an immediate sensation. Intrigued as much by the novelty of a woman scientist as by the astronomical significance of the team's discovery, which was labeled pulsars—for pulsating radio stars—the press picked up the story and showered Bell Burnell with attention. That same year, she earned her Ph.D. in radio astronomy from Cambridge University.
However, in 1974, only Hewish and Ryle received the Nobel Prize for Physics for their work. Many in the scientific community raised their objections, believing that Bell Burnell had been unfairly snubbed. However, Bell Burnell humbly rejected the notion, feeling that the prize had been properly awarded given her status as a graduate student, though she has also acknowledged that gender discrimination may have been a contributing factor.
Life on the Electromagnetic Spectrum
Nobel Prize or not, Bell Burnell's depth of knowledge regarding radio astronomy and the electromagnetic spectrum has earned her a lifetime of respect in the scientific community and an esteemed career in academia. After receiving her doctorate from Cambridge, she taught and studied gamma ray astronomy at the University of Southampton. Bell Burnell then spent eight years as a professor at University College London, where she focused on x-ray astronomy.
During this same time, she began her affiliation with Open University, where she would later work as a professor of physics while studying neurons and binary stars, and also conducted research in infrared astronomy at the Royal Observatory, Edinburgh. She was the Dean of Science at the University of Bath from 2001 to 2004, and has been a visiting professor at such esteemed institutions as Princeton University and Oxford University.
Array of Honors and Achievements
In recognition of her achievements, Bell Burnell has received countless awards and honors, including Commander and Dame of the Order of the British Empire in 1999 and 2007, respectively; an Oppenheimer prize in 1978; and the 1989 Herschel Medal from the Royal Astronomical Society, for which she would serve as president from 2002 to 2004. She was president of the Institute of Physics from 2008 to 2010, and has served as president of the Royal Society of Edinburgh since 2014. Bell Burnell also has honorary degrees from an array of universities too numerous to mention.
Personal Life
In 1968, Jocelyn married Martin Burnell, from whom she took her surname, with the two eventually divorcing in 1993. The two have a son, Gavin, who has also become a physicist.

Jocelyn Bell Burnell Special Public Lecture: The Discovery of Pulsars.
Perimeter Institute for Theoretical Physics
Jocelyn Bell Burnell, winner of the 2018 Special Breakthrough Prize in Fundamental Physics, delivered a special talk at Perimeter Institute about her 1967 discovery of pulsars and her remarkable career in physics.
See the full article here .

five-ways-keep-your-child-safe-school-shootings
Please help promote STEM in your local schools.
The European Space Agency (ESA), established in 1975, is an intergovernmental organization dedicated to the exploration of space, currently with 19 member states. Headquartered in Paris, ESA has a staff of more than 2,000. ESA's space flight program includes human spaceflight, mainly through the participation in the International Space Station program, the launch and operations of unmanned exploration missions to other planets and the Moon, Earth observation, science, telecommunication as well as maintaining a major spaceport, the Guiana Space Centre at Kourou, French Guiana, and designing launch vehicles. ESA science missions are based at ESTEC in Noordwijk, Netherlands, Earth Observation missions at ESRIN in Frascati, Italy, ESA Mission Control (ESOC) is in Darmstadt, Germany, the European Astronaut Centre (EAC) that trains astronauts for future missions is situated in Cologne, Germany, and the European Space Astronomy Centre is located in Villanueva de la Cañada, Spain.