From CSIRO (AU)-Commonwealth Scientific and Industrial Research Organization
And
The University of Southampton (UK)
Via
August 2, 2022
Laura Herraiz Borreguero
Physical oceanographer
CSIRO
Alberto Naveira Garabato
Professor, National Oceanography Centre
University of Southampton (UK)
Jess Melbourne-Thomas
Transdisciplinary Researcher & Knowledge Broker
CSIRO

Credit: Shutterstock
Warmer waters are flowing towards the East Antarctic ice sheet, according to our alarming new research which reveals a potential new driver of global sea-level rise.
The research, published today in Nature Climate Change [below], shows changing water circulation in the Southern Ocean may be compromising the stability of the East Antarctic ice sheet. The ice sheet, about the size of the United States, is the largest in the world.
The changes in water circulation are caused by shifts in wind patterns, and linked to factors including climate change. The resulting warmer waters and sea-level rise may damage marine life and threaten human coastal settlements.
Our findings underscore the urgency of limiting global warming to below 1.5℃, to avert the most catastrophic climate harms.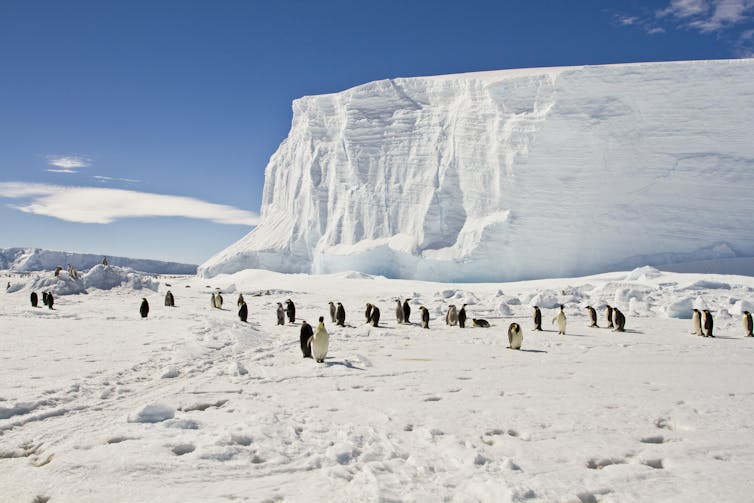 Warmer waters and sea-level rise may damage marine life and threaten human coastal settlements. Shutterstock.
Ice sheets and climate change
Ice sheets comprise glacial ice that has accumulated from precipitation over land. Where the sheets extend from the land and float on the ocean, they are known as ice shelves.
It's well known that the West Antarctic ice sheet is melting and contributing to sea-level rise. But until now, far less was known about its counterpart in the east.
Our research focused offshore a region known as the Aurora Subglacial Basin in the Indian Ocean.

The subglacial hydrology of the Aurora Subglacial Basin area, including the locations of subglacial lakes (triangles) and sites of ice-surface elevation change interpreted as subglacial water movements (purple circles). Sites that do not resemble substantial lakes in RES data, but are identified by an automated algorithm for detecting subglacial water, are also shown as red dots. The extent of the predicted flow paths of subglacial water is limited to areas of subglacial topography at the pressure melting point. Subglacial lakes with numbers relate to new lakes discovered since the last full inventory. (Adapted from Wright et al.[?])
This area of frozen sea ice forms part of the East Antarctic ice sheet.
How this basin will respond to climate change is one of the largest uncertainties in projections of sea-level rise this century. If the basin melted fully, global sea levels would rise by 5.1 metres.
Much of the basin is below sea level, making it particularly sensitive to ocean melting. That's because deep seawater requires lower temperatures to freeze than shallower seawater.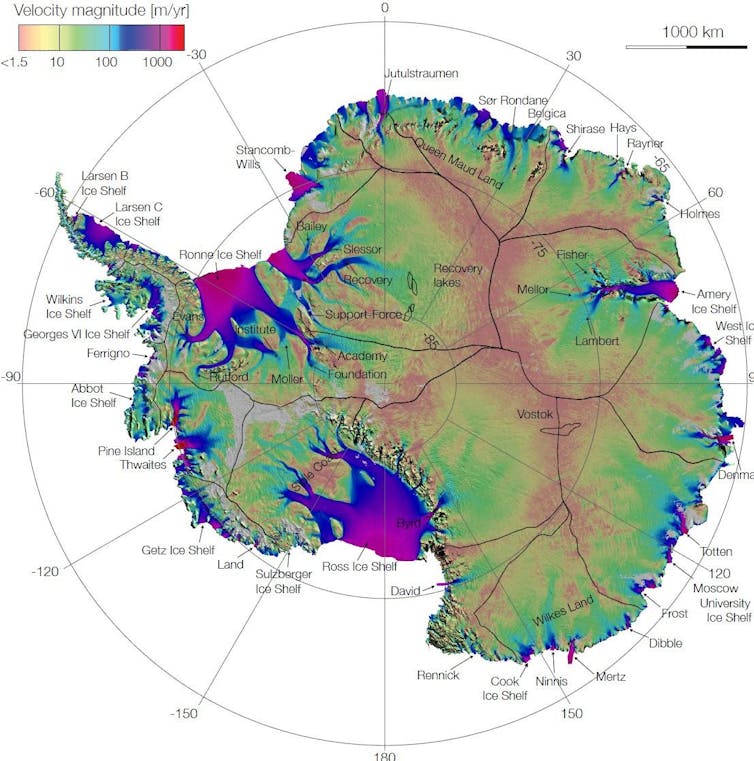 A map of Antarctica seen from above, revealing the extent of the ice sheet. Credit: NASA's Goddard Space Flight Center Scientific Visualization Studio.
What we found
We examined 90 years of oceanographic observations off the Aurora Subglacial Basin. We found unequivocal ocean warming at a rate of up to 2℃ to 3℃ since the earlier half of the 20th century. This equates to 0.1℃ to 0.4℃ per decade.
The warming trend has tripled since the 1990s, reaching a rate of 0.3℃ to 0.9℃ each decade.
So how is this warming linked to climate change? The answer relates to a belt of strong westerly winds over the Southern Ocean. Since the 1960s, these winds have been moving south towards Antarctica during years when the Southern Annular Mode, a climate driver, is in a positive phase.
The phenomenon has been partly attributed to increasing greenhouse gases in the atmosphere. As a result, westerly winds are moving closer to Antarctica in summer, bringing warm water with them.
The East Antarctic ice sheet was once thought to be relatively stable and sheltered from warming oceans. That's in part because it's surrounded by very cold water known as "dense shelf water".
Part of our research focused on the Vanderford Glacier in East Antarctica. There, we observed the warm water replacing the colder dense shelf water.
The movement of warm waters towards East Antarctica is expected to worsen throughout the 21st century, further threatening the ice sheet's stability.
Why this matters to marine life
Previous work [Global Change Biology 2014 (below)]on the effects of climate change in the East Antarctic has generally assumed that warming first occurs in the ocean's surface layers. Our findings – that deeper water is warming first – suggests a need to re-think potential impacts on marine life.
Robust assessment work is required, including investment in monitoring and modelling that can link physical change to complex ecosystem responses. This should include the possible effects of very rapid change, known as tipping points, that may mean the ocean changes far more rapidly than marine life can adapt.
East Antarctic marine ecosystems are likely to be highly vulnerable to warming waters. Antarctic krill, for example, breed by sinking eggs to deep ocean depths. Warming of deeper waters may affect the development of eggs and larvae. This in turn would affect krill populations and dependent predators such as penguins, seals and whales.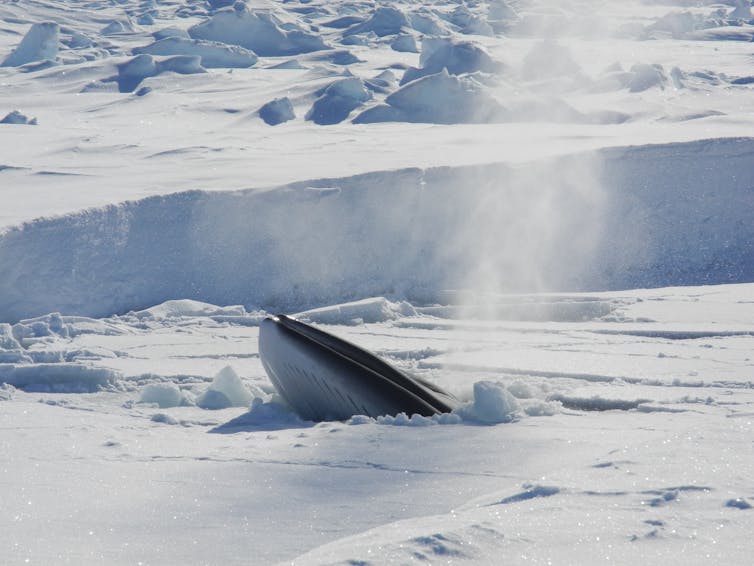 Minke whale surfacing through ice in Antarctica, where warming water will impact marine ecosystems. Credit: Jess Melourne-Thomas.
Limiting global warming below 1.5℃
We hope our results will inspire global efforts to limit global warming below 1.5℃. To achieve this, global greenhouse gas emissions need to fall by around 43% by 2030 and to near zero by 2050.
Warming above 1.5℃. greatly increases the risk of destabilising the Antarctic ice sheet, leading to substantial sea-level rise.
But staying below 1.5℃ would keep sea-level rise to no more than an additional 0.5 metres by 2100. This would enable greater opportunities for people and ecosystems to adapt.
Science papers:
Nature Climate Change 2022
Global Change Biology 2014
See the full article here .
five-ways-keep-your-child-safe-school-shootings
Please help promote STEM in your local schools.
The University of Southampton (UK) is a world-class university built on the quality and diversity of our community. Our staff place a high value on excellence and creativity, supporting independence of thought, and the freedom to challenge existing knowledge and beliefs through critical research and scholarship. Through our education and research we transform people's lives and change the world for the better.
Vision 2020 is the basis of our strategy.
Since publication of the previous University Strategy in 2010 we have achieved much of what we set out to do against a backdrop of a major economic downturn and radical change in higher education in the UK.
Vision 2020 builds on these foundations, describing our future ambition and priorities. It presents a vision of the University as a confident, growing, outwardly-focused institution that has global impact. It describes a connected institution equally committed to education and research, providing a distinctive educational experience for its students, and confident in its place as a leading international research university, achieving world-wide impact.
CSIRO (AU)-Commonwealth Scientific and Industrial Research Organization, is Australia's national science agency and one of the largest and most diverse research agencies in the world.
CSIRO works with leading organizations around the world. From its headquarters in Canberra, CSIRO maintains more than 50 sites across Australia and in France, Chile and the United States, employing about 5,500 people.
Federally funded scientific research began in Australia 104 years ago. The Advisory Council of Science and Industry was established in 1916 but was hampered by insufficient available finance. In 1926 the research effort was reinvigorated by establishment of the Council for Scientific and Industrial Research (CSIR), which strengthened national science leadership and increased research funding. CSIR grew rapidly and achieved significant early successes. In 1949 further legislated changes included renaming the organization as CSIRO.
Notable developments by CSIRO have included the invention of atomic absorption spectroscopy; essential components of Wi-Fi technology; development of the first commercially successful polymer banknote; the invention of the insect repellent in Aerogard and the introduction of a series of biological controls into Australia, such as the introduction of myxomatosis and rabbit calicivirus for the control of rabbit populations.
Research and focus areas
Research Business Units
As at 2019, CSIRO's research areas are identified as "Impact science" and organized into the following Business Units:
Agriculture and Food
Health and Biosecurity
Data 61
Energy
Land and Water
Manufacturing
Mineral Resources
Oceans and Atmosphere
National Facilities
CSIRO manages national research facilities and scientific infrastructure on behalf of the nation to assist with the delivery of research. The national facilities and specialized laboratories are available to both international and Australian users from industry and research. As at 2019, the following National Facilities are listed:
Australian Animal Health Laboratory (AAHL)
Australia Telescope National Facility – radio telescopes included in the Facility include the Australia Telescope Compact Array, the Parkes Observatory, Mopra Radio Telescope Observatory and the Australian Square Kilometre Array Pathfinder.
CSIRO Australia Compact Array (AU), six radio telescopes at the Paul Wild Observatory, is an array of six 22-m antennas located about twenty five kilometres (16 mi) west of the town of Narrabri in Australia.
CSIRO-Commonwealth Scientific and Industrial Research Organization (AU) Parkes Observatory [Murriyang, the traditional Indigenous name], located 20 kilometres north of the town of Parkes, New South Wales, Australia, 414.80m above sea level.
NASA Canberra Deep Space Communication Complex, AU, Deep Space Network. Credit: NASA.
CSIRO Canberra campus.
ESA DSA 1, hosts a 35-metre deep-space antenna with transmission and reception in both S- and X-band and is located 140 kilometres north of Perth, Western Australia, near the town of New Norcia.
CSIRO-Commonwealth Scientific and Industrial Research Organisation (AU)CSIRO R/V Investigator.
UK Space NovaSAR-1 satellite (UK) synthetic aperture radar satellite.
CSIRO Pawsey Supercomputing Centre AU)
Magnus Cray XC40 supercomputer at Pawsey Supercomputer Centre Perth Australia.
Galaxy Cray XC30 Series Supercomputer at at Pawsey Supercomputer Centre Perth Australia.
Pausey Supercomputer CSIRO Zeus SGI Linux cluster.
Others not shown
SKA- Square Kilometer Array.
SKA Square Kilometre Array low frequency at Murchison Widefield Array, Boolardy station in outback Western Australia on the traditional lands of the Wajarri peoples.
EDGES telescope in a radio quiet zone at the Murchison Radio-astronomy Observatory in Western Australia, on the traditional lands of the Wajarri peoples.
The Conversation (AU) launched as a pilot project in October 2014. It is an independent source of news and views from the academic and research community, delivered direct to the public.
Our team of professional editors work with university and research institute experts to unlock their knowledge for use by the wider public.
Access to independent, high quality, authenticated, explanatory journalism underpins a functioning democracy. Our aim is to promote better understanding of current affairs and complex issues. And hopefully allow for a better quality of public discourse and conversation.