From CSIRO (AU)-Commonwealth Scientific and Industrial Research Organisation
7 April 2022
Ms Jenna Daroczy
Manager, Media and Corporate Communication
+61 2 6218 3762
Australia's national science agency, CSIRO, will invest $50 million over the next five years in four new programs to drive critical breakthroughs in tough national challenges.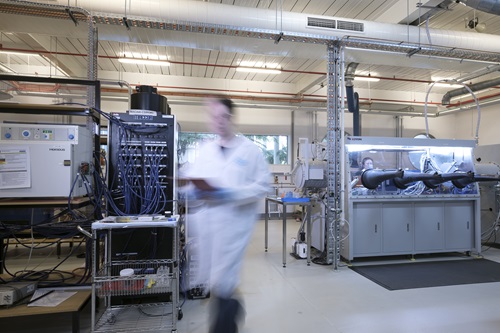 Unlocking the secret to efficient and safe energy storage with the Revolutionary Energy Storage Systems Future Science Platform © Nick Pitsas.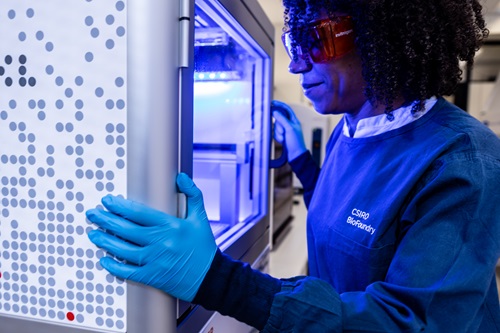 Providing high-throughput bioengineering capability, the CSIRO BioFoundry finds solutions to rapidly innovate the development of bio-based products.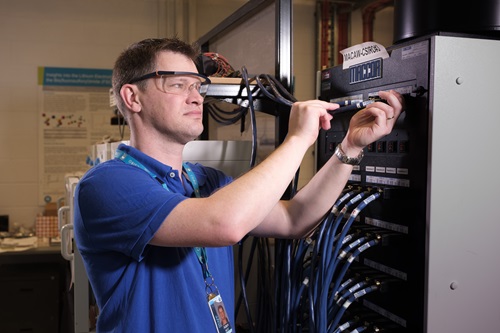 Disruptive change is crucial to meeting future energy needs safely, efficiently and sustainably – Dr Adam Best. © Nick Pitsas.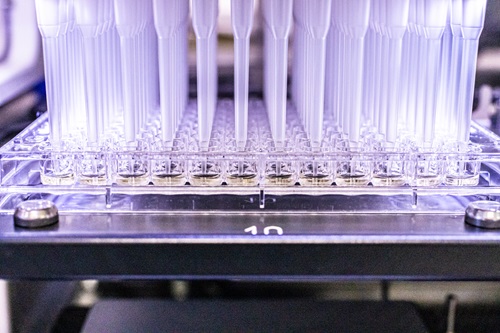 The CSIRO BioFoundry, enabled by high-throughput automation and data handling, can prototype new biotechnologies or answer complex biological questions.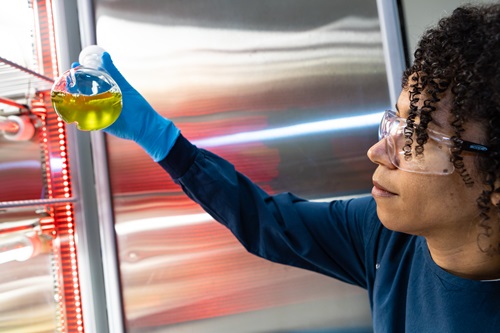 With a suite of specialist equipment to meet the needs of bioengineering projects, the CSIRO BioFoundry provides capability to industry and the research community.
The programs are part of CSIRO's $200 million portfolio of Future Science Platforms (FSPs), programs that push the boundaries of existing research through collaboration with universities and industry.
The Revolutionary Energy Storage Systems FSP will reimagine Australia's electricity grid from one designed to support fossil fuels to instead incorporate more sources of renewable power.
The Permanent Carbon Locking FSP will harness biology, chemistry and engineering to drive innovation in carbon capture and carbon storage science.
The Immune Resilience FSP will build on the accelerated understanding of human and animal immune systems gained from COVID-19 to develop technologies that prevent, protect, and respond to emerging health threats.
The Advanced Engineering Biology FSP will deliver new tools to develop fast-tracked solutions for some of the most pressing challenges of this century – from food security to health and wellbeing and carbon-neutral industries.
CSIRO's Chief Scientist Professor Bronwyn Fox said the new FSPs will bring together industry and science, including early career researchers, to invent the cutting-edge science that will shape our future.
"CSIRO's Future Science Platforms are a big part of our strategy to stay at the forefront of discovery," Prof Fox said.
"They are a critical part of the way we do science – they are our investment in cutting-edge, transformative research where we push the boundaries of science and lean into the seemingly impossible.
"The foundational research that these four new Future Science Platforms will undertake will pave the way for innovations and catalyse new industries that will help us to better manage our health, food security, natural resources and environment in the decades to come."
Dr Adam Best, Interim Director of the Revolutionary Energy Storage Systems FSP, said disruptive change is crucial to meeting future energy needs safely, efficiently and sustainably.
"Unlocking the secret to efficient and safe energy storage could see us charge electric vehicles as easily as we now fill our petrol tanks, or keep portable our devices charged for many days without the need for a top up," Dr Best said.
"On a larger scale, it could even be mimicking pumped hydro through new technology and making it more responsive to the needs of the grid."
Dr Andrew Lenton, Director of the Permanent Carbon Locking FSP, said research would focus on accelerated atmospheric carbon removal and permanent carbon storage, and integrating these in novel ways.
"If we are to avoid the worst impacts of climate change, breakthroughs and innovation in permanent carbon removal from the atmosphere is needed," Dr Lenton said.
"The future science and capability developed in this FSP have the potential to underpin new industries and reshape existing industries for Australia and beyond, with CSIRO's science at the centre."
Dr Tim Doran, Interim Director of the Immune Resilience FSP, said new and emerging science could enable solutions that harness immune responses to better tackle diseases.
"The rapid acceleration in immune-based technologies in recent years has opened up so many biotech opportunities, and we want to build on that momentum," Dr Doran said.
"This innovative research will further unravel the complex nature of immune systems and develop new strategies to enhance immune resilience in both humans and animals."
Dr Colin Scott, Interim Director of the Advanced Engineering Biology FSP, said developing powerful new tools for biological design and prototyping will supercharge the delivery of impactful new goods and services.
"This research will help deliver the 50,000 jobs and $30 billion a year that have been identified in the CSIRO Synthetic Biology Roadmap," Dr Scott said.
"This is a really exciting time for the bioeconomy in Australia. We are seeing significant growth in start-ups and in the wider innovation ecosystem. Increased investment in this research area will help ensure that Australia is a world leader in engineering biology."
CSIRO's $200 million portfolio of Future Science Platforms includes 20 programs that underpin innovation and have the potential to help reinvent and create new industries for Australia. More here: https://www.csiro.au/en/about/strategy/Future-Science-Platforms
See the full article here .

five-ways-keep-your-child-safe-school-shootings
Please help promote STEM in your local schools.
CSIRO (AU)-Commonwealth Scientific and Industrial Research Organisation, is Australia's national science agency and one of the largest and most diverse research agencies in the world.
CSIRO works with leading organisations around the world. From its headquarters in Canberra, CSIRO maintains more than 50 sites across Australia and in France, Chile and the United States, employing about 5,500 people.
Federally funded scientific research began in Australia 104 years ago. The Advisory Council of Science and Industry was established in 1916 but was hampered by insufficient available finance. In 1926 the research effort was reinvigorated by establishment of the Council for Scientific and Industrial Research (CSIR), which strengthened national science leadership and increased research funding. CSIR grew rapidly and achieved significant early successes. In 1949 further legislated changes included renaming the organisation as CSIRO.
Notable developments by CSIRO have included the invention of atomic absorption spectroscopy; essential components of Wi-Fi technology; development of the first commercially successful polymer banknote; the invention of the insect repellent in Aerogard and the introduction of a series of biological controls into Australia, such as the introduction of myxomatosis and rabbit calicivirus for the control of rabbit populations.
Research and focus areas
Research Business Units
As at 2019, CSIRO's research areas are identified as "Impact science" and organised into the following Business Units:
Agriculture and Food
Health and Biosecurity
Data 61
Energy
Land and Water
Manufacturing
Mineral Resources
Oceans and Atmosphere
National Facilities
CSIRO manages national research facilities and scientific infrastructure on behalf of the nation to assist with the delivery of research. The national facilities and specialized laboratories are available to both international and Australian users from industry and research. As at 2019, the following National Facilities are listed:
Australian Animal Health Laboratory (AAHL)
Australia Telescope National Facility – radio telescopes included in the Facility include the Australia Telescope Compact Array, the Parkes Observatory, Mopra Observatory and the Australian Square Kilometre Array Pathfinder.
CSIRO Australia Compact Array (AU), six radio telescopes at the Paul Wild Observatory, is an array of six 22-m antennas located about twenty five kilometres (16 mi) west of the town of Narrabri in Australia.
CSIRO-Commonwealth Scientific and Industrial Research Organisation (AU) Parkes Observatory, [ Murriyang, the traditional Indigenous name] , located 20 kilometres north of the town of Parkes, New South Wales, Australia, 414.80m above sea level.
CSIRO-Commonwealth Scientific and Industrial Research Organisation (AU) Mopra radio telescope.
Australian Square Kilometre Array Pathfinder.
NASA Canberra Deep Space Communication Complex, AU, Deep Space Network. Credit: NASA.
CSIRO Canberra campus.
ESA DSA 1, hosts a 35-metre deep-space antenna with transmission and reception in both S- and X-band and is located 140 kilometres north of Perth, Western Australia, near the town of New Norcia.
CSIRO-Commonwealth Scientific and Industrial Research Organisation (AU)">CSIRO R/V Investigator.
UK Space NovaSAR-1 satellite (UK) synthetic aperture radar satellite.
CSIRO Pawsey Supercomputing Centre AU)
Magnus Cray XC40 supercomputer at Pawsey Supercomputer Centre Perth Australia.
Galaxy Cray XC30 Series Supercomputer at at Pawsey Supercomputer Centre Perth Australia.
Pausey Supercomputer CSIRO Zeus SGI Linux cluster.
Others not shown
SKA- Square Kilometer Array.
SKA Square Kilometre Array low frequency at Murchison Widefield Array, Boolardy station in outback Western Australia on the traditional lands of the Wajarri peoples.
EDGES telescope in a radio quiet zone at the Murchison Radio-astronomy Observatory in Western Australia, on the traditional lands of the Wajarri peoples.