via
September 16, 2021
Lisa Kaltenegger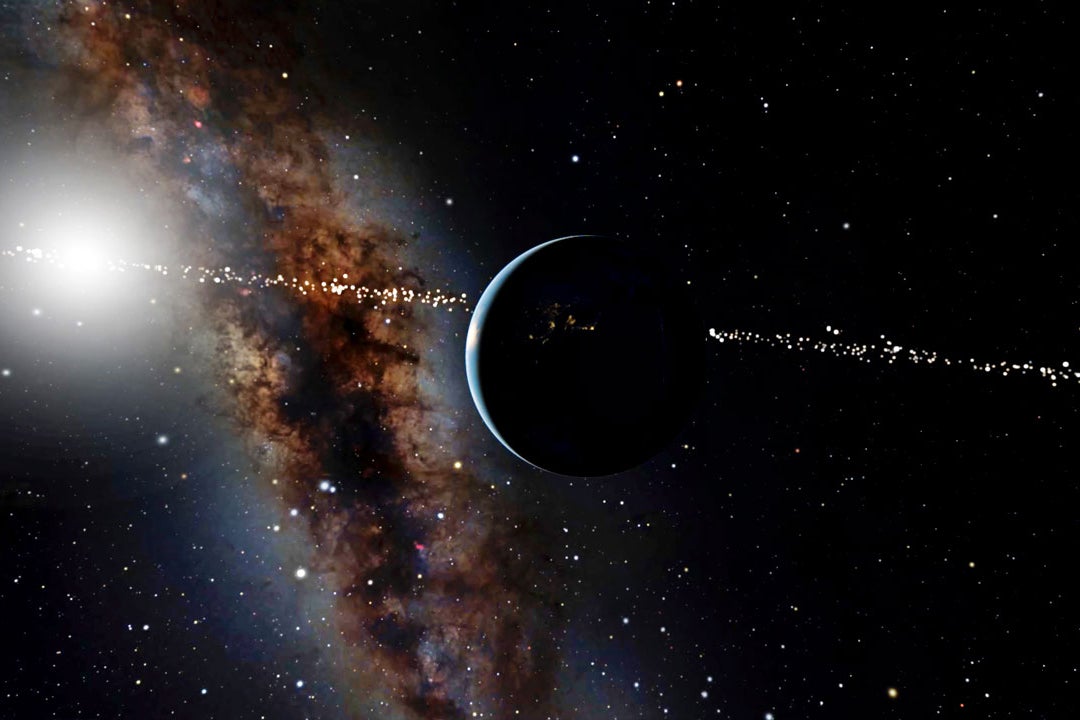 A view of the Earth and sun from thousands of miles above our planet, with stars in position to see Earth transiting around the sun brightened and the Milky Way visible on the left. Credit: Open Space/ © American Museum of Natural History-New York City (US).
More than 1,700 stars could have seen Earth in the past 5,000 years.
Do you ever feel like someone is watching you? They could be. And I'm not talking about the odd neighbors at the end of your street.
This summer, at The Carl Sagan Institute (US) at Cornell University and The American Museum of Natural History (US) in NYC, my colleague Jacky Faherty and I identified 1,715 stars in our solar neighborhood that could have seen Earth in the past 5,000 years. In the mesmerizing gravitational dance of the stars, those stars found themselves at just the right place to spot Earth. That's because our pale blue dot blocks out part of the sun's light from their view. This is how we find most exoplanets circling other stars. We spot the temporary dimming of their star's light.
The perfect cosmic front seat to Earth with its curious beings, is quite rare. But with about the same technology as we have, any nominal, curious aliens on planets circling one of the 1,715 stars could have spotted us. Would they have identified us as intelligent life?
All of us observe the dynamics of the cosmos every night. Stars rise and set—including our sun—because Earth rotates among the rich stellar tapestry. Our night sky changes throughout the year because Earth moves in orbit around the sun. We only see stars at night when the sun doesn't outshine them. While circling the sun, we glimpse the brightest stars in the anti-sun direction only. Thus, we see different stars in different seasons.
If we could watch for thousands of years, we could watch the dynamic dance of the cosmos unfold in our night sky. But alternatively, we can use the newest data from The European Space Agency [Agence spatiale européenne][Europäische Weltraumorganisation](EU)'s GAIA mission and computers to fast-forward the time before our eyes, with decades unfolding in mere minutes.
While we can only see the light of the stars, we already know that more than 4,500 of these stars are not alone. They host extrasolar planets. Several thousand additional signals indicate even more new worlds on our cosmic horizon.
Astronomers found most of these exoplanets in the last two decades because of a temporary dimming of their stars when a planet, by chance, crossed our line of sight on its journey around its star.
The planet temporarily blocks out part of the hot star—and its light—from our view. Telescopes on the ground and from space, including NASA's Kepler and TESS (Transiting Exoplanet Survey Satellite) mission, found thousands of exoplanets by spotting this dimming, which repeats like clockwork.
The time between dimming tells us how long the planet needs to circle its star. That allows us to figure out how far away an exoplanet wanders from its hot central star. Most known exoplanets are scorching hot gas balls. We can tell when planets orbit closer to a central star than others because they need less time to circle it—we also find those faster than the cooler ones farther away. But about three dozen of these exoplanets are already cool enough. They orbit at the right distance from their stars, where it is not too hot and not too cold. Surface temperatures could allow rivers and oceans to glisten on the surfaces of these planets in this so-called Habitable Zone.
TRANSIT OF EARTH In this video, scientists at Cornell University and the American Museum of Natural History explain how they have identified stars that have been at just the right place, sometime in the past 5,000 years, to have seen Earth as a transiting exoplanet. Credit: D. Desir National Aeronautics Space Agency (US) / AMNH OpenSpace.
This vantage point—to see a planet block part of the hot stellar surface from view—is special. The alignment of us and the planet must be just right. Thus, these thousands of known exoplanets are only the tip of the figurative exoplanet iceberg. The ones we can most easily spot hint at the majority waiting to be discovered.
But what if we change that vantage point? If anyone out there were looking, which stars are just in the right place to spot us?
Our powers of observation have been boosted by the European Space Agency's Gaia mission. Launched in 2013, the Gaia spacecraft is mapping the motion stars around the center of our galaxy, the Milky Way.
The agency aims to survey 1 percent of the galaxy's 100 billion stars. It has generated the best catalog of stars in our neighborhood within 326 light-years from the sun. Less than 1 percent of the 331,312 catalogued objects —stars, brown dwarfs, and stellar corpses—are at the right place to see Earth as a transiting exoplanet. This special vantage point is held by only those objects in a position close to the plane of Earth's orbit. Roughly 1,400 stars are at the right place right now to see Earth as a transiting exoplanet.
But this special vantage point is not forever. It is gained and lost in the precise gravitational dance in our dynamic cosmos. How long does that cosmic front-row seat to Earth transit last? Because the Gaia mission records the motion of the stars, we can spin their movement into the future and trace it back into the past on a computer. It shows us the night sky over thousands of years since civilizations bloomed on Earth and gives us a glimpse of a night sky of the far future, millennia away.
If we had observed the sky for transiting planets thousands of years earlier or later, we would see different ones. And different ones could find us. We calculated that 1,715 objects in our solar neighborhood could have seen Earth transit since human civilizations started to bloom about 5,000 years ago and kept that special vantage point for hundreds of years. Three hundred and nineteen objects will enter the Earth transit zone in the next 5,000 years.
Among these 2,034 stars, seven harbor known exoplanets, with three stars' exoplanets circling in this temperate Habitable Zone. However, the small region around the plane of the Earth's orbit, where all these stars lie, is crowded. Astronomers usually don't look for planets there. Generally, it is easier to find exoplanets around stars in non-crowded fields. But now we have a reason: to discover the planets that could also discover us.
NASA's Kepler mission stared for more than three years at about 150,000 stars about 1,000 light-years away. These 150,000 stars fit in a small fraction of the sky. Its goal was to estimate how many stars harbor exoplanets. The answer is exciting. Every second star has at least one planet, big or small, and about every fourth star hosts a planet in the Goldilocks Zone. These results provide cautious optimism about our chances of not being the only life in the cosmos. It also means that about 500 exoplanets in the Habitable Zone should be on our list, waiting to be discovered.
The three systems that host planets in the Habitable Zone in the Earth transit zone are close enough to detect radio waves from Earth. Because radio waves travel at light speed, they have only washed over 75 of the stars on our list so far. These stars are within 100 light-years from Earth—because light had 100 years to travel since Earth first started to leak radio signals.
Ross 128b, an exoplanet a mere 11 light-years away from us, could have seen Earth block the sun's light about 3,000 years ago. But it lost this bull's-eye view about 900 years ago. Another exoplanet, Teegarden's Star b, which is a bit heavier than Earth, and circles a red sun, is about 12.5 light-years away, and will start to see Earth transit in 29 years. And the fascinating Trappist-1 system, with seven Earth-size planets at 40 light-years distance, will be able to see Earth as a transiting planet but only in about 1,600 years.
With the launch of the James Webb Space Telescope (JWST) later this year, we will have a big enough telescope to collect light from small, close-by exoplanets that could be like ours.
A particular combination of oxygen and methane has identified Earth as a living planet for about 2 billion years. That combination of gases is what we will be looking for in the atmosphere of other worlds. This exoplanet exploration will be on the edge of our technological possibility, but it will be possible for the first time. Future technology should be able to characterize exoplanets, not just in transit. But for now, telescopes like the JWST collect only enough light from the atmosphere of close-by transiting worlds to explore them, allowing us to wonder whether nominal curious astronomers on alien worlds might be watching us too.
Of course, no aliens have visited us yet, and we haven't found any cosmic messages from them. Is that because we're unique? Have other civilizations destroyed themselves? Or are they just not interested in us?
In my Introduction to Astronomy class at Cornell, I ask students whether they would contact or visit an exoplanet that is 5,000 years younger than Earth or 5,000 years older. Without fail, they pick the older planet and its potentially more advanced life. More "advanced" than us. During our discussions, the concept of advanced life invariably rolls back around to us. Would life on Earth qualify as intelligent for anyone watching?
After all, we've been using radio waves for only about 100 years, and so those waves would only have traveled 100 light-years so far. We have set foot on the moon but not farther yet and are only starting to think about interstellar travel. So our interstellar travel resume is awfully thin.
One thing that an alien astronomer would likely see is our atmosphere. If they had been watching us for a while, they would have seen that we destroyed our ozone layer—but we also managed to fix it. So maybe we would have scored a point on their intelligence scale. Now, of course, they see our atmosphere is becoming concentrated with carbon dioxide and shows no signs of abating yet. But maybe every civilization goes through this, every civilization nearly destroys its habitat before figuring out a way to save themselves from themselves.
If any aliens are out there watching us from those 2,043 stars in our solar neighborhood, I hope they're also rooting for us.
Science paper:
Nature
See the full article here .
five-ways-keep-your-child-safe-school-shootings
Please help promote STEM in your local schools.
Once called "the first American university" by educational historian Frederick Rudolph, Cornell University represents a distinctive mix of eminent scholarship and democratic ideals. Adding practical subjects to the classics and admitting qualified students regardless of nationality, race, social circumstance, gender, or religion was quite a departure when Cornell was founded in 1865.
Today's Cornell reflects this heritage of egalitarian excellence. It is home to the nation's first colleges devoted to hotel administration, industrial and labor relations, and veterinary medicine. Both a private university and the land-grant institution of New York State, Cornell University is the most educationally diverse member of the Ivy League.
On the Ithaca campus alone nearly 20,000 students representing every state and 120 countries choose from among 4,000 courses in 11 undergraduate, graduate, and professional schools. Many undergraduates participate in a wide range of interdisciplinary programs, play meaningful roles in original research, and study in Cornell programs in Washington, New York City, and the world over.
Cornell University (US) is a private, statutory, Ivy League and land-grant research university in Ithaca, New York. Founded in 1865 by Ezra Cornell and Andrew Dickson White, the university was intended to teach and make contributions in all fields of knowledge—from the classics to the sciences, and from the theoretical to the applied. These ideals, unconventional for the time, are captured in Cornell's founding principle, a popular 1868 quotation from founder Ezra Cornell: "I would found an institution where any person can find instruction in any study."
The university is broadly organized into seven undergraduate colleges and seven graduate divisions at its main Ithaca campus, with each college and division defining its specific admission standards and academic programs in near autonomy. The university also administers two satellite medical campuses, one in New York City and one in Education City, Qatar, and Jacobs Technion-Cornell Institute(US) in New York City, a graduate program that incorporates technology, business, and creative thinking. The program moved from Google's Chelsea Building in New York City to its permanent campus on Roosevelt Island in September 2017.
Cornell is one of the few private land grant universities in the United States. Of its seven undergraduate colleges, three are state-supported statutory or contract colleges through the SUNY – The State University of New York (US) system, including its Agricultural and Human Ecology colleges as well as its Industrial Labor Relations school. Of Cornell's graduate schools, only the veterinary college is state-supported. As a land grant college, Cornell operates a cooperative extension outreach program in every county of New York and receives annual funding from the State of New York for certain educational missions. The Cornell University Ithaca Campus comprises 745 acres, but is much larger when the Cornell Botanic Gardens (more than 4,300 acres) and the numerous university-owned lands in New York City are considered.
Alumni and affiliates of Cornell have reached many notable and influential positions in politics, media, and science. As of January 2021, 61 Nobel laureates, four Turing Award winners and one Fields Medalist have been affiliated with Cornell. Cornell counts more than 250,000 living alumni, and its former and present faculty and alumni include 34 Marshall Scholars, 33 Rhodes Scholars, 29 Truman Scholars, 7 Gates Scholars, 55 Olympic Medalists, 10 current Fortune 500 CEOs, and 35 billionaire alumni. Since its founding, Cornell has been a co-educational, non-sectarian institution where admission has not been restricted by religion or race. The student body consists of more than 15,000 undergraduate and 9,000 graduate students from all 50 American states and 119 countries.
History
Cornell University was founded on April 27, 1865; the New York State (NYS) Senate authorized the university as the state's land grant institution. Senator Ezra Cornell offered his farm in Ithaca, New York, as a site and $500,000 of his personal fortune as an initial endowment. Fellow senator and educator Andrew Dickson White agreed to be the first president. During the next three years, White oversaw the construction of the first two buildings and traveled to attract students and faculty. The university was inaugurated on October 7, 1868, and 412 men were enrolled the next day.
Cornell developed as a technologically innovative institution, applying its research to its own campus and to outreach efforts. For example, in 1883 it was one of the first university campuses to use electricity from a water-powered dynamo to light the grounds. Since 1894, Cornell has included colleges that are state funded and fulfill statutory requirements; it has also administered research and extension activities that have been jointly funded by state and federal matching programs.
Cornell has had active alumni since its earliest classes. It was one of the first universities to include alumni-elected representatives on its Board of Trustees. Cornell was also among the Ivies that had heightened student activism during the 1960s related to cultural issues; civil rights; and opposition to the Vietnam War, with protests and occupations resulting in the resignation of Cornell's president and the restructuring of university governance. Today the university has more than 4,000 courses. Cornell is also known for the Residential Club Fire of 1967, a fire in the Residential Club building that killed eight students and one professor.
Since 2000, Cornell has been expanding its international programs. In 2004, the university opened the Weill Cornell Medical College in Qatar. It has partnerships with institutions in India, Singapore, and the People's Republic of China. Former president Jeffrey S. Lehman described the university, with its high international profile, a "transnational university". On March 9, 2004, Cornell and Stanford University(US) laid the cornerstone for a new 'Bridging the Rift Center' to be built and jointly operated for education on the Israel–Jordan border.
Research
Cornell, a research university, is ranked fourth in the world in producing the largest number of graduates who go on to pursue PhDs in engineering or the natural sciences at American institutions, and fifth in the world in producing graduates who pursue PhDs at American institutions in any field. Research is a central element of the university's mission; in 2009 Cornell spent $671 million on science and engineering research and development, the 16th highest in the United States. Cornell is classified among "R1: Doctoral Universities – Very high research activity".
For the 2016–17 fiscal year, the university spent $984.5 million on research. Federal sources constitute the largest source of research funding, with total federal investment of $438.2 million. The agencies contributing the largest share of that investment are the Department of Health and Human Services and the National Science Foundation(US), accounting for 49.6% and 24.4% of all federal investment, respectively. Cornell was on the top-ten list of U.S. universities receiving the most patents in 2003, and was one of the nation's top five institutions in forming start-up companies. In 2004–05, Cornell received 200 invention disclosures; filed 203 U.S. patent applications; completed 77 commercial license agreements; and distributed royalties of more than $4.1 million to Cornell units and inventors.
Since 1962, Cornell has been involved in unmanned missions to Mars. In the 21st century, Cornell had a hand in the Mars Exploration Rover Mission. Cornell's Steve Squyres, Principal Investigator for the Athena Science Payload, led the selection of the landing zones and requested data collection features for the Spirit and Opportunity rovers. NASA-JPL/Caltech(US) engineers took those requests and designed the rovers to meet them. The rovers, both of which have operated long past their original life expectancies, are responsible for the discoveries that were awarded 2004 Breakthrough of the Year honors by Science. Control of the Mars rovers has shifted between National Aeronautics and Space Administration(US)'s JPL-Caltech (US) and Cornell's Space Sciences Building.
Further, Cornell researchers discovered the rings around the planet Uranus, and Cornell built and operated the telescope at Arecibo Observatory located in Arecibo, Puerto Rico(US) until 2011, when they transferred the operations to SRI International, the Universities Space Research Association (US) and the Metropolitan University of Puerto Rico [Universidad Metropolitana de Puerto Rico](US).
The Automotive Crash Injury Research Project was begun in 1952. It pioneered the use of crash testing, originally using corpses rather than dummies. The project discovered that improved door locks; energy-absorbing steering wheels; padded dashboards; and seat belts could prevent an extraordinary percentage of injuries.
In the early 1980s, Cornell deployed the first IBM 3090-400VF and coupled two IBM 3090-600E systems to investigate coarse-grained parallel computing. In 1984, the National Science Foundation began work on establishing five new supercomputer centers, including the Cornell Center for Advanced Computing, to provide high-speed computing resources for research within the United States. As an National Science Foundation (US) center, Cornell deployed the first IBM Scalable Parallel supercomputer.
In the 1990s, Cornell developed scheduling software and deployed the first supercomputer built by Dell. Most recently, Cornell deployed Red Cloud, one of the first cloud computing services designed specifically for research. Today, the center is a partner on the National Science Foundation XSEDE-Extreme Science Engineering Discovery Environment supercomputing program, providing coordination for XSEDE architecture and design, systems reliability testing, and online training using the Cornell Virtual Workshop learning platform.
Cornell scientists have researched the fundamental particles of nature for more than 70 years. Cornell physicists, such as Hans Bethe, contributed not only to the foundations of nuclear physics but also participated in the Manhattan Project. In the 1930s, Cornell built the second cyclotron in the United States. In the 1950s, Cornell physicists became the first to study synchrotron radiation.
During the 1990s, the Cornell Electron Storage Ring, located beneath Alumni Field, was the world's highest-luminosity electron-positron collider. After building the synchrotron at Cornell, Robert R. Wilson took a leave of absence to become the founding director of DOE's Fermi National Accelerator Laboratory(US), which involved designing and building the largest accelerator in the United States.
Cornell's accelerator and high-energy physics groups are involved in the design of the proposed ILC-International Linear Collider(JP) and plan to participate in its construction and operation. The International Linear Collider(JP), to be completed in the late 2010s, will complement the CERN Large Hadron Collider(CH) and shed light on questions such as the identity of dark matter and the existence of extra dimensions.
As part of its research work, Cornell has established several research collaborations with universities around the globe. For example, a partnership with the University of Sussex(UK) (including the Institute of Development Studies at Sussex) allows research and teaching collaboration between the two institutions.