From The Swiss Federal Institute of Technology in Lausanne [EPFL-École Polytechnique Fédérale de Lausanne] (CH)
8.15.22
Sarah Perrin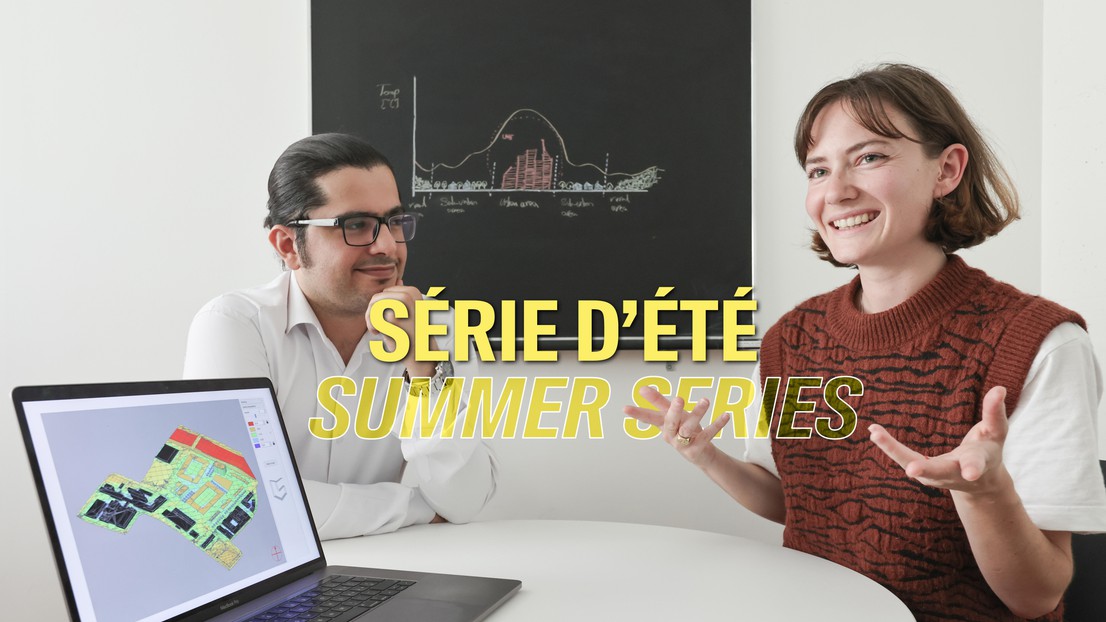 Summer series – Master's project (7). Two EPFL Master's students carried out meticulous research on heat islands, or densely packed urban areas with features that can aggravate high temperatures during heat waves, posing a serious threat to vulnerable residents.
The summer of 2022 was unprecedented: the series of heat waves between June and August provided a glimpse of how climate change will make cities increasingly arduous places to live in the summer months. That's especially true in the most densely populated areas, where tightly packed buildings and ubiquitous concrete and asphalt surfaces can drive up temperatures and rapidly turn city blocks into furnaces. In addition, the darker colors used for urban structures tend to attract and absorb heat. These dense urban areas are known as heat islands, and they're what two students at EPFL Faculty of Architecture, Civil and Environmental Engineering (ENAC) – Clara Gualtieri and YueWanZhao Yuan – chose to study for their Master's project in environmental engineering. They conducted important research on heat islands and what can be done to mitigate the effects.
Heat islands will become an increasingly serious problem as the planet gets warmer. Most of the world's population now lives in cities, and climate change means they'll be faced with more and more of the direct consequences of extreme temperatures. These temperatures don't just diminish people's health and well-being: they can also be potentially fatal for certain at-risk categories, such as the elderly, chronically ill and homeless. And the methods most people use to cool off – like air conditioning and large fans – require a lot of power and generate even more greenhouse gas emissions, thus fueling the vicious circle of climate change.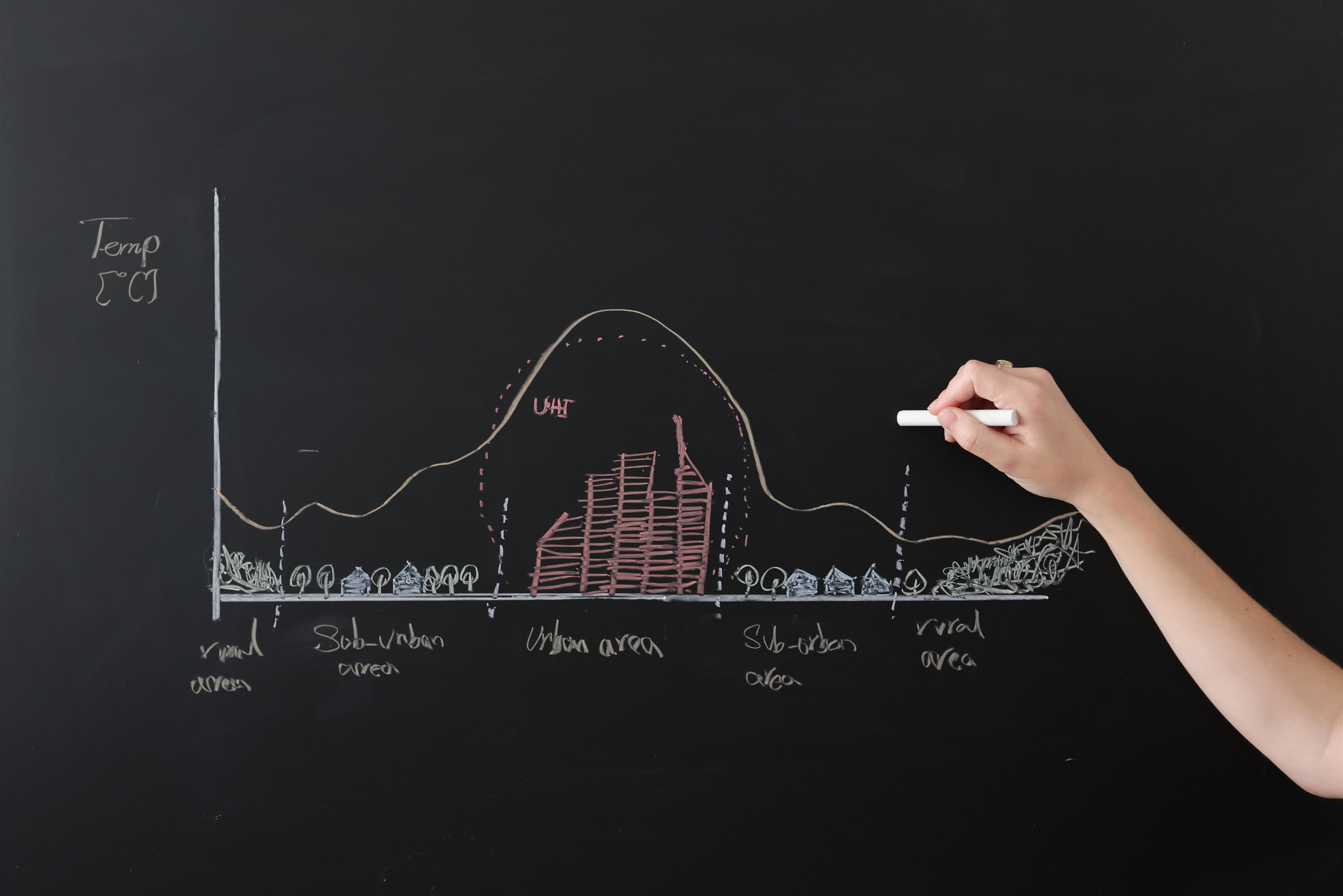 Between the city and the countryside, the temperature differences are on average 4 to 5 degrees.©2022 EPFL/A.Herzog.
To conduct their research on heat islands, Gualtieri and Yuan analyzed surface temperatures in two Geneva neighborhoods (Les Vernets and Pointe-Nord), based on data collected on the ground, building facades and rooftops. These two neighborhoods are undergoing a large-scale transformation and have various urban development projects in the works as part of the PAV (Praille-Acacias-Vernets) program. The two students developed a set of intricate 3D computer models for each neighborhood that describe the neighborhood's current temperature profile, the most likely temperature profile in 2050 if no changes are made, the temperature profile under the IPCC's worst-case scenario (RCP 8.5, where greenhouse gas emissions continue at the same pace, leading to the maximum level of global warming), and the temperature profile if the urban landscape is adapted in order to reduce local temperatures.
A 10°C increase
The highest ground-surface temperature that the students found in the two neighborhoods was around 35°C, but their models predicted that this temperature could rise by an average of 10°C, and in some cases by even 15°C in July and August based on their different scenarios.
The models also showed that mitigation strategies such as planting trees and other vegetation to create more green spaces can lower the ground-surface temperature by around 5°C in both neighborhoods. They discovered that plants in particular can be effective, since the shade they produce has more of an impact than grass simply planted in the ground. Gualtieri and Yuan also note two further measures worth studying: the albedo effect – the capacity for lighter colors to reflect heat – and resurfacing rivers or other bodies of water to significantly cool the ambient air are.
The students' findings are the result of a painstaking process whereby they very precisely mapped each neighborhood in order to generate the most complete 3D models possible. Their models incorporate a huge amount of information, including the local morphology and topography, the surface of all built structures (e.g., rooftops, building façades and roads, and smaller structures like ledges and guardrails) – including the structures' size, slope and thermal properties – street furniture, the different materials used, green areas, shaded areas and more. "Our simulations ended up incorporating more than 100,000 surfaces," says Gualtieri.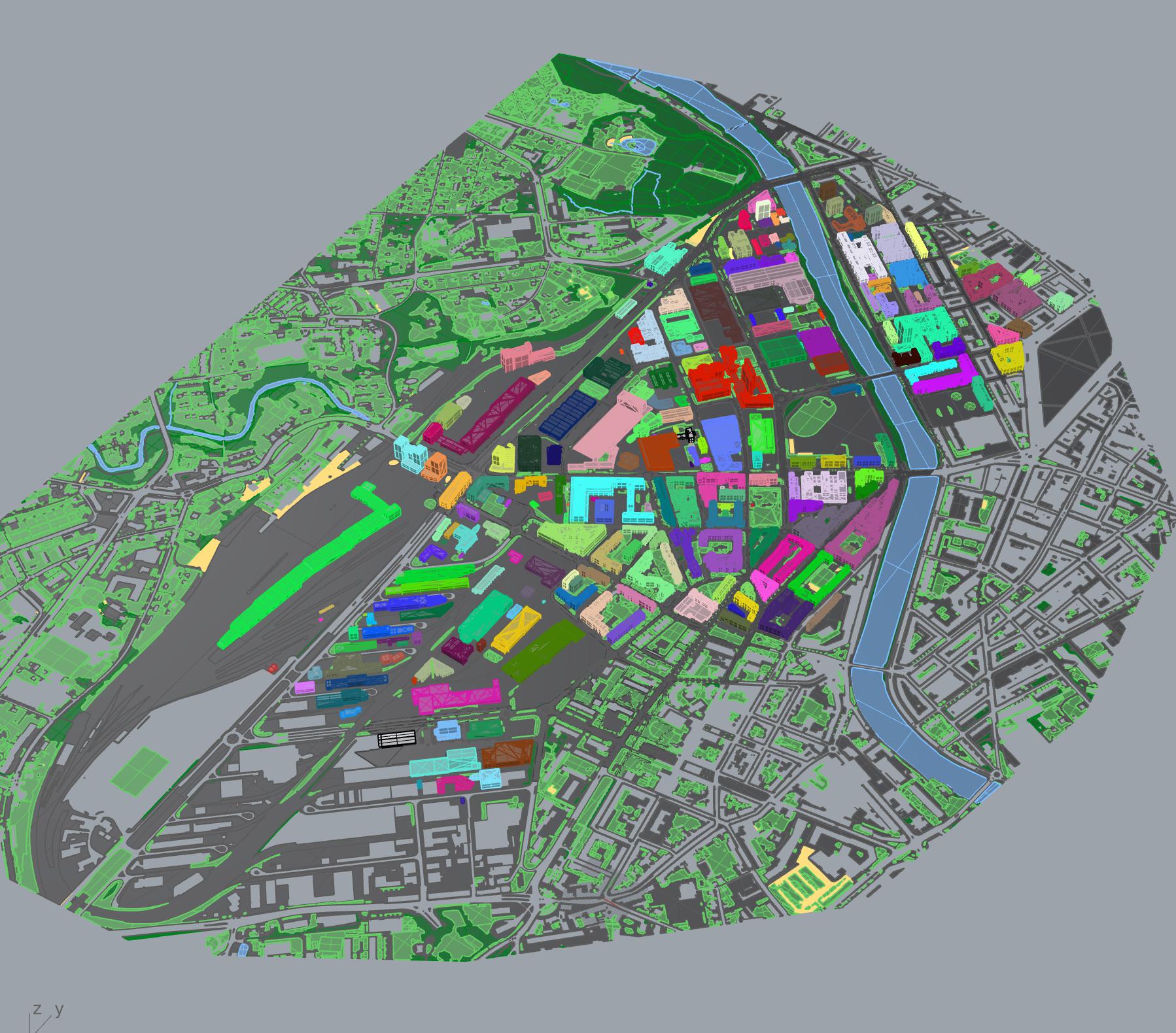 One of the simulations of two districts of Geneva (Les Vernets and Pointe-Nord). ©2022 EPFL/LESO.
"A major problem"
Gualtieri and Yuan obtained their data from existing data sets including the Swiss Federal Register of Buildings and Dwellings and weather databases. The students then ran different applications, namely Rhino, a piece of 3D-modeling software, and CitySim, a simulation program developed at EPFL specifically for urban planners. CitySim lets urban planners estimate the thermal and physical proprieties of buildings and their power requirements, which is valuable information for designing strategies to minimize the use of fossil fuels.
"Gualtieri and Yuan's research shows that heat islands will become a major problem by 2050 if we don't start cutting back on fossil-fuel emissions," says Kavan Javanroodi, a postdoc at EPFL's Solar Energy and Building Physics Laboratory (LESO-PB). "Urban planners need to start addressing this issue early on in their projects. This research also highlights what certain strategies can achieve in terms of heat reduction, thus giving Geneva's urban planners a starting point for combating temperature peaks and extreme microclimate conditions in the city's developing neighborhoods."
See the full article here .
five-ways-keep-your-child-safe-school-shootings
Please help promote STEM in your local schools.
EPFL campus
The Swiss Federal Institute of Technology in Lausanne [EPFL-École Polytechnique Fédérale de Lausanne] (CH) is a research institute and university in Lausanne, Switzerland, that specializes in natural sciences and engineering. It is one of the two Swiss Federal Institutes of Technology, and it has three main missions: education, research and technology transfer.
The QS World University Rankings ranks EPFL(CH) 14th in the world across all fields in their 2020/2021 ranking, whereas Times Higher Education World University Rankings ranks EPFL(CH) as the world's 19th best school for Engineering and Technology in 2020.
EPFL(CH) is located in the French-speaking part of Switzerland; the sister institution in the German-speaking part of Switzerland is The Swiss Federal Institute of Technology ETH Zürich [Eidgenössische Technische Hochschule Zürich] (CH). Associated with several specialized research institutes, the two universities form The Domain of the Swiss Federal Institutes of Technology (ETH Domain) [ETH-Bereich; Domaine des Écoles Polytechniques Fédérales] (CH) which is directly dependent on the Federal Department of Economic Affairs, Education and Research. In connection with research and teaching activities, EPFL(CH) operates a nuclear reactor CROCUS; a Tokamak Fusion reactor; a Blue Gene/Q Supercomputer; and P3 bio-hazard facilities.
ETH Zürich, EPFL (Swiss Federal Institute of Technology in Lausanne) [École Polytechnique Fédérale de Lausanne](CH), and four associated research institutes form The Domain of the Swiss Federal Institutes of Technology (ETH Domain) [ETH-Bereich; Domaine des Écoles polytechniques fédérales] (CH) with the aim of collaborating on scientific projects.
The roots of modern-day EPFL(CH) can be traced back to the foundation of a private school under the name École Spéciale de Lausanne in 1853 at the initiative of Lois Rivier, a graduate of the École Centrale Paris (FR) and John Gay the then professor and rector of the Académie de Lausanne. At its inception it had only 11 students and the offices were located at Rue du Valentin in Lausanne. In 1869, it became the technical department of the public Académie de Lausanne. When the Académie was reorganized and acquired the status of a university in 1890, the technical faculty changed its name to École d'Ingénieurs de l'Université de Lausanne. In 1946, it was renamed the École polytechnique de l'Université de Lausanne (EPUL). In 1969, the EPUL was separated from the rest of the University of Lausanne and became a federal institute under its current name. EPFL(CH), like ETH Zürich (CH), is thus directly controlled by the Swiss federal government. In contrast, all other universities in Switzerland are controlled by their respective cantonal governments. Following the nomination of Patrick Aebischer as president in 2000, EPFL(CH) has started to develop into the field of life sciences. It absorbed the Swiss Institute for Experimental Cancer Research (ISREC) in 2008.
In 1946, there were 360 students. In 1969, EPFL(CH) had 1,400 students and 55 professors. In the past two decades the university has grown rapidly and as of 2012 roughly 14,000 people study or work on campus, about 9,300 of these being Bachelor, Master or PhD students. The environment at modern day EPFL(CH) is highly international with the school attracting students and researchers from all over the world. More than 125 countries are represented on the campus and the university has two official languages, French and English.
Organization
EPFL is organized into eight schools, themselves formed of institutes that group research units (laboratories or chairs) around common themes:
School of Basic Sciences
Institute of Mathematics
Institute of Chemical Sciences and Engineering
Institute of Physics
European Centre of Atomic and Molecular Computations
Bernoulli Center
Biomedical Imaging Research Center
Interdisciplinary Center for Electron Microscopy
MPG-EPFL Centre for Molecular Nanosciences and Technology
Swiss Plasma Center
Laboratory of Astrophysics
School of Engineering
Institute of Electrical Engineering
Institute of Mechanical Engineering
Institute of Materials
Institute of Microengineering
Institute of Bioengineering
School of Architecture, Civil and Environmental Engineering
Institute of Architecture
Civil Engineering Institute
Institute of Urban and Regional Sciences
Environmental Engineering Institute
School of Computer and Communication Sciences
Algorithms & Theoretical Computer Science
Artificial Intelligence & Machine Learning
Computational Biology
Computer Architecture & Integrated Systems
Data Management & Information Retrieval
Graphics & Vision
Human-Computer Interaction
Information & Communication Theory
Networking
Programming Languages & Formal Methods
Security & Cryptography
Signal & Image Processing
Systems
School of Life Sciences
Bachelor-Master Teaching Section in Life Sciences and Technologies
Brain Mind Institute
Institute of Bioengineering
Swiss Institute for Experimental Cancer Research
Global Health Institute
Ten Technology Platforms & Core Facilities (PTECH)
Center for Phenogenomics
NCCR Synaptic Bases of Mental Diseases
College of Management of Technology
Swiss Finance Institute at EPFL
Section of Management of Technology and Entrepreneurship
Institute of Technology and Public Policy
Institute of Management of Technology and Entrepreneurship
Section of Financial Engineering
College of Humanities
Human and social sciences teaching program
EPFL Middle East
Section of Energy Management and Sustainability
In addition to the eight schools there are seven closely related institutions
Swiss Cancer Centre
Center for Biomedical Imaging (CIBM)
Centre for Advanced Modelling Science (CADMOS)
École Cantonale d'art de Lausanne (ECAL)
Campus Biotech
Wyss Center for Bio- and Neuro-engineering
Swiss National Supercomputing Centre