From The Woods Hole Oceanographic Institution: "Geological carbon sequestration in mantle rocks prevents large earthquakes in parts of the San Andreas Fault"
From The Woods Hole Oceanographic Institution
8.17.22
Authors: Frieder Klein1*, David L. Goldsby2, Jian Lin1, Muriel Andreani3
Affiliations:
1 Woods Hole Oceanographic Institution, Woods Hole, Massachusetts, USA
2 University of Pennsylvania, Department of Earth and Environmental Sciences, Philadelphia, PA, USA
3 Laboratoire de Géologie de Lyon, UMR 5276, ENS et Université Lyon 1, 69622 Villeurbanne Cedex, France
*corresponding author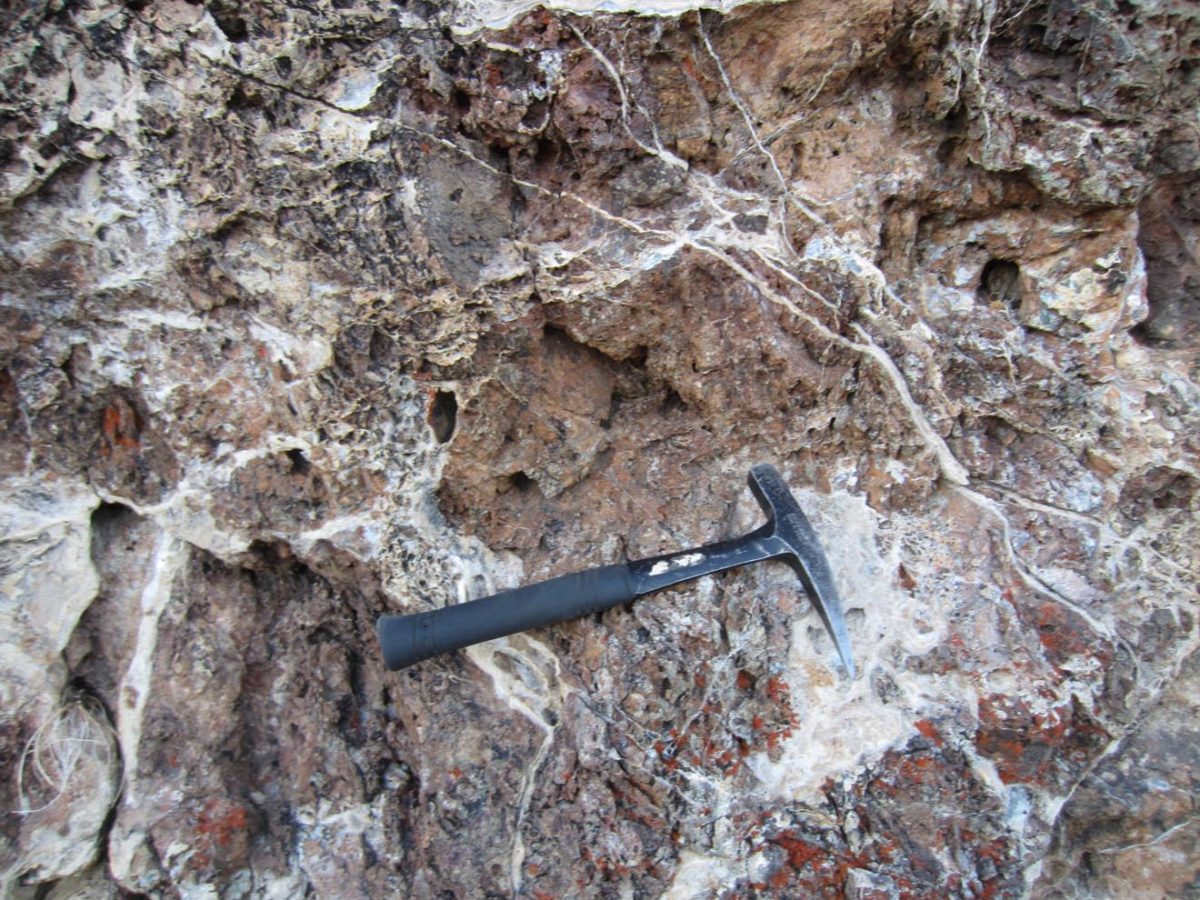 Outcrop of carbonate-altered mantle rock in the San Andreas Fault area. A recent study shows that carbon sequestration in mantle rocks may prevent large earthquakes in parts of the San Andreas Fault. Image credit: Frieder Klein/©Woods Hole Oceanographic Institution.
Smaller and more frequent quakes help to reduce tectonic strain.
The San Andreas Fault in California is renowned for its large and infrequent earthquakes.
However, some segments of the San Andreas Fault instead are characterized by frequent quakes of small to moderate magnitude and high rates of continuous or episodic aseismic creep. With tectonic strain released in a quasi-steady motion that reduces the potential for large earthquakes along those segments.
Now, researchers say ubiquitous evidence for ongoing geological carbon sequestration in mantle rocks in the creeping sections of the SAF is one underlying cause of aseismic creep along a roughly 150 kilometer-long SAF segment between San Juan Bautista and Parkfield, California, and along several other fault segments.
"Although there is no consensus regarding the underlying cause of aseismic creep, aqueous fluids and mechanically weak minerals appear to play a central role," researchers say in a new paper, "Carbonation of serpentinite in creeping faults of California," published in Geophysical Research Letters [below].
The new study integrates field observations and thermodynamic modeling "to examine possible relationships between the occurrence of serpentinite, silica-carbonate rock, and CO2-rich aqueous fluids in creeping faults of California," the paper states. "Our models predict that carbonation of serpentinite leads to the formation of talc and magnesite, followed by silica-carbonate rock. While abundant exposures of silica-carbonate rock indicate complete carbonation, serpentinite hosted CO2-rich spring fluids are strongly supersaturated with talc at elevated temperatures. Hence, carbonation of serpentinite is likely ongoing in parts of the San Andres Fault system and operates in conjunction with other modes of talc formation that may further enhance the potential for aseismic creep, thereby limiting the potential for large earthquakes."
The paper indicates that because wet talc is a mechanically weak mineral, "its formation through carbonation promotes tectonic movements without large earthquakes."
The researchers recognized several possible underlying mechanisms causing aseismic creep in the SAF, and they also noted that because the rates of aseismic creep are significantly higher in some parts of the SAF system, an additional or different mechanism – the carbonation of serpentinite – is needed to account for the full extent of the creep.
With fluids basically everywhere along the SAF, but with only certain portions of the fault being lubricated, researchers considered that a rock could be responsible for the lubrication. Some earlier studies had suggested that the lubricant could be talc, a soft and slippery component that is commonly used in baby powder. A well-established mechanism for forming talc is by adding silica to mantle rocks. However, the researchers here focused on another talc-forming mechanism: adding CO2 to mantle rocks to form soapstone.
"The addition of CO2 to mantle rocks – which is the mineral carbonation or carbon sequestration process – had not previously been investigated in the context of earthquake formation or the natural prevention of earthquakes. Using basic geological constraints, our study showed where these carbonate-altered mantle rocks are and where there are springs along the fault line in California that are enriched in CO2. It turned out that when you plot the occurrence and distribution of these rock types and the occurrence of CO2-rich springs in California, they all line up along the San Andreas Fault in creeping sections of the fault where you don't have major earthquakes," said Frieder Klein, lead author of the journal article.
Klein, an associate scientist in the Marine Chemistry and Geochemistry Department at the Woods Hole Oceanographic Institution, explained that carbonation is basically the uptake of CO2 by a rock. Klein noted that he had used existing U.S. Geological Survey databases and Google Earth to plot the locations of carbonate-altered rocks and CO2-rich springs.
"The geological evidence suggests that this mineral carbonation process is taking place and that talc is an intermediary reaction product of that process," Klein said. Although researchers did not find soapstone on mantle rock outcrops, results from theoretical models "strongly suggest that carbonation is an ongoing process and that soapstone indeed could form in the SAF at depth," the paper notes.
These theoretical models "suggest that carbon sequestration with the SAF is taking place today and that the process is actively helping to lubricate the fault and minimize strong earthquakes in the creeping portions of the SAF," Klein said.
The paper also notes that this mechanism may also be present in other fault systems. "Because CO2-rich aqueous fluids and ultramafic rocks are particularly common in young orogenic belts and subduction zones, the formation of talc via mineral carbonation may play a critical role in controlling the seismic behavior of major tectonic faults around the world."
"Our study allows us to better understand the fundamental processes that are taking place within fault zones where these ingredients are present, and allows us to better understand the seismic behavior of these faults, some of which are in densely populated areas and some of which are in lightly populated or oceanic settings," Klein said.
This work was supported by grants from the National Science Foundation.
Science paper:
Geophysical Research Letters
See the full article here .
five-ways-keep-your-child-safe-school-shootings
Please help promote STEM in your local schools.
Mission Statement
The Woods Hole Oceanographic Institution is dedicated to advancing knowledge of the ocean and its connection with the Earth system through a sustained commitment to excellence in science, engineering, and education, and to the application of this knowledge to problems facing society.
Vision & Mission
The ocean is a defining feature of our planet and crucial to life on Earth, yet it remains one of the planet's last unexplored frontiers. For this reason, WHOI scientists and engineers are committed to understanding all facets of the ocean as well as its complex connections with Earth's atmosphere, land, ice, seafloor, and life—including humanity. This is essential not only to advance knowledge about our planet, but also to ensure society's long-term welfare and to help guide human stewardship of the environment. WHOI researchers are also dedicated to training future generations of ocean science leaders, to providing unbiased information that informs public policy and decision-making, and to expanding public awareness about the importance of the global ocean and its resources.
The Institution is organized into six departments, the Cooperative Institute for Climate and Ocean Research, and a marine policy center. Its shore-based facilities are located in the village of Woods Hole, Massachusetts and a mile and a half away on the Quissett Campus. The bulk of the Institution's funding comes from grants and contracts from the National Science Foundation and other government agencies, augmented by foundations and private donations.
WHOI scientists, engineers, and students collaborate to develop theories, test ideas, build seagoing instruments, and collect data in diverse marine environments. Ships operated by WHOI carry research scientists throughout the world's oceans. The WHOI fleet includes two large research vessels (R/V Atlantis and R/V Neil Armstrong); the coastal craft Tioga; small research craft such as the dive-operation work boat Echo; the deep-diving human-occupied submersible Alvin; the tethered, remotely operated vehicle Jason/Medea; and autonomous underwater vehicles such as the REMUS and SeaBED.
WHOI offers graduate and post-doctoral studies in marine science. There are several fellowship and training programs, and graduate degrees are awarded through a joint program with the Massachusetts Institute of Technology. WHOI is accredited by the New England Association of Schools and Colleges . WHOI also offers public outreach programs and informal education through its Exhibit Center and summer tours. The Institution has a volunteer program and a membership program, WHOI Associate.
On October 1, 2020, Peter B. de Menocal became the institution's eleventh president and director.
History
In 1927, a National Academy of Sciences committee concluded that it was time to "consider the share of the United States of America in a worldwide program of oceanographic research." The committee's recommendation for establishing a permanent independent research laboratory on the East Coast to "prosecute oceanography in all its branches" led to the founding in 1930 of the Woods Hole Oceanographic Institution.
A $2.5 million grant from the Rockefeller Foundation supported the summer work of a dozen scientists, construction of a laboratory building and commissioning of a research vessel, the 142-foot (43 m) ketch R/V Atlantis, whose profile still forms the Institution's logo.
WHOI grew substantially to support significant defense-related research during World War II, and later began a steady growth in staff, research fleet, and scientific stature. From 1950 to 1956, the director was Dr. Edward "Iceberg" Smith, an Arctic explorer, oceanographer and retired Coast Guard rear admiral.
In 1977 the institution appointed the influential oceanographer John Steele as director, and he served until his retirement in 1989.
On 1 September 1985, a joint French-American expedition led by Jean-Louis Michel of IFREMER and Robert Ballard of the Woods Hole Oceanographic Institution identified the location of the wreck of the RMS Titanic which sank off the coast of Newfoundland 15 April 1912.
On 3 April 2011, within a week of resuming of the search operation for Air France Flight 447, a team led by WHOI, operating full ocean depth autonomous underwater vehicles (AUVs) owned by the Waitt Institute discovered, by means of sidescan sonar, a large portion of debris field from flight AF447.
In March 2017 the institution effected an open-access policy to make its research publicly accessible online.
The Institution has maintained a long and controversial business collaboration with the treasure hunter company Odyssey Marine. Likewise, WHOI has participated in the location of the San José galleon in Colombia for the commercial exploitation of the shipwreck by the Government of President Santos and a private company.
In 2019, iDefense reported that China's hackers had launched cyberattacks on dozens of academic institutions in an attempt to gain information on technology being developed for the United States Navy. Some of the targets included the Woods Hole Oceanographic Institution. The attacks have been underway since at least April 2017.