From Boston University (US) : "What Can a Young Star Teach Us about the Birth of Our Planet; Sun; and Solar System?"
September 1, 2021
Jessica Colarossi
Astronomers have discovered a strangely shaped spot on the surface of a baby star 450 million light-years away, revealing new insights into how our solar system formed.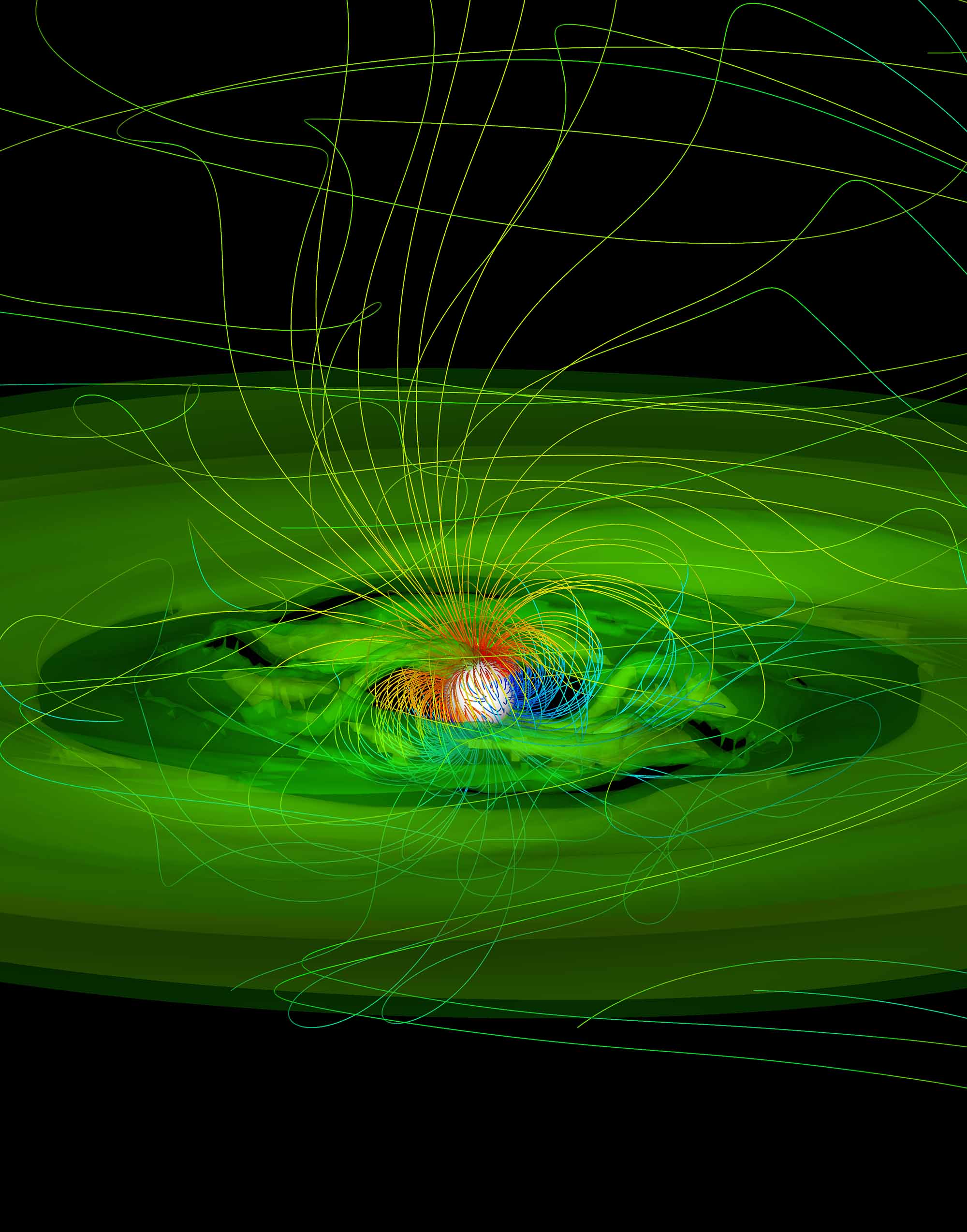 This image depicts a young star named GM Aur eating up gas and dust particles of a protoplanetary disk, which is represented by the green material surrounding the bright star. Image by M. M. Romanova.
The familiar star at the center of our solar system has had billions of years to mature and ultimately provide life-giving energy to us here on Earth. But a very long time ago, our sun was just a growing baby star. What did the sun look like when it was so young? That's long been a mystery that, if solved, could teach us about the formation of our solar system—so-named because sol is the Latin word for sun—and other stellar systems made up of planets and cosmic objects orbiting stars.
"We've detected thousands of planets in other stellar systems in our galaxy, but where did all of these planets come from? Where did Earth come from? That's what really drives me," says Catherine Espaillat, lead author on the paper and a Boston University College of Arts & Sciences associate professor of astronomy.
A new research paper published in Nature by Espaillat and collaborators finally provides new clues as to what forces were at play when our sun was in its infancy, detecting, for the first time, a uniquely shaped spot on a baby star that reveals new information about how young stars grow.
When a baby star is forming, Espaillat explains, it eats up dust and gas particles swirling around it in what's called a protoplanetary disk. The particles slam into the surface of the star in a process called accretion.
"This is the same process the sun went through," Espaillat says.
Protoplanetary disks are found within magnetized molecular clouds, which throughout the universe are known by astronomers to be breeding grounds for the formation of new stars. It's been theorized that the protoplanetary disks and the stars are connected by a magnetic field, and the particles follow the field on to the star. As particles collide into the surface of the growing star, hot spots—which are extremely hot and dense—form at the focal points of the accretion process.
Looking at a young star about 450 million light-years away from Earth, Espaillat and her team's observations confirm, for the first time, the accuracy of astronomers' accretion models developed to predict the formation of hot spots. Those computer models have until now relied on algorithms that calculate how the structure of magnetic fields direct particles from protoplanetary disks to crash into specific points on the surface of growing stars. Now, observable data backs those calculations.
The BU team, including graduate student John Wendeborn, and postdoctoral researcher Thanawuth Thanathibodee, closely studied a young star called GM Aur, located in the Taurus-Auriga molecular cloud of the Milky Way. It's currently impossible to photograph the surface of such a faraway star, Espaillat says, but other types of images are possible given that different parts of a star's surface emit light in different wavelengths. The team spent a month taking daily snapshots of light wavelengths emitting from GM Aur's surface, compiling datasets of X-ray, ultraviolet (UV), infrared, and visual light. To peek at GM Aur, they relied on the "eyes" of NASA's Hubble Space Telescope, Transiting Exoplanet Survey Satellite (TESS), Swift Observatory, and the Las Cumbres Observatory global telescope network.
______________________________________________________________________________________________________________
National Aeronautics Space Agency (US)/Massachusetts Institute of Technology (US) TESS
This particular star, GM Aur, makes a full rotation in about one week, and in that time the brightness levels are expected to peak and wane as the brighter hot spot turns away from Earth and then back around to face our planet again. But when the team first lined up their data side by side, they were stumped by what they saw.
"We saw that there was an offset [in the data] by a day," Espaillat says. Instead of all light wavelengths peaking at the same time, UV light was at its brightest about a day before all the other wavelengths reached their peak. At first, they thought they may have gathered inaccurate data.
"We went over the data so many times, double-checked the timing, and realized this was not an error," she says. They discovered that the hot spot itself is not totally uniform, and it has an area within it that is even hotter than the rest of it.
"The hot spot is not a perfect circle…it's more like a bow with one part of the bow that is hotter and denser than the rest," Espaillat says. The unique shape explains the misalignment in the light wavelength data. This is a phenomenon in a hot spot never previously detected.
"This [study] teaches us that the hot spots are footprints on the stellar surface created by the magnetic field," Espaillat says. At one time, the sun also had hot spots—different from sunspots, which are areas of our sun that are cooler than the rest of its surface—concentrated in the areas where it was eating up particles from a surrounding protoplanetary disk of gas and dust.
Eventually, protoplanetary disks fade away, leaving behind stars, planets, and other cosmic objects that make up a stellar system, Espaillat says. There is still evidence of the protoplanetary disk that fueled our solar system, she says, found in the existence of our asteroid belt and all the planets. Espaillat says that studying young stars that share similar properties with our sun is key to understanding the birth of our own planet.
This work was funded by NASA and the National Science Foundation (US).
See the full article here .
five-ways-keep-your-child-safe-school-shootings
Please help promote STEM in your local schools.
Boston University is a private research university in Boston, Massachusetts. The university is nonsectarian but has a historical affiliation with the United Methodist Church. It was founded in 1839 by Methodists with its original campus in Newbury, Vermont, before moving to Boston in 1867.
The university now has more than 4,000 faculty members and nearly 34,000 students, and is one of Boston's largest employers. It offers bachelor's degrees, master's degrees, doctorates, and medical, dental, business, and law degrees through 17 schools and colleges on three urban campuses. The main campus is situated along the Charles River in Boston's Fenway-Kenmore and Allston neighborhoods, while the Boston University Medical Campus is located in Boston's South End neighborhood. The Fenway campus houses the Wheelock College of Education and Human Development, formerly Wheelock College, which merged with BU in 2018.
BU is a member of the Boston Consortium for Higher Education (US) and the Association of American Universities (US). It is classified among "R1: Doctoral Universities – Very High Research Activity".
Among its alumni and current or past faculty, the university counts eight Nobel Laureates, 23 Pulitzer Prize winners, 10 Rhodes Scholars, six Marshall Scholars, nine Academy Award winners, and several Emmy and Tony Award winners. BU also has MacArthur, Fulbright, and Truman Scholars, as well as American Academy of Arts and Sciences (US) and National Academy of Sciences (US) members, among its past and present graduates and faculty. In 1876, BU professor Alexander Graham Bell invented the telephone in a BU lab.
The Boston University Terriers compete in the NCAA Division I. BU athletic teams compete in the Patriot League, and Hockey East conferences, and their mascot is Rhett the Boston Terrier. Boston University is well known for men's hockey, in which it has won five national championships, most recently in 2009.
Research
In FY2016, the University reported in $368.9 million in sponsored research, comprising 1,896 awards to 722 faculty investigators. Funding sources included the National Science Foundation (US), the National Institutes of Health (US), the Department of Defense (US), the European Commission of the European Union, the Susan G. Komen Foundation (US), and the federal Health Resources and Services Administration (US). The University's research enterprise encompasses dozens of fields, but its primary focus currently lies in seven areas: Data Science, Engineering Biology, Global Health, Infectious Diseases, Neuroscience, Photonics, and Urban Health.
The University's strategic plan calls for the removal of barriers between previously siloed departments, schools, and fields. The result has been an increasing emphasis by the University on interdisciplinary work and the creation of multidisciplinary centers such as the Rajen Kilachand Center for Integrated Life Sciences & Engineering, a $140 million, nine-story research facility that has brought together life scientists, engineers, and physicians from the Medical and Charles River Campuses; the Institute for Health Systems Innovation & Policy, a cross-campus initiative combining business, health law, medicine, and public policy; a neurophotonics center that combines photonics and neuroscience to study the brain; and the Software and Application Innovation Lab, where technologists work with colleagues in the arts and humanities and together develop digital research tools. The University also made a large investment in an emerging field, when it created a new university-wide academic unit called the Faculty of Computing & Data Sciences in 2019 and began construction of the nineteen-story Center for Computing & Data Sciences, slated to open in 2022.
In 2003, the National Institute of Allergy and Infectious Diseases awarded Boston University a grant to build one of two National Biocontainment Laboratories. The National Emerging Infectious Diseases Laboratories (NEIDL) was created to study emerging infectious diseases that pose a significant threat to public health. NEIDL has biosafety level 2, 3, and 4 (BSL-2, BSL-3, and BSL-4, respectively) labs that enable researchers to work safely with the pathogens. BSL-4 labs are the highest level of biosafety labs and work with diseases with a high risk of aerosol transmission.
The strategic plan also encouraged research collaborations with industry and government partners. In 2016, as part of a broadbased effort to solve the critical problem of antibiotic resistance, the US Department of Health & Human Services selected the Boston University School of Law (LAW)—and Kevin Outterson, a BU professor of law—to lead a $350 million trans-Atlantic public-private partnership called CARB-X to foster the preclinical development of new antibiotics and antimicrobial rapid diagnostics and vaccines.
That same year, BU researcher Avrum Spira joined forces with Janssen Research & Development and its Disease Interception Accelerator group. Spira—a professor of medicine, pathology and laboratory medicine, and bioinformatics—has spent his career at BU pursuing a better, and earlier, way to diagnose pulmonary disorders and cancers, primarily using biomarkers and genomic testing. In 2015, under a $13.7 million Defense Department grant, Spira's efforts to identify which members of the military will develop lung cancer and COPD caught the attention of Janssen, part Johnson & Johnson. They are investing $10.1 million to collaborate with Spira's lab with the hope that his discoveries—and potential therapies—could then apply to the population at large.
In its effort to increase diversity and inclusion, Boston University appointed Ibram X. Kendi in July 2020 as a history professor and the director and founder of its newly established Center for Antiracist Research. The university also appointed alumna Andrea Taylor as its first senior diversity officer.