From University of Tokyo [(東京大学](JP)
March 1, 2021
Astronomers accurately measure the temperature of red supergiant stars.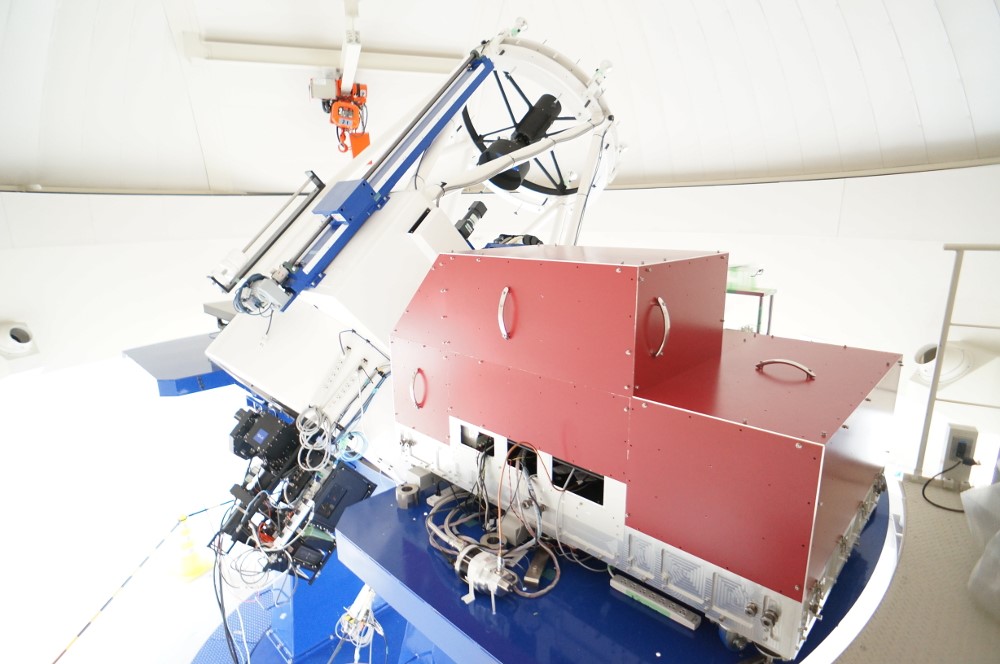 WINERED. The WINERED spectrograph mounted on the Araki telescope. © 2021 Kyoto Sangyo University [京都産業大学, Kyōto sangyō daigaku](JP)

Araki telescope.
Red supergiants are a class of star that end their lives in supernova explosions. Their lifecycles are not fully understood, partly due to difficulties in measuring their temperatures. For the first time astronomers develop an accurate method to determine the surface temperatures of red supergiants.
Stars come in a wide range of sizes, masses and compositions. Our sun is considered a relatively small specimen, especially when compared to something like Betelgeuse which is known as a red supergiant. Red supergiants are stars over nine times the mass of our sun, and all this mass means that when they die they do so with extreme ferocity in an enormous explosion known as a supernova, in particular what is known as a Type-II supernova.
Type II supernovae seed the cosmos with elements essential for life; therefore, researchers are keen to know more about them. At present there is no way to accurately predict supernova explosions. One piece of this puzzle lies in understanding the nature of the red supergiants that precede supernovae.
Despite the fact red supergiants are extremely bright and visible at great distances, it is difficult to ascertain important properties about them, including their temperatures. This is due to the complicated structures of their upper atmospheres which leads to inconsistencies of temperature measurements that might work with other kinds of stars.
"In order to measure the temperature of red supergiants, we needed to find a visible, or spectral, property that was not affected by their complex upper atmospheres," said graduate student Daisuke Taniguchi from the Department of Astronomy at the University of Tokyo[(東京大学; Tōkyō daigaku](JP). "Chemical signatures known as absorption lines were the ideal candidates, but there was no single line that revealed the temperature alone. However, by looking at the ratio of two different but related lines — those of iron — we found the ratio itself related to temperature. And it did so in a consistent and predictable way."
Taniguchi and his team observed candidate stars with an instrument called WINERED which attaches to telescopes in order to measure spectral properties of distant objects. They measured the iron absorption lines and calculated the ratios to estimate the stars' respective temperatures. By combining these temperatures with accurate distance measurements obtained by the European Space Agency's Gaia space observatory, the researchers calculated the stars luminosity, or power, and found their results consistent with theory.
"We still have much to learn about supernovae and related objects and phenomena, but I think this research will help astronomers fill in some of the blanks," said Taniguchi. "The giant star Betelgeuse (on Orion's shoulder) could go supernova in our lifetimes; in 2019 and 2020 it dimmed unexpectedly.
It would be fascinating if we were able to predict if and when it might go supernova. I hope our new technique contributes to this endeavor and more."
Science paper:
Effective temperatures of red supergiants estimated from line-depth ratios of iron lines in the YJ bands, 0.97-1.32μm
MNRAS
See the full article here .
five-ways-keep-your-child-safe-school-shootings
Please help promote STEM in your local schools.
The University of Tokyo [(東京大学](JP) aims to be a world-class platform for research and education, contributing to human knowledge in partnership with other leading global universities.
The University of Tokyo [東京大学; Tōkyō daigaku](JP) is a public research university located in Bunkyō, Tokyo, Japan. Established in 1877, it was the first of the imperial universities.
The university has ten faculties, 15 graduate schools and enrolls about 30,000 students, 2,100 of whom are international students. Its five campuses are in Hongō, Komaba, Kashiwa, Shirokane and Nakano. It is among the top echelon of the select Japanese universities assigned additional funding under the MEXT's Top Global University Project to enhance Japan's global educational competitiveness.
University of Tokyo (Todai) is considered to be the most selective and prestigious university in Japan and is counted as one of the best universities in the world.[8][9][10] As of 2018, University of Tokyo's alumni, faculty members and researchers include seventeen Prime Ministers, sixteen Nobel Prize laureates, three Pritzker Prize laureates, three astronauts, and a Fields Medalist.
The university was chartered by the Meiji government in 1877 under its current name by amalgamating older government schools for medicine, various traditional scholars and modern learning. It was renamed "the Imperial University [帝國大學; Teikoku daigaku]" in 1886, and then Tokyo Imperial University [東京帝國大學; Tōkyō teikoku daigaku] in 1897 when the Imperial University system was created. In September 1923, an earthquake and the following fires destroyed about 700,000 volumes of the Imperial University Library. The books lost included the Hoshino Library [星野文庫; Hoshino bunko], a collection of about 10,000 books. The books were the former possessions of Hoshino Hisashi before becoming part of the library of the university and were mainly about Chinese philosophy and history.
In 1947 after Japan's defeat in World War II it re-assumed its original name. With the start of the new university system in 1949, Todai swallowed up the former First Higher School (today's Komaba campus) and the former Tokyo Higher School, which thenceforth assumed the duty of teaching first- and second-year undergraduates, while the faculties on Hongo main campus took care of third- and fourth-year students.
Although the university was founded during the Meiji period, it has earlier roots in the Astronomy Agency (天文方; 1684), Shoheizaka Study Office (昌平坂学問所; 1797), and the Western Books Translation Agency (蕃書和解御用; 1811). These institutions were government offices established by the 徳川幕府 Tokugawa shogunate (1603–1867), and played an important role in the importation and translation of books from Europe.
In the fall of 2012 and for the first time, the University of Tokyo started two undergraduate programs entirely taught in English and geared toward international students—Programs in English at Komaba (PEAK)—the International Program on Japan in East Asia and the International Program on Environmental Sciences. In 2014, the School of Science at the University of Tokyo introduced an all-English undergraduate transfer program called Global Science Course (GSC).